The 15 Best Drugstore Bronzers Of 2023 For Different Skin Tones
Looking for a flawless sun-kissed tan without wanting to go out into the sun? Say no more!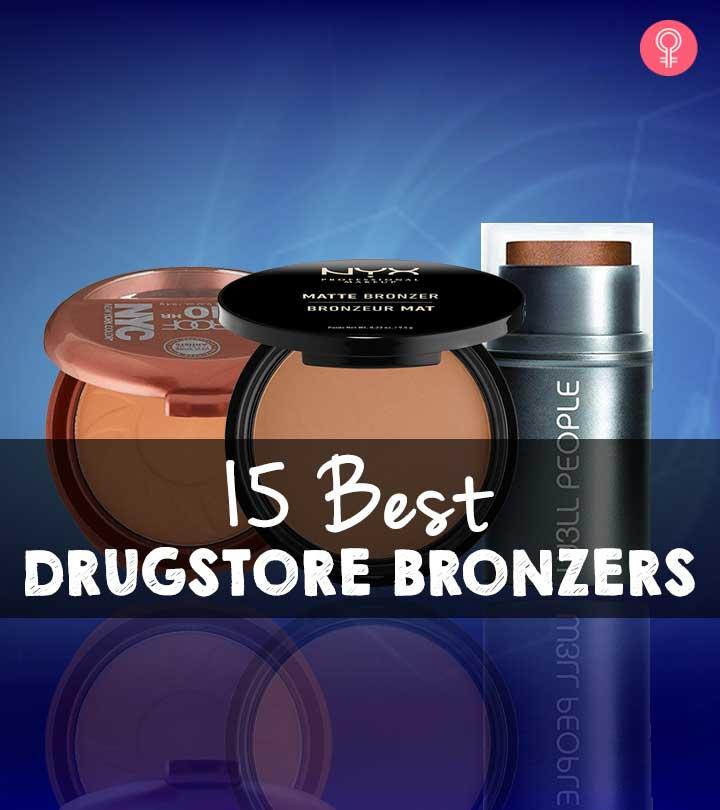 There is nothing like using the best drugstore bronzers when it comes to adding a warm and rich color to your skin tone. Bronzers give you the perfect shade of holiday tan that makes you look absolutely gorgeous in your photos. Just a sweet swipe on your forehead can do the trick of a sun-kissed look. While other treatments to get this shade can be expensive, investing in drugstore bronzers can help you flaunt it without any stress. Here are the highest-rated bronzers to choose from.
15 Best Drugstore Bronzers
Review
If you're not a big fan of shimmer, this bronzer from NYX is made for you. Though it is a matte formula, it won't make your skin look chalky or cakey. Instead, it adds a ton of natural-looking warmth and helps you achieve a healthy complexion. This bronzer is available in five shades and does not cause breakouts hence it is perfect for normal to to oily and acne-prone skin. It is undoubtedly one of the best wallet-friendly bronzers out there, especially for your summer makeup look. Multiple reviews on several online forums state how beautifully the product offers a radiant glow and looks natural on your skin.
Pros
Easy to apply
Free of shimmer
Long-wearing
Adds a healthy glow
Good for beginners
Cons
None
Review
If you love a slightly shimmery finish, there's nothing like the Milani Baked Bronzer in your local drugstore. This illuminating formula is a blend of micro-fine pigments, and it helps you create a streak-free glow with ease. This bronzer comes in three different shades, ranging from a soft gold to a tantalizing tan. For a drugstore product, it looks and feels very high-end on your skin. It's almost too good to be true! This video review will help you learn more about the reviewer's experience with the product.
Pros
Lightweight
Cruelty-free
Easy to blend
Subtle shimmer
Long-wearing
Looks natural
Cons
None
Review
Want a lit-from-within glow? This bronzer for medium skin from L'Oreal can be used to create an all-over bronzed complexion or as a contour for a sculpted, radiant look. With its minimal sheen, this bronzer gives you a healthy-looking, bronzed complexion. It comes in three shades that are designed to flatter light, medium, and deep skin tones. This video will help you make an informed decision about the product and get deeper insights from the tester's experience.
Pros
Long-wearing
Easy to blend
Applies smoothly and evenly
Versatile shades
Lightweight
Cons
None
Review
Rimmel's Natural Bronzer is easily one of the best drugstore bronzers on the market. It is richly pigmented and can be layered to create a subtle glow or a more dramatic effect. This is a great formula for beginners and blends effortlessly. It comes in four shades to give your skin the perfect honey glow. Also, it comes with SPF 15 to protect your skin from the sun. Want to know the best part? It costs less than $5! Unbelievable, right? Watch this video to get a detailed review of the product.
Pros
Blends like a dream
Offers a rich color payoff
Incredibly lightweight
Great for daily wear
Long-wearing
Inexpensive
Cons
None
Review
This lightweight, baked bronzer from e.l.f. is infused with the goodness of hydrating oils like jojoba, rose, grape, and sunflower. If you prefer subtle shimmer, you will love this product. It adds life to lighter skin tones and sculpts your face for more definition. It is inexpensive and comes in three shades.
Pros
Easy to use
Great for all skin types
Suitable for pale complexion
Long-wearing
Blends easily
Non-comedogenic
Cons
None

Review
Covergirl's marble-baked bronzer blends instantly and makes sure you don't end up with unsightly streaks or lines. This dermatologically-tested, gentle product comes in a single bronze shade and the pigment looks gorgeous on lighter skin tones. However, it doesn't show much on deeper complexions. If you're on a tight budget and need a formula that works for sensitive skin, you can rely on this one.
Pros
Lightweight
Long-wearing
Blends beautifully
Suitable for sensitive skin
Suitable for fair skin tone
Cons
Get the glamorous beach tan just with a single sweep of Elizabeth Mott Whatup Beaches Matte Bronzer. The ultr-fine powder applies smoothly on the skin and blends well for a natural sun-kissed look. The minerals absorb excess sebum, offering you a shine-free, buildable, matte coverage that lasts all day. This powder bronzer is great for contouring and sculpting your features and getting the perfect sun-kissed glow instantly with its silky application. Also, this premium product is not tested on animals, making it a suitable option for people looking for cruelty-free formulas.
Pros
Lightweight
Smooth formula
Subtle shimmer
Natural glow
Controls oil
Cruelty-free
Cons
Might be difficult to blend
Review
This bronzer stick from W3ll People is the best drugstore cream bronzer for anyone with sensitive skin. Its cream stick formula allows you to achieve that golden radiance on-the-go. It blends like a dream and leaves you with an extremely natural finish. Here's the exciting part – its universal color adapts to your skin tone to create your ideal shade.
Pros
Organic, skin-nourishing ingredients
Absorbs excess oil
Chemical-free
Hypoallergenic
Long-wearing
Suits all skin tones and undertones
Cons
None
Review
The nourishing butters in this bronzer make it super easy to apply and blend. It delivers a radiant glow, unlike any other drugstore bronzer. Its rich formula is packed with pro-vitamins that soften and condition your skin. This natural makeup formula comes in four shades and is perfect for normal to dry skin.
Pros
Lightweight
Blends effortlessly
Hydrates skin
Long-wearing
Suitable for sensitive skin
Cons
None
Do your makeup choices keep changing like your Monday moods? Grab onto Palladio Baked Bronzer that can be used both dry and wet to achieve a natural-looking, all-day glow or a gorgeously radiant appearance. The highly pigmented shade offers a shimmery finish that polishes your overall makeup look. Available in luminescent shades, it gives your skin an enriching, natural-looking tan like never before.
Pros
Easy to blend
Beautiful shades
Radiant finish
Long-wearing
Does not test on animals
Cons
None
Review
Want to give your skin a healthy, sun-kissed glow? This VASANTI Mineral Bronzer is perfect to give your skin that natural-looking sun-kissed glow! It is enriched with natural ingredients like lotus flower extract, pea extract, and algae extract, which are rich in antioxidants and minerals that have anti-aging benefits. These ingredients nourish and moisturize skin improving its elasticity. This formula also contains light-reflecting properties that give a healthy shine to your skin and hides all dark spots, blemishes, and fine lines. The multi-purpose bronzer is available in two natural-looking shades and is never tested on animals.
Pros
Paraben-free
Vegan
Cruelty-free
Natural-looking finish
Non-greasy
Non-shiny
Suitable for mature skin
Cons
None
Review
This bronzer from Pixi is perfect for adding a subtle tan with a splash of natural-looking color to your complexion. Its formula is free of parabens and chemicals, making it the perfect product for sensitive skin. You also get a Pixi Kabuki brush along with the bronzer. Isn't that awesome? It comes in three shades that perk up your skin tone and blend seamlessly to give you the most subtle tan during the winter.
Pros
Lightweight
Non-comedogenic
Easy to blend
Long-lasting wear
Cons
None
Review
Looking for the best drugstore matte bronzer? This one from Essence conjures up the most natural-looking tan ever. It is a holy grail formula for those of you with combination and oily skin types as it absorbs excess oil and mattifies your skin. It comes in two flattering shades and smells incredible.
Pros
Easy to use
Matte
Oil-free
Lightweight
Long-wearing
Cons
Review
The Lorac TANtalizer Baked Bronzer is perfect for both your face and body. Its luminous formula delivers that red carpet radiance instantly. This celebrity-favorite product comes in compact packaging with a bronzer in the top compartment and a mirror and brush in the lower one. It comes in three shades and works well on all skin types.
Pros
Luminizing formula
Subtle
Easy to blend
Long-wearing
Travel-friendly packaging
Cons
None
Review
This bronzing powder from NYC is matte, blends like a dream to offer velvet smoothness, and is a must-try formula for beginners. Its color is buildable and pigmented. It goes on smoothly and evenly and does not break you out. It also contains natural mineral powders, kaolin, and silica to minimize pores and fine lines.
Pros
Great for daily wear
Dermatologist-tested
Lightweight
Long-wearing
Silky texture
Suitable for sensitive skin
Cons
*The prices provided in this article are based on the latest available information. However, they may vary due to changes in pricing by the seller and/or promotional offers.
Now that you have a fair idea of the best drugstore bronzers out there, here are some tips to help you choose a formula that works well for your skin tone.
Tips: How To Choose The Right Bronzer And Apply It Like A Pro
Whether you have a pale complexion or medium or darker skin tone, the rule is to choose a bronzer one or two shades darker than your natural skin tone. If you use one that's too dark, it will make your complexion look dirty and muddy.
If you have normal, oily, or combination skin, a powder-based bronzer is your safest best. If you have normal to dry skin, use a cream or liquid formula.
Shimmer makes oily skin look oilier. Consider an oil-free formula or one that has less shimmer if you are someone with oily or acne-prone skin.
Apply your powder-based bronzer with a medium-sized fluffy brush. Tap off any excess product before applying for the best results.
Use your fingers, a sponge, or a foundation brush with synthetic hair if you're using a cream formula.
Why Trust Stylecraze?
Esha Saxena is our in-house makeup connoisseur with a knack for following and researching interesting makeup trends and products. Since no perfect look is complete without a bronzer, she enlists some best drugstore bronzers in this article. She has curated this list after extensive research on multiple websites. A detailed explanation about the available shades, suitable skin types, and more about these bronzers will help you make the right purchase to suit your needs.
Frequently Asked Questions
What is the purpose of a bronzer?
Bronzers deliver warmth and color to the face. The face looks flat after applying foundation and concealer, and the bronzers add dimension to the face.
What brush should you use for bronzer?
An angled contour brush is essential for adding dimension to your face with a bronzer. Opt for a super plush, extra large brush to apply just the right amount of bronzer to your face.
Do you put bronzer on after foundation?
Yes. Apply the bronzer after the foundation to add a warm glow to your face.
What is the best budget bronzer?
The Rimmel London Natural Bronzer is the best budget-friendly bronzer. This high-quality bronzer is priced approximately at $3 online and delivers subtle yet alluring warmth to your face.
Does bronzer go on or under cheekbones?
Apply the bronzer below the cheekbones in small circular motions and extend the brush to your temples in a 'C' shape. This will make your cheekbones appear lifted and well-defined.
Should bronzers be matte or shimmer?
Matte bronzers are a better option if you want a natural look. If you have oily skin, matte formula is ideal. However, use a shimmery bronzer if you need a radiant glow and a dramatic chiseled look.
Should you put bronzer all over your face?
No. The purpose of a bronzer is to impart a subtle hint of glow to the high points of your face, not to make you look tan. Therefore, do not apply bronzers all over your face.
Is it better to use a bronzer or a blush?
Bronzers add warmth to your face, and blushes add color to the cheeks. So if you want a sun-kissed look, apply a bronzer, whereas using a blush to achieve a natural glowy look.
Should you put powder on before the bronzer?
Yes. Apply a thin layer of powder to your base makeup before applying the bronzer to achieve a more natural glow.
Recommended Articles: