9 Best Concealers For Sensitive Skin That You Need Right Now
Cover your blemishes and make your face look acne-free without irritating your skin.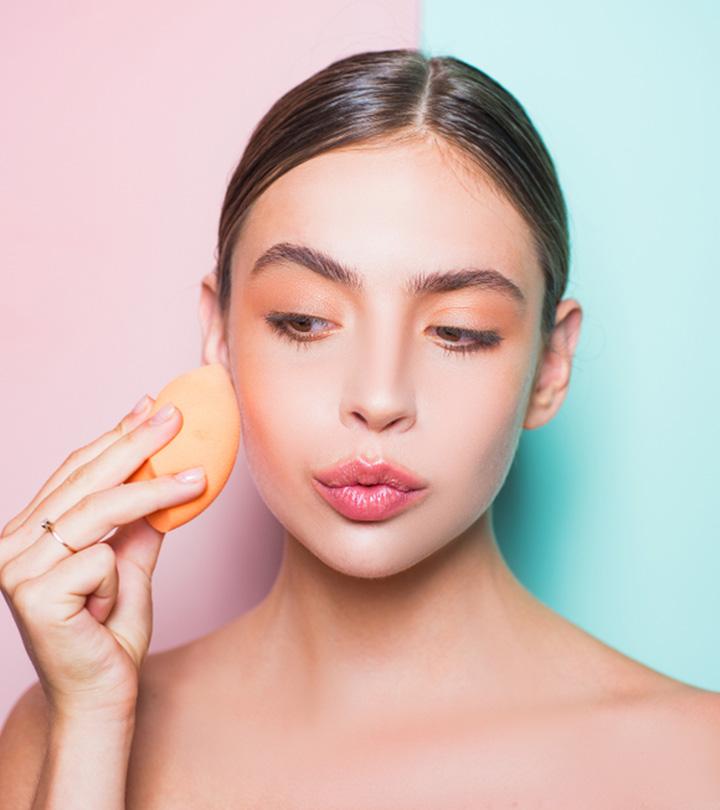 Concealers are the perfect way to cover all imperfections on your face. But if you are prone to allergies, something as simple as applying concealer can become a worrisome task. This is where the best concealer for sensitive skin comes to your rescue.
Our skin undergoes many changes from puberty to adulthood. As teens, blemishes, redness, and dark spots are common, and when we hit adulthood, dark circles show their path. A good concealer can effectively assist in hiding the redness, bumps, and other imperfections.
If you have sensitive skin, pick a hypoallergenic concealer that is made of gentle, non-toxic ingredients. Find a formula that will hydrate your skin and provide buildable coverage.
If you find it overwhelming to find the right concealer for your sensitive skin, check out our list of the 9 best concealers that are specially formulated for you. Scroll down and grab a concealer and get flawless skin worry-free.
What Is A Concealer?
A concealer is a cosmetic that masks dark circles, large pores, discoloration, deep pigmentation, acne, or any blemishes on the skin, rendering your face with an even complexion. It is applied after the foundation, and needs to be blended well to make the skin appear uniform in color. While under-eye concealers should ideally be lighter than your complexion, pick your all-over concealer in the same shade as your skin.
What Are The Types Of Concealers?
Every skin type is different. There is no one-suits-all formula in concealers. So, let us take you through the types of concealers that would work best for you:
Liquid concealers: If you have large pores and oily skin, this is your best bet! Cream or stick concealers will end up making your pores look bigger. It is also super-efficient for acne-prone skin, as it does not settle around the acne or into the scars. They offer buildable coverage and need to be set with powder to avoid creases around fine lines of your skin.
Stick concealers: With super convenient packaging and a creamy blend, stick concealers offer a lot of coverage along with ease of use. They work wonders on blemishes and skin discolorations. Owing to its creamy texture, stick concealers blend well into the skin, allowing you to use them for touch-ups later in the day.
Cream concealers: These concealers are more efficient as they can be molded and blended over scars or dark blemishes. Just like the stick concealers, because of their creamy texture, they offer a smooth finish and excellent coverage. Cream concealers can, however, look a bit heavy due to heavy pigmentation in its formula. To avoid this, you can use a brush for light application.
9 Best Concealers For Sensitive Skin
Did someone say dry skin? Well, say hello to this creamy, fragrance-free, and lightweight formula by COVERGIRL. This conditioning under-eye concealer makeup with ginseng, vitamin E, and chamomile, will help your skin look smooth. This product is hypoallergenic and cruelty-free. This concealer glides on the skin smoothly, blends beautifully, and offers good coverage. It tones down redness, hides dark circles, and acne. Follow the easy 3 quickies: clean face, dab, and blend. Despite being lightweight, this concealer is buildable. Recommended for anyone looking for an easy, light concealer, this product will soon be part of your 9 to 5 work look!
Pros
Moisturizes skin
Blends well with skin
Offers good coverage
Cruelty-free
Reasonably priced
Cons
Price at the time of publication: $3.49
While you may feel a bit thrown-off on the yellow, trust us when we say the Physicians Formula Gentle Cover Concealer Stick effectively masks all imperfections. This concealer formula is creamy and is created without any of the 150+ known harsh ingredients found in other personal care items. It is hypoallergenic, safe for sensitive skin and eyes. And about the yellow? This concealer uses color theory to mask any visible patches or spots on your skin. You can even use it to color-correct any bruises. It comes in a non-drying stick and promises easy application. If you don't feel like glamming up, and just want to tidy up, then this product works best for you. All you have to do is, roll up the stick, glide it under your eyes, and blend gently for a clean look.
Pros
Creamy
Non-drying concealing sick
Easy to blend
Cruelty-free
Excellent coverage
Cons
Price at the time of publication: $3.99
Neutrogena 3-in-1 Concealer For Eyes promises a fresher and brighter look. We stand for this product because it actually does what it says. It is soft, smooth on the skin, blends well, and offers natural-looking coverage. This formula is gentle enough for sensitive eyes and contact lens wearers. This concealer contains the goodness of aloe and green tea extracts, which soothes your skin. Unlike other products in the market, this one doesn't set into the fine lines of your under-eye but instead offers a natural glow. It masks dark circles and blemishes and reduces the appearance of puffiness. This video will give you a better insight into the product.
Pros
Light on the skin
Smoothens under-eye fine lines
Affordable
Features SPF 20 that protects skin from damage
Offers natural finish with good coverage
Cons
May not be too efficient on wrinkles
Designed to offer remarkable coverage, bareMinerals Bareskin Complete Coverage Serum Concealer is honestly everything you wished for and more! If you've been trying to master the glass skin look, then this concealer will provide you with the silky-smooth texture you've been looking for. Boosted with an anti-aging serum, this formula boasts of an illuminated skin glow finish due to its high-definition optics that counteract shadows. Infused with essential minerals, this product will brighten up your face, fade dark circles and blemishes, and offer an even-toned complexion. It also contains humectants, which help nourish the delicate under-eye area. While great on sensitive skin, and offering excellent coverage, this lightweight under-eye concealer will also give you a lovely dewy finish.
Pros
Cruelty-free
Vegan
Anti-aging
Wide range of shades
Good coverage
Cons
May have a thick consistency
Price at the time of publication: $62.15
First of all, the range of shades in this just makes us so happy. Kudos to Almay Skin Perfecting Comfort Concealer for embracing all skin colors! In 8 varying shades, this concealer offers medium-to-full coverage and perfects a crease-resistant look. It will leave your skin feeling luminous and soft. This hypoallergenic formula is lightweight and blurs dark circles, spots, and patchy skin for a natural look. Great for sensitive skin, this concealer blends really well with your skin to offer buildable coverage. This oil-free concealer locks in the natural moisture of your skin and works great on smoothening the appearance of wrinkles on your face. Super creamy and easy to apply, this product definitely has our heart set to it!
Pros
Cruelty-free
Fragrance-free
Oil-free
Great range of shades
Cons
Price at the time of publication: $8.49
The shade range on Emani's HD Corrective Concealer is giving us life! Also, can we please talk about how the product is marketed to be organic? Hands down, this is one of the best organic under-eye concealers we have come across. Great for sensitive skin, this formula is vitamin C-infused and delivers a crease-proof, sweat-proof and waterproof look that we've all been dying for. Offering a natural look, this concealer hides pores and doesn't settle in on your fine lines or wrinkles. The result? Well, you now have an almost flawless HD airbrushed look, without any creases. This fragrance-free concealer is formulated with avocado that nourishes skin, green tea extract that diminishes the appearance of blackheads, grapeseed oil that moisturizes skin and heals acne, and sunflower extract that helps protect the skin from environmental damage.
Pros
Vegan-certified
Cruelty-free
Gluten-free
Ethically sourced
No silicone and parabens
Cons
Price at the time of publication: $20.0
One of the best waterproof eye makeup products and suitable for all skin types, Vichy's Dermafinish Corrective Foundation Stick is your best bet if you are looking for a product that lasts for long hours. This waterproof concealer is allergy-tested and non-comedogenic, which means it will not clog your pores like several other products in the market. This concealer formula contains Vichy Thermal Water, which strengthens the skin and protects it against UV rays and pollution. All while the talc in the concealer mattifies the skin and absorbs excess sebum. It lays smooth on your skin and covers up acne well. You only need to dab a small portion of the product to cover deep scars and pigmentation. Also, here's a tip if you are using the product, blend it outwards, and you will be rewarded with a flawless finish!
Pros
Lasts longer
Water-resistant
Hydrates skin
Protection from UV rays and pollution
Cons
Price at the time of publication: $28.0
This Skin Renewing Concealer by Xtreme Lashes is an anti-aging concealer that provides hydration, radiance, and youthful skin. And honestly, we have nothing to complain about here. This concealer fades dark circles, wrinkles, redness, and offers even skin tone. It dries quickly, leaving you with a smoother, firmer, and hydrated look. Plus, this formula is lightweight and works wonders while masking redness and delivering a seamless, natural look. This concealer is made of antioxidants, fruit extracts, and vitamin E, which is expected to intervene in the skin aging process. For best results, directly apply the product shade that matches your skin tone, pat gently, and alternatively contour your face with a darker shade.
Pros
Anti-aging
Lightweight
Great at masking redness
Easy to apply
Cons
Price at the time of publication: $32.0
Is this the best under-eye concealer in the market? Quite possibly! Looking for a smooth, lightweight concealer that hydrates your skin and lasts long? Well, please meet Dermablend Smooth Liquid Camo Concealer. This liquid formula is buildable and covers the darkest blemishes under your eyes with ease. This product comes with a wand applicator for quick and even coverage. It will not clog your pores and works for sensitive skin as well. It truly is a lifesaver for those with darker skin tones, as not many brands offer great dark-toned concealers. It is smooth, easy to apply, and renders medium coverage with just a tiny amount. And just a word to the wise, the darker shades work great if you are looking to contour your blemishes. Honestly, this is definitely one of our favorites and is a product that is here to stay!
Pros
Cruelty-free
Vegan formula
No sulfates and parabens
Hydrates skin
Lasts longer
Cons
Price at the time of publication: $19.5
Why Trust StyleCraze?
Chaitra Krishnan, the author of this article, is a makeup enthusiast who loves writing informative articles for her readers. She believes that high-quality concealers can hide the redness, bumps, and other imperfections without affecting the skin. She conducted thorough research by browsing hundreds of reviews to compile the list of the best concealers for sensitive skin. Apart from concealing the imperfections, they can moisturize your skin, minimize the appearance of aging signs, and make your skin look flawless.
Frequently Asked Questions
Should concealer be lighter or darker than foundation?
Your concealer should always be a shade lighter than your foundation so that it can hide the dark discoloration well.
Is BB cream better than concealer for sensitive skin?
Both BB cream and concealer can be good for sensitive skin. A BB gives your sheer coverage while a concealer hides hyperpigmentation.
What ingredients can irritate sensitive skin?
Harsh chemicals like sulfate, parabens, artificial fragrances, and preservative can irritate sensitive skin.
Can you wear concealer without foundation?
Yes, you can use concealer without foundation if you just want to hide only a few blemishes and dark spots. Use a very light layer and blend it well for a seamless look.
Is it okay to use concealer every day on sensitive skin?
Yes, you can apply concealer every day on sensitive skin. Using a tiny bit of concealer to hide marks and blemishes won't harm your skin as long as you are using a concealer made with gentle ingredients suitable for sensitive skin.
Can I mix concealer with moisturizer?
Yes, you can mix concealer with moisturizer and make it a tinted moisturizer to apply all-over on your face.
Is concealer good for pimples?
Yes. Concealers for sensitive skin are non-comedogenic and will not cause a breakout if applied over pimples.
Recommended Articles: