12 Best Concealer Palettes
All your blemish-masking solutions in one compact box! What's not to love about it?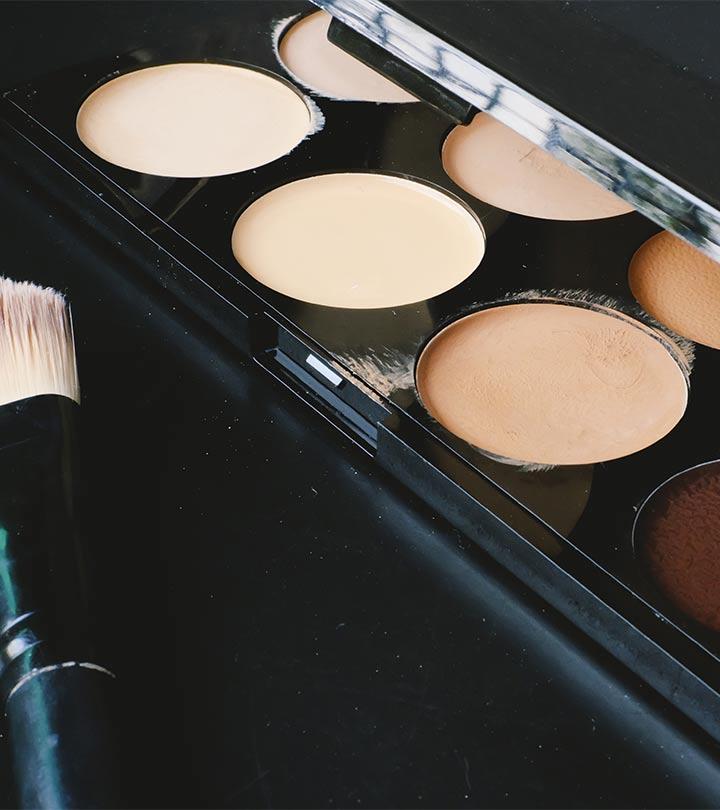 Our hectic lifestyles and hours spent before a screen show up as certain signs on our faces. The best concealer palettes help cover up those signs like blemishes, dark circles, and uneven skin tones. Not all of us are blessed with flawless skin, and a good-quality concealer palette can prove handy while trying to nail different makeup looks. The beauty world is full of these palettes available at different price points. To help you choose, we have listed some of our favorites in this article. Scroll through to take a quick look.
Top 12 Concealer Palettes For Flawless Skin
Pros
High-coverage creamy formula
Consists of a variety of shades to work with
Long-wearing
Suitable for all skin types
Lasts forever and has a long shelf life
High-quality
Cons
Bobbi Brown BBU Palette Review
Shout out to all the makeup artists because this palette is the handiest tool in any makeup pro's kit! It contains all thirteen correctors, fourteen creamy concealers, and twenty shades of Bobbi Brown's stick foundation. You will never be stuck with a client's shade again. The correctors are great for discoloration or dark circles and for balancing out skin tone, while the concealers do a great job at spot concealing and brightening the under-eye area. It's priced at $250, which may seem incredibly high, but in time you'll realize that this is one of the best investments you made (this especially goes for professional makeup artists).
This is one palette that works for every skin type and tone – be it fair, dark or medium. If you want to know more about this product, check out this video on YouTube.
Pros
Blends well
Full coverage
Oil-free
Non-comedogenic
Long-wearing
Cons
Laura Mercier Secret Camouflage Review
This palette by Laura Mercier is one of the most iconic concealers out there. It contains two shades for a natural finish, custom shade match. It's available in 8 different shades to choose from. I love how pigmented this is and how easily it blends into my skin. I start with the lighter color first and then add the darker shade until I get the most natural-looking match. This completely camouflages minor imperfections, dark circles, and discoloration.
This palette is great for those with oily or combination skin as it sets into a nice, matte finish. I give this a big thumbs-up! Go ahead and check out this YouTuber's video for more details about the product.
Pros
Long-wearing
Non-acnegenic
Dermatologist tested
Crease-proof
High coverage
Cons
This palette does not have pink, green, and lavender correctors
M.A.C Studio Conceal And Correct Palette Review
M.A.C's Pro Conceal and Correct Palette is one of my favorites. I love the versatility of the shades and the correctors. It consists of four concealers and two corrector shades in a medium color wave. I love its buildable coverage so I can always achieve a sheer, no-makeup look using this palette with the littlest effort. This palette is also one of the best for contouring. Besides dark circles and blemishes, it's great for covering up tattoos, birthmarks, and moles. Multi-purpose, much? This palette sure is one among the cream of the crop!
These are enriched with antioxidants and are suitable for all skin types. To get a better understanding of the product, you can check out this video on YouTube.
Pros
Easy to apply
Blends well
Highly pigmented
Long-wearing
Cons
Available in one palette shade option
Stila Correct & Perfect All-In-One Color Correcting Palette Review
This one's a hit among YouTube beauty gurus. The gorgeous palette looks like a watercolor tray. Let me begin with who could make the best use of these colors – if you have fair skin and are struggling with dark circles under your eyes, its peachy shades would be perfect for you. This palette would also be a savior for those of you who are new to color correcting and are facing issues like hyperpigmentation. This goes on smoothly and blends like a dream. It hides redness, acne scars, and freckles (if that's a concern for you) with much ease. Also, I love how lightweight this is – it feels like I have nothing on!
This is suitable for all skin types.
5. Black Up Concealer Palette
Pros
Customizable – four colors in a palette (available in three shades)
Creamy and easy to apply
Matte finish
Smudge-proof
Pigmented and amazing coverage
Cons
Not meant for all skin tones
Black Up Concealer Palette Review
These palettes by Black Up are specially designed for matching black and mixed skins. The concealer palette no1 is suitable for light mixed skin tones, no2 is meant for dark mixed skin tones and medium skin tones, while those with ebony dark skin tone can opt for palette no3. The colors are highly customizable and give you optimal coverage and a very natural finish. Besides concealing even the most prominent flaws, it is also amazing for contouring. I'm impressed with the overall quality of this concealer palette and those of you with dark to medium skin ought to give this a shot!
Pros
Contains 12 different colors
This palette is available in two shades
Creamy consistency that blends like a dream
Does not crease
Easy to work with
Cons
Viseart Corrector, Contour, Camouflage HD Palette Review
This flexible palette contains a selection of twelve essential creamy concealer shades to camouflage, correct, conceal, and contour your skin. Its weightless formula goes on seamlessly and is also super easy to blend. You can either use your fingers or a damp beauty blender for the most flawless results. Don't be fooled by its inferior packaging because what's on the inside counts and the company has done a great job with its formula. At $80, this is an impeccable palette!
This is suitable for all skin types and will suit fair and medium skin tones.
Pros
Three palette shades available
Buildable coverage
Long-wearing
The creamy texture makes it easy to blend
Cons
May feel slightly heavy if you don't use it sparingly
NYX 3C Conceal, Correct, Contour Palette Review
The NYX 3C palette's cute packaging is what attracted me at first, and I picked up the 'medium' shade for my skin tone. It comes in light, medium, and deep, so there's something for everyone. A little goes a long way so be careful not to get too much product on. This is an excellent palette for contouring and highlighting. It gives you a very natural finish that blends extremely well and lasts all day long. The orange corrector is especially great for covering dark spots. This palette is a total value for money!
It's suitable for oily and combination skin.
Pros
Provides a natural finish
The palette comes in different shades
Creamy and easy to blend
Long-wearing
Comes with a great brush
Cons
Lancome Le Corrector Pro Concealer Kit Review
Want to know what the ultimate dark circle eraser for bright, youthful eyes is? This Lancome palette! In three simple steps, you can achieve illuminated under eyes. I also tried this on my blemishes, and I loved how it instantly minimized my flaws to a great extent. This palette contains two colors of concealer accompanied with a matching powder to set all of it. You also get a high-quality, dual-ended brush, a mirror, and instructions on making your job easier. I love its consistency and the way it seamlessly blends.
This palette suits all skin types well!
9. Lorac PRO Concealer/Contour Palette And Brush
Pros
Good pigmentation
Easy to apply and blends well
Natural-looking
Smooth finish
Compact packaging
Cons
Lorac PRO Concealer/Contour Palette And Brush Review
This palette contains an array of shades to fit most skin tones. Contouring with these shades is exceptional because the colors blend out well, giving you a natural yet strong contour. Its consistency is creamy, so if you have dry skin, you'll still love the way this feels on your face. Let me mention the fantastic dual-ended brush that you get with this kit, making it easier to use. Also, this is one of the best concealer palettes for highlighting as the shades are so versatile and buildable when it comes to color payoff.
This is suitable for those with combination skin.
Pros
Easy to use
Blends well
Good pigmentation
Long-lasting
Suits all skin types
Cons
Can look cakey if you use too much product
Makeup Revolution Ultra Base Corrector Palette Review
This is one of the best color correcting concealer palettes if you're on a budget. It offers eight creamy, easy to blend color correction creams, each of which has its own purpose. Let me give you a quick overview: pink helps with brightening, green neutralizes redness, lavender neutralizes yellow tones, orange neutralizes blue tones, and peach helps to balance out discoloration. Besides these, the white acts as a highlighter, the cream covers dark areas while brown balances any ashiness in medium to dark skin tones. Isn't that thoroughly multi-purpose? The pigments are all creamy and easy to blend. It feels lightweight, and for $10, you get incredible quality! This is undeniably a must-try!
This is great for every skin type.
Pros
The versatile palette which contains five products
Gives a natural finish
High-quality brushes
Travel-friendly
Cons
The luminizer is a little too shimmery, and this may accentuate pores
BareMinerals Ready To Go Complexion Perfection Palette Review
What's the one palette that could be used by itself? This is it! Let's begin with what I loved most about this palette from BareMinerals, and that would be (drumroll) – it's compact packaging. It comprises everything that you need to do your full face of makeup, on the go. It has got a foundation, a touch-up veil (powder), bronzer, a luminizer, and concealer – all fit in a thick case with zipper closure. This palette is crafted for medium cool skin tones. The products are incredibly easy to use and don't feel heavy on the skin.
If you have sensitive or acne-prone skin, this one's for you.
Pros
Each palette contains two shades with yellow undertones and two with pink undertones
Handy and super affordable
The texture is creamy and covers imperfections well
Easy to use
Cons
Its lasting power is not that great on a hot day
e.l.f Studio Complete Coverage Concealer Review
This palette comes in three shades – medium, light, and dark. These super pigmented formulas are easy to blend and provide full coverage. I loved how easy it was to cover my dark circles and redness using the palette in a medium. It's also suitable for sensitive skin.  You can use it conceal, highlight, and contour! For $3, this palette is too good to be true!
 *Subject to Availability
Now that you have a clear understanding of the different concealers available on the market, know more about why we need different concealer shades!
Why Do Different Colors In A Concealer Palette Matter?
The best concealer palettes should contain various colors and not just stick to one shade. The following section will help you understand why it is better to choose concealer palettes with different color options.
Skin Tone: Colors in a concealer palette should cater to every skin tone. For instance, for darker skin tones, it is better to choose orangish concealer shades, and hide dark circles with yellowish tones. However, if you are looking to smoothen your skin tone, choose a concealer shade that is the same as your skin color.
Skin Issues: Different parts of your skin may need different colored concealers. For dark circles, you may need concealers that are greenish. Green concealers also counteract inflammation and redness. However, purple concealers often enhance your complexion and offer a fresh look.
Natural Look: If your concealer palette has different shades, you can easily pick two to three shades that can match your skin tone, and balance it out. It is always better to choose three different shades, one lighter, one darker, and another one that is completely neutral. This trick will help offer a natural look to your skin.
While it is recommended to understand your concealer match based off of your foundation shades, there are several other factors that should be kept in mind while searching for the right concealer palette for your skin. Now, take a look at the several ways in which you can easily determine your concealer match. Scroll below!
How To Find Your Concealer Match
Skin Tone: The rule of the thumb for picking the right concealer shade that can completely match your skin tone. However, sun exposure, rosacea, and acne can often change the surface color of your skin. So, make sure to search for a concealer match
Undertones: There are three possible undertones, namely warm, cool, and neutral. You can easily understand your undertone by examining the veins on your wrist. If you have blue or purple veins, it indicates that you belong to the cool undertone category. If you have blue and green veins, that means you have warm undertones. If you have bouts of purple, blue, and green in your veins, then your undertone can be termed as neutral.
Test The Concealer: Use your cheeks to test the concealer shade that you have chosen. Makeup artists usually do swatch tests on their jawlines or cheeks, and sometimes on their wrists. To understand which shade is working wonders on your skin, put the different shades of concealer on your jawline and neck. For best results, determine the right shades under natural lighting.
Under-Eye Area: The area under your eyes is the hardest to put a concealer on. However, you should always purchase one or two shades lighter than your natural skin tone to cater to your under-eye area. This can help create a brightening effect and hide stubborn dark circles.
Choosing a concealer palette is all about understanding your skin needs well. However, there are several aspects that you should know about before choosing the right palette. There are several factors to consider when choosing the best concealer palettes for your use. Take a look at them below.
Factors To Consider While Purchasing Concealer Palettes (Buying Guide)
There are three types of concealers that work wonders on your skin. Liquid concealers are best for oily, normal, combination, and acne-prone skin. Stick concealers are best for normal, dry, and sensitive skin. Cream concealers are best for sensitive skin, and also work wonders on normal and dry skin. Concealer palettes mostly comprise liquid and cream concealers.
Every concealer palette comes with shades that have different pigmentations. Since the use of concealers are to cover spots, blemishes, and even out your skin tone, you should go for concealer palettes that offer rich color payoff. Highly pigmented concealer palettes tend to offer you the desired coverage in one gentle swipe itself.
Many concealer palettes are too dry, or offer a hugely highlighted coverage. So, it is better to choose palettes that offer smooth finish, and do not make your skin look cakey, creasy, or dull. Palettes that offer a natural finish are the ones that you should go for.
There are many high-end concealers that are too expensive. Moreover, once you know the right shades that suit your skin, you can purchase concealers that contain only those shades. Many drugstore concealers also work wonders on your skin without burning a hole in your pocket.
Applying the right concealer shade isn't rocket science, but you should know about the different shades available in a palette and their rightful application. Let us understand how to effectively use each of the shades for better results.
How To Use A Concealer Palette
Apricot: The apricot color in the concealer palette can conceal dark circles, marks, bruises and scars. It is better to blend this color outward with a dampened sponge. After putting this color, apply a sheer foundation to a loose translucent powder to set the color well.
Lavender: The lavender shade in your concealer palette can work wonders on your forehead, cover dull patches, and highlight your cheekbones. This shade is mainly used to cover fatigue and make your weekend attire look absolutely perfect!
Mint: The greener shades in your palette, especially the mint shade can be used to hide redness, red spots, and inflammations. Use this shade generously, but do not forget to blend it with a damp sponge.
Yellowish Tones Or Honey: The honey shade in your concealer palette can keep sunburns and freckles at bay. It tends to make your skin appear smoother than ever. This shade can be applied on the sun burnt areas with the help of your finger tips.
Orange Or Bisque: The bisque color on your palette is used for quick retouches. You can also use the bisque shade as a translucent color to blend your other concealer shades well.
Why Trust StyleCraze?
The author of this article, Esha Saxena, is a makeup enthusiast who has an inclination towards reviewing makeup and beauty products. She believes makeup is nothing less than art and tries her best to pick the right options for her readers. Her recommendations are based on reliable reviews found on various platforms. The concealer palettes mentioned in this list help you effectively hide the blemishes and uneven skin tone.
Frequently Asked Questions
What is a concealer palette?
A concealer palette comprises a collection of different shades of colors that can be used to achieve a perfect, flawless look.
Do I put concealer on before or after foundation?
Apply concealer after your foundation to cover the remaining blemishes and acne marks.
Which color concealer is best for dark circles?
The apricot concealer is the best shade for dark circles.
Recommended Articles