11 Best Concealers For Hyperpigmentation And Dark Spots – 2023
Say goodbye to your annoying hyperpigmentation and dark spots with these concealers.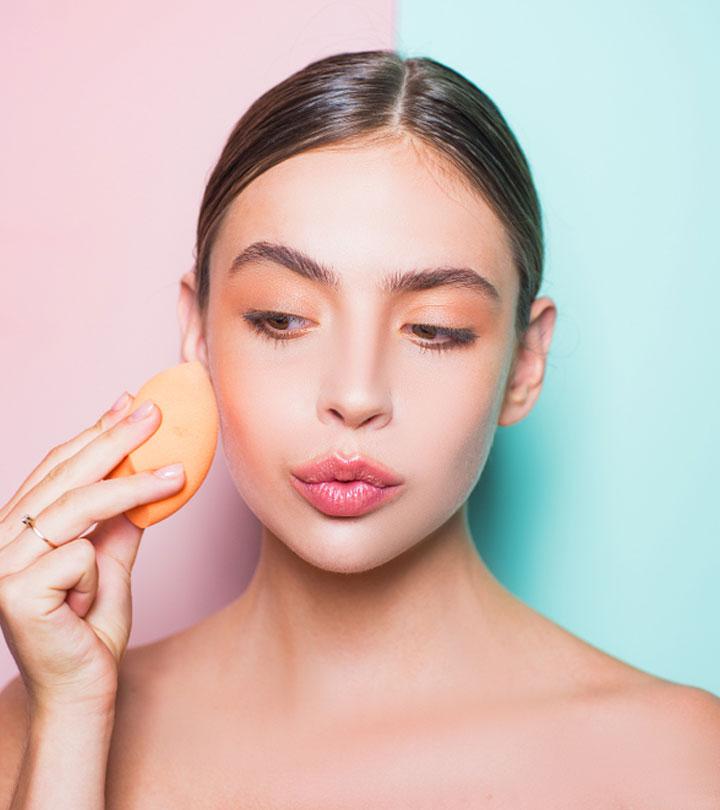 Finding the best concealer for hyperpigmentation can be tricky, as you might be confused as to what should be the shade you should opt for. As annoying hyperpigmentation can be, it is relatively common and can be healed and corrected by natural remedies. Stress and uneven sleeping patterns can give you dark circles and spots that might be difficult to ignore. While you would choose a concealer to cover the unwanted marks, using the right color makes all the difference. Even when you apply the testers on your skin to check what blends well with your skin tone, it can be challenging to find the shade that hides the spots and makes it looks natural. No one wants to end up looking like a cake! So here are 11 concealers crafted to hide hyperpigmentation without making it look too obvious. So, ready to flaunt flawless skin?
11 Best Concealers That Combat Hyperpigmentation And Dark Spots
Maybelline is well-known for its premium budget-friendly makeup products. This concealer is an excellent choice for flawless even-toned skin, to conceal skin imperfections, and is suitable for everyday wear. It can seamlessly hide dark spots and other areas such as under the eyes without feeling heavy or patchy. It makes for a good concealer for deeper skin tones, and its ultra-concentrated formula provides full-coverage for that radiant glow. Available in a range of different shades, you are bound to find a shade that's the perfect fit for you. For a more detailed review of this product, here's a video.
Pros
Lightweight
Long-lasting
Buildable formula
Full-coverage
Cons
Some may find the formula slightly oily.
Price at the time of publication: $8.02
The Dermablend Quick-Fix Concealer is a stellar example of an excellent concealer for hyperpigmentation. It provides full-coverage and is shaped like a stick, making it easy to apply and convenient to carry in your everyday makeup pouch. Formulated by a dermatologist and makeup artist, this concealer stick is loaded with high-performance pigments that conceal hyperpigmentation, wrinkles, scars, spots, skin impurities, and other skin irregularities. This high-quality makeup addition can cover hyperpigmentation and makes for an excellent concealer for acne hyperpigmentation. The creamy formula glides smoothly, doesn't clog pores, and stays put for 16 hours without feeling cakey or heavy.
Pros
Dermatologically-tested
Paraben-free
Cruelty-free
Phthalate-free
Transfer-resistant
16-hour wear
Cons
It may contain sulfates in trace amounts.
Price at the time of publication: $28.0
If you've never tried the Tarte Shape Tape Concealer, we must tell you that you're missing out on a lot. The concealer is formulated with Tarte's trademarked Tape Technology that helps smoothen out the appearance of fine lines and wrinkles. It is also infused with the goodness of shea butter and licorice root extract, which helps retain the skin's elasticity and brightens the appearance of dark spots. Mango butter present in the concealer helps keep your skin moisturized and conditioned. It offers 16-hour wear and stays crease-free for up to 12 hours. The glowing formula present in it makes it a fantastic color concealer for hyperpigmentation. Oh, before you forget to tell you, it's waterproof too!
Pros
Non-comedogenic
Dermatologist-tested
Vegan
Waterproof
Full-coverage
Cons
Dimethicone in the product may irritate acne-prone skin.
Price at the time of publication: $23.0
As the name suggests, this fantastic concealer will be a great addition to any makeup kit. Enriched with cucumber fruit extract, this concealer hydrates and soothes the skin like no other. It is water-resistant, lightweight, and blends seamlessly.  The Amazing Concealer is loaded with antioxidants, and its ultra-concentrated formula is made of color-correcting pigments that provide full-coverage for the entire day. The concealer covers under-eye circles, spots, and wrinkles effectively without creasing or feeling cakey, providing immense color correcting concealer for hyperpigmentation.
Pros
Gluten-free
Paraben-free
Soy-free
Sulfate-free
Not tested on animals
Available in 16 shades
Cons
Some may find the consistency slightly runny.
Price at the time of publication: $29.0
If you find it difficult to apply a concealer with a makeup sponge or brush, this concealer will be your next favorite makeup product. Its creamy formula erases dark circles and fine lines, giving you a youthful look instantly. Infused with the goodness of Goji berry and Haloxyl, it combats hyperpigmentation and uneven skin tone in seconds. This award-winning concealer comes with a twist-collar micro-correction applicator, that gives it a flawless concealer application method and makes it easy to apply and conceal skin imperfections with a single swipe. Know more about this product in this video.
Pros
Available in many shades
Lightweight formula
Blends easily
Micro-corrector applicator
Cons
Price at the time of publication: $8.8
One good color corrective concealer can change your entire makeup game, and Pixi By Petra Correction Concentrate is that concealer. It erases dark spots and softens fine lines to give you a radiant, well-rested look. The concealer is infused with rosehip extract, which helps improve skin elasticity. It also contains Vitamin A, which offers anti-aging properties, and Vitamin C, which brightens skin tone. Let the sheer formula not deceive you as it is amongst the most full-coverage concealer for hyperpigmentation. Learn more about this product in this video.
Pros
Paraben-free
Not tested on animals
Anti-aging properties
Semi-matte finish
High-pigmentation
Buildable coverage
Cons
It may not offer long-lasting wear.
Price at the time of publication: $21.95
When looking for a concealer, ensure that it withstands humidity and sweat like a shield and lasts throughout the day. Estee Lauder Double Wear Stay-In-Place Concealer is a concealer that can do all of those things, and more. It is a 15-hour budge-proof concealer that is packed with minerals and emollients. The concealer is transfer-resistant, offers buildable full-coverage, and settles as a natural matte finish. This is a great concealer to provide color correction for hyperpigmentation. The precision-wand applicator makes it easy to apply, and the oil-free formula helps your pores breathe.
Pros
Water-resistant
Non-comedogenic
Ophthalmologist-tested
Dermatologist-tested
Fragrance-free
Cons
Price at the time of publication: $31.9
To ensure that your concealer stays put throughout the day, it's best to lock it in with a setting powder. This concealer kit comes with a lightweight setting powder. The kit comes with a yellow-based creamy concealer that camouflages dark circles and pigmentation problems. The concealer lends a natural matte finish that hides blemishes and blends effortlessly into your skin. The formula is rich in skin-smoothing emollients and silica, which gives the concealer its "soft-focus effect". It's also sweat-proof and humidity-resistant. It is good concealer for hyperpigmentation.
Pros
Paraben-free
Phthalate-free
Sulfate-free
Waterproof
Free of animal-derived ingredients
Cons
Price at the time of publication: $39.99
Although concealers are primarily used to mask dark spots, fine lines, and other skin irregularities, it can also be used on the body to mask tattoos. The Hard Candy Glamoflauge Heavy Duty Concealer helps hide all skin imperfections and also offers full-coverage if you need to hide your tattoos for a job interview or a somber affair. It is lightweight, available in many shades, and comes with a color-correcting pencil. It makes for an ideal concealer shade for hyperpigmentation, acne, and dark spots.
Pros
Long-lasting
Buildable coverage
Easy to blend
Reasonably priced
Cons
It may feel cakey after a few hours.
Price at the time of publication: $25.02
The MAC Studio Finish SPF 35 provides full-coverage and offers long-lasting wear. It comes with SPF 35 to protect your delicate skin from the harsh rays of the sun. The formula is rich in antioxidants and contains Vitamin A and Vitamin E, which lends it its anti-aging and rejuvenating properties. This is a great makeup for hyperpigmentation as it evens out skin tone and conceals skin imperfections perfectly. The ingredients in the formula also boast of excellent oil-absorption qualities, making it an ideal concealer for those with oily skin.
Pros
SPF 35
Long-lasting
Opaque coverage
Suitable for oily skin
Cons
Some may find the concealer smaller than expected.
Price at the time of publication: $22.99
The HIDE multi-use full-coverage concealer is made from non-greasy ingredients that are easy to apply and blend. It has a lightweight formula that can keep skin looking and feeling hydrated while remaining unmistakably concealable. In addition, you require very little product to conceal blemishes as it is quite full coverage.
Pros
Ultra Lightweight
12+ hour wear
Buildable
Dermatologist Tested
Cons
Price at the time of publication: $8.48
Now that we've looked at the 11 best concealers for hyperpigmentation and dark spots, here are a few things to keep in mind before buying a concealer.
How To Buy The Best Concealer For Hyperpigmentation
What Is Hyperpigmentation?
Hyperpigmentation is a condition caused by excessive production of melanin. Melanin gives our skin and hair its color.
Types Of Hyperpigmentation
Hyperpigmentation comes in different types caused by various factors. The most common ones include:
Melasma is caused by hormonal imbalances in the body, leading to dark patches over the skin, commonly observed on the cheeks, the forehead, and the chin.
Age spots are caused by prolonged exposure to the sun.
Post Inflammatory Hyperpigmentation (PIH) which is caused while recovering from injuries or scars
How To Choose A Concealer For Hyperpigmentation
Hyperpigmentation affects different people differently. Factors to consider while choosing a concealer for hyperpigmentation include:
Skin color and intensity of the tone of the pigmentation
Choose a concealer that matches your skin tone. Keep in mind that the concealer has to blend well with the foundation. The more intense the pigmentation, the thicker the layer of concealer should be. A lightweight concealer would be ideal for lighter spots.
Where the concealer is to be used
Look for a full-coverage concealer or one that offers buildable coverage if you want to hide dark spots, fine lines, dark circles, and large pores on your face. A heavy-duty concealer can be used on body parts to hide tattoos temporarily. A color-correcting concealer can be used on body parts to mask scars or discolorations.
Brand preferences
Makeup aficionados prefer certain brands over others owing to their reputation. Building a reputation requires time, trust, and reliable results to develop, and it can be used as a parameter to choose a concealer. Brands such as MAC and Maybelline are popular as their concealers have consistently provided satisfying results.
Presence of acne along with pigmentation
When using a concealer for acne, a specific type of concealer called a blemish concealer is used. The concealer should be thick and rich in pigment. As acne scars can get dark, a heavy concealer can be used to spot-conceal the pigmentation.
How To Use A Concealer For Hyperpigmentation
Simple steps to use a concealer for hyperpigmentation include:
Step 1: Use a good cleanser to remove dirt, oil, or sweat from your face. Gently moisturize your face after that.
Step 2: Wait for the moisturizer to get absorbed in the skin completely. Follow it up a primer to level the surface of the skin. A primer will give your skin a smooth, even base for the next step.
Step 3: Your star concealer will now take over the stage. Which means that you can now blend the concealer with the primer. Any dark patch, crease, or boil will be covered with it.
Step 4: Apply a thick layer of foundation over it. This will give you the skin-like appearance, laying the ground for blush and contouring.
Step 5: Once you have an even complexion, finish your eye makeup, lips, and slay like a Queen.
Why Trust Stylecraze
Chaitra Krishnan, the author of this article, is a makeup enthusiast with a deep passion for sharing products that not only make you look amazing, but also help with skin conditions like hyperpigmentation. She went online and searched for the most effective concealers to cover hyperpigmentation. She extensively researched and investigated every product and their reviews before shortlisting the mentioned products. With these concealers you get intense color pigmentation, smooth finish, buildable formula, and other benefits.
Frequently Asked Questions
What color concealer should I use for hyperpigmentation?
Depending on the intensity, use the opposite color of the pigmentation you wish to conceal. Thick concealers can be used for more intense discolorations.
How to cover hyperpigmentation with a concealer?
Use a concealer with a foundation over it to blend and cover hyperpigmentation. Use a moisturizer before applying concealer to provide a good base for the makeup.
What is the best procedure for hyperpigmentation?
There is no best procedure for hyperpigmentation as it varies according to skin tone. Laser treatments such as high beam laser treatment and intense pulse light therapy are the most common ones. Other types include chemical peel and dermabrasion.
What do dermatologists recommend for hyperpigmentation?
Dermatologist recommendations vary according to individual conditions. Clinical procedures include laser treatment and dermabrasions. They may also prescribe medicines, retinoids, or Vitamin A supplements to supplement the procedures.
What makeup covers hyperpigmentation?
Makeup products like concealers, color correctors, and foundations effectively cover hyperpigmentation.
How do I deal with the look of hyperpigmentation naturally?
These home remedies will help you treat hyperpigmentation naturally.
•  Mix apple cider vinegar with water and apply it to the dark patches. Leave it for two to three minutes and rinse it with lukewarm water.
•  Apply pure aloe vera gel on pigmented patches overnight and rinse it off with warm water.
•  Apply red onion extract on dark spots.
•  Soak a cotton ball in milk and rub it on the dark patches twice daily.
•  Soak and blend red lentils into a paste. Apply the paste on the skin evenly and leave it for 20 minutes. Rinse with cold water.
Recommended Articles:
Best Concealers For Melasma For Even-Toned Skin
Best Concealers For Dark Skin
Best Concealers For Acne Scars