8 Best MAC Concealers of 2023 To Eliminate Dark Spots!
Cover deep-seated dark circles and pigmentation with the bestselling MAC concealers.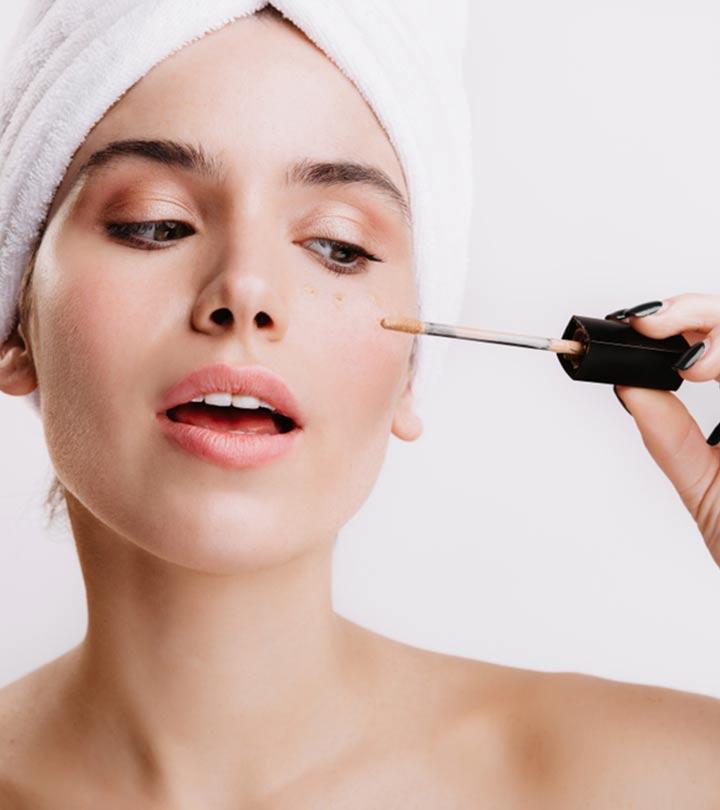 A woman's concealers are her best friends, and this friendship is even more deep-seated when we have dark circles and pigmentations to hide. But if that's the case, you might need a more trustworthy friend, like the best MAC concealers. That's what brands like MAC do to their products. They have a concealer for all skin tones and have made their products the absolute best in the whole market. MAC, the name itself speaks to women, as it follows a massive fan-base worldwide with millions for MAC enthusiasts. If you, too, are as obsessed with MAC as we are, dive right into our list of the best 8 MAC concealers of this year.
And why shouldn't you? After all, all those late nights and early mornings are bound to show up on your face. But they shouldn't be a reason to hold you down. Shine on!
Top 8 Best MAC Concealers Of 2023 For A Flawless Glow! (With Buying Guide)
Staying true to its name, the long-lasting formula of MAC Pro Longwear Concealer will last up to 15 hours! Yep, sufficient for you to make it through your work hours and even a surprise date later, without having to touchup. A lightweight fluid concealer, it goes smoothly on the skin while concealing the dark undereye circles, blemishes, discoloration, spots, and more with natural coverage. With little going a long way, consider yourself sorted for a few months with MAC Pro Concealer in your kitty. If you want a detailed review of the product, make sure to take a look at this video.
Pros
Delivers a natural matte finish
Enhances complexion effortlessly
Provides full to medium coverage
Ideal for normal to combination skin.
Cons
It may have a drying effect in winter.
The pump packaging may be a hassle after a few uses.
Price at the time of publication: $21
This one will conceal, nourish, and protect your skin, all at the same time! Infused with SPF 35 to shield you from the harmful UV rays, it also contains antioxidants such as vitamin C and E for ultra-nourishment. And as for the coverage— a few sweeps of this concealer will even-out the skin tone, discoloration, and hide the blemishes instantly! So, if you are looking for a versatile product that provides more than just concealing benefits, then you know which one to pick now. Try it!
Pros
Enhances complexion with a matte finish
Delivers a full and natural coverage
Travel-friendly and mess-free application
Paraben-free, sulfate-free, and perfume-free
Ideal for combination to oily skin makeup users
Cons
Small size
It may not blend easily.
Price at the time of publication: $31.65
No touchup, only glow ups! That's what MAC Pro Longwear Concealer is all about. Long-lasting for up to 15 hours, you can go about confidently without worrying about your dark circles or blemishes showing up. Also, with an easy-to-dispense packaging making it a travel-friendly product, you can conceal all your problematic areas anywhere, anytime. And the best part is, with only a pearl-size amount enough to deliver stunning coverage, this mac pro longwear concealer swatches is a great option for travelers, workaholics, beginners, and professionals.
Pros
Leaves a mattifying effect on the skin
Hides dark spots, blemishes, and dark circles
Blends easily and quickly
Suitable for normal to oily skin
Cons
Not ideal for dry skin makeup users
Price at the time of publication: $27.35
Do you have sensitive or acne-prone skin? Then look no further for this MAC concealer will cover up without causing any irritation or reaction. Infused with botanicals and minerals— it nourishes and lasts easily up to 8 hours! And besides delivering a luxuriously creamy texture on the skin that goes on smoothly, this concealer for mature skin also hydrates and conceals wrinkles and fine lines. A great option for dull and tired skin as well, give this moisturizing concealer a try to witness a stunning difference.
Pros
Suitable for all skin types
Delivers satin and dewy finish
Provides medium to sheer coverage
Blends easily and non-settling
Lightweight and comfortable wear
Non-cakey and non-streaky concealer
Dermatologist-tested and ophthalmologist-tested
Cons
The built-in sponge applicator may disappoint.
Price at the time of publication: $39.95
One MAC concealer palette for all your concealing and correcting needs! A must-try for busy bees, travelers, and beginners, this compact palette will counter all skin issues without being a mess. Ideal for on-the-go makeup sessions, the concealer will hide dark spots and blemishes, whereas the correctors will aid in redness concealing or reduce redness or uneven skin tone instantly. And adding to this, these formulas are infused with antioxidants to nourish the skin while correcting and concealing! Do you know a better combo than this? Don't skip it! You can also check this YouTuber's detailed review to know more about the results after using this product.
Pros
Suitable for all skin types
Delivers an even matte finish
Travel-friendly and easy-to-use
Ideal to use for all skin tones
Cons
Price at the time of publication: $40.9
There's a reason why MAC concealers are most loved. Like this one, for instance, will not only last for 24 hours but also give you a finish so flawless and natural that finding blemishes will become a challenge. Yep, this MAC liquid concealer for dry skin besides being lightweight, is easy-to-apply with a sponge-tip concealer applicator that ensures a seamless coverage. Also, the fluid-like formula goes on smoothly and blends like butter on the skin, making the whole experience fun and quick for you. With your skin looking smoother, clear, and photo-ready all day— who needs airbrushing when you have Studio Fix mac concealer making all your flawless dreams come true!
Pros
Suitable for all skin types
Conceals imperfections and dark spots
Enhances the skin with a matte finish
Provides medium to full buildable coverage
Non-drying, oil-free, and non-cakey concealer
Cons
May not be ideal for fair to pale skin tones
Price at the time of publication: $28
If you are looking for a travel-friendly and easy-to-use concealer, then this stick by MAC will thrill up the makeup junkie in you. Other than gliding on smoothly, with no concealer creasing, it is easy-to-blend and delivers full and natural coverage. Whether you spread it with a sponge, brush, or go classic with the fingertip, its crease-resistant formula guarantees a stunning cover up and a radiant glow. And given how a concealer stick can last longer than liquid, this one is no different and will be absolutely mess-free and quick, anywhere, anytime! Grab this concealer stick by MAC today.
Pros
Silky-smooth formula
Improves complexion with a matte finish
Covers up imperfections, spots, and blemishes
Travel-friendly and easy-to-apply
Ideal for dry or sensitive skin
Suitable for medium to deep skin tones
Cons
It may get greasy after a few hours.
Price at the time of publication: $42.0
Creamy concealers, FTW! Luxurious, rich, and easy-to-blend, no concealer can make the skin feel pretty and pampered at the same time as the creamy ones. And if you are a creamy-concealer enthusiast, then you might as well try this tube by MAC. With a doe-foot applicator that guarantees to reach and conceal all problematic areas, it delivers a coverage so smooth and seamless that you'll fall in love with your LOTD instantly. Don't believe us? Try mac concealer for dark circles to witness the glow up!
Pros
Improves complexion
Blends and builds easily
Doubles up as a highlighter
Delivers a satin-smooth and moisturized finish
Camouflages skin imperfections, dark circles, spots, and blemishes
Ideal for fair to pale skin tones
Cons
Not ideal if you have deep and very dark spots
Just what your confidence needs— a MAC boost! There you go, those were the 8 best MAC concealers of 2023 for you. Are you still confused about how to pick the perfect shade or what are its uses? Check out our buying guide below for some tips.
Buying Guide – Best MAC Concealer
How To Choose The Right MAC Concealer Shade?
Choosing a concealer shade in person is easy, but online can be a tad bit difficult if you haven't shopped with the brand before. Pay close attention to shades like beige, warm, natural, etc. For example— if you have deep dark circles, then you should opt for a warm tone concealer as it will coverup without leaving a whitish layer on the skin. However, if you have bluish-purple dark spots or brownish dark circles, then orange-tint or yellow-based concealers are ideal.
Uses for MAC Concealers
Nobody's skin is perfect, hence why there are concealers. One of the most indispensable items in a woman's makeup kit, they conceal all problematic areas on the skin to give you a flawless and natural glow. Here's how you can use them:
Under Eye Circles: Dark circles are a nightmare to deal with and can ruin any makeup look just by showing up! However, not if you have the right MAC concealer shade as undereye concealer. Covering up the dark spots and under-eye circles instantly (more like magic!), MAC concealers are a godsend to eliminate dark circles and to conceal blemishes.
Acne Scars: Other than dark circles, acne scars can be a nuisance. They may not be as striking as dark circles but are a hindrance when you are looking for a clean and clear look. MAC concealers ensure to cover up these scars too with its smooth and natural coverage.  
Discoloration: Skin discoloration is a common issue, and many tend to overlook this factor while buying a concealer. However, a MAC concealer will make sure to even out your skin tone and eliminate any discoloration effortlessly, making them a perfect formula to give your skin a natural and flawless glow.
Why Trust StyleCraze?
Srijani Roy Chowdhury, the author of this article, is a makeup enthusiast who loves experimenting with and reviewing different products to bring out high-quality ones for the readers. Blending her passion into her research, she has scoured numerous trusted websites to curate this list of the best MAC concealers for you. Keeping your convenience in mind, she has listed each with detailed product specifications and a pros and cons list. The article also consists of a buying guide to help you pick the best one.
Frequently Asked Questions
Is MAC Concealer Oil-free?
If you are looking for an oil-free MAC concealer for your skin, then Mac Studio Fix 24 Hour Liquid Concealer- NC50 is ideal for you as it has an oil-free formula.
Is MAC Concealer Good?
Yes, absolutely! MAC concealers are widely known for banishing dark spots, dark circles, blemishes, skin coloration, and more. So, if you are looking for a high-performance, branded, waterproof concealer, then MAC is a great choice.
Will A MAC Concealer Break You Out?
No, it will not if you use MAC Mineralize Concealer- NW20! Dermatologist and ophthalmologist tested, this concealer is a must-try option for sensitive and acne-prone skin and will not cause breakouts.
Can You Use a MAC Concealer As Foundation?
Concealers have a thicker formula and may block pores if used as a foundation. Hence, it's ideal to use them to conceal and hide problematic areas only.
Should MAC Concealers Be Lighter Than Foundation?
Ideally, for under-eye circles, choose a concealer that is two shades lighter than your natural skin color for perfect coverage, and for the rest of the face, opt for a shade the same as your foundation for a seamless thin layer.
What Undertone Should My Concealer Have?
MAC concealers are available in warm and cool undertones. Select the one that best suits your skin's undertone. For example— MAC Pro Longwear Concealer-NC20 (Neutral Cool) is a great option for those with warm skin tones, whereas MAC Studio Finish Concealer-NW25 (Neutral Warm) is ideal for cool skin tones.
Which Concealer Is Best For Blemishes?
Mac Studio Fix 24 Hour Liquid Concealer-NC50 is one of the best MAC blemish concealers which lasts for up to 24 hours! If you still need more coverage, you may try color correcting dark circles.
Recommended Articles: