8 Bestselling Foundations For Freckles – 2023
Gently conceal your freckles with full coverage makeup and achieve a spotless glow!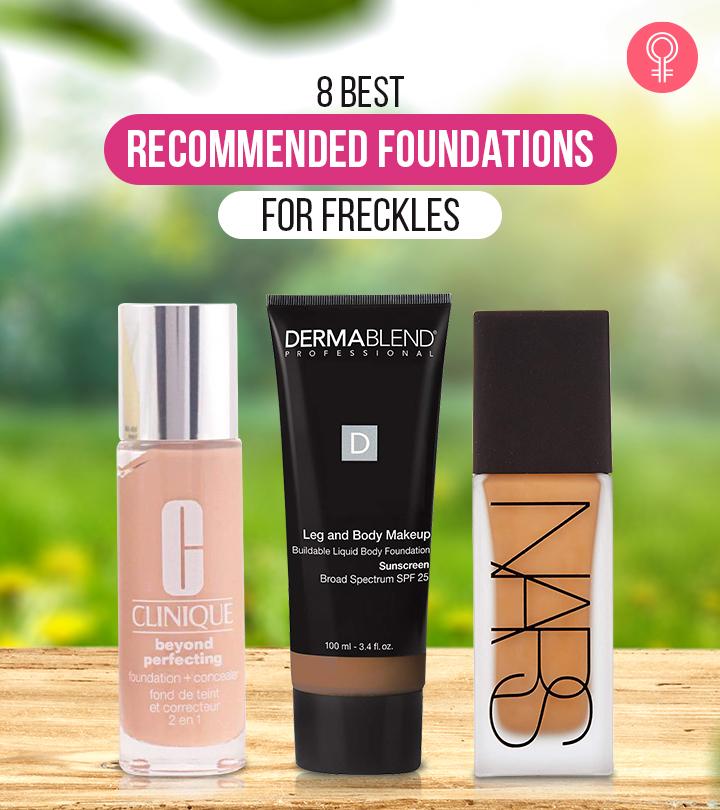 Wrinkles, fine lines, and freckles can make you look dull and mature when you are attending a party. This is why you need the best foundation for freckles to mask the appearance of freckles.
Freckles are harmless and often are small brown spots visible on the skin. They may be a phenotypical feature or an effect of exposure to UV rays. But the specially formulated foundations provide full coverage, mask freckles, cover the imperfections and patches.
There is a wide range of foundations available in the market. Some can completely mask the freckles, while others can impart sheer coverage. However, selecting the foundation that provides an even skin tone by masking the freckles can be a tiresome activity. Hence, we have listed the 8 best foundations for freckles that will seamlessly hide them. Keep scrolling to check out the right foundation.
8 Best Recommended Foundations For Freckles
The e.l.f Flawless Finish Foundation is a liquid-based formula that blends seamlessly into your skin for an even finish. The natural shade has neutral undertones and imparts a semi-matte finish. The oil-free formula corrects uneven skin tones and adds instant brightness. The hydrating foundation contains glycerin to keep your skin moisturized. The buildable formula goes on smooth and provides medium to full coverage that lasts all day. To get a better understanding of the product, you can check out this video on YouTube.
Pros
Full coverage
Lightweight
Hydrating
Long-lasting
Light floral scent
Oil-free
Cruelty-free
Vegan
Cons
Price at the time of publication: $6.0
The liquid foundation from Gabriel Cosmetics is formulated with plant-based ingredients to suit all skin types. The creamy formula contains vitamins A and E that moisturize and protect your skin and keep it supple. It helps conceal imperfections and evens out the skin tone. The oil-free formula glides smoothly on your face and reduces blemishes and fine lines. This luxurious foundation can be used as a makeup base or a wear-alone makeup. The pale ivory shade suits most skin tones. Check out the review of this product for more information.
Pros
Plant-based ingredients
Suits all skin types
Non-greasy
Long-lasting
Paraben-free
Vegan
Cruelty-free
Non-GMO
Gluten-free
Cons
Thick
Contains titanium dioxide
Price at the time of publication: $29.4
This liquid foundation from Dermablend provides medium to full coverage and a natural-looking finish. The gentle formula helps conceal freckles, scars, bruises, tattoos, and stretch marks for a flawless look. The lightweight foundation is transfer-resistant and can be used along with setting powders. This body concealer is formulated with SPF 25 to protect your skin from sun damage. It also provides all-day hydration to your skin. If you want to know more about the benefits of this product, check out this quick review on YouTube.
Pros
Non-comedogenic
Allergy-free
Suits sensitive skin
Has SPF 25
Dermatologist-tested
Cruelty-free
Fragrance-free
SLS-free
Triclosan-free
Phthalate-free
Cons
Price at the time of publication: $37
The True-Match foundation from L'Oreal Paris complements all skin tones. It is formulated with Precise Match Technology to provide the perfect color to your skin. The lightweight formula provides medium coverage and a natural finish to reveal radiant-looking skin. It contains SPF 19 to protect your skin from environmental damages. The oil-free formula is infused with vitamins A and C to keep your skin healthy. It also contains wheat germ and grapefruit extract that nourish and protect your skin and keeps it looking healthy.
Pros
Hydrating
Lightweight
Has SPF 19
Oil-free
Does not settle into fine lines
Fragrance-free
No pore-clogging fillers
Cons
May start caking after a few hours.
Price at the time of publication: $4.72
This foundation from NARS is designed to provide full coverage to your skin. The lightweight foundation is powered with Longwear Technology that helps it stay put for up to 16 hours without budging. It also features a Tone Correcting Technology that reduces the appearance of blemishes, dark circles, and freckles.
This foundation contains scarlet spiderling root extract that reduces discoloration and evens out the skin tone and vitamins A, C, and E to protect the skin from free radical damage. It glides smoothly on your skin to impart natural luminosity and is suitable for all skin types.
Pros
Non-comedogenic
Lightweight
Long-lasting
Dermatologist-tested
Humidity-resistant
Sweat-resistant
Paraben-free
Alcohol-free
Fragrance-free
Cons
Price at the time of publication: $29.84
The Clinique Beyond Perfecting Foundation + Concealer has a lightweight, moisturizing formula with buildable coverage. It is sweat-proof and long-lasting and stays through the day without fading. The 2-in-1 product blends easily into the skin and makes it look smooth and radiant. It comes with an angled applicator for smooth application to hide freckles, dark circles, and blemishes. This oil-free foundation keeps your skin moisturized and hydrated without clogging the pores.
Pros
Lightweight
Moisturizing
Long-lasting
Suits all skin types
Oil-free
Cons
Price at the time of publication: $17.5
The Japonesque Luminous Foundation is a liquid-based makeup that imparts flawless coverage. The creamy formula blends into the skin comfortably for a smooth and supple look. The skin-perfecting foundation helps diminish the appearance of freckles and wrinkles. It imparts a luminous glow and is favored by celebrity makeup artists.
Pros
Hydrating
Buildable coverage
Moisturizing
Lightweight
Non-cakey
Cons
Price at the time of publication: $36
This foundation from Flower contains SPF 18 to protect your skin from sun damage. It provides medium to full coverage and applies evenly to make your skin look naturally flawless. The breathable formula lasts throughout the day without fading. It can also be used as a wear-alone makeup. This foundation helps even out the skin tone and conceal imperfections to give you smoother, younger-looking skin.
Pros
Breathable
Blends easily
Buildable
Has SPF 18
Cruelty-free
Cons
Heavy
Not suitable for oily skin.
Price at the time of publication: $14
Good-quality foundations successfully conceal freckles, fine lines, and bruises on your skin to offer a spotless base. They also improve skin texture, giving it a smooth finish and healthy glow. Given below are some important factors to consider before buying the best foundation for freckles.
How To Select The Best Foundation For Freckles
Shade: Apply your foundation on the jawline and neck to match the right shade of foundation. You may need to mix two different shades to get the perfect one, try it out in natural light to check the one closest to your skin tone.
Coverage: Look for foundations that blend seamlessly and offer buildable or full coverage to ensure a perfect makeup base. Choose products that effortlessly cover dark spots, blemishes, and other skin imperfections, apart from freckles.
Ingredients To Look For: Foundations enriched with plant-based ingredients are comparatively less harmful and make the skin appear young, glowing, and healthy. Choose a foundation with nourishing ingredients like aloe vera, shea butter, and argan oil. Look for a rich blend of vitamins like A, C, and E to protect your skin against damage caused by free radicals.
Ingredients To Avoid: Foundations inclusive of chemicals damage the skin and have other health effects in the long run. Choose a foundation that does not have additives such as SLS, triclosan, phthalates, paraben, or mineral oils. You may also look for products that are gluten-free, vegan, non-GMO, and cruelty-free.
Formulation: Make sure that your foundation is non-comedogenic and allows the skin to breathe freely without clogging the pores. Choose a hypoallergenic and fragrance-free foundation if you have sensitive skin. Also ensure that the foundation is oil-free, lightweight, and does not settle between the lines.
Additional Benefits: The foundations certified by dermatologists protect the skin along with enhancing your looks, it is also ideal for sensitive skin. Look for added benefits like SPF to protect your skin from UV rays while you are out in the sun. Invest in products that are waterproof and sweat and humidity-resistant.
The market is flooded with products that are aimed to correct skin imperfections. The right foundation can hide freckles while hydrating the skin and improving the skin tone. Now that you are aware of the different kinds of freckle-friendly foundations available online, pick the one that is right for you.
Why Trust StyleCraze?
Baishali Bhattacharya has a certification in makeup artistry, and according to her, to camouflage the appearance of freckles, you need to use the right foundation. After going through multiple reviews, she has carefully chosen some of the best foundations for her readers. She believes that any of these foundations are a must-have to provide full coverage and mask the appearance of freckles.
Frequently Asked Questions
Which type of foundation finish covers freckles – matte or dewy?
Use a matte foundation if you want to cover freckles. Matte foundations provide full coverage and conceal targeted areas on the face. On the other hand, dewy foundations contain natural oils and humectants that make your face appear moisturized and glowy, reflecting light.
How do I find my foundation color for freckles?
Go with a foundation that matches your overall skin tone. Test the foundation color on areas not covered with freckles, like the jawline, neck, and chin.
Does light coverage foundation cover freckles?
No. You need a full-coverage foundation that matches your skin tone to reduce the appearance of freckles. Dust some setting powder after applying foundation to hide the marks even better.
How can I make my pale freckles look good?
To make your pale freckles look good, avoid medium- to full-coverage foundations and heavy-setting powders or blush. Creamy sheer products will make your freckles more prominent. Instead, opt for lightweight products like tinted primers and moisturizers, and spot concealers to hide your pale freckles.
Is freckled skin warm or cool?
Usually, freckled skin has cool undertones. However, choose a foundation according to your natural skin tone.
Do freckles make you look younger?
Yes, freckles tend to make your skin appear younger. Anecdotal evidence suggests that freckles are the ultimate anti-aging tool. Since freckles are common when you hit puberty, they are often associated with youthfulness.
Recommended Articles: