8 Best Detangling Shampoos For Black Hair – Our Top Picks Of 2023
Managing unruly and overly intertwined tresses has never been easier.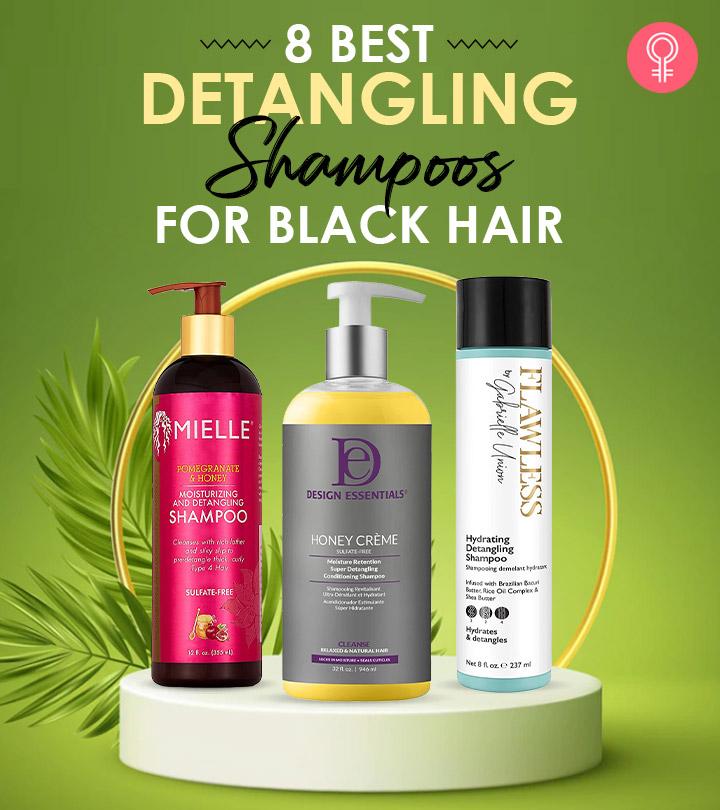 Tired of your crunchy and tangled 4C hair? You can check out the best detangling shampoos for black hair that are readily available and are worth the money. It is always better to get your hair detangled and frizz-free before combing it to avoid unnecessary hair fall, and detangling shampoos can help you with it. These shampoos prevent the formation of any knots in your hair and leave it smooth and shiny. The small amount of conditioner in the detangling shampoos detangles the hair as you wash it. They come in gentle formula and are suitable for kids as well. So, if you are wondering which detangling shampoo might suit your hair type, take a thorough look at the 8 best detangling shampoos that work wonders for African-American hair.
Top 8 Detangling Shampoos For Shiny Black Hair – Reviews
The Mielle Pomegranate & Honey Shampoo is a sulfate-free moisturizing product that detangles and smoothens thick curly hair. It has been primarily formulated for type 4c hair. The shampoo cleanses the hair and rebuilds the moisture. The unique blend of pomegranate extracts, honey, and babassu oil makes the hair feel strong and smell amazing. The shampoo prevents excessive hair loss during the washing phase and defines the curls that look healthy and attractive. It also contains Polyquarterium-7 which adds extra volume to the hair and makes it look fluffy and full.
To get the best results, pour a generous amount of shampoo onto your palm and massage it into your hair, especially near the scalp. While washing, you can gently finger comb and detangle your hair without much effort and then rinse your hair.
Key Ingredients- Pomegranate extracts, Honey, Babassu Oil, and Polyquarterium-7
Pros
Sulfate-free
Non-greasy
 Pleasant smell
Cons
Not ideal for low-porosity hair
Thick consistency
Price at the time of publication: $9.99
Are you looking for a detangling shampoo that can be used daily without causing any damage to your beautiful curly hair? The Design Essentials Honey Creme Moisture Retention Super Detangling Conditioning Shampoo is one of the best. The product detangles all types of natural hair. It is a quick lather formula that deep cleanses and detangles while restoring the moisture balance to your hair. It is a sulfate- and alcohol-free formula that is gentle and is suitable for all men, women, and children. The honey creme promotes healthy hair growth, seals the cuticles, and makes the hair more manageable and shinier. The shampoo can also detangle colored and gray hair without stripping moisture away from them. You can use this shampoo daily without worrying about losing the glossy texture of your hair. This honest YouTube review will help you understand this product better.
Key Ingredients- Honey Creme and Polyquaternium-7
Pros
Suitable for color-treated hair
Lightweight formula
Ideal for 3A to 4C curls
Sulfate-free
Paraben-free
Silicon-free
Petroleum-free
Mineral oil-free
Cons
Might leave a sticky residue
Unpleasant smell
Price at the time of publication: $20.0
The Nairobi Exquisite Hydrating and Detangling Shampoo is a unique product that provides superior hydration and detangling for your hair. It is made with natural ingredients like polymeric proteins to nourish your hair from root to tip. The shampoo also contains vitamins A & E, which can help strengthen the strands of your hair while retaining moisture. This formula also helps protect against future damage due to its antioxidant properties which fight free radicals in the environment around us daily.
Key Ingredients: Nairo-Plex, silk amino acids, polyquaternium- I, and dimethicone copolyol.
Pros
Suitable for all hair types
Moisturizes
Fixes split ends
Detangles and smoothes cuticles
Cons
Price at the time of publication: $9.99
Want to get rid of the never-ending hours in the shower? With The Mane Choice Easy On The Curls Detangling Hydration Shampoo, you can reduce the time required to wash your curly hair. Enriched with biotin and vitamin E, the shampoo helps develop healthier and detangled smooth hair. It also promotes hair growth. The formula is gentle on the scalp and is great for cleansing away the impurities without stripping down the hair strands. The product also adds the right amount of moisture to dry hair. You will only need a small amount of the product as it lathers well. However, to get the best results, thoroughly wet your hair with water, massage the product on your wet hair and rinse it with cold water.
Key Ingredients- Biotin and Vitamin E
Pros
Suitable for all hair types
Contains natural ingredients
Mind scent
Mineral oil-free
Paraben-free
Sulfate-free
Petroleum-free
Cons
Price at the time of publication: $12.34
Are you troubled with excessively entangled dry hair? Then, you must try the Avlon Kera Care Hydrating Detangling Shampoo that detangles hair without causing excessive hair loss. It removes the excess oils from the hair while adding the necessary moisture. The shampoo is best known for repairing split ends and improving the hair's overall health. It is pH-balanced and is filled with natural botanical extracts. In addition, the product provides definition and shine to your hair that will last a long time. Check out this video review to understand the full scope of this product.
Key Ingredients- Wheat Protein, Citric Acid, Polyquaternium-7
Pros
Long-lasting
pH-balanced formula
Contains natural botanical extracts
Cons
Price at the time of publication: $9.01
The Shea Moisture Hi-Slip Detangling Shampoo works miraculously for the 3C to 4C hair types. The cocoa butter contains replenishes oils to dry and dull hair. The red palm oil, rich with vitamins and antioxidants, provides balanced nourishment and strengthens your curly hair. And the flaxseed oil improves the elasticity of the hair. In addition, the product is infused with an anti-shrinking formula that gives your locks a fuller and elongated look. You will need only a tiny amount of the product and get soft, shiny, and bouncy hair.
Key Ingredients- Shea Butter, Cocoa Butter, Red Palm Oil, and Flaxseed Oil
Pros
Suitable for 3C to 4C hair types
Cruelty-free
Sulfate-free
Paraben-free
Phthalates-free
Petrolatum-free
Mineral oil-free
Cons
Might leave your hair greasy
Lathers easily
Price at the time of publication: $6.9
The Sunny Isle Hydration And Detangling Shampoo cleanses, hydrates, and detangles your hair. Enriched with high-quality natural ingredients, humectants, and conditioning agents, the shampoo adds the necessary volume, strength, and shine to your otherwise lifeless hair. The main ingredient of the detangling shampoo is Jamaican black castor oil, which is known for promoting hair growth and cleansing the itchy scalp. The shampoo is sulfate-free, making it safe for color-treated hair. In addition, the panthenol and hydrolyzed wheat protein keep the color vibrant and strengthen it from the root to the tip. So, if you wish to do away with the constant struggle to detangling your hair, the Sunny Isle Detangling Shampoo is the best choice.
Key Ingredients- Natural Jamaican Black Castor Oil, Panthenol, and Hydrolyzed Wheat Protein.
Pros
Best for colored hair
Suitable for all hair types
Sulfate-free
Paraben-free
Cons
None
Price at the time of publication: $10.66
So Jamaican Black Castor Oil Extreme Hydration & Detangling Shampoo thickens and adds volume to thinning hair. With this shampoo, you can happily bid goodbye to your hair loss days as the shampoo promotes healthy hair growth. The Jamaican black castor oil provides optimum nourishment to the hair follicles and boosts the volume of your hair. The castor oil also removes dandruff from your hair and increases the blood circulation that helps in the new hair growth. In addition, the rose-hip and sesame seed oil also cleans your scalp and reduces hair breakage. The shampoo also is infused with coconut oil that shields your hair from damaging UV rays and prevents discoloration of your curly locks.
Key Ingredients- Jamaican Black Castor Oil, Rose-hip seed oil, Sesame seed oil, Coconut oil.
Pros
Promotes hair growth
Nourishes hair
UV Protectant
Pleasant smell
Prevents hair discoloration
Paraben-free
Sulfate-free
Cons
It does not lather easily
Might give a squeaky effect to the hair
What To Consider While Choosing Detangling Shampoo For Your Black Hair
Avoid sulfates. Check the ingredient list and pick a sulfate-free shampoo. Sulfate can easily strip down your hair, causing further damage to your curls.
You will want a detangling shampoo that leaves your hair hydrated and add necessary moisture to your curls. So, look out for the hydrating shampoos that have listed water as their first ingredient.
Look for shampoos that will provide you with a lot of slip. Look for oil ingredients like coconut and argan oils that will detangle your hair while adding moisture to the strands.
If you have dry hair and want a detangling shampoo that can give you intense hydration and get rid of the product/dirt buildup, buy shampoos with high acidic content.
Shampoos having mostly natural ingredients restore the natural look of your black hair and leave it shiny and bouncy. Therefore, while finding your most suitable detangling shampoo, ensure to buy those with more natural ingredients.
A detangling shampoo is essential for people with curly, kinky, and coily hair. Yet, simply detangling will not help. You will need a shampoo that can both detangle and moisturize your hair. With so many brands in the market, selecting the best fit for your lovely curls is challenging. Thus, this article aims to introduce you to the best detangling shampoos for black hair that will not only smoothen your frizzy curls but also add the right amount of moisture. The listed shampoos will increase hair growth and cleanse the scalp while successfully gently detangling the tough knots of your curly hair.
Why Trust StyleCraze
The author of the article, Vaishnavi Kothuri, is a certified hair care expert. She spends a lot of time in researching the needs and requirements of various hair types. She understands the issues associated with black hair and has listed the best detangling shampoos that can not only leave your hair tangle-free but also retain its natural moisture and health.
Frequently Asked Questions
Can we use detangling shampoo for black hair regularly?
While it is preferable to use a detangling shampoo once or twice a week, there are specific shampoos that can be used daily. It depends on the kind of shampoo you are using. Detangling shampoos that are sulfate-free can be used daily without having to worry about excessive hair loss.
Do detangling shampoos for black hair promote hair growth?
Not all detangling shampoos promote hair growth. Those with oil ingredients, such as castor oil can help increase blood circulation and result in positive hair growth.
Can Detangling shampoos be used as a standalone product?
No, detangling shampoos will give the best results if you apply a detangling conditioner after it. Detangling shampoos can relieve your curly knots during the washing stage, and the conditioner can help to retain the smooth texture of your hair for a long time. Detangling conditioners also add extra moisture to balance the moisture loss during washing.