17 Best Face Masks For Redness That Are Worth Trying In 2023
Cover up redness and experience an even skin tone with face masks for sensitive skin.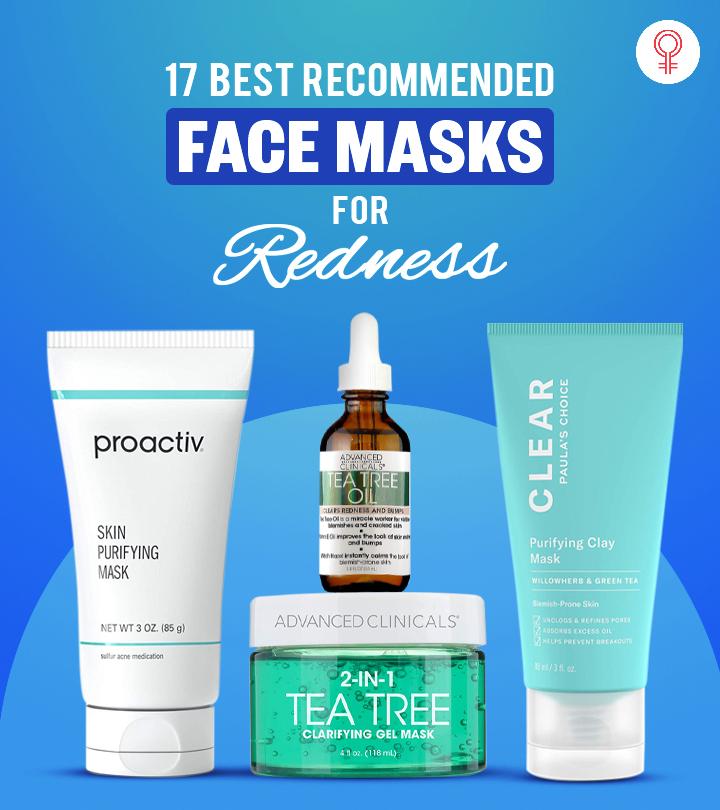 If your skin is acne-prone and sensitive, you must be aware of the facial redness you often encounter. Don't worry; we have a solution to treat it. In this article, we have made a list of the 17 best face masks for redness that are totally worth trying. These masks are like the Holy Grail for those with sensitive and acne-prone skin as they contain soothing anti-inflammatory ingredients. If used regularly, they can unclog pores, protect the skin from pollutants, and keep it even-toned. So, go ahead and check the list out because it is time to flaunt some gorgeous skin.
Top Picks
17 Best Recommended Face Masks For Redness (2023)
Pros
Preservative-free
No artificial fragrances
Cruelty-free
Long-lasting
Can be used on the hands, feet, and body
Easy to remove
Cons
Price at the time of publication: $14.95
Pros
Vegan
Quick absorbing formula
Easy to use
Suitable for sensitive skin
Mildly scented
Oil-free
Alcohol-free
Biodegradable
Hypoallergenic
Cruelty-free
Cons
Doesn't fit all face shapes.
Price at the time of publication: $31.99
Pros
Paraben-free
Spreads well
Sulfate-free
Dermatologically tested
Vegan
Hypoallergenic
Cruelty-free
Easy to apply
Cons
May irritate sensitive skin.
Price at the time of publication: $21.5
Best Non-Comedogenic: ® Skin Purifying Mask
Proactiv
Pros
Easy to use
Gentle
Non-greasy
Dermatologist-developed
Non-comedogenic
Fast-acting formula
Cons
Expensive
Unpleasant smell
Price at the time of publication: $40.0
This face mask is infused with a naturally clarifying blend of botanicals. MEDIHEAL's Tea Tree Essential Blemish Control Mask is one of the best anti-redness masks on the market. It contains purifying and soothing active extracts of willow bark, chamomile, Asiatic pennywort, soybean, frankincense, tea tree, rosemary, and lemongrass. They gently exfoliate buildup from skin pores and calm the redness and bumps.
This all-natural mask leaves your skin feeling clean, smooth, and breathable. Each sheet is made of 100% cotton linter that sits softly yet snugly on your face, locking in the serum for maximum absorption. It also comes with a pressed MEDIHEAL logo indicator that becomes visible when 15minutes are up.
Key Ingredients: Willow bark, Tea tee oil, Chamomile extract, Asiatic Pennywort extract, Vitamin E, Frankincense extract, and Soybean extract
Pros
Soft
Fits snugly
Oil-free
Quick-absorbing
Non-sticky
Pleasant smell
Cons
May increase skin dryness.
Price at the time of publication: $19.9
This collagen mask from Advanced Clinicals works as an anti-aging and anti-inflammatory face treatment – thanks to its unique formula. It comes with collagen, ferulic acid, apple extract, white tea leaf extract, vitamin E, and other active botanicals.
These ingredients reduce the appearance of expression lines and wrinkles by tightening, nourishing, and purifying your skin. This face mask also clears excess oil and redness in blemish-prone and inflamed areas. Its contents have soothing, hydrating, and brightening effects on dull/stressed skin. This breathable mask will restore the youthful glow, elasticity, and clarity to your skin when used 2-3 times a week.
Key Ingredients: Apple extract, Aloe leaf juice, White Tea leaf extract, Collagen, Ferulic acid, and VitaminE
Pros
Lightweight
Long-lasting
Easy to use
Fast-acting formula
Has anti-aging effects
Suits most skin types
Cons
Price at the time of publication: $13.99
Pros
All-in-one skin treatment
Cons
May not suit sensitive skin
Price at the time of publication: $98.0
Pros
Gentle
Easy to wash off
Fast-acting formula
Pleasant fragrance
Ideal for acne-prone, sensitive skin
Cons
None
Price at the time of publication: $15.95
Need a relaxing home-spa moment? Get your hands on Doppeltree's Rejuvenating Gold Facial Mask. This face mask comes doused in a silky and cool hydrogel that is infused with 24K nano gold, collagen, hyaluronic acid, oat peptides, rosehip oil, and vitamins C and E.
These ingredients are rich in antioxidants that soften the signs of aging and offer anti-inflammatory benefits. They relieve skin infections and acne flares that cause skin redness and discomfort. Each sheet's hydrogel instantly transfers all the nutrients directly to the deepest layers of your skin. This vegan mask treatment visibly soothes and rejuvenates all skin types.
Key Ingredients: Nano-active gold, Collagen, vitamins C and E, Hyaluronic acid, Oat peptides, and Seaweed extract
Pros
Cruelty-free
Vegan
Organic
Non-toxic
Easy to peel off
Fits snugly
Affordable
Convenient packaging
Cons
Price at the time of publication: $20.95
JUST NEEM's Neem Clay Facial Mask is another 100% natural face treatment that works wonders on acne-prone skin. It is made with high-quality and unadulterated neem leaf powder and montmorillonite (French green clay). Together, they help soothe redness and restore your skin's tone and texture after severe flares of inflammation.
This clay mask also contains relaxing and rejuvenating essential oils of rosemary leaves, lavender, sunflower seeds, cedarwood bark, eucalyptus, and peppermint. This active oil blend detoxes and recharges your skin with health and nourishment. They also improve microcirculation and bring about a visible healing glow in your skin.
Key Ingredients: Montmorillonite clay, Neem leaf powder, Rosemary leaf oil, and Cedarwood bark oil
Pros
Safe for all skin types
Easy to apply
Fast-acting formula
Long-lasting
100% natural product
Cons
Price at the time of publication: $26.99
® Pajama Paste® Soothing Active Yogurt Mask
FARMHOUSE FRESH
Pros
Suits most skin types
Paraben-free
Easy to apply
Sulfate-free
Pleasant scent
Phthalate-free
Nut-free
Fast-acting
Cons
May overdry the skin.
Not for sensitive skin.
Price at the time of publication: $30.0
Pros
Ideal for sensitive skin
Fragrance-free
Paraben-free
Alcohol-free
Soy-free
Wheat-free
Fast-acting formula
Mineral oil-free
Cruelty-free
Dermatologist-recommended
Cons
Price at the time of publication: $37.0
Pros
Cruelty-free
Vegan
Alcohol-free
Sulfate-free
Fragrance-free
Paraben-free
Gluten-free
Suitable for all skin types
Easy to apply
Cons
Price at the time of publication: $16.99
Pros
Alcohol-free
No artificial fragrance
Eco-friendly
Hypoallergenic
Dermatologically tested
Fits snugly
Gentle on all skin types
pH-balanced
Cons
None
Price at the time of publication: $28.0
Pros
Alcohol-free
Silicone-free
Polyethylene-free
Mineral oil-free
Vegan
No Parabens
No artificial colors
Suitable for all skin types
Cons
Price at the time of publication: $56
Pros
Easy to apply
Unscented
Paraben-free
Suits all skin types
Non-greasy
Cons
None
Price at the time of publication: $29.0
The Papa Recipe Bombee Honey Mask has created quite a buzz with its sweet smell and instant skin-plumping effects. This mask is highly recommended for sensitive skin with facial redness and acne blemishes. It is designed with all-natural extracts from licorice, Japanese goldthread, honey, and green tea leaves, with pure propolis being the central, active ingredient. These ingredients calm, hydrate, replenish, and rejuvenate your skin.
Key Ingredients: Propolis, Honey extract, Licorice extract, Japanese goldthread, and VitaminB5
Pros
Pleasant scent
Fits well
Thin, breathable sheets
Paraben-free
No residue
Quick-acting formula
Sulfate-free
Non-sticky
Cruelty-free
Dye-free
Fragrance-free
Cons
None
Price at the time of publication: $15.98
Why Trust StyleCraze?
The author of this article, Oyendrila Kanjilal, is a certified skin care coach who has curated this list of the best face masks to reduce redness in the skin. She has carefully researched and browsed through online reviews to create this informative list for her readers. Her selection comprises face masks that control inflammation and calm the redness in your skin. Not only do these face masks eliminate dullness, but they're also easy to remove and free of preservatives.
Frequently Asked Questions
How long does facial redness last?
It depends on the cause of redness. Skin redness and irritation after a facial or a non-invasive cosmetic procedure should not last more than 24 hours. Invasive botox and filler procedures or acne flares may cause redness that lasts a little longer. But if it goes on for several days, your skin must have developed either an allergy or contact dermatitis.
What to do if your skin looks red after using a face mask?
If your skin looks red after using a face mask, splash your face with cold water and apply something calming on your skin such as aloe vera, petroleum, or a soothing toner. However, if your mask contains active ingredients, mild redness and a tingling sensation are nothing to worry about.
How long does redness last after a face mask?
Redness from using face masks ideally disappears within 10 – 30 minutes after removing the mask.
What product causes redness?
You can get redness from using any products containing harsh cleansers, aggressive exfoliators, artificial fragrances, or synthetic chemicals. Some people are also sensitive to the sun and the elements of nature which can lead to redness.
How can I reduce redness on my face fast?
You can use cold water to soothe your skin and use anti-inflammatory products such as aloe vera, cucumber slices, or a soothing face mask to get rid of redness from your face.