11 Best Morphe Eyeshadow Palettes for Brown Eyes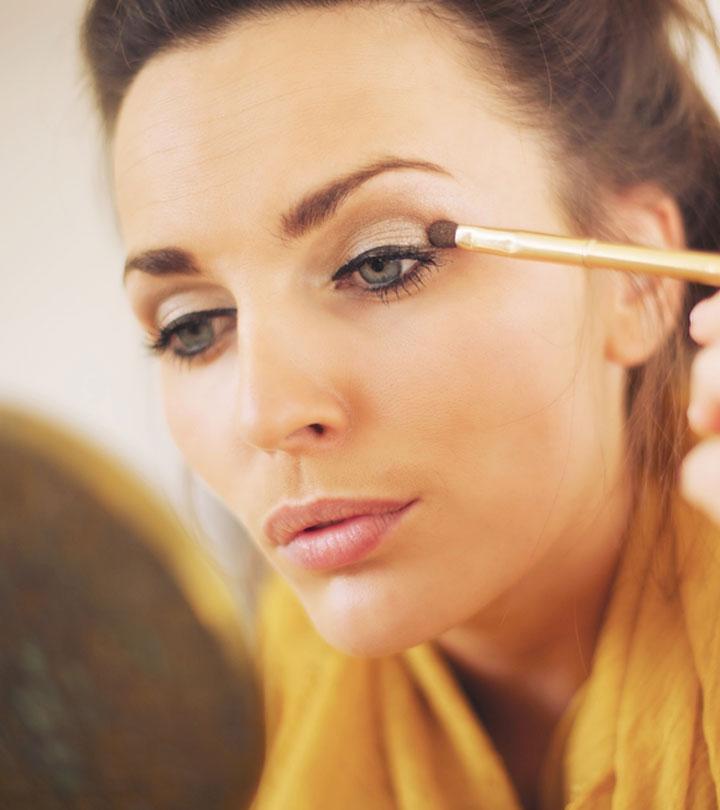 Do you remember the legendary singer, Van Morrison's song, 'My Brown Eyed Girl'? The most underrated eye color in the world is brown. This is probably because half the population has brown eyes, making it the most common eye color.  But nothing is going to stop us from gushing over the enigma of dark or brown eyes!
Contrary to popular belief, brown is an eye color that one can easily experiment with. While an eyeliner or an eye pencil accentuates your eyes, using the right eyeshadow will make that warm, brown shade pop! Morphe has a range of eyeshadow palette options in both cool and warm tones that have as many as 35 stunning shades in matte, shimmer, and glitter finish, to name a few. Richly-pigmented shades that are velvety smooth and easily blendable offers perfect day-to-night palette options.
We know it's easy to get confused with a vast number of options. So, we have put together a list of the 11 best Morphe eyeshadow palettes that you can get your hands on. Let's get started.
11 Best Morphe Eyeshadow Palettes That Pair Perfectly With Brown Eyes
Leave it to Morphe to bring an eyeshadow palette that is much more indulgent than a cup of coffee! Morphe 35K Koffee palette is for someone who prefers a more neutral and natural eyeshadow look but wants to accentuate their brown eyes. It features 35 coffee-toned eyeshadows – rich java, metallic mocha, and creamy latte, to name a few. Escalate your look with an exciting mix of these rich, warm, and earthy shades that have a metallic shimmer finish.
Pros
Highly-pigmented shades
Smudge and fade-resistant colors
Easy to blend
Earthy tones
Cons
The palette does not include an eyeshadow brush
This is not your average eyeshadow palette, and is far from boring! The palette has American beauty entrepreneur and Internet personality Jaclyn Hill's name associated with it. Formulated, tested, and perfected by Hill herself, the palette contains 35 OMG eyeshadows in matte, shimmer, foil, and satin finish. The palette has a stunning mix of cool, bright, and warm undertones that range from matte blues to roasted nutmeg browns to blood orange-reds. It's going to be easy to create endless looks with these unique shades!
Pros
Offers a variety of shades
Smudge-resistant
Deeply pigmented and long-lasting
A creamy palette for easy application
Cons
From matte black to bright pink to shimmery gold, Morphe X James Charles The Mini Palette has all the same beautiful colors and finishes as the iconic original. It is incredibly versatile, and you can create endless looks with it. Furthermore, the shades are so easy to use and blend. Purple and blue shades are contrasting colors to brown and make the eyes pop. But if you think those colors are too bold for you, use cream or brown shades as eyeshadow and use the cool undertones as a sparkly liner. This mini palette is compact, and you can carry it wherever you want.
Pros
Includes cool and warm tones
Compact and travel-friendly
Easy to blend colors
The box has a mirror
Cons
Unleash your inner artist with Morphe x Jaclyn Hill Bling Boss Eyeshadow Palette. Its pale lilac mauve, shimmering rose gold, matte blackberry and seven other beautiful shades with glitter, won't let you down. If you want to go bold, we suggest you go for a ruby red or violet – either way, we are sure you will look fly. No doubt, it's easy to get countless looks with this one color palette.
Pros
Colors are long-lasting and don't require a touch-up
Value for money
Extremely pigmented
Shades blend well
Cons
Some shades can seem patchy
The Morphe 35G Bronze Goals Palette houses perfect shades for all the brown-eyed beauties. A favorite of most professional makeup artists, these highly pigmented and super blendable eyeshadows come in a variety of stunning shades, ranging from earthy nudes, shimmering coppers, matte browns to sparkling golds. Available in matte, shimmer, and metallic finish, you are sure to fall in love with this summer-ready palette.
Pros
Intensely pigmented
Easy to blend shades
Portable
Variety of colors to choose from
Cons
Colors tend to fade by the end of the day
The Morphe Pro 35W Eyeshadow Palette contains 35 earthy and warm shades in two finishes (matte and shimmery). Trust us; this is more than enough to achieve a wide range of looks – from classic smokey eyes to soft matte neutrals – depending on your mood. These intensely pigmented shades are super creamy, making them easy to apply without creasing or smudging. One stroke is all it takes to achieve the look you want.
Pros
Highly-pigmented colors
Buildable pigmentation
Creamy and easy to blend
Crease-resistant
Cons
We can't stop raving about Morphe 35T Taupe Eyeshadow Palette. If you are a brown-eyed woman who likes to keep her make-up natural at all times, you will love this warm color palette. Featuring not just taupes, but also shades of browns, beiges, and violets in matte and shimmer finish – all the colors work beautifully together to add a little extra something to your everyday-look. With this taupe-toned eyeshadow palette, a little goes a long way, so rest assured that this product will last you quite some time.
Pros
Suitable for wet and dry applications
Staying power
Super creamy and easy to apply
Versatile
Cons
If you are new to the makeup game and are looking for warm neutral tones, to begin with, the Morphe 35O Nature Glow Artistry Palette is the one for you! Colors range from subtle pinks to bright oranges to dark browns, with two gorgeous finishes – matte and shimmer. We adore this color palette, particularly for brown eyes. Highly pigmented and super creamy, works well even without a primer. Here's a pro tip: Women with dark skin tone should apply a white primer underneath the eyeshadow for the color to be more visible.
Pros
The color pay off is good
Super blendable
Value for money
Soft and easy to apply
Cons
Shimmery shades are not buildable
Are you a sucker for shimmery eye makeup? The Morphe 35F Fall Into Frost Palette comes with 28 vibrant metallic colors and seven highly pigmented matte shades to achieve any look you want – from subtle to sultry. These brown eyes-flattering dazzling shades, from rose gold to indigo to copper, can be paired with any of the matte hues that range from cream to deep black. In essence, this super buttery eyeshadow palette will easily transition your look from day to night. Always use a primer under the eyeshadow for a more long-lasting effect.
Pros
Easy to blend hues
Velvet-textured shades
Rich pigmentation
Cost-effective
Cons
Matte shades have to be packed in more for the colors to be visible
An all-matte version of the iconic 35O palette, the Morphe 35OM Nature Glow Matte Eyeshadow Palette, was specially designed for all you matte lovers out there. Featuring the most stunning neutral color palette ever, we recommend this eyeshadow kit for anyone who loves cream, orange, and brown shades. For a more effective color pop, wet your eyeshadow brush before applying the eyeshadow. Super creamy, pigmented, and easy to blend, the 35OM will become your go-to kit in no time.
Pros
Extremely creamy palette
Deep pigmentation
No or little color fallout
Some shades can double up as a blush
Cream eyeshadows can be used as a base shade
Cons
Unflattering compact case
The Morphe 39L Hit The Lights Artistry Palette is a buttery, blendable, mesmerizing eyeshadow palette that can do wonders to enhance your pretty brown eyes!. The palette features a riot of colors that are perfect for a dazzling night out!. It includes metallic, matte, shimmer, and silk slip toppers. We love the fact that the kit is sleek and compact and is integrated with a convenient mirror. The palette works amazingly well for shading, lining, creasing, and highlighting your eyes.
Pros
Pigment-rich colors
Blends easily
Easy to carry
Cons
Now, let's look at how you can choose the right Morphe palette for your eyes.
Buying Guide
How To Choose A Morphe Palette For Brown Eyes
If you're just a beginner, it is better to opt for neutral shades like soft browns, which complement your eyes. Always make sure the colors are easy to blend and pigment-rich so that you have to use just a little for the color to stand out. For someone who likes bright colors, go for the Jacyln Hill or James Charles collections that make you look bold and beautiful.
What Colors Make Brown Eyes Pop
To make brown eyes pop, opt for colors that will contrast your brown eyes, such as shades of purple, blue or any bright neon colors. If you like to use brown eyeshadow quite often, go for a lighter shade of brown or creamish brown to highlight your eyes.
No doubt, an eye shadow is a one-stop-shop for all your eye makeup looks. And with Morphe's eyeshadow palette kits, you can create endless looks without burning a hole in your pocket. We have listed the 11 best eyeshadow color palette options – from violet to rose gold to bronze – that can be used in different ways. So, what are you waiting for? As their tagline suggests, get ready to 'blend the rules.'
Which eyeshadow color is your favorite? Which color do you think makes your brown eyes pop? Let us know in the comments below!