15 Best Purple Eyeshadow Palettes Of All Time!
Think beyond the globe and get ready to flaunt some transcendental makeup looks.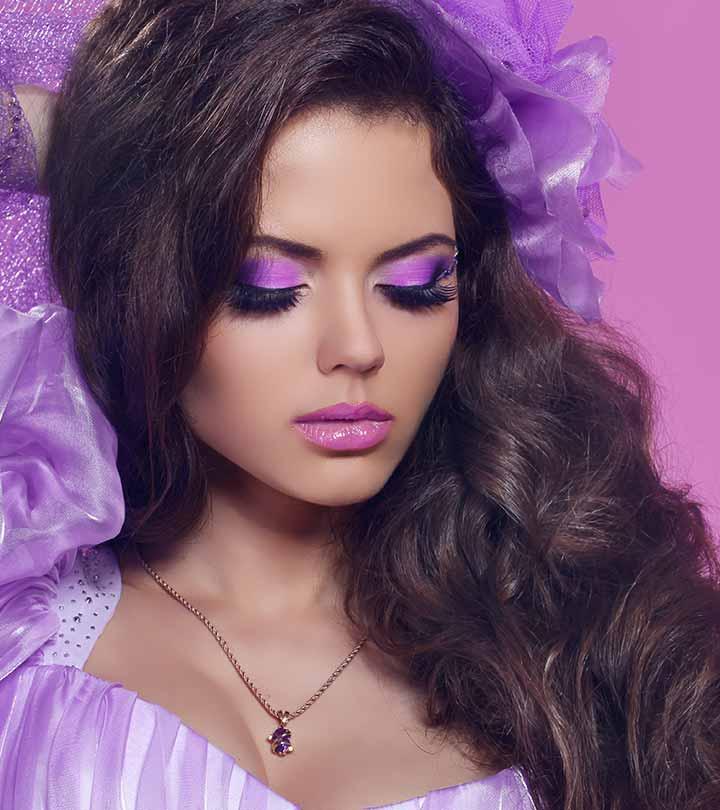 Purple is one of the most beautiful eyeshadow colors that has stood the test of time and cosmetic trends. It not only looks glam and chic but depending on how to style it, it can also look classy. So, if you haven't yet got hold of the best purple eyeshadow palette on the scene, you are missing something huge!
Purple eyeshadows are all the rage right now. As one of the most vibrant colors, it is driving ladies to go all out to try all of the different tints and bold looks. Purple tints like lavender and violet work well with green eyes and fit every skin tone out there, and that makes it a go-to shade for everyone. However, it is critical to have the appropriate palette for your skin to get the best out of this gem of an eyeshadow color. With purple palettes now available in multiple finishes like glitter, metallic, and shimmer, you are sure to be spoilt for choice. Keep scrolling for the best options out there!
15 Best Purple Eyeshadow Palettes Of All Time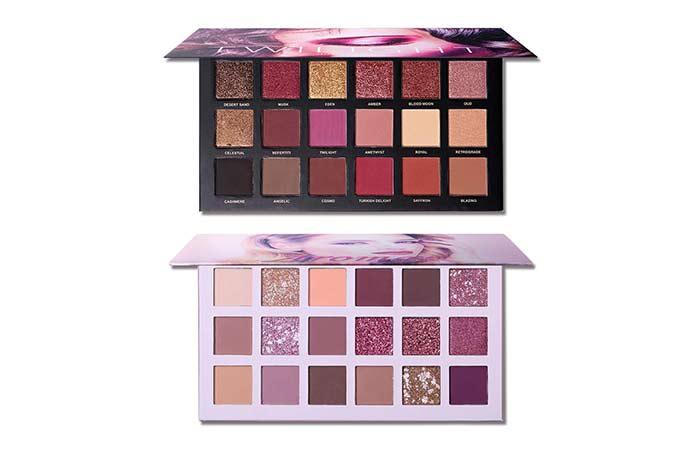 Strictly, for your purple indulgence only! This eyeshadow palette set has 18-in-1, highly-pigmented, and versatile shades in vibrant shimmers and velvety-matte texture for you. For a palette so rich in purple, ochres, and gold, you'll never run out of options to try new, customizable looks again. They are lightweight, blendable, buildable, and they feel creamy-smooth on application. Keep it subtle, dramatic, or go bold with glitter, they won't fall out and your eye makeup will always look stunning all day long. Click here to check out this YouTuber's unbiased review.
Pros
18 versatile shades in each palette
Lightweight formula
Creamy-smooth application
Blends and builds easily
Ideal to use as transition and topper
Waterproof and cruelty-free
Cons
Some of the shades may fall out.
Price at the time of publication: $19.99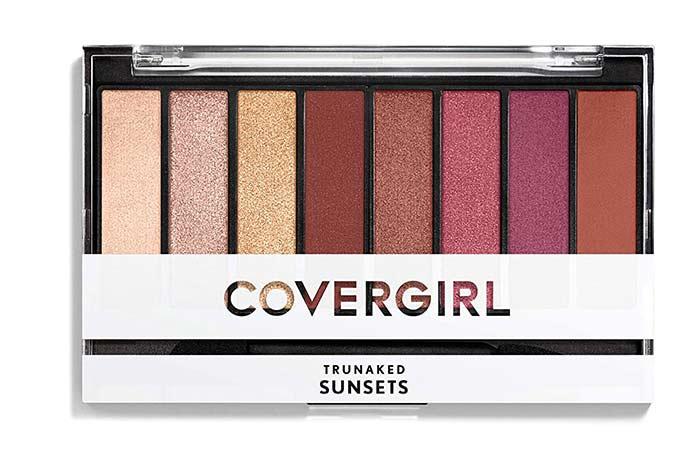 Intense purple never looked this good! The Covergirl TruNaked Eyeshadow Palette is for the scene stealers. Wear it, walk it, flaunt it and you're bound you get some "ooo"s and "wow"s. The highly-pigmented versatile shimmers and matte shades in this palette will add a dramatic touch to your evening look without being over the top. Flattering and buildable, they blend easily with no fallouts to worry about. It is the best water based primer. Here's a personal review video to help you get a better understanding of the product.
Pros
Intense eyeshadow colors and shimmers
Richly-pigmented
Blends easily
Ideal for dramatic looks
Smudge-proof
Cons
They may not build easily.
The shades may not be long-wear.
Price at the time of publication: $7.25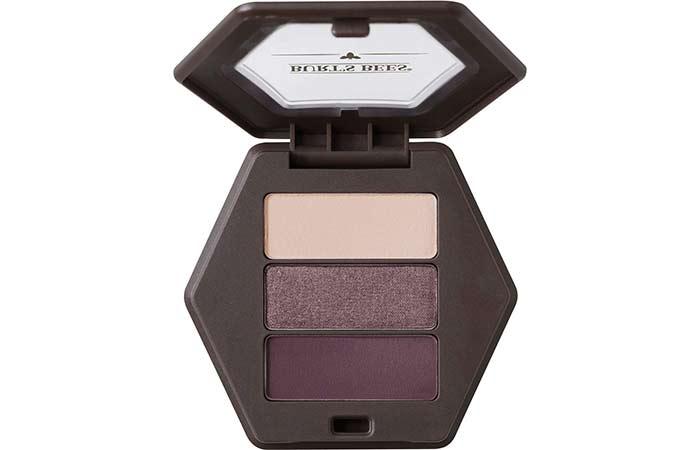 Bless your eyelids with the royal radiance of lavender. This gorgeous Burt's Bees Eyeshadow Palette for sensitive eyes and contact lens wearers is made of 100% natural ingredients such as honey, bamboo, and vitamin E. It is non-irritant, does not crease, fade, or smudge! Inspired by nature and named Countryside Lavender, it features medium purple, dark purple, and light nude shades. Ultra-nourishing while adding a regal glow to your eyelids, the shades are long-lasting, rich, and easy to blend too.
Pros
Includes natural ingredients
Long-lasting and easy-to-blend
Does not fade, crease, or smudge
Ultra-nourishing lavender eyeshadow
Ophthalmologist-tested
Free from paraben, fragrances, and silicones
Cons
The shades may fall out.
Takes longer to blend.
Price at the time of publication: $13.29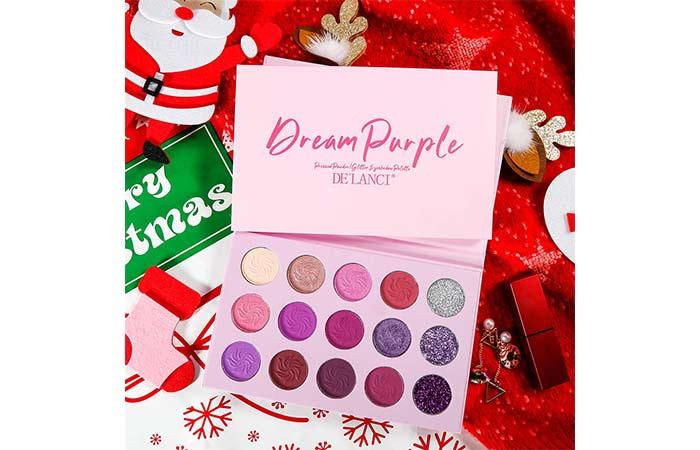 Too haute to handle, these 15 purple eyeshadow shades will blend on your eyelids like a dream. De'lanci Dream Purple Eyeshadow Palette has 5 pure metallic shimmers, 7 matte shades, and 3 pressed glitters— all in one palette! Smooth, lightweight, and compact, this on-the-go palette is formulated with warm and cool shades to suit all skin tones. Ideal for a classic or trendy look? We'd say both! These water-based primer makeup have shades that are versatile, easy to apply, and remove too.
Pros
Compact and lightweight
Blends easily and one-swipe pay-off
Smooth application
Suitable for all skin tones
Highly-pigmented
Travel-friendly palette
Cons
The shades may be flaky and dry
Price at the time of publication: $9.99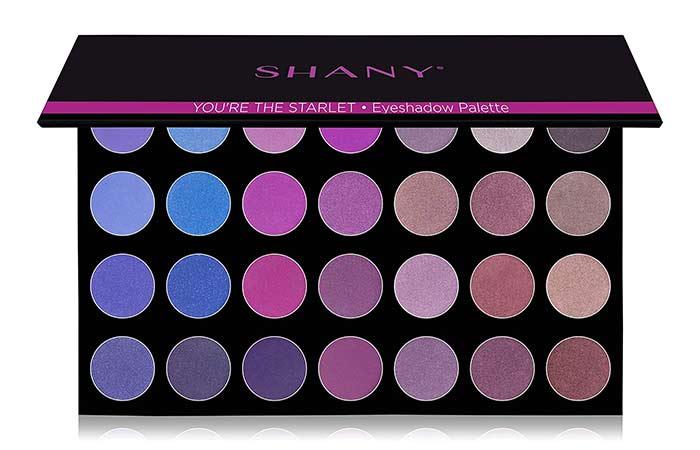 28-in-1 cool tones, the Shany Masterpiece Eyeshadow Palette has true-to-color matte and shimmer shades that are suitable for all skin tones. Use  it as a topper or as  a transition shade,  it will not disappoint. Giving you a seamless finish and a trendy appeal all around the year, they'll blend beautifully with all your OOTDs. With a long-wear formula, the shades are highly pigmented and easy to apply too.
Pros
Seamless finish
Trendy cool tones
Blends easily
Intense pigmentation
Long-wear formula
Cruelty-free brand
Cons
Price at the time of publication: $16.97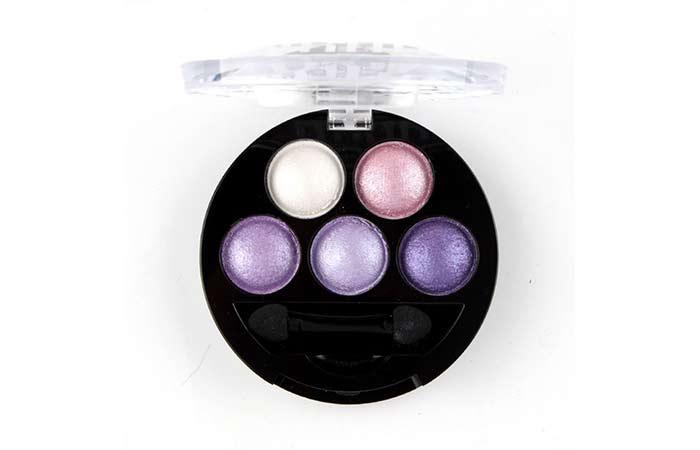 All eyes on these metallic shades of purple, the Mallofusa Eyeshadow Palette contains 5 bright metallic shades and shimmers that not only look premium but feel like it too. The hues have a silky texture, they are lightweight, smooth and the seamless finish is to die for. Absorbing all the extra sebum and with a fade-proof and oil-free formula, they are suitable for sensitive eyes and contact lens wearers too. It is the best drugstore water based primer.
Pros
Bright colors
Silky texture and lightweight
Smooth and seamless finish
Oil-free and fade-proof
Portable and travel-friendly
Suitable for sensitive eyes
Cons
The palette is not sturdy
Light pigmentation
Price at the time of publication: $9.49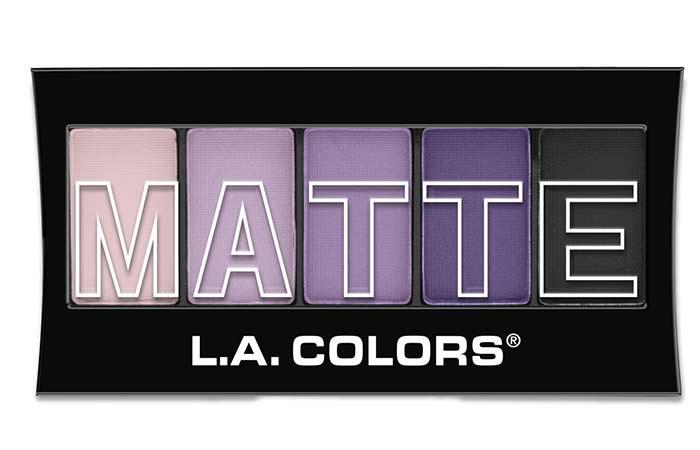 For the love of matte, explore L.A. Colors Matte Eyeshadow Palette! Featuring light to deep purple shades, this palette is intense, richly pigmented, and delivers a gorgeous matte finish. Planning a dramatic look for the evening or something light and breezy for the day? It doesn't matter because this palette is a go-to to create any look you desire. The shades are soft, silky, and they blend easily too. A must-try for matte enthusiasts, give this palette a go.
Pros
Intense and deep pigment
Matte finish
Silky and blends easily
A go-to for day and night look
Cons
It may not be highly pigmented.
Price at the time of publication: $3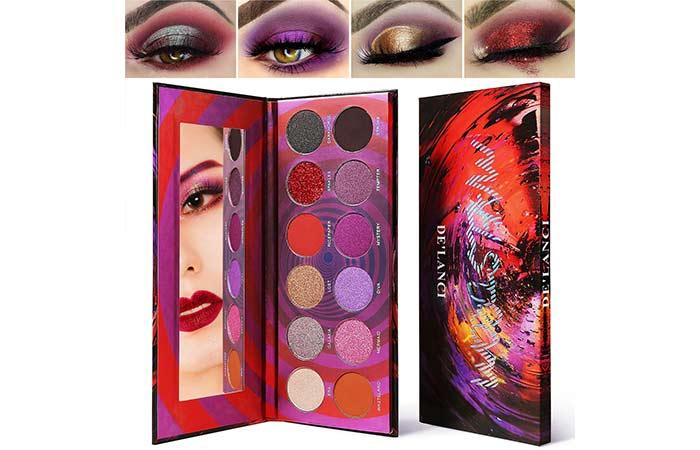 A palette that'll pamper the beauty buff in you! Afflano Purple Eyeshadow Palette will tickle your artistic side with its matte, glitter, and shimmer shades. Professional-quality with smooth textures, easy-to-blend, soft yet eye-catching colors, they are designed to transform your eyes and prompt some praises! Also, they blend seamlessly and have a strong hold to last as long as you need. A must-have for those who fancy the color purple, these shades are waterproof and suitable for all skin tones.
Pros
Professional-quality
Intense to natural purple pigments
Fade-proof and water-proof
Easy to blend and use
Durable and long wear
Suitable for all skin tones
Cruelty-free
Cons
Price at the time of publication: $9.98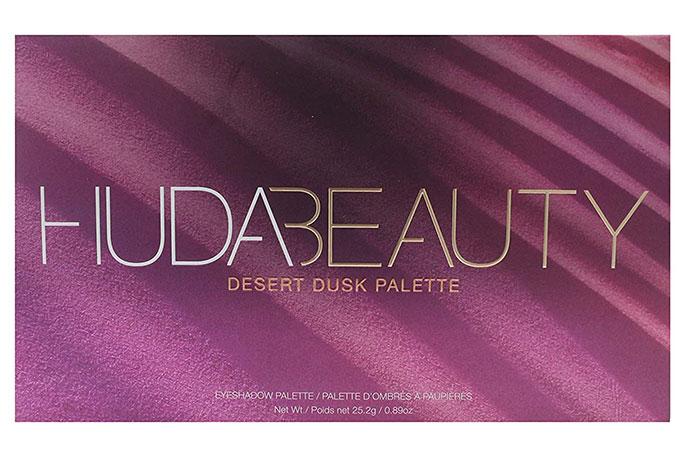 When it comes to eye makeup, trust the Arabians to make it look exotic or intensely dramatic! With this palette from Huda Beauty offering an array of matte, shimmering, and glittering shades, one is bound to feel the itch to try. Easy-to-blend, richly pigmented, and offering a long wear, indulge in this palette to create umpteen  intense beauty looks with its gorgeous shades. Also, Huda Beauty is one of the most trusted brands in the world when it comes to cosmetics.
Pros
Rich pigmentation
Long-wear
Easy-to-use
Blend effortlessly
Sulfate and paraben-free
Ideal for skin tones
Cons
Price at the time of publication: $49.99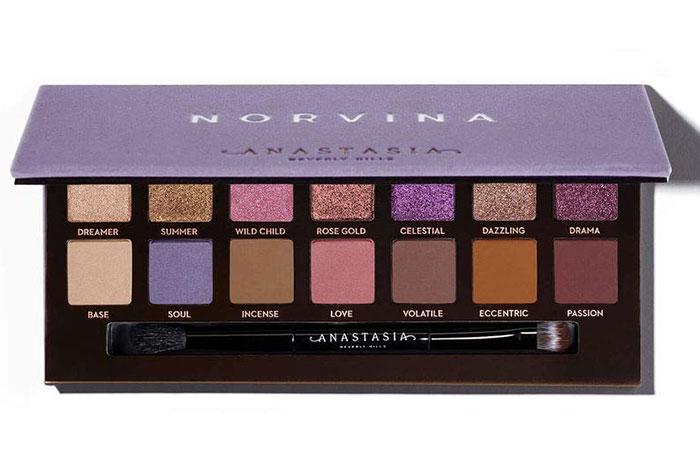 Pastel lovers, here's one for y'all but with a metallic finish. Anastasia Beverly Hills Eyeshadow Palette has 14 shades that'll fancy both warm tone and cool tone users. They are deeply pigmented, bright, bold and soft shades with an easy-to-blend formula that can be applied wet or dry. Make a statement when you step out day-to-night with this premium-quality palette that promises a delightful experience with every use.
Pros
Bright, bold, and soft shades
Easy-to-blend formula
Can be applied dry or wet
Deep pigmentation
Maximum pay-off
Cons
The shadows may fall out.
Price at the time of publication: $42.0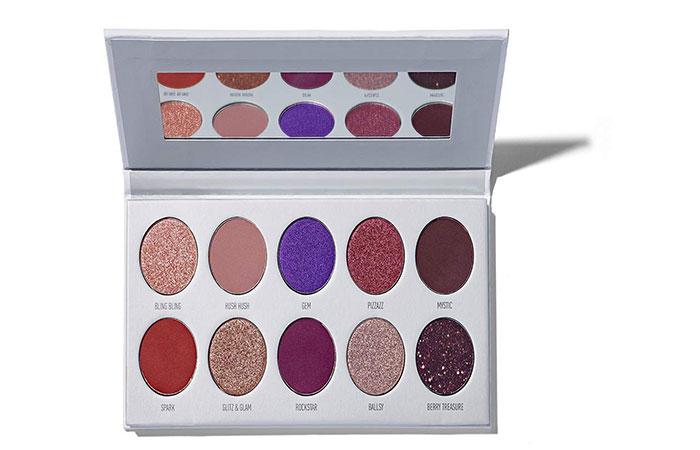 Blend the rules, dare to create and make an impact— that's what the brand believes in and promises to deliver! This minimalistic charmed palette with a combo of matte and shimmer shades guarantee a beyond creamy experience on application. Accentuating your eyes, no matter what look you create, each shade is highly pigmented and blends effortlessly. Looking for a long-wear? Then this is it because these shades promise to stick through all your happy times.
Pros
Highly-pigmented
Blendable shades
Creamy smooth texture
Can be applied wet or dry
Compact and portable
Cons
Price at the time of publication: $9.99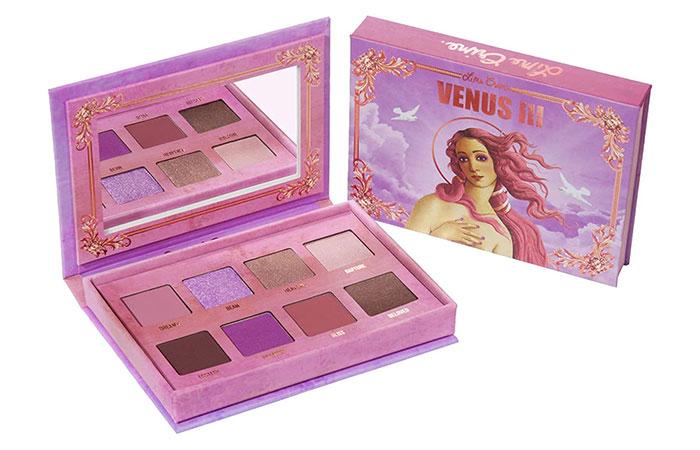 Go back to the classics with this eyeshadow palette inspired by Botticelli's artistic masterpiece, Venus. Themed "part Italian Renaissance, part the early 90s'", its 8 long-wearing shades and 5 finishes are all you need to explore modern to classic purple eye looks for day, evening, or night. Available in a compact case that makes the palette travel-friendly, the shades are easy to use, they blend effortlessly, and they won't fall out. So, don't just miss the 90s, bring back those smoky eyes and intense looks with these cult-classic purple hues.
Pros
Classic-themed palette
Travel-friendly
Easy to use and blend
Soft finishing
Cruelty-free
Cons
Pigmentation may be on the lighter side.
Price at the time of publication: $32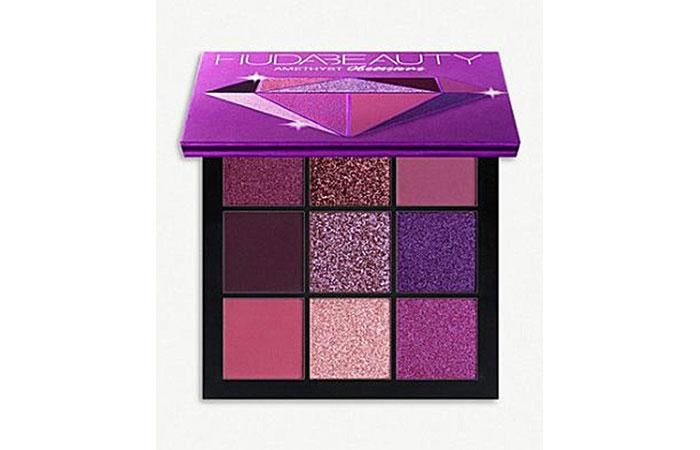 Shimmer, glitter, and matte— all in one! Switch your regular palette with these whimsical hues of purple. Compact and easy to use on-the-go, you can create your statement look or add on shimmer to stand out with these irresistible shades on your eyes. Promising an effortless blending experience to seamless finishing, this high-quality eyeshadow palette is a makeup kit staple. Also, when the brand is Huda Beauty, the color pay-offs are mostly intense and deep-pigmented enough to create striking smoky eyes. Try it to experience it!
Pros
Rich pigmentation
Easy-to-use and portable
Blends easily
Versatile palette
Compact
Cons
Price at the time of publication: $44.99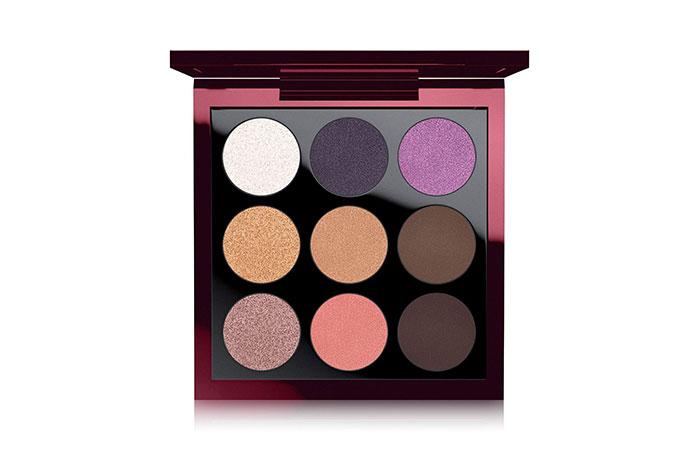 Prep up for some purple love from MAC! One of the leading cosmetic brands in the world has something for your eyes and you may like it. Shimmers, metallics, and mattes with deeply-pigmented colors, the palette has 9 good purple eyeshadow shades to satiate all your eye makeup dreams. Use it wet or dry, apply and blend evenly to witness its exquisite finishing. The palette is also dermatologist-tested, non-acnegenic, and safe for contact lens wearers.
Pros
Blends evenly
Seamless finishing
Tested by dermatologist and ophthalmologist
Non-acnegenic and safe for sensitive eyes
Compact and portable
Cruelty-free
Cons
Switch those bulky palettes with this cute and compact one to create stunning eye makeup on the go! Featuring 8 dramatic warm and cool tones to pamper your eyelids, the palette has a mix of fit-for-a-queen, royal, and striking shades. With a creamy texture that glides evenly, blends easily, and gives a molten metallic finish, this pocket-sized, deep-pigmented eyeshadow palette will keep your eyes all dolled-up anywhere, anytime.
Pros
Full-pigment palette
Spreads and builds evenly
Guarantees a molten metallic finishing
Compact and travel-friendly
Ideal for warm and cool eye makeup
Suitable for all skin tones
Cons
Eyeshadow is not fall-proof.
Now that's what we call purple galore! Still unsure about which one to pick? Our buying guide below can help!
Buying Guide For Purple Eyeshadow Palette
How To Choose A Purple Eyeshadow For Your Skin Tone And Eye Color?
This depends on whether your skin color has more warm tones or cool tones. People with warm hues in their natural skin tone opt for shades of yellow-gold, oranges, and reds to match the warmth. On the other hand, people with cool hues settle for shades of blue, purple, or green. However, those with neutral tones can explore both warm and cool tones on their skin.
How To Apply Purple Eyeshadow?
If you've never applied a purple eyeshadow or any eyeshadow before, follow the steps below:
Always start with a primer as it helps to blend the eyeshadow easily and evenly. If you don't have a primer, you can use a concealer, but blend it with a neutral color that matches your skin tone.
Next, use an eyeshadow brush to apply the purple shade directly on the eyelids.
Now use a blender to blend out the color in all zones. This may take a few minutes, but blending is important to accentuate the eyes and color perfectly. Continue blending until there are no crease lines. Add more eyeshadow if required.
You can apply the color under eye too for a smoky effect.
The key is to blend evenly to get the desired look.
Why Trust StyleCraze?
The author, Srijita De, is a makeup enthusiast and loves experimenting with different makeup products. She vouches for the best purple eyeshadow palette for people who like giving an edge to their eye makeup. After going through multiple reviews and user feedback, she has made a well-researched list of eyeshadow pallets for her readers. These eyeshadows are available in all kinds of finishes and are perfect for various skin textures.
Frequently Asked Questions
What Color Goes With Purple Eyeshadow?
Use purple as a stand-alone color if possible, for it to pop out really well. You can use other shades of purple or pink to experiment, otherwise purple on its own looks stunning.
Which Blush Color Goes With Purple Eyeshadow?
It depends on your skin tone. However, soft peach, light coral, shades of pink, or bronze (if your skin tone is darker) usually work well.
Which Lipstick Colors Go Well With Purple Eyeshadows?
Mostly, shades of pink or purple lipsticks pair really well with purple eyeshadows.
Is Wearing Purple Eyeshadow Out Of Style?
No, purple is a color that transcends all trends because of its striking appeal. Though some may call it a gutsy choice, light shades like lilac or lavender are go-to for everyday wear. They pair exceptionally well with green eyes and also, the darker the shades of purple you will use, the bolder your look will turn out.
Who does purple eyeshadow look good on?
Purple eyeshadow looks good on every skin tone.
What color eyes does purple eyeshadow suit?
People with brown and green eyes look the best with purple eyeshadows.
Why is purple eyeshadow hard to make?
There are limited sources of purple pigmentation. As a result, formulating purple eyeshadows is difficult.
Should your eyeshadow match your eyes?
No. There is no hard and fast rule to match your eyeshadow with your eyes. You can even opt for an eyeshadow color opposite your eye color to make your eyes appear bright and attractive.
What color blush goes with a purple eyeshadow?
Peach and soft pink blushes complement and look alluring with purple eyeshadow.
Recommended Articles