13 Best Korean Cushion Compact Foundations Of 2023 – Buying Guide
These easy-to-use foundations add radiance to your skin and make it look flawless!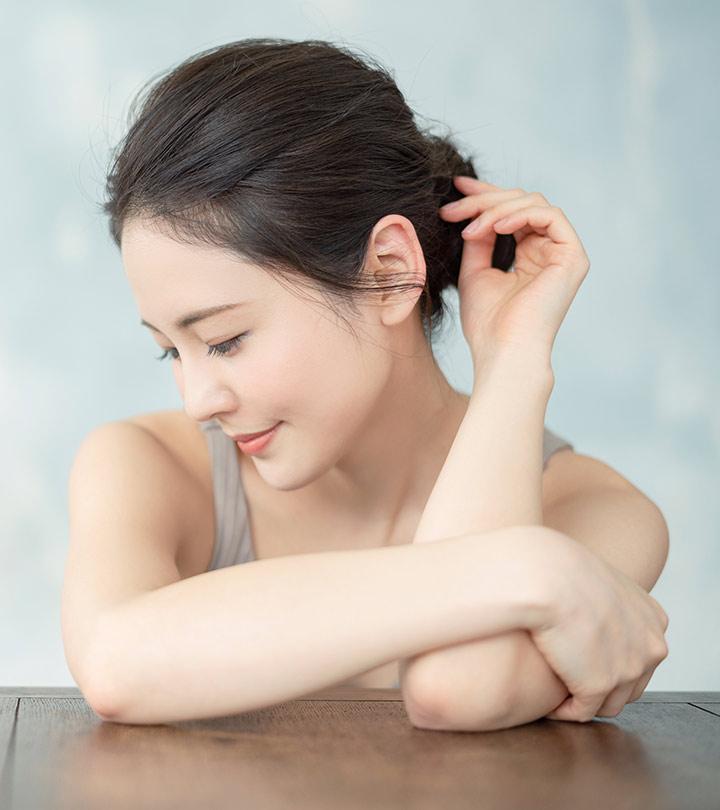 If you love makeup and are always on the lookout for new trends, chances are you already got your hands on the best Korean cushion foundation out there. If not, this article will help you choose the right one. Korean beauty and skincare product lines are a cult favorite for all the right reasons. Out of their many beauty secrets, the Korean cushion foundation is one of the best-kept ones. With compact cases containing a cushion saturated with BB cream instead of powder, these foundations add that remarkable instant luminous glow to your face that Korean women are so known for. It also comes along with an applicator that provides smooth and even coverage with flawless application. This holy grail of foundations not only helps cover the imperfections of your face but adds a healthy, refreshed look to it as well. To help you select one for yourself, we have shortlisted the 13 best Korean cushion foundation options for you. Read on to know more.
Top 13 Best Korean Cushion Foundations You'll Definitely Love
Pros
Whole day coverage
Both skincare and makeup
Easy to use
Natural Ingredients
SPF coverage
Cons
Not suitable for oily skin
Price at the time of publication: $14.45
Pros
Offers complete coverage
Leaves the skin with radiant glow
Hydration lasts all day long
Cons
Theis foundation may be a little less pigmented for those who prefer results in a single stroke.
Price at the time of publication: $29.0
Pros
Doesn't make your skin look bland and dry
Lightweight
Smudge-proof
Available in 2 different shades
Natural ingredients
Cons
None

Price at the time of publication: $20.79
Pros
Covers spots, big and small, giving you perfect skin
Infused with calcium, magnesium, sodium, and vitamin C
Slows down the aging process of your skin
Cons
It may make oily skin look a bit too dewy.
Price at the time of publication: $42.99
The TROIAREUKE H+ Cushion Foundation moisturizes your sensitive skin without causing any irritation. One of the best Korean cushion foundations for dry skin, it is like light makeup you can wear all day. It contains soothing ingredients like centella asiatica extract, Portulaca olarecea extract and Chomomilla Recutita (Matricaria) flower-extract that prevent wrinkles from developing at an early age and improve your skin tone. While this foundation takes care of skincare, in addition to makeup needs, it also provides an extra sponge so that you can happily discard it over time.
Pros
Offers the right balance between matte and glossy
Anti-aging and anti-wrinkle
Prevents dryness and oxidation
Provides UV protection
Cons
It may not cover very dark patches or prominent marks.
Price at the time of publication: $48.88
Pros
Lightweight
Silky
Suitable for combination skin
Non-cakey
Non-flakey
Cons
None
Price at the time of publication: $42
Pros
Suitable for sensitive skin
Easy to apply
Stays for 54 hours
Prevents UV rays
Lightweight
Transfer-resistant
Humidity-resistant
Comes with an extra cushion and foundation refill
Cons
None

Price at the time of publication: $29
Pros
Lightweight
Long-lasting
Full coverage
Oil-control
Cons
Price at the time of publication: $14.99
Pros
Spill-proof and travel-friendly
Buildable coverage
Corrects color
Protection from damage with the help of broad spectrum SPF 50+
Suitable for wearing all-day long
Cons
The applicator may soak up extra foundation when dipped, hence, it is advised to pat very lightly on the product with the sponge.
Price at the time of publication: $75.0
Pros
Semi-matte and lightweight
Anti-aging
Protects from harmful effects of the sun
Long lasting
Clump-free
Cons
It may not work well if one tries to layer it heavily.
Price at the time of publication: $25.95
Pros
Expert Lyon Technology
Easy application
Lightweight
Improves the complexion of dull skin
Long-lasting
Non-sticky
Cons
None
Price at the time of publication: $35
This super dewy Korean cushion foundation is super-hydrating and makes all your dry skin woes disappear. It also takes care of enlarged pores, provides complete coverage, and reflects light when you apply even a single layer on your skin! If you have very oily skin, apply aloe vera gel first before using this product. Moreover, the 3D air sponge offers efficient coverage without wastage for an intensely moist and glowy look.
Pros
3D air sponge
Easy application
Lightweight
Meticulous coverage
Cons
Price at the time of publication: $26.2
As the name suggests, this double wear makeup from Etude House, made with double-shot technology, is your best bet to achieve flawless coverage that lasts all day long. The lightweight formula settles into a semi-matte finish that stays put for 24 hours effortlessly.  Its magnetic fit effect covers your skin like an adhesive, perfecting your makeup. It is available in 6 different shades to complement your skin tone.
Pros
Double shot technology
Long-lasting
Versatile shades
Lightweight
Cons
May be too drying for some skin types
Price at the time of publication: $20.69
Let us now take a look at the tips you must bear in mind while buying the perfect Korean cushion foundation.
Buying Guide
In order to make the right purchase when it comes to Korean cushion foundations, it is important for you to know your own skin.
Skin type: Like all products, Korean Cushion Foundations too have specialised options for different types of skin. Be very mindful of which cushion you are picking, as it is important for the formula to work for your skin type. If your skin is oily, look for matte cushion foundations and if dry skin is what bothers you, get a cushion foundation that is over moisturized and offers dewy complexion.
Color Options: After all, a cushion compact is a foundation at the end of the day, and it should be treated as all other foundations are. This means you want to select a cushion foundation that matches your skin tone, if not exactly then at least is a close match.
SPF: Our skin is always susceptible to multiple issues, but the one thing you definitely can protect it from is the sun. Try and get your hands on a cushion foundation that provides you with a sun protection formula of your liking and make skin care part of your makeup.
How Do You Use A Cushion Foundation
While cushion foundations are easy to use, some guiding points are good to be remembered. Korean cushion foundations generally build easily, so make sure the application is even without over layering the product on your skin. Always tap the product lightly on your skin and use your fingers freely to blend in if required.
Tips To Achieve The Coveted Natural Look
Always apply cushion foundation in a perfectly lit corner of the room. When you have natural light to apply your makeup in, the result will also be natural.
Blending goes a long way, so even if it takes a few minutes extra, do not compromise on that natural blend.
Lastly, do not be afraid to use your fingers to perfect the foundation. All makeup artists do this and it is perfectly acceptable.
Korean cushion foundations are an answer to the prayers of millions of women like us, who want to sport flawless skin, but in the process want to nurture it by protecting our skin from UV rays, wrinkles, early signs of ageing, blemishes and acne. Now that you know there are so many good Korean cushion foundations for all skin types, all you have to do is make a choice based on the list we have created for you. Try out the best cushion foundation option that works for your needs and let us know in the comments about which one you liked best!
Infographic: A Buying Guide On Korean Cushion Foundations
Korean cushion foundations are all the rage in the beauty industry. They contain skin-friendly ingredients that work wonders on every skin type. However, you need to remember some basic pointers before zeroing in on one. Take a look at the infographic below to know more.


Why Trust Stylecraze
Srijita De, the author of this article, is a makeup enthusiast who loves to keep up with the latest trends in the beauty industry and review makeup products. She is obsessed with Korean cushion foundations as they give a dewy and flawless finish. She has prepared this list of the best Korean cushion compact foundations after conducting thorough research. She checked the product specifications and user feedback and reviews to pick the top products.
Frequently Asked Questions
How am I supposed to use a cushion foundation?
The best way to use Korean cushion compact is by preparing your skin either by applying primer or a moisturizer. Place the application sponge on the cushion, soak in some of the product and gently tap it all over your face and neck to get a smooth and even effect.
Are cushion foundations better?
Depending on what your need is, cushion foundations could be better or not for you. If you are someone who likes a natural, almost makeup free look, then Korean BB cushions are what you need. However if you need to hide dark spots or blemishes, then use them in conjunction with a concealer for flawless skin.
Should I get rid of my regular foundation?
Having used your regular foundation before, you would know what it does for your skin. Before throwing away your old regular foundation, try a Korean cushion foundation that is suited to your skin type, and compare the results. There is a high possibility you may not want to use anything else after trying Korean BB cushion compacts!
What should you keep in mind when buying the best Korean cushion foundation?
If you are buying a Korean cushion compact foundation for the first time, keep in mind not only the skin type it is made for, but also the skin tone it is made for. Most of these foundations come in a limited color palette and you may want to ensure that they will blend in with your natural color. Make sure to read a few cushion foundation reviews to know what previous users have to say about the product.
How safe is a Korean cushion foundation?
Korean cushion foundations are not too different from regular makeup as far as safety is concerned. They are all clinically tested, however if you have sensitive skin, test out the foundation on a small patch on your hand, and once you are sure there is no reaction, you can try the product on your face.
How long do cushion foundations last?
Depending on how often you apply makeup, most cushion foundations last upto 3 months. Remember to keep the compact moist and protected from dry weather, or it may result in patches when applying on your face.
How do I clean my cushion foundation puff?
The fastest way to clean your Korean cushion foundation puff is by pouring oil cleanser on it, rubbing it well while placed inside a sandwich bag, and then washing the oil and product away by pouring warm – not hot – but warm water over it. Pat dry on a towel until there is nothing left on the puff.
Do you need a primer with cushion foundation?
If you have dry skin, then yes a primer will definitely help the cushion foundation to display best results if it is a matte foundation that you are using. However, if it is a dewy cushion compact then primer will only make the skin look oilier than it should.
Do cushion foundations dry out?
Korean cushion foundations do not dry out if you leave the lid open when applying the foundation. However, once you are done using the compact, shut it tightly to ensure moisture is retained until your next use.
The following two tabs change content below.