22 Best Korean Cushion Compact Foundations Of 2023 – Buying Guide
These easy-to-use foundations add radiance to your skin and make it look flawless!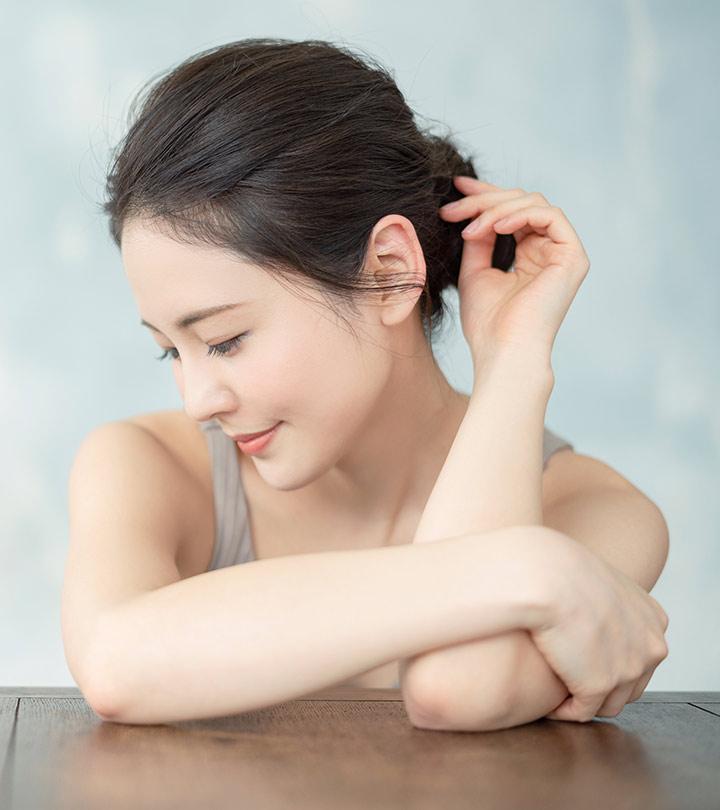 If you love makeup and are always on the lookout for new trends, chances are you already got your hands on the best Korean cushion foundation out there. If not, this article will help you choose the right one. Korean beauty and skincare product lines are a cult favorite for all the right reasons. Out of their many beauty secrets, the Korean cushion foundation is one of the best-kept ones. Simone de Vlaming, a beauty expert with 5 years of experience, says, "Cushion foundations are mostly known for their lightweight and breathable formula. This makes them perfect for dry or sensitive skin types." With compact cases containing a cushion saturated with BB cream instead of powder, these popular cosmetic foundations add that remarkable instant luminous glow to your face that Korean women are so known for. These statement-making beauty products also come with applicators that provide smooth and even or total coverage. This holy grail of foundations not only helps cover the imperfections of your face but adds a healthy, refreshed look to it as well. To help you select one for yourself, we have shortlisted the 22 best K-beauty cushion foundation options for you. Read on to know more.
Top 22 Best Korean Cushion Foundations You'll Definitely Love
The celebrity-endorsed Missha M Magic Cushion Cover is a real adhesive fit cushion providing coverage for the whole day. This moisturizing cushion foundation doesn't leave your skin dry or too oily either. The anti-acne ingredient niacinamide and antioxidants such as avocado oil and olive fruit oil are excellent for covering blemishes, discoloration, and dark circles. These ingredients also improve skin elasticity. The natural beige color of this non-drying foundation visibly evens out your skin tone and gives your face a light and fresh look. The presence of glycerine and SPF makes a good mix of skincare and makeup. Check out this video for a thorough understanding of the product based on a tester's experience with it.
Pros
Whole day coverage
Both skincare and makeup
Easy to use
Natural Ingredients
SPF coverage
Cons
Not suitable for oily skin
The Age 20s Signature Intense Cushion Foundation is powered with SPF 50+ that provides intense UV protection. It is a lightweight formula that covers blemishes and pores without forming a cakey layer on your skin. It gives a dewy finish to the skin and improves its texture. The formula is packed with beige, white, and gold essence latte that provides buildable coverage for optimum color correction. The puff and the advanced design case of the product make it easy to use. Reviewers have noted that the product comes with 2 refills and 2 puffs so you do not have to reorder soon.
Pros
SPF 50+ protection
Offers a dewy finish
Buildable coverage
Long-lasting
Non-greasy
Comes with two refills and puffs
Cons
Enhanced with collageneer, this compact is one of the best Korean full-coverage cushion foundations. Hyaluronic acid, which is one of the main elements that make up this foundation, ensures that your skin remains healthy, retains water, gets rid of fine lines, and does not show any signs of dryness or make the pores feel clogged. This product also conceals wrinkles and pores and brightens the skin tone so your skin can feel as youthful as you do. This radiant cushion foundation has a lightweight texture making it perfect for everyday use. Click here to check out a detailed personal review of this product based on a reviewer's experience with it.
Pros
Offers complete coverage
Leaves the skin with a radiant glow
Hydration lasts all day long
Cons
This foundation may be a little less pigmented for those who prefer results in a single stroke.
The lightweight formula of the IM UNNY Stay Velvet Cushion adheres to the skin perfectly and doesn't get smeared. The polymer film foam forms a makeup film and maintains the base makeup. Several reviews on Amazon indicate that the dewy cushion foundation leaves a glow and shines on your face and doesn't make the matte look bland and dry the whole day. It also effectively covers scars. Last, but not the least, it contains sodium hyaluronate, arnica montana flower extract, and centella asiatica extract that provide your skin with a boost of hydration and improve skin texture.
Pros
Doesn't make your skin look bland and dry
Lightweight
Smudge-proof
Available in 2 different shades
Natural ingredients
Cons
None

Filled with the goodness of natural ingredients, this light beige 3-in-1 foundation prevents aging and protects your skin from tan and burn. Blueberry makes your skin feel fresh and helps get rid of any signs of tiredness. Phyllanthus Emblica extracts even out the skin tone, while aloe vera makes sure that moisture is locked in for a long period of time. This, in turn, provides perfect coverage without any smudging. An added benefit of this product is that it also works well with the watercolor method. Lastly, Euterpe oleracea protects the skin from being oxidized, making it ideal for oily to combination skin types.
Pros
Covers spots, big and small, giving you perfect skin
Infused with calcium, magnesium, sodium, and vitamin C
Slows down the aging process of your skin
Cons
It may make oily skin look a bit too dewy.
The TROIAREUKE H+ Cushion Foundation moisturizes your sensitive skin without causing any irritation. One of the best Korean anti-aging cushion foundations for dry skin, it is like light makeup you can wear all day. This hydrating cushion foundation contains soothing ingredients like Centella asiatica extract, Portulaca olarecea extract and Chamomilla Recutita (Matricaria) flower-extract that prevent wrinkles from developing at an early age and improve your skin tone. While this foundation takes care of skincare, in addition to makeup needs, it also provides an extra sponge so that you can happily discard it over time.
Pros
Offers the right balance between matte and glossy
Anti-aging and anti-wrinkle
Prevents dryness and oxidation
Provides UV protection
Cons
It may not cover very dark patches or prominent marks.
Make your look stand out from the crowd with the Jungsaemmool Essential Skin Nuder Cushion! This natural finish cushion foundation is made with lightweight and airy full coverage that is perfect for all-day wear. It has a non-cakey and non-flakey formula that will make your makeup look flawless. It sits on your face like a second skin and keeps your makeup fresh all day long. So, whether you are going to a party or just running errands, this cushion is a must-have.
Pros
Lightweight
Silky
Suitable for combination skin
Non-cakey
Non-flakey
Cons
None
The Clio Kill Cover Cushion is a 54-hour-long wear foundation that sits on your skin without feeling too heavy. This waterproof cushion foundation is infused with SPF 50 sunscreen, which prevents sun damage, and consists of hybrid clear powder that absorbs the sweat and excess sebum on your skin and keeps your face looking smooth all day. The powder also stops the foundation from getting dark and separated over time. In addition, this oil-control cushion foundation is infused with Sepicontrol A5, which maintains the oil balance of your skin and keeps away acne issues, thus, making it suitable for acne-prone skin. Lastly, this oil-free formula contains aloe vera extracts that moisturize and soothe your skin.
Pros
Suitable for sensitive skin
Easy to apply
Stays for 54 hours
Prevents UV rays
Lightweight
Transfer-resistant
Humidity-resistant
Comes with an extra cushion and foundation refill
Cons
None

IM UNNY Pore Blur Powder is for those who want to achieve the best out-of-the-bag look. The fine powder is made from active ingredients that leave your skin looking and feeling healthy and radiant. This long-lasting cushion foundation absorbs quickly, and makes your skin smooth, toned, and imparts a brightening effect effortlessly. Its non-sticky formula helps control oil production to give you a matte look all day long. Many reviews on Amazon suggest using any powder brush to apply this clump-free formula seamlessly.
Pros
Lightweight
Long-lasting
Full coverage
Oil-control
Cons
Science and nature come together for the creation of the AMOREPACIFIC Color Control Cushion Compact. This skin-nourishing cushion foundation is endorsed by celebrities and for good reason! It has botanical ingredients including green tea, red ginseng, and bamboo sap that work their magic on the skin, making it feel well-nourished and taken care of. The antimicrobial puff is designed with tiny pores that deliver the perfect amount of product without absorbing the formula or causing product buildup.
Pros
Spill-proof and travel-friendly
Offers full to medium coverage
Buildable coverage
Corrects color
Protection from damage with the help of broad spectrum SPF 50+
Suitable for wearing all day long
Cons
The applicator may soak up extra foundation when dipped, hence, it is advised to pat very lightly on the product with the sponge.
This sheer cushion foundation is almost weightless, makes oily skin matte, and is ideal for outdoorsy activities in the summer months. Formulated using aqualicia extract, this setting cushion moisturizes skin to the next level, keeps it cool, conceals all signs of dryness, and is also suitable for acne-prone skin. This lightweight cushion foundation prevents skin from darkening in summer and also makes sure your makeup is in place all-day long.
Pros
Semi-matte and lightweight
Anti-aging
Protects from harmful effects of the sun
Long lasting
Clump-free
Cons
It may not work well if one tries to layer it heavily.
The celebrity-endorsed HERA UV mist cushion is a K-beauty-exclusive cover that contains skin-loving minerals. It helps you achieve plump cheeks and sculpted cheekbones. This cushion foundation provides a non-cakey coverage to perfectly cover up fine lines or uneven skin patches and add radiance to the skin. With 50 SPF, this cushion will help you maintain a flawless look even in the scorching heat. It also comes with a one-time refill, in case you want more of it. This premium high-end foundation with a modern twist and a sleek design is a must-have for beautiful, flawless skin.
Pros
Expert Lyon Technology
Easy application
Lightweight
Improves the complexion of dull skin
Long-lasting
Non-sticky
Cons
None
This super dewy Korean cushion foundation is super-hydrating and makes all your dry and flaky skin woes disappear. It also takes care of enlarged pores, provides complete coverage, and has multi-light reflective technology that reflects light coverage when you apply even a single layer to your skin! If you have very oily skin, apply aloe vera gel first before using this natural glow cushion foundation. Reviewers have also noted that the 3D air sponge offers efficient coverage without product wastage for an intensely moist, glowy, and dewy makeup look.
Pros
3D air sponge
Easy application
Lightweight
Meticulous coverage
Cons
The Luna Conceal Fixing Cushion Foundation is a weightless formula that makes your face look bright and clear. The unique fixing power of the foundation prevents the darkening, separation, and smudging of your makeup. It will not rub off your face even if you wear a mask. It provides a semi-matte finish to your skin and imparts 50-hour full coverage to your blemishes and uneven spots. The silky texture of the formula glides seamlessly on your face without developing streaks. It contains SPF 37 which protects your skin against harsh UV rays. It is available in three shades that offer exceptional results in different skin tones.
Pros
Suitable for all skin types
Lightweight
Silky texture
Long-wearing
Strong fixing
Full coverage
Non-drying
Semi-matte finish
SPF 37 protection
Cons
The MIBA Ion Calcium Double Cushion Foundation is packed with mineral essence that keeps your skin soft, moisturized, and wrinkle-free. It provides excellent coverage for up to 40 hours and imparts a matte finish to your skin. The cushion holds 24g of foundation, which is twice the size of regular cushion foundations. It also imparts broad-spectrum SPF 50+ UV protection to your skin against UVA and UVB rays​​, helping you shield with effective sunscreen protection.
Pros
Broad-spectrum SPF 50 protection
Good coverage
Long-wearing
Artificial fragrance-free
Paraben-free
Cons
May clog pores and cause the skin to break out.
Achieve healthy, radiant skin with the Amuse Dewy Jelly Cushion Foundation! It is a vegan formula, infused with natural skin care ingredients like like japonica juice, panthenol, hyaluronic acid, and Vita-11 complex that moisturize the skin, boost its elasticity, and soften its texture. The foundation creates an even layer on the skin, minimizing blemishes, redness, and pores for a flawless look. It has a jelly-like texture that imparts a dewy finish to your skin. The cushion puff is made of fermented corn, ensuring a smooth and comfortable application. Reviewers have mentioned that the puff also repels water and spillages.
Pros
Dermatologically tested
Hypoallergenic
Reef-friendly
Dewy finish
Long-lasting
Buildable coverage
Transfer-proof
Eco-friendly puff
Paraben-free
Cons
Not spill-proof packaging.
The Rom&nd Nu Korean Cushion Foundation forms a thin layer on the skin, functioning as both a makeup base and fixer. The lotion-like, lightweight formula lasts for a long time on the skin without caking. It smoothes out textured skin and diminishes pores. When selecting your shade, consider the undertone that complements your skin imperfections and tone for a flawless finish. The foundation is available in six semi-matte shades, suitable for all skin tones.
Pros
Suitable for daily wear
Suitable for all skin tones
Non-greasy
Buildable coverage
Lightweight
Easy to apply
Long-wearing
Cons
May not be suitable for dry skin.
The Unleashia Satin Wear Healthy-Green Cushion is formulated with 76% water essence that hydrates the skin from within and imparts it with a semi-matte satin finish. It is powered with SPF 30 PA++ which protects your skin against both UVA and UVB rays. The active ingredient, Bakuchiol, adds a radiant glow to your skin. The papaya, chamomile flower, and parsley extracts improve the skin texture by boosting skin elasticity. This vegan cushion brand comes in hygienic, airless packaging. The product is not tested on animals, which makes it ideal for ethically conscious makeup lovers.
Pros
Suitable for daily use
Semi-matte satin finish
Natural coverage
Long-lasting
Strong fixing
Vegan
Cruelty-free
Fragrance-free
Cons
Fewer range of shade options.
The eSpoir Pro Tailor Be Glow Cushion is formulated with a triple-layer system that controls excess moisture in the skin and imparts a natural finish. It is crafted with air-fit technology that prevents thick application and coats your face with a breathable layer. This glow powder does not darken your skin or change its tone. The product comes with a droplet-shaped puff, made of ruby cell fabric that allows precise application techniques.
Pros
Broad-spectrum SPF 42 protection
Natural finish
Breathable coverage
Lightweight
Easy to apply puff
Cons
Does not come with a refill.
The SAEM Cover Perfection Concealer Cushion is combined with the benefits of a concealer and foundation. It is a lightweight formula that blurs fine lines and hides imperfections on your skin, rendering it a smooth finish. It creates a buildable, thin film on your skin that lasts for 56 hours without crumbling or darkening. The cushion is packed with quince, lemon balm, orange, and blossom that absorb sweat and sebum from your skin's surface and prevents the pores from getting clogged. This high-coverage formula is suitable for both oily and dry skin.
Pros
Suitable for daily use
Does not clog pores
Matte finish
High-coverage
Sebum-control
Crumble-free
Long-wearing
Lightweight
Cons
May feel slightly greasy.
The LOVB LOVB Natural Cover Glow Cushion helps you achieve naturally glowing skin all day long. It is a lightweight formula that is packed with oat kernel extract, avocado peptides, and sedum sarmentosum extract that keeps your skin hydrated, plump, and smooth. When selecting, consider the undertone that harmonizes effortlessly with your skin, ensuring a glowy finish and personalized result. The foundation imparts a flawless dewy finish to your skin, covering redness and evening out the tone. It does not oxidize or darken throughout your wear time. The non-sticky texture of the formula keeps your skin feeling soft and comfortable.
Pros
Lightweight
Dewy finish
Long-wearing
Buildable coverage
Cons
Not suitable for medium to dark skin tone
As the name suggests, this double-wear makeup from the celebrity-endorsed brand Etude House, made with double-shot technology, is your best bet to achieve flawless coverage that lasts all day long. The lightweight formula settles into a semi-matte finish that stays put for 24 hours and helps get even-toned skin. This matte finish cushion foundation has a magnetic fit effect that covers the skin like an adhesive, perfecting your makeup. It is available in 6 different shades to complement your skin tone.
Pros
Double shot technology
Long-lasting
Versatile shades
Lightweight
Cons
May be too drying for some skin types
*The prices provided in this article are based on the latest available information. However, they may vary due to changes in pricing by the seller and/or promotional offers.
Let us now take a look at the tips you must bear in mind while buying the perfect Korean cushion foundation.
Buying Guide
How To Choose The Perfect Korean Cushion Foundation
In order to make the right purchase when it comes to statement-making Korean brand cushion foundations, it is important for you to know your own skin.
Skin type: Like all products, Korean Cushion Foundations too have specialised options for different types of skin. Be very mindful of which cushion you are picking, as it is important for the formula to work for your skin type. If your skin is oily, look for matte cushion foundations and if dry, patchy skin is what bothers you, get a cushion foundation that is over moisturized and offers dewy complexion.
Color Options: After all, a cushion compact is a foundation at the end of the day, and it should be treated as all other foundations are. This means you want to select a cushion foundation that matches your skin tone, if not exactly then at least is a close match.
SPF: Our skin is always susceptible to multiple issues, but the one thing you definitely can protect it from is the sun. Try and get your hands on an SPF cushion foundation that provides you with a sun protection formula of your liking and makes skin care part of your makeup.
How Do You Use A Cushion Foundation?
While cushion foundations are easy to use, some guiding points are good to be remembered. Korean cushion foundations generally build easily, so make sure the application is even without over-layering the product on your skin. Always tap the product lightly on your skin and use your fingers freely to blend in if required.
Tips To Achieve The Coveted Natural Look
Always apply cushion foundation in a perfectly lit corner of the room. When you have natural light to apply your makeup in, the result will also be natural.
Blending goes a long way, so even if it takes a few minutes extra, do not compromise on that natural blend.
Lastly, do not be afraid to use your fingers to perfect the foundation. All makeup artists do this and it is perfectly acceptable.
Why Trust StyleCraze?
Srijita De, the author of this article, is a makeup enthusiast who loves to keep up with the latest trends in the beauty industry and review makeup products. She is obsessed with Korean cushion foundations as they give a dewy and flawless finish. She has prepared this list of the best Korean cushion compact foundations after conducting thorough research. She checked the product specifications and user feedback and reviews to pick the top products.
Frequently Asked Questions
How am I supposed to use a cushion foundation?
The best way to use Korean cushion compact is by preparing your skin either by applying primer or a moisturizer. Place the application sponge on the cushion, soak in some of the product and gently tap it all over your face and neck to get a smooth and even effect.
Are cushion foundations better?
Depending on what your need is, cushion foundations could be better or not for you. If you are someone who likes a natural, almost makeup free look, then Korean BB cushions are what you need. However if you need to hide dark spots or blemishes, then use them in conjunction with a concealer for flawless skin.
Should I get rid of my regular foundation?
Having used your regular foundation before, you would know what it does for your skin. Before throwing away your old regular foundation, try a Korean cushion foundation that is suited to your skin type, and compare the results. There is a high possibility you may not want to use anything else after trying Korean BB cushion compacts!
What should you keep in mind when buying the best Korean cushion foundation?
If you are buying a Korean cushion compact foundation for the first time, keep in mind not only the skin type it is made for, but also the skin tone it is made for. Most of these foundations come in a limited color palette and you may want to ensure that they will blend in with your natural color. Make sure to read a few cushion foundation reviews to know what previous users have to say about the product.
How safe is a Korean cushion foundation?
Korean cushion foundations are not too different from regular makeup as far as safety is concerned. They are all clinically tested, however if you have sensitive skin, test out the foundation on a small patch on your hand, and once you are sure there is no reaction, you can try the product on your face.
How long do cushion foundations last?
Depending on how often you apply makeup, most cushion foundations last upto 3 months. Remember to keep the compact moist and protected from dry weather, or it may result in dry skin patches when applying on your face.
How do I clean my cushion foundation puff?
The fastest way to clean your Korean cushion foundation puff is by pouring oil cleanser on it, rubbing it well while placed inside a sandwich bag, and then washing the oil and product away by pouring warm – not hot – but warm water over it. Pat dry on a towel until there is nothing left on the puff.
Do you need a primer with cushion foundation?
If you have dry skin, then yes a primer will definitely help the cushion foundation to display best results if it is a matte foundation that you are using. However, if it is a dewy cushion compact then primer will only make the skin look oilier than it should.
Do cushion foundations dry out?
Korean cushion foundations do not dry out if you leave the lid open when applying the foundation. However, once you are done using the compact, shut it tightly to ensure moisture is retained until your next use.