11 Best Serum Foundations Of 2023 With A Complete Guide
A perfect amalgamation of makeup and skin care screaming, "pick me before others do."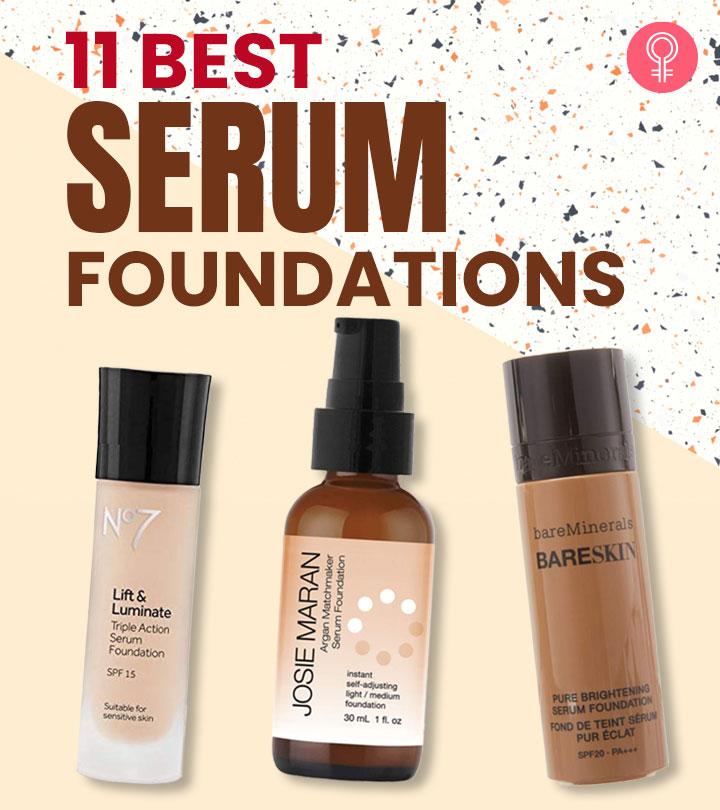 Why hide your skin flaws with layers of cosmetics when you can address them naturally! You got it right! The best serum foundations can help treat various skin issues like pigmentation and pores while giving good coverage for an instant glow-up.
A serum foundation is what it says on the tin: a serum combined with a foundation. It means you can use a single product to glam up your skin while correcting its faults. Oil-based serum foundations are usually light and airy. They address dryness, aging, pigmentation, acne, and uneven skin tone, among other issues. Scroll down to see our top picks!
11 Best Serum Foundations
The bareMineralsBareskin Pure Brightening Serum Foundation is lightweight and imparts a natural, flawless look. It is infused with minerals and skin brightening ingredients that moisturize your skin while glamming up.
This serum foundation is loaded with vitamin C that has antioxidant properties. It also contains lilac plant stem cells that help protect your skin against environmental stress and aggressors. The serum foundation contains SPF 20, provides light to medium coverage, and is available in18 shades. It is hypoallergenic and free of parabens, silicone, mineral oil, and synthetic fragrance. Check out this video for a detailed review of the product.
Pros
Dermatologist tested
Hypoallergenic
Contains SPF 20
Paraben-free
Silicone-free
Mineral oil-free
No synthetic fragrance
Lightweight
Long-lasting
Buildable
Suitable for all skin types
Provides light to medium coverage
Cons
Price at the time of publication: $29.99
The Josie Maran Argan Matchmaker Serum Foundation feels weightless even when worn for a long time. It enhances your natural skin tone to provide age-defying undetectable coverage. The chameleon pigments look exactly like your skin as if you have not applied any makeup. The breakthrough color-match technology smoothens the skin and correct visible signs of aging.
This serum foundation boosts skin elasticity and balances the skin tone, diminishing fine lines, and wrinkles. It keeps oily areas shine-free and also hydrates the dry patches. This vegan product provides a velvety HD finish and is available in three shades. It is cruelty-free and does not contain gluten, sulfates, parabens, phthalates, formaldehyde, mineral oil, and synthetic fragrance. Take a look at this video to learn more about the product.
Pros
Velvety HD finish
Reduces fine lines and wrinkles
Lightweight
Vegan
Gluten-free
Cruelty- free
Sulfate-free
Paraben-free
Phthalate-free
Formaldehyde-free
Mineral oil-free
No synthetic fragrance
Cons
Price at the time of publication: $45
The No7 Lift & Luminate Triple Action Serum Foundation is loaded with anti-aging and skin care ingredients that address uneven skin tone and skin discoloration. It improves your skin texture and reduces the visibility of open and enlarged pores. This serum foundation is infused with a potent blend of optical blurring agents and light-reflecting particles that diminish the signs of aging by reflecting light and shifting away the focus from fine lines and wrinkles.
It does not crack or melt, no matter how many times you change your expression. The product conceals the fine lines and masks sagging skin all day long. It hydrates and plumps your skin, protecting it from the sun with its SPF 15 formula. It is suitable for daily use and available in 14 shades. Watch this YouTuber's honest review to get a better idea about the product and its features.
Pros
Lightweight
Covers fine lines and wrinkles
Long-lasting
Contains SPF 15
Provides medium coverage
Cons
Price at the time of publication: $27.99
The L'Oreal Paris Age Perfect Radiant Serum Foundation provides ultimate moisture and radiance to mature skin. It contains vitamin B3 that evens out the skin tone with natural coverage to mask the fine lines. This serum foundation protects your skin from sun damage with broad-spectrum SPF 50. It is non-comedogenic and does not settle between the fine lines and makes your skin look sagging or cakey.
Pros
Contains SPF 50
Provides medium to full coverage
Lightweight
Masks fine lines and wrinkles
Ideal for sensitive and mature skin
Buildable
Dermatologically-tested
Non-comedogenic
Cons
Price at the time of publication: $12.64
The juice BEAUTY Phyto-pigments Flawless Serum Foundation works as an age-defying serum. It is formulated with fruit stem cells and resveratrol-rich grape seed. This serum foundation consists of plant-derived phyto-pigments that blend easily into the skin to give you a seamlessly natural finish and a youthful appearance.
The product contains hydrating antioxidants and vitamins C and E that make your skin supple and bouncy while boosting its natural radiance. This vegan product covers the appearance of fine lines and wrinkles without settling between them to form cracks. You can wear this lightweight serum foundation all day long.
Pros
Long-lasting
Silicone-free
Buildable
Provides medium to full coverage
Cruelty-free
Vegan
Paraben-free
Petroleum-free
Propylene-free
Butylene glycol-free
Phthalate-free
Sulfate-free
Gluten-free
No artificial dyes
No added synthetic fragrances
PEG-free
TEA-free
DEA-free
GMO-free
Cons
Price at the time of publication: $44
The ILIA True Skin Serum Foundation is weightless and provides an aluminous finish. It is buildable with flawless coverage and makes your skin appear vibrant. This serum foundation is formulated with a potent blend of botanical actives that refresh your skin.
It contains aloe leaf, jojoba, mastic, and marula oils that nourish and even out the skin tone. This serum foundation also melts into your skin to soothe irritation, minimize enlarged pores, and blur imperfections. It is vegan, cruelty-free, and does not contain sulfates, parabens, formaldehyde, phthalates, and mineral oil.
Pros
Lightweight
Sulfate-free
Paraben-free
Formaldehyde-free
Phthalate-free
Mineral oil-free
Vegan
Cruelty-free
Gluten-free
Dermatologist-tested
Non-comedogenic
Cons
None

Price at the time of publication: $54
This serum works wonders on your skin by providing a semi-matte finish with SPF 20. To use it, take some serum on your fingertips or synthetic fiber brush and apply it on the skin in circular motions to create uniform coverage. The serum is available in buff, ivory, rich, porcelain, and tan colors. This wonder product will fuse with your skin to give it a luminous and natural glow.
Pros
Suitable for all skin tones and types
Prevents sunburn
Smoothens the skin
Gives a semi-matte finish
Cons
May not be suitable for damaged skin
May have a strong smell
Price at the time of publication: $60
The Bobbi Brown Intensive Skin Serum Foundation is loaded with a potent formula that recharges your skin. The Active Skin Energizing complex is a powerful combination of cordyceps and artemia, which help replenish your skin by boosting its natural radiance.
This serum foundation with SPF 40 protects your skin from the sun, UVA, and UVB rays, and environmental aggressors. It also prevents collagen damage and combats any visible signs of aging. This lightweight serum foundation evens out the skin tone and diminishes pigmentation through a cold-fusion process to give you a radiant and flawless look. It stays on throughout the day without cracking and sustains hot, humid weather.
Pros
Provides medium to full coverage
Lightweight
Blends easily
Buildable
Contains SPF 40
Long-lasting
Available in 23 shades
Cons
None
Price at the time of publication: $54.93
The PÜR Hydrafluid Water Serum Foundation is formulated with the encapsulated water complex from the Swiss Alps. It is ultra-hydrating and imparts long-lasting radiance. The pure mineral water with antioxidant benefits refreshes, nourishes, and firms your skin. This serum foundation feels skin-like and is buildable, lightweight, breathable, and provides a dewy, silky finish. This cruelty-free product does not contain parabens, gluten, BPA, dermatitis herpetiformis, toxins, or preservatives.
Pros
Long-lasting
Cruelty-free
Lightweight
Breathable
Paraben-free
FDA approved
No toxins or preservatives
No Bisphenol A (BPA)
Gluten-free
Cons
Price at the time of publication: $39
The Gressa Skin Minimalist Corrective Serum Foundation is light weight and covers up blemishes and scars. It is formulated with the Gressa Healing Complex, an exclusive potent blend of carefully selected botanical extracts. This serum foundation balances your skin, reduces uneven skin tone, and boosts natural radiance. The minerals help correct the skin imperfections with a natural finish and impart a flawless look. This cruelty-free product does not contain parabens and sulfates.
Pros
100% natural
Provides full coverage
Lightweight
Blends easily
Paraben-free
Sulfate-free
Cruelty-free
Available in 9 shades
Cons
The Diorskin Nude Air Ultra-Fluid Serum Foundation enhances your skin complexion with a sheer satin finish. It also lets your skin breathe through the foundation layer. This serum foundation is an innovative and potent blend of cranberry oil, hyper-oxygenated oil, vitamins, and minerals that evaporate into the skin instantly without leaving behind any makeup residue.
It can be worn all day long without feeling heavy or melting away due to environmental aggressors. This serum foundation keeps your skin naturally glowing and refreshed. The SPF 25 works as a skin protection barrier against sun damage or environmental stressors.
Pros
Contains SPF25
Provides medium to full coverage
Buildable
Talc-free
Lightweight
Available in 8 shades
Cons
None
Price at the time of publication: $45.51
Let's now look at what a serum foundation actually is.
What Are Serum Foundations?
A serum foundation is a potent blend of foundation and serum that offers makeup and skin care benefits. From correcting skin tone, reducing fine lines and wrinkles, and combating sun damage to boosting natural radiance– a serum foundation acts as a multi-vitamin for your face. It hydrates your skin and helps combat signs of aging. A serum foundation contains minerals, antioxidants, vitamins, and skin-soothing agents. It is a healthy choice for your skin as it does not contains chemicals, toxins, and skin-damaging agents, unlike regular foundations.
The purpose of a serum foundation is to achieve that 'no-makeup' makeup look. Here is how you can nail the trick of applying a serum foundation perfectly.
How To Apply A Serum Foundation
Apply a base layer of primer to ensure that your serum foundation blends seamlessly and glides smoothly on the skin.
Tip: Pick a primer whose texture matches with your foundation texture. If your serum foundation has a silky, sheer finish, use a primer with a silky finish. A matte finish primer might ruin the look of the sheer and silky serum foundation by dulling it down.
The dot and blend technique will help you blend the serum foundation easily for a skin-like finish. Use a beauty blender to dab and glide the product on your skin for even blending. If you want to build it up, repeat the process until you get the desired coverage.
Always use a translucent powder, a setting loose powder, or a setting spray to seal your makeup. If you don't, the foundation might form cracks or get cakey due to humidity, pollution, or environmental aggressors. This negates the whole point of using a serum foundation for a skin-like texture. Hence, sealing your makeup is a MUST!
There are certain rules of who should and not use a serum foundation. It all comes down to your skin type and texture. Check out the following section to know about it all.
Who Should And Who Should Not Use Them?
Who Should Use A Serum Foundation
If you have mature skin, try the serum foundation. As you grow older, your skin tends to lose its natural oilsand gets dry. A serum foundation hydrates and nourishes your skin to look replenished while glamming up.
If you have dry skin, a serum foundation will hydrate the skin and make it supple.
A serum foundation is also suitable for sensitive skin. It is lightweight and loaded with rich antioxidants and minerals. It is also toxin-free and does not contain harsh ingredients.
Who Should Not Use A Serum Foundation
If you have oily skin, a serum foundation is not the best choice. Serums are usually oil-based and might make your oily skin even more greasy.
If you have acne-prone skin, avoid serum foundation as it might clog your open pores. And clogged pores can lead to breakouts.
Why Trust StyleCraze?
Shiboli Chakraborti is a certified skin care coach and has conducted in-depth research on many products to help you pick the best serum foundations for your skin type. She has gone through brand websites to study products in detail. Her knowledge of several skincare ingredients helps to compile the best serum foundation list. These products are lightweight and can address many skin problems like pigmentation and aging.
Frequently Asked Questions
Is serum foundation the ultimate summer skin hero?
Yes, serum foundations combine the benefits of a serum and a foundation. This way you get the goodness of serums like hydration, moisture, nourishment, etc., and the benefits of foundation which is to cover flaws on your face and gives you an even-toned look.
What is the difference between foundation and serum foundation?
A regular foundation works only as a cosmetic, whereas serum foundation not only helps gain a flawless look but also provides you with ample skin benefits.
How often do you use serum foundation?
You can use a serum foundation every day if you want to rejuvenate your skin as well as enhance your makeup regime.
How long does serum foundation last?
Serum foundations have a shelf life of 9 months from the date of opening.
Is tinted serum the same as serum foundation?
No. A tinted serum doesn't have the same coverage strength as a serum foundation. A tinted serum also has a thinner consistency than a regular foundation, making it better in providing skin-care benefits.
Recommended Articles