9 Best Korean Blushes Of 2023 With Buying Guide
Dab your face with amazing beauty products and get flawless looks like K-Drama stars.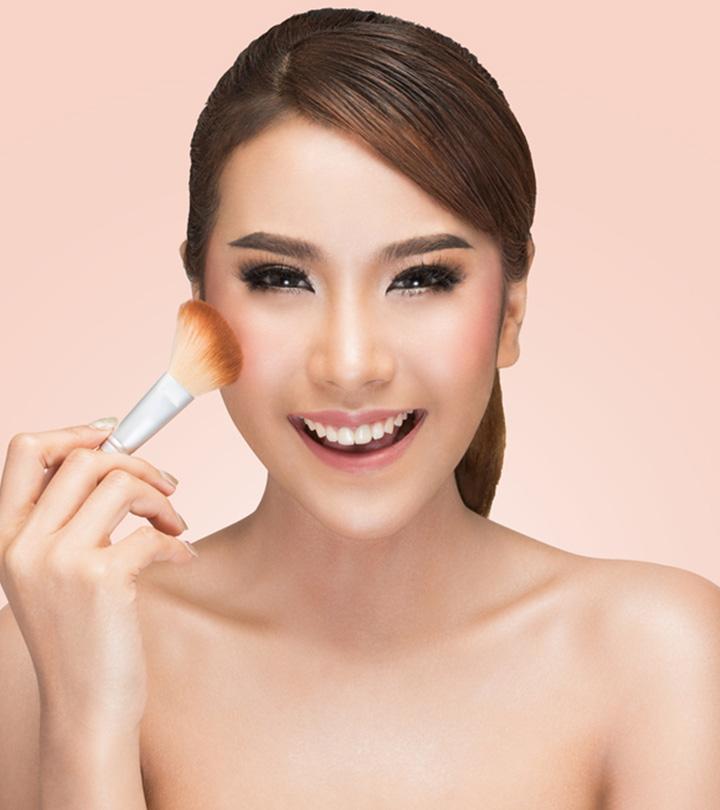 Korean makeup techniques often appear to be excessively precise and over-the-top. They necessitate a great deal of patience, a delicate touch, and a vast number of makeup items, including the best Korean blush. Nonetheless, makeup fans worldwide are swiftly jumping onboard and incorporating not only Korean makeup techniques but also Korean products into their everyday habits.
To begin dabbling in Korean makeup, you must first recognize that it is incomplete without a Korean blush. To get you started, we have got the 9 greatest Korean blushes that will give a healthy and natural glow to finish off your makeup. We have also compiled some useful hints on how to give your face a Korean beauty makeover, how to choose the proper blush for your complexion, and how to apply blush according to your face shape, and how to apply blushes correctly. Keep scrolling to know more about it!
Top Picks
9 Best Korean Blushes That Will Give Your Cheeks A Natural Glow
Ideal for home and professional use, this Korean blush is one of the best-selling powder blushes. This vivid shade reflects light at certain angles to give your skin a warm pop-up of color. It is also suitable for oily skin types as it has sebum-controlling qualities and offers long-lasting wear. For a sheer finish and a pinched-cheek look, apply a thin film of the blush on the apples of your cheeks. However, if you like a bright cheek, layer up the blush for a more intense coverage. Need more information? Watch this video to make an informed decision about the product.
Pros
 Sebum control powder
 Long-lasting
 Buildable
 Affordable
 Comes with a puffy cushion for application
Cons
 Some may feel that they need to use a lot of product for the color to pop.
Price at the time of publication: $11.99
Pros
 Non-cakey
 Gentle on the skin
 Blurs imperfections
 Blends easily
 Long-lasting
Cons
None

Price at the time of publication: $14
Pros
Fragrance-free
Cruelty-free
Vegan
Skin-friendly
Suitable for all skin types
Clean ingredients
Paraben-free
Silicon-free
Sulfate-free
Long-lasting
Cons
None
Price at the time of publication: $35.99
This powder cream combination blush is a mess-free blush to play with. This cool lavender pink shade delivers a natural and warm burst of color on the cheeks. It blends easily without becoming powdery or cakey. It is lightweight and bouncy like a powder blush while offering the hydrating qualities of a cream blush. Available in versatile colors, it suits all skin tones without a doubt. You can check this video out if you need to know more about the product.
Pros
 Blends easily
 Natural color pay-off
 Complements all skin tones
 Velvety finish
 Soft texture
Cons
None
Price at the time of publication: $10
With so many makeup products to choose from and a million makeup tutorials that teach contrasting things, finding the right balance and a customized makeup look can be tricky. This is why most of us settle for a lazy girl makeup routine. It involves only a handful of products less than 10 minutes to complete. This Korean coral blush will be the perfect addition to the lazy girl's makeup pouch. This is the best long lasting blush is infused with the goodness of grapefruit, lime, lemon, and orange extracts, which helps in improving blood microcirculation.
Pros
Anti-pollution
Contains amino-acids
Creamy texture
Shimmer finish
Air puff applicator inside
Cons
Some may feel that the blush doesn't blend well and sits on top of the skin.
Price at the time of publication: $16.95
For a makeup lover, a peach blush is irresistible, and blush like this isn't just irresistible; it's a must-have product for everyday use. This matte blush adds a delicate touch of color to your cheeks and is highly pigmented. With a single stroke of this blush, you can create a 3D contour effect. It melts into your skin to enhance your natural skin tone and offers superior blendability. This best peach blusher is popular for its sebum controlling qualities that absorb sweat and sebum to reveal a hydrated and non-greasy finish.
Pros
Deeply pigmented
Creamy texture
Blends well
Budge-proof
Sebum controlling powder
Long-lasting natural looking blush
Cons
Price at the time of publication: $21.78
This blendable stamp blush from Kaja is one of its kind. It features a heart-shaped stamp and is quite a rage with beauty bloggers. Its liquid formula offers a sheer to buildable coverage that easily blends to give you a gentle dewy flush of color. For a sheer coverage, apply the stamp once and blend, and for a bolder hue, stamp twice and blend it. The blush also delivers a little glitter, making your skin shine subtly.
Pros
 Cruelty-free
 Vegan
 Non-cakey
 Paraben-free
 Sulfate-free
 Buildable
Cons
 Might feel a little difficult to blend
Price at the time of publication: $24
There is nothing like having a blusher palette with two gorgeous warm blush shades and one highlighter (also works as a blush) that works for absolutely all seasons. The sebum-controlling powder in elegant champagne shades absorb excess sebum and deliver flawless payoff for long-lasting hours. The finely pigmented powder blurs pores and imperfections, making your skin appear smooth. It offers a light shimmering finish to your makeup for that oh-so chic and stylish look. It is available in 2 more different shade palettes and is a must-have in your vanity.
Pros
 Multipurpose
 Compact palette
 Long-lasting
 Flatters all skin tones
Cons
Price at the time of publication: $22
Pros
Non-cakey
Gentle on the skin
Long-lasting
Blends easily
Good oil-control
Sheer finish
Cons
None

Price at the time of publication: $19.99
Are you excited to get your hands on a Korean blush yet? If you still need a little convincing, these pointers might change your mind.
A Buying Guide For The Best Korean Blush
How To Choose The Best Korean Blush
There are primarily 3 types of blushes you can choose from – gel-based or liquid, cream, and powder blushes. Before you choose one, find out which works best with your skin type.
The type of formula you choose should largely depend on the type of skin you have. If you have normal skin, you can close your eyes and pick whichever blush you want.F However, if you have greasy or shiny skin, choose a powder blush. For people with dry skin, creamy blushes will work wonders.
Almost all blushes offer some level of pigmentation, if not too much. If you want a lightweight blush, look for one with light pigmentation. However, if you like a buildable formula, pick one that boasts of high-pigmentation.
Different shades of pink, such as peach and coral, are best suited for light-skinned individuals. For people with a medium skin tone, colors like mauve and deeper shades of peach add a beautiful and natural glow to the face. If you have pale skin, an orangey-peach shade will be the best bet. Shades like plum, deep fuchsia, and warm browns are great for people with darker skin tones.
What Is The Difference Between Cushion, Cream, And Powder Blush?
These types of blushes are easy to apply and blends into the skin. Most creamy blushes are infused with moisturizing ingredients and protect the skin from harmful environmental pollution. It is the best type of blush for dry skin. Cream blushes are also known for being highly-pigmented and long-lasting.
Powder blushes are ideal for people with oily skin as they absorb excess oils and reveal a matte finish. It is also the most common type of blush available in the market but may not last as long as a cream blush.
The new kid on the block, cushion blushes are liquid-based and come with a cushion applicator or sponge for easy application. Owing to their lightweight and non-creamy composition, it is a good fit for all skin types.
How To Apply A Korean Blush According To Different Face Shapes
Heart-Shaped Face: Start by applying the blush under the apples of your cheeks and sweep it upwards.
Long Face: Apply directly to the apples of the cheeks and blend out towards the ears.
Oval Face: Apply the blush to the apples of your cheeks and blend it upwards.
Square Face: Apply only on the apples of the cheeks and blend it on the spot until it looks faded and natural.
Round Face: Apply on the length of the cheekbones and blend it upwards.
Common Mistakes To Avoid When Applying A Blush
Do not apply a powder blush over a liquid foundation without setting your makeup with a setting powder.
Understand your skin tone first and which colors would suit it. Don't blindly purchase a blush just because it looks cute or fabulous on someone else.
Figure out what type of skin you have and choose a formula that's right for your skin.
If you don't know how to apply blush according to your face shape, refer to the chart above. Avoid applying blush in a way that may not be correct for your face shape.
Use the right tool to apply the blush. Liquid blushes and cream blushes are best applied with fingers, while powder blushes should be applied with a brush or puffy cushion.
Try not to apply blush under unfavorable light conditions. It may look ashy, dry, excessive, or like you haven't applied any at all.
When applying a blush in liquid form, don't forget to warm your fingers before blending it out.
Why Trust Stylecraze?
Chaitra Krishnan, the author, has a keen interest in makeup and exploring all the trending products like Korean blushes. She went online and scoured through many products and their reviews on multiple forums to organize this list. Korean blushes are well known for their texture and finish. They are made with skin-enriching ingredients. These blushes are long-lasting, buildable, affordable, and have many other benefits.
Frequently Asked Questions
What color blush makes you look younger?
Pink or rose gold shades can make you look younger.
How do you get the Korean dewy makeup look?
• Deep cleanse your face and apply a hydrating toner, serum, and moisturizer.
• Blend your foundation with a moisturizer or facial oil in a 1:1 ratio and apply it all over your face.
• Use a concealer to the dark spots and blend it well.
• Set the base with loose powder.
• Lightly contour your nose, forehead, and cheekbone area.
• Apply a peachy or pink blush to the apples of your cheeks and blend it in.
• Lightly press the highlighter to the high points of your face.
• Apply a lip shade at the center of your lips and leave the outer line untouched.
• Finish off with a setting spray.
What is the difference between Korean and American makeup?
American makeup often features a cat-eye look, a lot of mascara, and a mattifying base. A Korean makeup look features a minimum eye look with a glowy base. In addition, American makeup look features fuller lips, whereas, Koreans opt for more natural-looking, lightly tinted lips.
Is Korean makeup matte or dewy?
Korean makeup is dewy. They prefer luminous foundations that look natural and healthy.
Does a Korean blush make you look younger?
Koreans use peach and pinkish blush shades which give you a younger appearance. Apply the blushes on the apples of your cheeks and on the tip of your nose. These shades, if used in the right places, can make you look younger.