9 Best Korean Blushes Of 2020 With Buying Guide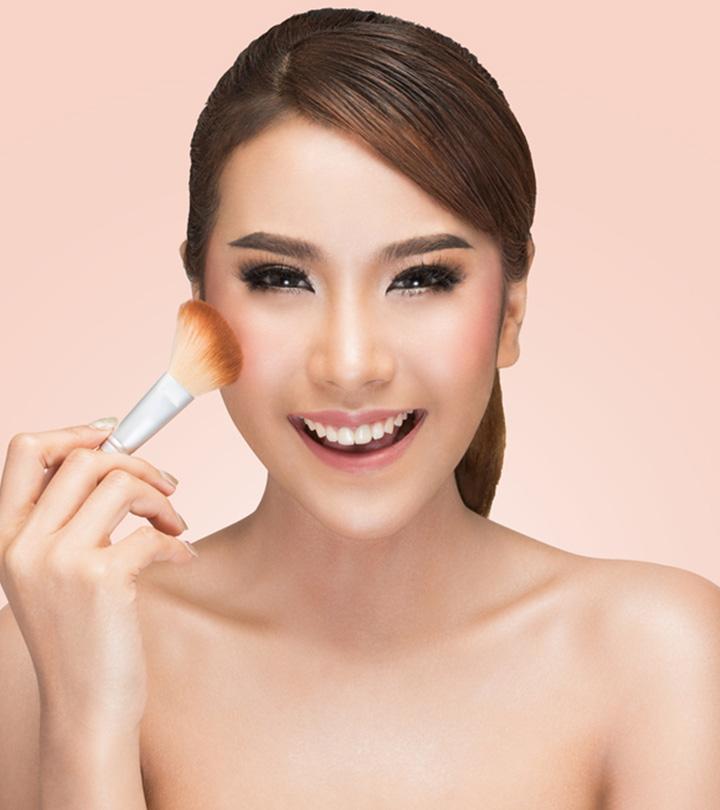 Korean makeup routines may seem over-the-top and extremely detailed. It requires a lot of patience, a steady hand, and a significant amount of different types of makeup products. Yet, makeup enthusiasts all over the world are quickly joining the bandwagon and incorporating not just Korean makeup routines into their daily schedule but Korean products as well. The first step to dabbling in Korean makeup is to understand that it is incomplete without a popular Korean blush.
In this post, you'll find the 9 best Korean blushes of 2020 that will give your face a healthy and natural flush. We've also gathered helpful tips on how you can give your face a Korean makeup makeover, how you can buy a blush that's best for you, and how to apply blushes the right way according to your face shape.
9 Best Korean Blushes That Will Give Your Cheeks A Natural Glow
Ideal for home and professional use, this Korean blush is one of the best-selling powder blushes. The vivid color of this blush reflects light at certain angles to give your face a warm pop of color. It is also suitable for oily skin types as it contains sebum-controlling qualities and offers long-lasting wear. For a sheer finish, apply a thin film of the blush on the apples of your cheeks. However, if you like a bright pink cheek, layer up the blush for a more intense coverage.
Pros
Sebum control powder
Long-lasting
Buildable powder formula
Affordable
Comes with a puffy cushion for application
Cons
Some may feel that they need to use a lot of product for the color to pop.
Similar Products:
Achieve brighter and youthful-looking skin instantly with this Korean makeup blush that is loved by many worldwide. It is infused with a nourishing blend of oils such as rosehip, passionflower, and vitamin berry, which adds a healthy dose of color to your cheeks. This peach-colored lightweight blush absorbs sebum to prevent the product from piling and clumping on the pores and reveals a smooth finish. It also contains a polymer complex, that reflects light in all directions to conceal skin imperfections like large pores, dark spots, and uneven patches of skin. You can apply this Korean powder blush by hand or with the Lovely Puff Cushion that comes with the blush.
Pros
Sebum control powder
Hides pores and other skin irregularities
Scatters light in all directions
Long-lasting
Highly-pigmented
It has a protective and moisturizing effect.
Cons
The applicator cushion may not be up to the mark.
Some may find the shade brighter than expected.
Similar Products:
If you are someone who enjoys a no-makeup look, this oh-so-adorable cream blusher will please you immensely. This strawberry-colored blush settles on your cheeks all day without feeling sticky, greasy, or heavy. Its soft and creamy formula blends effortlessly and melts on your skin to reveal a dewy and flushed glow. For best results, warm your fingertips before applying it onto your cheeks in an upwards motion towards your temples. This is the best blush for oily skin.
Pros
Ultra-pigmented
Velvety cream texture
Available in different shades for different skin tones
Easy application
Can be used on other parts of the face
Cons
This particular shade may not be suitable for all skin tones and may appear ashy on dark skin tones.
Similar Products:
Perhaps the best type of blush for oily skin, this water-cheek blusher moisturizes the skin with its water-fit texture. It is made with a non-sticky oil base that adds vivid color to your cheeks, just as a watercolor would. Due to its lightweight formula, this cheek tint offers a moist yet non-sticky feeling. With just a single drop of this blusher, you will notice a significant radiance on your face. However, if you like to cheeks to appear bright and rosy, apply a few more drops for extra coverage.
Pros
Watery, fluid formula
Non-oily
Light texture
Clear color that doesn't clump on the skin
Moisturizing qualities
Cons
Slightly expensive
As the applicator stick is modeled after that of nail polish, it isn't the most conducive for a blush.
Similar Products:
With so many makeup products to choose from and a million makeup tutorials that teach contrasting things, finding the right balance and a customized makeup look can be tricky. This is why most of us settle for a lazy girl makeup routine. It involves only a handful of products less than 10 minutes to complete. This Korean coral blush will be the perfect addition to the lazy girl's makeup pouch. This is the best long lasting blush is infused with the goodness of grapefruit, lime, lemon, and orange extracts, which helps in improving blood microcirculation.
Pros
Anti-pollution
Contains amino-acids
Creamy texture
Shimmer finish
Air puff applicator inside
Cons
Some may feel that the blush doesn't blend well and sits on top of the skin.
Similar Products:
For a makeup lover, a peach blush is irresistible, and blush like this isn't just irresistible; it's a must-have product for everyday use. This matte blush adds a delicate touch of color to your cheeks and is highly pigmented. With a single stroke of this blush, you can create a 3D contour effect. It melts into your skin to enhance your natural skin tone and offers superior blendability. This best peach blusher is popular for its sebum controlling qualities that absorb sweat and sebum to reveal a hydrated and non-greasy finish.
Pros
Deeply pigmented
Creamy texture
Blends well
Budge-proof
Sebum controlling powder
Long-lasting natural looking blush
Cons
This blusher offers such a natural finish; it will look as though you have no product on. The creamy and velvety texture of the brush glides like butter and reveals a vivid yet natural-looking color. It is powder-coated with pomegranate seed oil, which helps in keeping the color transparent. As it is highly pigmented, this blush is ideal for both day and night and all seasons throughout the year.
Pros
Creamy texture
Blending blush
Contains pomegranate seed oil
Ultra-pigmented
Cons
One can always count on the Koreans to create the cutest makeup products that are also innovative. This heart-shaped stamp blush is easy to apply and blends well. All you need to do is stamp it on the apples of your cheeks and blend it out using your fingertips. It is infused with moisturizing agents like aloe vera, snow lotus, and yarrow extracts along with baobab seed oil and hyaluronic acid for a hydrating and nourishing effect. The blush melts upon contact with skin and quickly dries to reveal a natural, matte finish.
Pros
Heart-shaped cushion blush
Long-wearing formula
Infused with moisturizing ingredients
Buildable formula
Flatters all skin tones
Cons
Speaking of cute and innovative makeup products, perhaps this one tops the list of all things adorable. This color stick blusher is smooth like velvet, and the elegant coral shade adds a graceful tint to your cheeks. It is a dewy and moisturizing formula that lasts throughout the day without feeling greasy or heavy. It contains mango seeds and avocado butter to nourish and take care of your skin while making it glow. Owing to its compact packaging with a teddy bear, it can fit comfortably in mini-makeup pouches. It is the best blush for asian skin.
Pros
Available in other shades
Moisturizing formula
Velvety texture
Lightweight
Long-lasting
Easy to apply
Cons
It may not flatter all skin tones.
Are you excited to get your hands on a Korean blush yet? If you still need a little convincing, these pointers might change your mind.
A Buying Guide For The Best Korean Blush
How To Choose The Best Korean Blush
Formulation
There are primarily 3 types of blushes you can choose from – gel-based or liquid, cream, and powder blushes. Before you choose one, find out which works best with your skin type.
Skin Type
The type of formula you choose should largely depend on the type of skin you have. If you have normal skin, you can close your eyes and pick whichever blush you want.F However, if you have greasy or shiny skin, choose a powder blush. For people with dry skin, creamy blushes will work wonders.
Pigmentation
Almost all blushes offer some level of pigmentation, if not too much. If you want a lightweight blush, look for one with light pigmentation. However, if you like a buildable formula, pick one that boasts of high-pigmentation.
Color
Different shades of pink, such as peach and coral, are best suited for light-skinned individuals. For people with a medium skin tone, colors like mauve and deeper shades of peach add a beautiful and natural glow to the face. If you have pale skin, an orangey-peach shade will be the best bet. Shades like plum, deep fuchsia, and warm browns are great for people with darker skin tones.
What Is The Difference Between Cushion, Cream, And Powder Blush?
Cream Blush
These types of blushes are easy to apply and blends into the skin. Most creamy blushes are infused with moisturizing ingredients and protect the skin from harmful environmental pollution. It is the best type of blush for dry skin. Cream blushes are also known for being highly-pigmented and long-lasting.
Powder Blush
Powder blushes are ideal for people with oily skin as they absorb excess oils and reveal a matte finish. It is also the most common type of blush available in the market but may not last as long as a cream blush.
Cushion Blush
The new kid on the block, cushion blushes are liquid-based and come with a cushion applicator or sponge for easy application. Owing to their lightweight and non-creamy composition, it is a good fit for all skin types.
How To Apply A Korean Blush According To Different Face Shapes
Heart-Shaped Face: Start by applying the blush under the apples of your cheeks and sweep it upwards.
Long Face: Apply directly to the apples of the cheeks and blend out towards the ears.
Oval Face: Apply the blush to the apples of your cheeks and blend it upwards.
Square Face: Apply only on the apples of the cheeks and blend it on the spot until it looks faded and natural.
Round Face: Apply on the length of the cheekbones and blend it upwards.
Common Mistakes To Avoid When Applying A Blush
Do not apply a powder blush over a liquid foundation without setting your makeup with a setting powder.
Understand your skin tone first and which colors would suit it. Don't blindly purchase a blush just because it looks cute or fabulous on someone else.
Figure out what type of skin you have and choose a formula that's right for your skin.
If you don't know how to apply blush according to your face shape, refer to the chart above. Avoid applying blush in a way that may not be correct for your face shape.
Use the right tool to apply the blush. Liquid blushes and cream blushes are best applied with fingers, while powder blushes should be applied with a brush or puffy cushion.
Try not to apply blush under unfavorable light conditions. It may look ashy, dry, excessive, or like you haven't applied any at all.
When applying a blush in liquid form, don't forget to warm your fingers before blending it out.
Let's admit it. We are collectively part jealous and part in awe of how flawless Koreans look. Their skin looks clear and unblemished as though everyday problems like pimples, clogged pores, and acne never come near them. We're also in awe of their amazing makeup products, including their blushes. That is why we collected the 9 best Korean blushes of 2020 so that you can get your hands on them. Did you like any of the blushes from the list? Let us know in the comments.
Recommended Articles