The 9 Best MAC Highlighters In 2023 For That Exceptional Glow!
Enjoy a glowing finish with suitable highlighters that get the job done in a single swipe.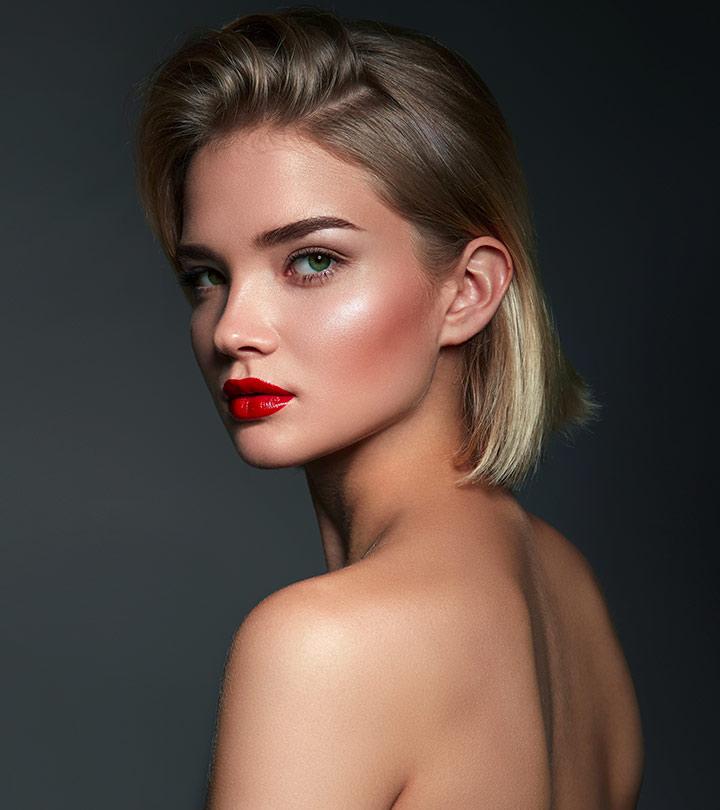 If you feel like your skin looks dull and tired, the best MAC highlighters can be your go-to product to make it look lively and dewy. MAC is truly one of the best brands in the world. With a cult-like following and a range of amazing products, MAC offers enhanced beauty, making ladies feel beautiful and empowered every single day. A highlighter's job is to brighten up your skin by attracting light which gives it a fresh look. MAC has a wide range of highlighters in the forms of cream, powder, and gel that suit every skin tone and type.
While several brands are coming up with new highlighters every day that are no doubt good, sometimes, when you want to look your best, you want to rely on some of the classics like MAC. If you want to brighten up your look or give it a glitter-free finish, you can rely on MAC with your eyes closed! Depending on the type of foundation you wear, and the kind of finish you are going for, selecting the right highlighter can make a ton of difference. Below you'll find some of the top MAC highlighters for you to choose from. Scroll down!
The 9 Best Mac Highlighters In 2023 For That Exceptional Glow!
Looking for a healthy glow? Well, meet your messiah. Featuring the brand's 77-Mineral Complex and vitamin E, the MAC Mineralize Skinfinish Powder Soft and Gentle highlighter comes in a compact with a transparent cover and a push button clasp. With this highlighter, we would say, moderation is the key. Since, it is shimmery you don't want to lay on too heavy with this one unless a 60's disco night is on your agenda. It looks great in pictures and a little dust around your shoulders and ooh-la-la you have yourself the sensual collar bone and décolletage. You can also use this dermatologist-tested product as a brow-bone highlighter. Just brush it in tightly over the lid for that glamorous shimmery eye. Check out this video to learn more about a tester's experience with the product.
Pros
Smooth texture
Blends easily
Product lasts long
Great for a natural-looking glow
Dermatologist-tested
Ophthalmologist tested
Cons
May have a slight fallout
Fans of MAC would remember this one. The time MAC discontinued its Hyper Real Foundation and brought this range of highlighter palettes, unlike the rest. This three-powder highlighter offers a rose gold glow. It features three shades – pink, peach and golden. Honestly, it has all the shades of a super flattering highlighter that will make your skin glow through the darkest of nights and the sunniest of days. It is finely milled and pigmented; and reviewers attest that it will not turn you into a disco ball, when applied with a light hand.
Pros
Creamy
Blends easily
Minimum fallout
Single swipe does the job
Cons
May not last all day long
If you are as makeup obsessed as we are then you would know that MAC's Prep + Prime Fix+ is one of the best things to have happened to the beauty world. Adding variation to that formula is this new and advanced product. Yes, your favorite Fix+ just got a mega-watt upgrade! The same refreshing formula is infused with pearlescent particles in the MAC Prep + Prime Fix+ Shimmer Goldlite for the ultimate glow. Reviews on online forums claim that a little bit of this will give you a sheer, subtly bronzy luminous look and a gorgeous glistening finish. We would recommend you use a fixing spray with the product for a subtle dewy glow.
Pros
Lightweight
Hydrating formula
Non-acnegenic
For all skin types
Cons
Nozzle may not spray well
Dear oh dear, have we got a tale to tell with this one. The MAC Extra Dimension Skinfinish Powder – Oh, Darling! is designed to sculpt and highlight your face, creating the appearance of shimmery high cheekbones. The dermatologist-tested liquid-powder highlighter offers prismatic reflections to offer you a luminous, well-defined finish. The MAC Oh Darling! highlighter with its gold metallic color works great for medium to dark skin tones. The formula is well-pigmented and universally flattering, but we would suggest those with lighter skin tones to use a light hand. It is one of the best MAC highlighters for dark skin.
Pros
Creamy
Blends well
Lasts long
Non-acnegenic
Dermatologist-tested
Ophthalmologist-tested
Cons
If the MAC Mineralize Skinfinish in Soft & Gentle, felt a little too dark for your skintone, then try the Mac Mineralize Skinfinish Lightscapade highlighter, which is the best-suited MAC highlighter for fair skin. Shades of pink, lavender, beige, gold, pink and white are marbled together in this formula. Swatch this, and you'll see a lovely beige highlight, imparting a natural radiance to your skin. Honestly speaking, this one's just divine! The powdery is finely milled, offers a super soft texture and never becomes the chalky mess like some of its competitors in the market. This dermatologist-tested product works great if you have mastered the art of strobing, which is basically highlighting without contouring. Watch this video for more information about a tester's experience with the product.
Pros
Blends well
Generous quantity
Doesn't settle into fine lines
Can be repurposed as an eyeshadow
Dermatologist-tested
Ophthalmologist-tested
Cons
May not last all day long
Not a fan of shimmer? Looking for that bright glow without the glitter? Well, please meet M.A.C Prep + Prime Highlighter – Light Boost. Just a couple of strokes of this dermatologist-tested highlighter and your face will have that refreshing glow, no matter how late you slept last night. It masks dullness and imperfections well and is never too over the top. Unlike a few others, this will not make your skin look oily. This pen-style highlighter has garnered positive reviews online for ensuring even applications and offering a sheer wash of color to your skin. It works great if you are looking to achieve that Kim K highlight around your cheekbones.
Pros
Moisturizing
Blends well
Easy to apply
Doesn't emphasize pore and fine lines
Dermatologist-tested
Ophthalmologist-tested
Cons
May not last all day long
Looking for a creamy highlighter? The MAC Strobe Cream Pinklite is where your search ends. It boosts the look of dull skin with a mega dose of nourishing vitamins and soothing green tea. When you swatch the product on your wrist, the cream formula may seem shimmery, but when applied on the face it offers a natural looking sheen. The product comes in an opaque plastic bottle with a screw lid. You can use it with your foundation to give yourself that lovely dewy glow. It isn't shimmery or glittery, so this works great for those looking for an everyday highlighter. The dermatologist-tested formula isn't oily or greasy and offers a radiant glow. This video, showcasing a reviewer's experience, will help you know more about the product.
Pros
Hydrating formula
Dermatologist-tested
Ophthalmologist-tested
Non-acnegenic
Doesn't settle into fine lines and pores
Cons
May not last all day long
The MAC Extra Dimension Skinfinish Show Gold has a dermatologist-tested, liquid-powder formula. It offers a gorgeous peachy gold shimmer that breaks to a lovely pink color under sunlight, making it a suitable MAC highlighter for warm undertones. Those with warmer skin tones will love the glistening finish this highlight gives. If you have just got a spray tan done, then honey, run to that store and fetch yourself some of this stunning formula. The tone is a bit on the shimmery side, so this one's great for an evening look, for when you are catching up with your gang for a few drinks or a night out at the club. Don't worry, it never gets too shimmery, but you can build them up, if you wish.
Pros
Creamy
Generous quantity
Blends like a dream
Can be repurposed as an eyeshadow
Dermatologist-tested
Ophthalmologist tested
Cons
May not last all-day long
This pen-style highlighter offers a wash of bronzy orange glow to your skin. It is a well-known secret among the beauty gurus that this dermatologist-tested MAC face and body highlighter works wonders as a color corrector. It cancels out any discoloration or hyper-pigmentation that you may have on any part of your face, your neck or around your shoulders. You can apply it with the pen and gently massage it in with a damp beauty blender. It essentially creates an even canvas for your foundations and offers a glow matte finish. Use it in your under-eye area to mask dark circles, top it with a concealer and voila! You've got yourself a flawless luminous natural look.
Pros
Creamy
Non-comedogenic
Blends smoothly
Offers precision in application
Dermatologist-tested
Ophthalmologist tested
Cons
May not last all day long
*The prices provided in this article are based on the latest available information. However, they may vary due to changes in pricing by the seller and/or promotional offers.
Now that you are all caught up on the best products to achieve that famous MAC glow, here are a few reasons why we are so gaga about the brand's highlighters.
What Is So Exceptional About MAC Highlighters?
Whatever radiance wattage it is that you are looking for in your makeup, a MAC highlighter will get you there.
Universal appeal: Every new range of MAC highlighter serves women of different skin tones. Their universality lies in the fact that from the deepest skin tones to the lightest, they have always taken care of everyone's beauty glow needs.
Choice of formula: From the moisturizing cream based, to the powder-based palettes to the creamy-powder formula, MAC offers you a myriad of expertly crafted formulas to choose from. Pick one that suits your skin type the best, be it oil, dry or combination skin.
Ease of use: MAC highlighters are lightweight, travel-friendly, and packaged well to ensure you are able to use them without any difficulty.
New to the game? Well, don't worry, we will show you how it works.
How To Use A MAC Highlighter
There are two ways of applying a MAC highlighter:
Over the foundation: For an intense and focused glow, apply the cream-based MAC highlighters, such as the MAC Strobe Cream over your foundation.
Under the foundation: If you are looking for a luminous and radiant glow on your face, we recommend you apply MAC's powder-based highlighter formulas under your foundation.
Why Trust StyleCraze?
Srijita De is a product writer passionate about fashion and makeup products. She has a research-driven approach for curating content that is objective and useful for the readers. Chaitra has presented this list of the best MAC highlighters after going through several user reviews and product listings. She has also included a buying guide and mentioned the pros and cons of each product.
Frequently Asked Questions
Should I apply a MAC highlighter with my fingers or brush?
A beauty blender will be your best bet, if you are using a cream-based MAC highlighter. If it is powder formula, then the brush works well. However, a clean ring finger and middle finger is the easiest and well tested way to apply your highlighter, irrespective of the composition of your MAC highlighter.
Which MAC highlighter is good for what kind of look?
For a natural soft dewy look, opt for the MAC Strobe Cream highlighter, while for a subtle highlight, we suggest you pick from the MAC Mineralize Skinfinish range. And for grand occasions, bring out that MAC Hyper Real Glow highlighter palette when you want your highlighter game to be on point.
Does highlighter make you look older?
If you are applying it correctly it will highlight your sharp features, it will make you look youthful and radiant. If you don't believe us, just look at Demi Moore.
How do I choose a highlighter shade?
You can swatch the highlighter shades on your wrist at the store to find which ones suit your skin tone best.
Can you just wear a MAC highlighter with nothing else on you face?
Yes, you can. On a good skin day, just apply a few good strokes of your favorite highlighter for that natural glow.
Why do I need a highlighter?
If contouring seems too cakey for your face, then a highlighter is its lighter replacement. It reflects light to sharpen and glow your finest features.
Can you use Vaseline as a highlighter?
Well, you can, but it could end up making you face look oily instead.
Recommended Articles