9 Best Dewy Setting Sprays For That Luminous Glow
Get that dewy finish and luminous, natural-looking glow with these makeup essentials.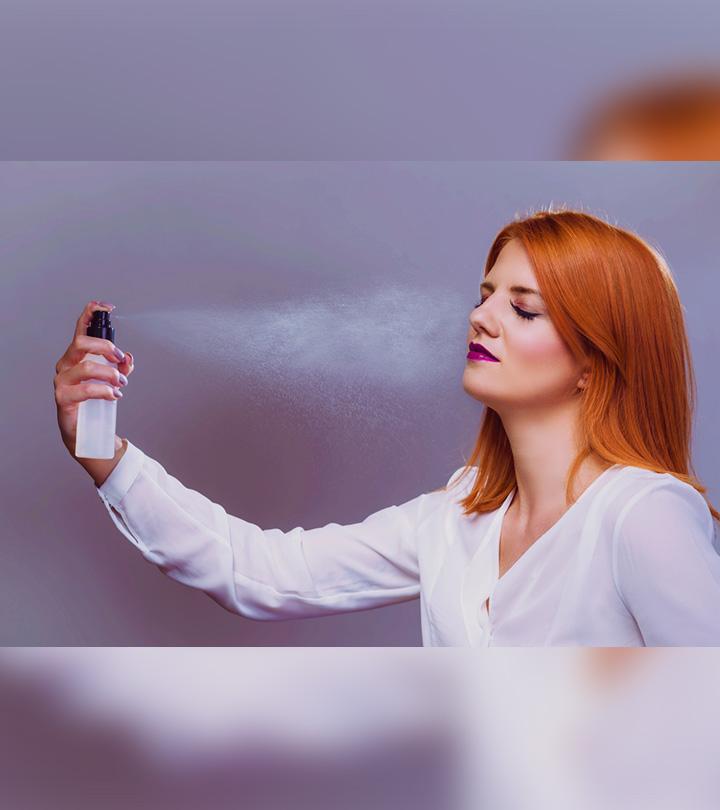 If you are looking for a dewy finished makeup look, you must try getting your hands on the best dewy setting spray out there. While a good diet, exercise, and healthy active lifestyle is key to adding that natural glow to your face, sometimes makeup done right can also add to it or cover up the lack of it. Even if you use a good luminescent foundation, or an illuminating primer, or add that hint of blush and highlighter, all of this glow may not last throughout the errands of a hectic day, unless you seal your makeup with a good setting spray. A dewy makeup setting spray not only holds the makeup in place, locking in all the moisture and goodness, but it also adds that natural glow to your finished look. Especially if your skin has been looking dull and lifeless, a dewy setting spray would make your face look soft, fresh, and awake instantly. With the various options available for different skin types, to help you choose the right one, we have enlisted the 10 best dewy setting sprays. Read on to know more.
What Does A Dewy Setting Spray Do?
Dewy setting sprays are a must-have makeup product. Not only do they seal makeup, but they also give a glowy finish that looks natural and soft, especially on dry and dull skin types. Some formulas also hydrate skin, as they have a base full of moisture or water. A dewy setting spray is a versatile product that can also be used as a primer before makeup, and it can also be used to set your glam look before stepping out. Applying setting spray on your bare face will impart a healthy glow as well. Read on to find the one best suited for your skin.
Spritz For A Lustrous Finish With The 9 Best Dewy Setting Sprays
The NYX Dewy Finish Setting Spray is a must-have for a soft glowy shine that will give your glam a long-lasting power. This weightless foundation setting spray is breathable and sits comfortably on your skin so that you can easily transition your makeup from day to night without batting an eyelid. As it imparts a subtle fresh-looking shimmer, you can use it even if you struggle with oily or combination skin. For the ultimate glow, just seal your look with some of NYX's drugstore dewy setting spray, and you're all set!
Pros
Vegan
Cruelty-free
Weightless spray
Can be used as a makeup primer
Breathable formula
Long staying power
Cons
Might not work in hot and humid climates
Price at the time of publication: $1220.0
Set your skin on the path to glow central with Milani's versatile dewy finish setting spray that also doubles as a primer. Don't you just hate it when you get both your eyeliner wings just right or when your foundation looks almost airbrushed but melts away through the day? The Make It Dewy Setting Spray ensures your statement stays put with a brightening boost. This is a good dewy setting spray that cloaks your skin in hydration and shines for up to 16 hours with no fading, creasing, or smudging! And with its refreshing feeling, you can very well use it in crazy hot weather too. You can also wear this hydrating setting spray without any makeup for a natural-looking glow that is bound to steal hearts wherever you go.
Pros
Vegan
Cruelty-free
Non-greasy formula
Works in hot and humid weather
Gives a cooling effect
Hydrates skin
Cons
The fragrance might be off-putting for some
Price at the time of publication: $7.95
Right from the world of multitasking makeup, Wet N Wild's dewy finishing spray is a 3-in-1 formula for hydrating, setting, and priming your skin. Use it before starting with your base makeup to create the ideal canvas for a smoother application, or seal the deal with a few spritzes at the end. All your products glide on buttery smooth and stay fresh all day long. Infused with vitamins and minerals, this lightweight, dewy makeup spray moisturizes tired skin for a soft sheen from the inside out. The coconut scent is a pleasant addition to this dewy mist suitable for all skin types.
Pros
Hydrates and primes skin
Allows for makeup to glide on easily
Contains vitamins and minerals
Has a pleasant coconut scent
Cruelty-free
Suits all skin types and tones
Cons
Might have a sticky consistency
Price at the time of publication: $6.49
The Makeup Revolution Setting Spray contains light-reflecting particles and aids in giving your skin a healthy glow and distinctive lighting. This setting spray also moisturizes your skin while keeping your makeup in place for an extended period of time. And regardless of the weather, it will also help you keep your makeup look intact throughout the day.
Pros
Vegan
Cruelty-free
Long-lasting
Strong setting
Lightweight
Cons
None
Price at the time of publication: $8
It's well-known that TATCHA delivers some of the most eye-catching packaging, but their formulas deliver too. The Luminous Dewy Skin Mist is the best face-setting spray that gives off a soft shimmer under or over your makeup. It contains a blend of Okinawa red algae for the ultimate moisturizing benefits, camellia oil for optimum nourishment, and hyaluronic acid quenches parched skin. TATCHA's dewy setting spray for dry skin is also infused with Hadasei, a 3-ingredient anti-aging complex. With the power of Japanese superfoods like green tea, rice, and algae, your skin will look and feel super youthful. Carry this long-lasting dewy setting spray around in your purse for an instant dose of freshness.
Pros
Contains hydrating natural ingredients
Contains an anti-aging complex
Made with 20% botanical oils and humectants
Silky consistency
Ideal for dry, dull, or mature skin
Long-staying power
Cons
Fragrance might be off-putting for some
Price at the time of publication: $44.83
The e.l.f Dewy Coconut Setting Mist is a makeup setting spray that gives your makeup a healthy glow. The spray is formulated with hydrating and conditioning ingredients like green tea, cucumber, and coconut that keep your skin healthy and dewy. The mist protects your makeup from smudging and keeps it intact throughout the day. The skin-loving mist is a multi-use product that you could use to preserve your makeup or spray it on your naked face to keep your facial skin hydrated and refreshed.
Pros
Cruelty-free
Vegan
Toxin-free
Natural ingredients
Hydrating
Cons
None
Price at the time of publication: $10
The Self-Beauty Glow Makeup Setting Spray is your savior if you're looking for a long-lasting makeup setting spray. A single spray locks in your makeup for extended periods and provides a mesmerizing natural finish. Your makeup is shielded against smudges and wrinkles by the setting spray's two-layer covering. The composition, made from a subacid mixture of components including Origanum vulgare leaf, spearmint, and Melissa officinalis extracts, comforts and profoundly moisturizes your skin. Your skin will seem healthy and glowing with radiance as you apply it over your makeup. It is ideal for touch-ups while on the go.
Pros
Comforting
Hydrating
Refreshing
Sustainably produced
Works on all skin types
Cons
Can sometimes clog facial skin pores
Price at the time of publication: $19
Lock in your makeup for up to 12 hours with the softest and most natural-looking glow with Cover FX's dewy face spray. The weightless formula doesn't contain any alcohol that can dry skin out or irritate it. Enriched with shea butter, enjoy deep moisturization benefits along with the brightening and smoothening benefits of prickly pear cactus. For a radiant glow that sets you apart from the rest, this is the best setting spray for a dewy finish.
Pros
12-hour wear
Contains moisturizing ingredients
Brightens skin and smoothes texture
Vegan and cruelty-free
Doesn't contain parabens, sulfates, gluten, or phthalates
Formulated without alcohol, fragrance, mineral oil, or talc
Cons
Might not be ideal for oily skin types
Price at the time of publication: $30.88
Set and refresh your makeup with the Pacifica Beauty Vegan Collagen Makeup Setting Spray. This light spray, made with the ideal combination of skin-loving ingredients, including vitamin C, jasmine, vegan collagen, and white tea, revive dull and dry skin. It also maintains the fresh, dewy appearance of your makeup. Use this product as the last step in your regular makeup routine or if you need an instant hydration boost that lasts all day.
Pros
Vegan
Cruelty-free
No-mineral oil
Paraben-free
Talc-free
Phthalate-free
Lightweight
Cons
Can make oily skin greasy
Price at the time of publication: $9.99
Now that we've gone over the best dewy setting sprays on the market, let's look at how you can bag the right one for you!
How To Choose The Right Dewy Setting Spray
Dewy setting sprays are ideal for dry and dull skin as they come packed with a moisture or water-based formula. This helps give a soft glow to dry skin while also providing hydration benefits. Combination and oily skin types may find that dewy setting sprays make their skin even greasier, but if they don't have excess oil, a lightweight setting spray which is also non-comedogenic may work. But dewy sprays suit dry and normal skin types better. Even mature skin will benefit from a dewy finish as the formula won't cake up or settle into fine lines and wrinkles.
Ensure that the formula is lightweight and has a non-sticky and non-greasy consistency. Dewy setting sprays that are quick-drying help immensely for on-the-go touch-ups. Some sprays may have fragrance and if you're sensitive to it, ensure to read the label so as to avoid it. A few setting sprays can have strong scents which may cause a reaction as they are directly sprayed on the face. You can patch test setting sprays as with every other beauty product or read some reviews online.
It is essential to invest in formulas with high-quality ingredients devoid of harmful additives. To prevent flare-ups, opt for formulas that don't contain alcohol, fragrance, parabens, sulfates, and other harsh chemicals.
After you've purchased a dewy setting spray you like, it's time to learn how to use it for the ultimate glow!
How To Use Dewy Setting Spray
Step 1: Ensure that all your makeup is done with and you're satisfied with how it looks.
Step 2: Shake the contents of the dewy setting spray bottle for an even mixing.
Step 3: Hold your dewy setting spray bottle about 8-10 inches away from your face and lightly spritz on the right side of the face.
Step 4: From the same distance, spray the mist on the left side of your face.
Step 5: Spritz once in the center of your face with your eyes closed.
Step 6: Wait for the setting spray to dry.
Step 7: Repeat if you feel the need for a brighter glow.
Step 8: Reapply throughout the day as and when needed to give your skin a boost of freshness.
Note: You can also apply dewy setting sprays on bare skin without any makeup for a natural glow to keep your skin looking and feeling fresh.
Why Trust StyleCraze?
Chaitra Krishnan is a cosmetics fanatic and product writer who enjoys experimenting with new launches. After extensive research and reading internet reviews, she compiled a list of the best dewy setting sprays for her readers that would give a radiant finished makeup look. Each item on the list is thoroughly detailed, and the post also includes a shopping guide to help you pick the best.
Frequently Asked Questions
Is dewy or matte setting spray better?
Choosing a finish depends on skin type, as dewy setting sprays add a soft glow and are ideal for dry, dull, mature, and normal skin types. Matte setting sprays absorb excess oil and suit oily or combination skin types as they give a matte finish.
Is dewy setting spray good for oily skin?
Matte setting sprays control the shine in oily skin whereas dewy ones can end up giving a greasy look. If your skin is not excessively oily, a lightweight dewy setting spray can be used for a soft shimmer.
Can you use a dewy setting spray on matte foundation?
Yes, but this would give the foundation a luminous finish. For a mattifying finish, matte setting sprays work better.
Does setting spray make you break out?
If a setting spray contains comedogenic ingredients or if you have overly sensitive skin, you may notice breakouts. It is necessary to read labels of setting sprays to avoid ingredients that your skin cannot tolerate.
How long does setting spray last?
Setting sprays typically last about six to eight hours, depending on your lifestyle. You can also reapply it a few times after every two to three hours to make its effects last longer.
Can you use setting spray daily?
Yes, you can use setting sprays daily. But steer clear of using the ones that contain alcohol. Alcohol can dry your skin out or cause irritation.
Does setting spray go on before or after makeup?
A setting spray is meant to set your makeup products and make them stay longer. So it should always be applied towards the end. It locks your look so that you do not have to reapply your makeup even during hot and humid days.
Does setting spray make makeup waterproof?
Not really, but there are many waterproof setting sprays available in the market that can keep your makeup from melting away. These setting sprays can turn your makeup into waterproof, smudge-proof, and transfer-proof products.
Recommended Articles