11 Best Tarte Mascaras of 2023 Guide
Lengthen, curl, and condition your lashes thoroughly with these highly-pigmented mascaras.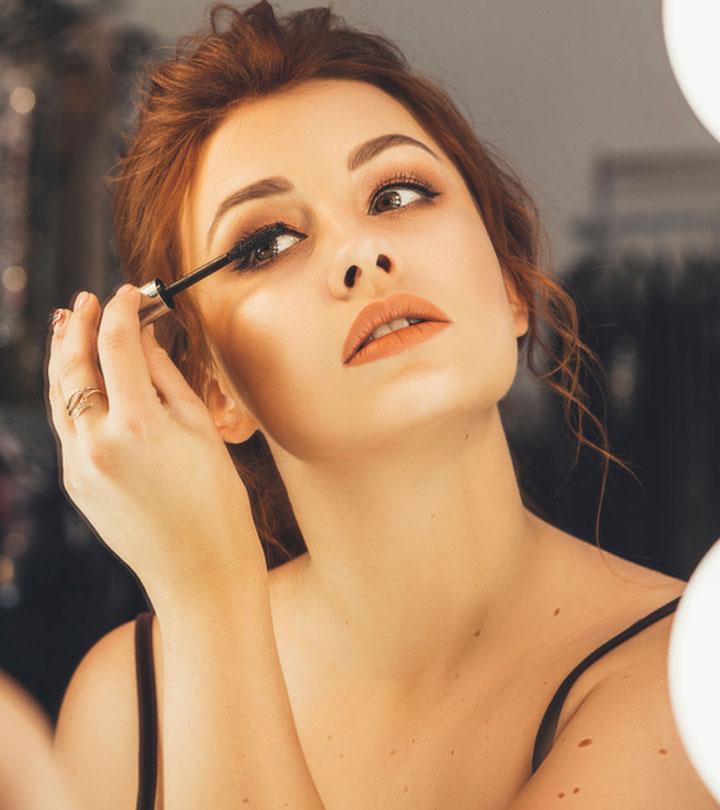 If you are looking for a good cruelty-free but glamorous mascara to jazz up your party nights, look no further than the best Tarte mascaras listed here. Tarte is a brand known for its high-quality all-natural ingredients that are vegan and hypoallergenic as well. No wonder, when you opt for a Tarte mascara, you are treating your eyes to some natural goodness. Free of sulfates, parabens, and other harmful toxic chemicals, Tarte products are not only safe for your eyelashes but help nourish and strengthen them as well. While any mascara can give you your desired effect, opting for a cruelty-free and natural product makes you look and feel good both inside and out. With the tons of options out there, we have enlisted the 11 best Tarte mascaras to make your shopping easier!
11 Best Tarte Mascaras To Buy In 2023
This unique, four-in-one mascara aims to increase your lash volume in a single application. Yes, you heard it right! Not only that, but Tarte's Lights Camera Lashes mascara also makes for the best Tarte mascara option if you're looking for spectacular lengthening, curling, and conditioning for your precious lashes. This smart non-irritating mascara has been clinically proven to increase lash volume by 424% and that too, in a single application! Moreover, they come with a unique and luxurious volumizing formula that has all naturally sourced ingredients that nourish lashes and helps you to achieve bold and dramatic lashes. If you want a detailed review of the product, make sure to take a look at this video.
Pros
Highly-pigmented
Free of parabens, petrochemicals, sulfates, preservatives, oil, dye
Talc and fragrance-free
Gluten-free
Cruelty-free
Waterproof for long-lasting lashes
Cons
Price at the time of publication: $15
This Tarte Mascara comes with its own disclaimer, claiming to get its users the maximum compliments when they put it on. Yes, that's right! Tarte's Maneater mascara provides excellent volumizing, lengthening and curling for lashes, qualities that are a prerequisite in the best Tarte mascara. This drugstore mascara  comes with a soft-flex precision brush with over 500 flexible and tiny bristles to curl and coat lashes, and its unique, lightweight triple-black formula helps to lift lashes at the root, while also styling and fanning them out to create amped-up fluttery fullness. You can also check this YouTuber's detailed review to know more about the results after using this product.
Pros
Made with natural ingredients
Contains jojoba for lash strengthening
Has carnauba wax that provides volumizing benefits
Highly-pigmented formula
Cruelty-free products
Cons
Might be clumpy for certain lashes
Price at the time of publication: $22
Tarte may have some unique and fabulous products up its sleeve, but this particular lash-boosting Tarte mascara might just be the one to trump them all. This lash-enhancing mascara is made of Amazonian clay, this lengthening and volumizing mascara is known to intuitively find and treat your unique lash concerns, delivering the benefits you need and the volume you desire. Its creamy formula, versatile quality and excellent pigmentation, coupled with the ability to lengthen, condition, repair and replenish dry and brittle lashes, put Tarte Gifted Mascara  high on the list of best Tarte mascaras in the market! For a thorough review of the product, have a look at this YouTuber's video.
Pros
dermatologist-tested
vegan
ophthalmologist-tested
safe for contact lens wearers
Cons
Known to dry up faster than other mascaras
Price at the time of publication: $24
One of the finest mascaras from Tarte, the Tarteist Lash Paint Mascara is the ultimate product for painting on jet-black, pro lashes, anytime and anywhere! This precision-laden lash-lengthening mascara comes with a molded brush that grabs and coats even the tiniest lashes for more volume. Moreover, the triple-black painted mineral pigments in this jet-black mascara, coupled with a creamy formula, help deliver rich and intense color while nourishing and softening skin around the lash line. What more could you ask of your mascara, right?
Pros
Vegan
Cruelty-free
Ophthalmologist-tested
Safe for contact lens wearers
Cons
May smudge with extended use
Price at the time of publication: $17.75
Struggling with straight lashes that simply refuse to curl? Well, worry not, for Tarte cosmetics is here to your rescue! Tarte's Lights Camera Lashes 4-in-1 mascara, which also comes in a travel size of 0.13 FL Oz, is the perfect companion for your straight eyelashes. One of the best Tarte mascaras in the market, this unique 4-in-1 smart mascara volumizes, lengthens, and curls your lashes to lift them up, just like a push-up bra, and offers an all-day hold! The best part? This line of mascaras comes with a special vitamin-rich and creamy formula that conditions your eyelashes with each application, along with a 360° magniLASH curling wand with lash-curling power for an instant lash lift!
Pros
Vegan
24-hr wear
24-hr smudge-proof
24-hr flake-free
Ophthalmologist-tested
Dermatologist tested
Cons
Clumps on multiple applications
Heavy on the pocket
Price at the time of publication: $12.99
Is your daily makeup routine looking for some glam extraordinaire? Well, Tarte cosmetics' wonder product, their Lights, Camera, Flashes Statement mascara will work for you just fine! This blacker-than-black, long-wearing drugstore mascara is known to create thick and faux-looking, high-impact lashes for a radiant look. What makes it one of the best Tarte mascaras is the custom-molded silicone brush. The brush has a shorter side with denser and tiny bristles that coat and plump every lash, while the other side has longer bristles that help lengthen and define your lashes for a fluttery, clump-free finish.
Pros
Vegan
Ophthalmologist-tested
Safe for contact lens wearers
Dermatologist tested
24-hr wear
24-hr smudge-proof
24-hr flake-free
Cons
May not be easy to remove
Bristles can be sharp
Price at the time of publication: $38
Go all the way from gym drab to a post-gym glam with Tarte's limited edition Gym Bag Grabs from their athleisure collection. This small kit contains all the things that you might need for a quick touch up— the brand's esteemed Lifted Sweatproof mascara, a Brighter Days highlighting moisturizer, lipstick, and Fresh eyes makeup remover wipes. The trumping product here is the Lifted sweatproof mascara, which gives your eyelashes a natural-looking effect with an instant lift & volumizing boost while you sweat, swim, or even sleep, without the proverbial "raccoon eye". And that's why, this kit makes it into our list of best Tarte mascaras, so it should definitely make an appearance in your makeup kit!
Pros
Sweatproof
Vegan
Dermatologist tested
Ophthalmologist-tested
Waterproof
Cons
Tester sizes
May not be cost-effective
It might look like we're asking you to try the same products, but wait! Tarte's Lights, Camera, Splashes! Mascara comes with the same benefits of the Lights, Camera, Lashes 4-in-1 mascara with the added benefit of a waterproof formula. Considered to be a shoo-in for the best Tarte mascara in the market, this mascara lasts through sweat, rain, and even tears! The best part? It also comes with a 360° magniLASH wand for an instant lash lift anytime and anywhere for a dramatic look!
Pros
Waterproof
Smudge-proof formula
Dermatologically-tested
100% vegan and cruelty-free
Cons
Bristles may feel spiky in the beginning
Dries out fast
Price at the time of publication: $23.99
If you're a fan of natural skincare and makeup products, then Tarte's Big Ego vegan mascara would surely find a place on your dressing table. As is evident from the name, this range of vegan mascaras not only fulfill the signature lengthening + volumizing + curling functions of the best Tarte mascaras, they also offer fully-loaded flutter for more than 12 hours! What else could you possibly look for in your new favorite smart mascara, right?
Pros
Suitable for allergy-prone lashes
Cruelty-free
Paraben-free
Gluten-free
Cons
Known to dry out fast
Can smear easily
Price at the time of publication: $21.77
What's better than buying a simple mascara? Yes, you guessed it right, it is getting a lash primer and a mascara together! Tarte's Opening Act Lash Primer, coupled with their unique Lights, Camera, Lashes 4-in-1 Mascara make for the perfect lash buddies any girl could ask for! The lash primer lengthens and strengthens lashes to make your eyes appear fuller with its eye-opening effect and voluptuous and it almost acts like a lash treatment! On the other hand, the 4-in-1 mascara offers ultra-black pigment and a creamy formula which delivers darker, defined lashes at any given time.
Pros
Paraben-free
Vegan
Work well together for high definition lash precision
Gluten-free
Cons
Mascara may smudge for oily skin tones
Price at the time of publication: $23.99
'Tis the season of kits, and how! Tarte's Prime Pretties Color kit is, perhaps, the only kit you will need for an emergency glam, and here's why. The extremely useful kit comes with three iconic Tarte products— the Lights, Camera, Lashes Closeup Lash Liner, their Tarteist Lash Paint Mascara, and Glossy Lip Paint to give you those quick 5 minutes of touch-up time. The vegan mascara, considered to be one of the best Tarte mascaras, has a patented silicone wand with multi-length bristles for longer, thicker-looking eyelashes. Meanwhile, their fabulous lip gloss contains concentrated mineral pigments in a non-sticky conditioning serum for the color payoff of a lipstick and the attractive sheen of a gloss!
Pros
Vegan
Cruelty-free products
Paraben-free
Gluten-free
Cons
Mascara tends to dry up
Gloss tends to bleed and smear
This may give you a fair idea of what to look for in the best Tarte mascara in the market, but how do you go about choosing the right one for yourself? Worry not, because we have a few tricks up our sleeve that can help you make an informed decision!
How To Choose The Best Tarte Mascara For You
Putting on a mascara constitutes one of the most basic makeup routines for any woman, but not all mascaras are the same. You can't think about getting the eyelashes of your dreams without putting in enough thought into what you want the product to do for you and your lashes. So how should you go about choosing the best Tarte mascara for you? Here we have a few tried-and-tested tricks that you can also benefit from!
Brush shape – The brush shape is probably the biggest game-changer in the world of high-end mascaras. As a general rule, the brush shape helps determine how the mascara will apply. It happens for the simple reason that different shapes and sizes of mascara brushes pick up varied amounts of product and layer them in very different ways.
Formula – The mascara formula matters just as much as the type of wand, so pay attention to what you are using. Look for innovative formulas with botanical extracts, designed with longevity in mind and made to stand up to the elements.
Natural lashes – The current state of your eyelashes also has a crucial role to play when trying to find the best mascaras for yourself. If you curl your lashes properly and keep combing to break away any overlapping lashes, it will help the mascara get applied smoothly and evenly.
Why Trust Stylecraze
Srijani Roy Chowdhury is a writer who is enthusiastic about analyzing and reviewing makeup products. She has good knowledge of the makeup requirements of her reader and thus refers to numerous websites to produce highly-researched reviews. She has compiled this list of best Tarte mascaras by selecting long-lasting and safe products. To help you make a better choice, she has described each mascara along with its pros and cons. She has also included a purchasing guide and has answered a few FAQs to help you choose the best.
Frequently Asked Questions
What is the best mascara for lengthening and thickening?
The Tarte Maneater Magnetic Voluptuous Mascara is believed to be one of the best mascaras for lengthening and thickening.
Is Tarte camera lashes oil-free?
Yes, all of Tarte's products are free of mineral oil, parabens, phthalates, sodium lauryl sulfate, triclosan, and gluten.
Which Tarte mascara is waterproof?
Tarte Lights, Camera, and Splashes 4-in-1 waterproof mascara has a unique waterproof formula for long-lasting wear and glamorous lashes. It is known for offering lift and separation to your lashes.
Is Tarte Maneater mascara waterproof?
No, the Tarte Maneater Mascara is not waterproof.
Is Tarte really all-natural?
Yes, Tarte cosmetics products are made of natural ingredients that are sustainably sourced and are generally cruelty-free as well.
How long does Tarte mascara last?
Tarte mascara can last up to 12 months but use the mascara within 3-4 months of opening for the best results.
Where is Tarte mascara made?
Tarte mascara is made in Italy.
Recommended Articles