13 Best Non-Clumping Mascaras Of All Time – 2023's Top Picks
Flawless eye makeup is no longer a dream because these non-clumping mascaras exist.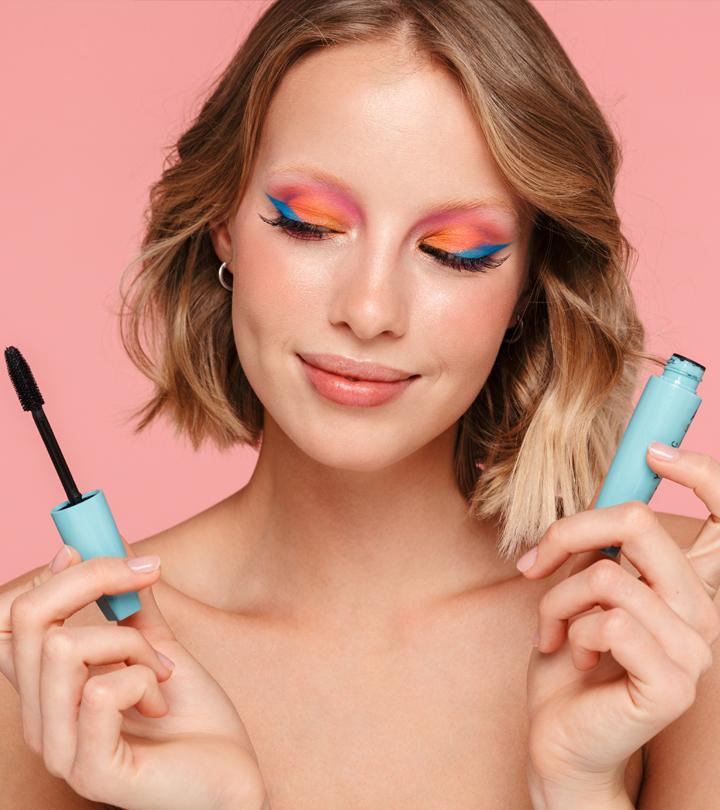 If you are on the hunt for the best non-clumping mascaras that give your lashes a clean finish, then you are at the right place! Mascaras can either make or break your whole look. You do not want a product on your lashes that leaves a goopy mess and makes the lashes sticky so that they end up resembling spider legs! Understanding this situation, we have created a list of the 13 most effective mascaras that do not clump and distribute evenly.
Just like your regular mascaras, these too give your lashes the required volume, curl, and length. But the difference is, they provide you with a clump-free finish too. It does not matter if your lashes are short or long; these products will give you the best results ever. So, scroll down and check out the list to take your pick.
What Does A Non-Clumping Mascara Do?
A non-clumping mascara is a formula that will give you the desired results, be it length, volume, or both without making your lashes brittle or clumping them together. However, for a clump-free result, it's not just the formula that matters. The wand and the application technique also has a role to play. For instance, skinny or comb-like brushes work well to keep your lashes separate, which helps to minimize clumps. Likewise, when you apply mascara, always start with a small amount of product. Plus, as you layer, don't let the mascara dry out in between. Keep layering (work as fast as you can) until you have achieved the look you want.
Ahead, you will find some of our favorite clump-free mascaras.
13 Best Non-Clumping Mascaras Of 2023 For Voluminous Lashes
There are very few non-clumpy mascaras that can magnify your lashes and also separate them beautifully. This mascara not only does that but also keeps your lashes clump-free. One coat is all it takes to create voluminous and defined lashes that look natural. This mascara formula is ultra-lightweight, which means you could also go for the full, fanned-out volume look by applying multiple coats and not worry about clumping. The best part about this clump-free mascara is its petite wand that ensures to coat each and every lash, even the hard-to-reach ones. This product stays put for long without smudging and is a bestseller on Amazon with more than 22,000 reviews. So, go ahead and say au revoir to spidery lashes.
Pros
Easy to remove
Long-lasting formula
Delivers intense color
Does not flake or transfer
Gives your lashes natural-looking volume
Cruelty-free
Cons
 May take a long time to dry
Price at the time of publication: $19.95
Build attractive, clump-free lashes with every single swipe with the help of this Clump Crusher Extensions Mascara. With more than 4,000 reviews, this is an Amazon favorite for good reasons. This no-clump mascara delivers immense volume and rich color and takes your existing lashes to great heights without weighing them down. It includes a unique curved brush that features 2 sides. The straight bristle edge coats your lashes from root-to-tip for massive volume, while the fine-tooth comb evenly coats and separates your lashes for a no-clump result. Check out the honest review and demo of the COVERGIRL Clump Crusher Extensions Mascara By LashBlast in this video.
Pros
 100% vegan
 Cruelty-free
 Adds volume without clumping
 Delivers 20 times more volume
 Features a double-sided brush
Cons
Price at the time of publication: $7.99
Get thicker and healthier lashes of your dreams with this Full 'N Soft Washable Mascara by Maybelline New York. As the name suggests, this non-clumping mascara gives you fuller-looking lashes in an instant. Infused with vitamin E, this formula nourishes your lashes with every coat. All while the lash-thickening applicator brush grabs every lash and evenly coats them to help you achieve soft, feathery lashes sans clumps. Thanks to its Quick Dissolve System, this non-clumping mascara is easy to remove, which, in turn, minimizes lash loss. With over 11,000 rave Amazon reviews, this is a crowd-favorite that you must give a try.
Pros
 Hypoallergenic
 Lash-thickening formula
 Easy to remove
 Suitable for contact lens wearers
 Creates fuller and healthy-looking lashes
Cons
 May smudge a few hours after application
Price at the time of publication: $6.98
The Bambi Eye Mascara by L'Oreal Paris has over 8,000 reviews on Amazon and is considered one of the best non-clumping drugstore mascaras for small eyes. True to its name, this mascara has the ability to make your eyes look bigger and more awake by giving your lashes colossal volume and a slight curl. Aside from that, this formula is intensely pigmented and contains pearls to give your lashes a bold, glossy appearance. The included wide-eyed brush of this stretch volumizing mascara featuring long and short bristles offers an even application while separating lashes. Rest assured, it glides on smoothly without clumping. Go through this video to check out the detailed review and demo of the L'Oreal Paris Bambi Eye Mascara.
Pros
 Washable mascara
 Adds volume and definition
 Smudge and flake-free
 Delivers intense color and shine
 Gives you curled and elongated lashes
Cons
 May not have good staying power
Price at the time of publication: $9.59
If you want exceptional volume and definition, look no further than the Mary Kay Lash Love Waterproof Mascara. This formula comes with a flexible, sculpted brush that captures every lash, even the tiny ones, to separate and evenly coat them. All while the Mary Kay Panthenol-Pro Complex® and vitamin E elements in this conditioning mascara, moisturizes, and strengthens your lashes and prevents breakage. So, after every application, all you will be left with are soft, well-defined, and non-clumpy lashes.
Pros
 Fragrance-free
 Waterproof formula
 Flake and smudge-free
 Ophthalmologist-tested
 Deeply pigmented formula
 Suitable for contact lens wearers
Cons
May not be suitable for sensitive eyes
Price at the time of publication: $19.4
Achieve dramatically lengthened and volumized lashes no matter where you go with the travel-sized version of this drugstore lengthening mascara by Benefit! This non-clumping formula also curls, lifts, and separates your lashes, thanks to its custom-designed applicator brush. Use this brush horizontally for the staggered bristles to coat your lashes evenly from base to tip. Meanwhile, when used vertically, the domed tip can grab even the tiniest of lashes and the hard-to-reach ones in the inner and outer corners of your eyes. This is a long-wearing mascara that doesn't clump into flakes or smudge to give you raccoon-like eyes.
Pros
 Smudge-resistant
 Jet black, glossy finish
 Features a domed-tip brush
 Gives you bigger and bolder lashes
Cons
 Its consistency might be too thin.
Price at the time of publication: $13.99
Do most mascaras irritate your eyes and make them water? If yes, what you need is a hypoallergenic formula such as this one by Almay. This mascara is dermatologically and ophthalmologically tested, so rest assured they are safe to use for sensitive skin and eyes. The clump-free formula and flared, megaphone-shaped brush together helps you create a voluminous lash look without clumping. The specially designed wand picks up an optimal amount of product to add intensity and definition, which makes it perfect for sparse lashes. In addition to that, this tubing mascara contains film formers and a triple-wax complex that makes your lashes appear fuller and softer. Have a look at this video and learn more about the Almay Mega Volume Mascara – Blackest Black.
Pros
 Hypoallergenic
 Tubing formula
 Cruelty and fragrance-free
 Coats lashes evenly
 Removes buildup
 Suitable for contact lens wearers
Cons
 The wand may be tricky to use initially.
Price at the time of publication: $8.99
The Buxom Lash Volumizing Mascara defines your eyes and lengthens your eyelashes to impart a fanned-out look. Get thrice the volume and no clumps with one simple stroke. The highly dense lash brush that is shaped like an hourglass coats every lash and makes your eyes open up and look beautiful. Formulated with rose water and enriched with vitamin E and antioxidants, the lashes get naturally conditioned and lifted. Nourish your lashes and get a glossy and leathery black look every single day.
Pros
 Fanned-look
 3x volume
 Natural nourishment
 Zero mascara clumps
 Easy to apply and remove
Cons
 The mascara is not waterproof.
Price at the time of publication: $23
Do you believe that black and bold eyelashes are only possible when you wear false lashes? Skip the time and effort you otherwise spend on falsies as there is nothing that gets blacker and bolder than this mascara. Formulated with a creamy texture and hyper-pigmented with intense black color, this is one mascara that doesn't clump yet builds on thicker. You can get the ultimate feathery lashes for that fanned look — thanks to the tapered criss-cross brush that lengthens and lifts even the smallest lash. The mascara is enriched with honey to deeply condition your lashes and is formulated with amino acids and sea hydrolyzed elastin to promote lash growth.
Pros
 Feathery, fanned-out look
 Promotes lash growth
 Nourishes and conditions
 Vegan mascara
 Cruelty-free
Cons
 Some may find the hard to remove
Price at the time of publication: $26
Craving for dramatic eyes but eyes and skin too sensitive? Define your lashes and give it a smooth and long effect with this amazing non-flaking mascara.The mascara is free from parabens and allergens and also fragrance-free and ophthalmologist-tested. You can achieve intense volume by applying several layers and using the 2-sided brush and there will not be any extra clumps of mascara left on the lashes. Get this dramatic mascara to have lashes that are separated and well-coated to make your eyes look better.
Pros
 Formulated for sensitive eyes and skin
 Paraben free
 Smooth texture
 Ophthalmologist-tested
Cons
 The brush dries up quickly
Price at the time of publication: $25
Want the look of lash extensions without actually getting them? This volumizing and lengthening mascara by Tarte has you covered. Perhaps one of the best non-clumpy waterproof mascaras, it comes with a dual-molded brush to help you attain any look you desire. While the shorter bristles pump up the volume and coat the lashes uniformly, the longer-bristled side adds length and separates your lashes for a clump-free, fluttery lash look. Formulated with carnauba wax and cellulose, this ultra-black formula thickens your lashes and provides a smooth application. With this curling mascara, you can transform your dull straight lashes into perfectly curled luscious lashes in an instant.
Pros
 Vegan
 24-hour wear
 Smudge-proof and flake-free mascara
 Rich in vitamins and minerals
 Suitable for contact lens wearers
 Ophthalmologist and dermatologist-tested
Cons
 The bristles of the brush may be sharp.
Price at the time of publication: $38
Do you want lashes that scream, "Look at me," but in a good way? Beautify Beauties Black Luxury Waterproof Mascara is your best bet! Just a couple of swipes of this mascara gives your lashes maximum length, volume, and curl. All while the specially designed brush separates your lashes with every coat. This is a waterproof mascara, but not to worry, as unlike other such formulas, this one leaves no clumps on your lashes. Plus, whether you're sweating or stepping out in the rain, this formula stays put without smudging or running. Enriched with keratin and vitamin E, this hypoallergenic mascara conditions and strengthens your lashes with every single swipe and does not irritate your eyes and skin.
Pros
 Hypoallergenic
 Non-clumpy waterproof mascara
 Suitable for sensitive skin
 Paraben and gluten-free
 Contains lash-enhancing ingredients
Cons
 Might be difficult to remove
Unlike a few other volumizing mascaras that tend to flake, this D-UP Volume Extension Mascara creates voluminous eyelashes sans clumping. This is a clump-free waterproof mascara that separates lashes and doesn't smudge, come sweat, rain, or tears. Plus, it is formulated to last for 24 hours straight. That said, this clump-free waterproof mascara is also easy to remove with warm water. This mascara features a 3-D structure brush that provides a smooth and uniform application. What we love the most about this smooth formula is that it contains 10 types of beauty serums that promote healthier and stronger lashes.
Pros
 Lasts all day long
 Clump-free volume
 Smudge-proof
 Sweat-resistant
 Lends thick and voluminous lashes
Cons
Price at the time of publication: $22
Now that you have taken a look at some of the best non-clumpy mascaras, here are a few tips that will help you buy the right mascara and apply it without creating clumps.
How To Choose A Non-Clumping Mascara
If you want eyes that are dramatic and dazzling, picking the right lash-effect mascara matters a lot. Here are a few things that you need to look into while choosing one.
1. Texture
There is a wide range of mascaras, right from the glossy and creamy textured ones to matte finished ones. Feathery eyelashes are achieved when you use an excellent creamy mascara that does not clump and comes with a good lashes-coating brush. Mascaras formulated with natural ingredients and vitamins are a good choice to enhance the natural texture of the lashes.
2. Composition
Naturally composed products are the safest. Avoid picking up a mascara that has chemicals infused in it. There are a lot of mascaras formulated with vitamin E, amino acids, rose water, and other such products. The products are gentle on the eyes and are considered to be hypoallergenic. Amino acids and vitamin E boost the growth of your lashes and keep them healthy. Get one such natural anti-clump mascara to keep your eyes safe from chemical reactions and allergies.
3. How long it lasts
How would it be if you beautifully adorned your eyes with a good non-clumping mascara in the day and ended up looking like a raccoon at night? Yes, if the mascara is not a long-lasting one, it would smudge and make your eyes look extremely bad. Get a long lasting and mascara that won't flake to keep your eyes looking beautiful all day long.
4. Type of wand/brush
Not all mascaras and wands are built alike and you need to first figure out which specific purpose you want the wand for. The classic mascara wand is a great choice to make your lashes look thick and voluminous but may not reach the smaller lashes as well as you would want it to. A curved comb wand has thinner bristles than a classic wand and is a stellar choice if you want to curl your lashes upwards but may not offer intense volume. On the other hand, a tapered wand is best used to reach the smaller lashes in the corner of your eyes while a ball-tipped wand is useful in coating the lower lashes.
How To Apply Mascara Without Clumping
 Always apply a small amount of product when you are starting off. After you take out the wand from the tube, wipe off the excess  product at the edge of the tube.
 Start with a single coat of your favorite mascara that doesn't flake and will surely not make your lashes clumpy.
 Place the wand at the base of your upper lashes and wiggle it back and forth till you reach the tip. Don't use too much pressure while applying. Do this on the lower lashes too.
 If you prefer to apply multiple coats, wait for the mascara to set (not dry out) between each layer.
 Use the mascara brush vertically to coat your tiny lashes at the inner and outer corners of your eyes.
Most non-clumping and non-flaking mascaras feature bristles that ensure to separate your lashes and remove any buildup. Alternatively, you could use an eyelash comb or brush to comb your lashes.
Although clumpy mascara seems to be the trend, not everyone likes to have spider-leg lashes. You know what you need and what suits you. Choose a good non-clumping mascara for your eyes based on the texture, composition, and application and never stop looking beautiful.
Why Trust StyleCraze?
The author of this article, Chaitra Krishnan, is a makeup enthusiast. She knows what it's like to have mascara clumped up, leaving your eyes sticky and messy. She has conducted thorough research by reading through product formulations on websites to give you the finest non-clumping mascaras to buy. What sets these mascaras apart from your regular ones is that they magnify your lashes and give you a gorgeous and lump-free look.
Frequently Asked Questions
How do I stop my mascara from clumping?
• Use a mascara that keeps lashes soft.
• Use a wand that coats your lashes evenly and separates them.
• Don't apply too much product initially.
• Wiggle the brush back and forth during application.
Why does my mascara clump on my lashes?
There are various reasons why your mascara could clump on your lashes. Some of the most common mistakes are overdoing it, using an expired product, not following the right technique, or not separating your lashes with a comb.
What is the best natural-looking mascara?
The Vivienne Sabó Cabaret Première Artistic Volume Mascara is an ideal choice for its clump-free finish and lightweight formula..
How do you remove non-clumping mascaras?
Dab makeup remover on a cotton pad to gently wipe away your non-clumping mascara. If your mascara is waterproof, you have to use an oil-based cleanser.
Do non-clumping mascaras expire?
Yes, the shelf life of any mascara is around three months after opening the bottle.
Recommended Articles