10 Best Pureology Shampoos For Amazing Smelling Hair – 2023
Prevent root damage and also tackle dry hair while making it appear voluminous.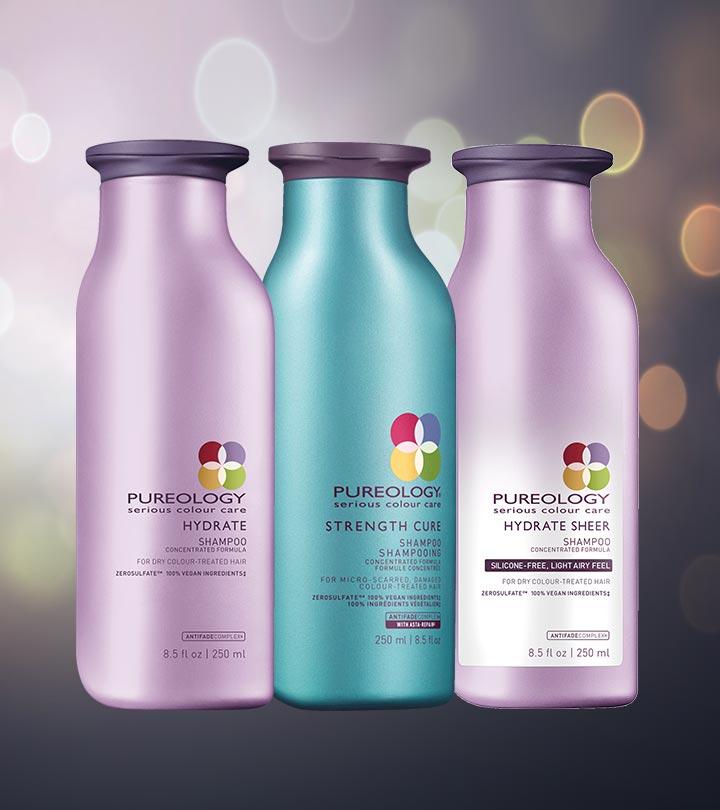 Are you looking for hair care products that leave your colored hair smooth and shiny? You have certainly come to the right place. The best Pureology shampoos are sulfate-free and paraben-free, making them suitable for all hair types. Made from organic ingredients, these shampoos tackle dry hair, damaged roots and give you those lovely smooth and shiny hair. Following a cruelty-free approach to their products, Pureology shampoos will make you feel equally good when applying this shampoo to your hair. Yvey Valcin, a celebrated master stylist says, "It is a great product line, I enjoy working with their products and recommending their shampoos and color to my clients." Check out our list of Pureology shampoos that leave you with bouncy and amazing-smelling hair. Scroll down to know more!
Top 10 Pureology Shampoos Available In The Market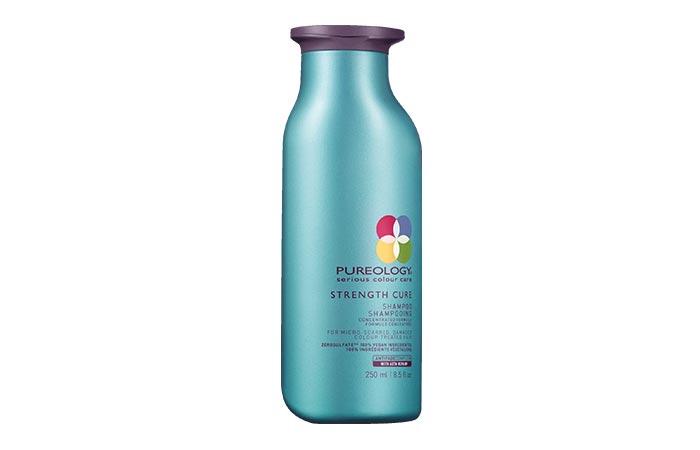 This premium hair cleanser is formulated to help fortify micro-scarred color-treated and damaged hair. It contains a blend of soothing scents extracted from lavender, honey, peach, and vanilla. Several reviewers attest to its claims of giving your hair a velvety-soft finish. It is created using Asta-Repair technology that contains Astaxanthin, a powerful antioxidant. It also contains nourishing ingredients like ceramide, arginine, and keravis that help repair damaged hair. It claims to strengthen your hair while making it soft. Besides strengthening, it also protects against color fading with its antifade technology. This shampoo is tested to treat and prevent split ends and condition your hair within a couple of uses.
Hair Type: Damaged | Product Dimensions: 1.66 x 2.51 x 7.25 inches | Weight: 8.82 Ounces.
Pros
Cleanses scalp residue
Luxuriously creamy formula
Restores elasticity to your hair
Sulfate-free
Adds radiant shine to your hair
Cons
Dries out your hair initially
Rating
4.6/8
Price at the time of publication: $35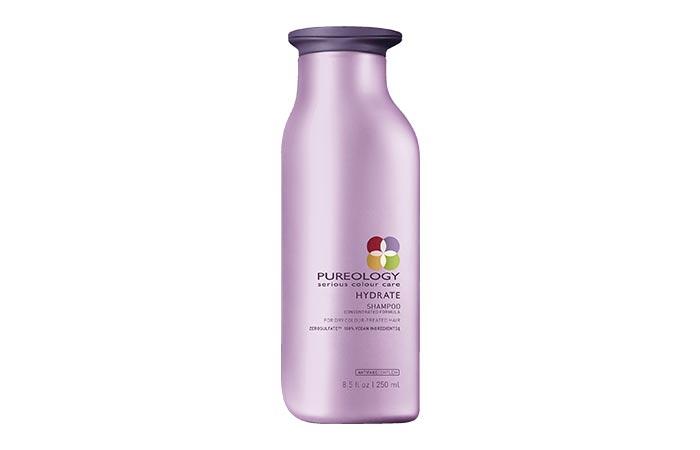 This sulfate-free color-preserving shampoo has intense moisturizing properties that soothe dry and damaged hair. It contains a signature blend of ylang-ylang (a tropical tree native to Indonesia), bergamot, and patchouli scents. It replenishes your locks with its advanced hydrating multi-emulsion technology that deeply hydrates and revitalizes your hair. It enhances hair color brilliance and conditions your hair with exotic nourishing ingredients like jojoba, green tea, and sage. It also contains multi-vitamin proteins of soy, oats, and wheat to help strengthen your hair from within. Several reviewers have tested the product and have noticed softer, smoother hair.
Hair Type: Dry | Product Dimensions: 1.66 x 2.51 x 7.25 inches | Weight: 10.93 Ounces.
Pros
Gently cleanses your scalp
Does not strip away color
Repairs damaged tresses
Just a little product required per use
Safe for chemically-treated hair
Cons
Rating
4.7/5

Quick Tip

Follow up with Pureology Hydrate Moisturizing Conditioner after shampooing.This will quench parched strands, minimize frizz, and make your locks irresistibly smooth.

Price at the time of publication: $9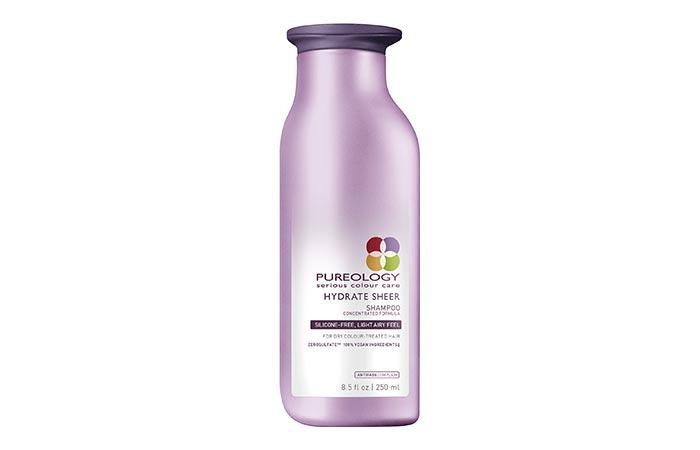 This lightweight moisturizing shampoo is specially formulated for thin and fine hair. It replenishes and detangles fine hair by restoring strength and suppleness to it. It claims to revitalize dry and brittle hair and enhances hair shine and hydration without weighing your hair down. Since it is silicone-free, it does not add weight and is light on your scalp. It also nourishes your scalp and removes built-up residue. It protects your hair color and enhances its sheen with its anti-fading and color-protectant formula.
Hair Type: fine , dry , color treated hair | Product Dimensions: 1.66 x 2.51 x 7.25 inches | Weight: 8.82 Ounces.
Pros
Contains naturally aromatic tropical ingredients
Improves hair texture
Suitable for dry and fine hair
Gentle enough for daily use
100% vegan
Cons
The formula has changed recently
Rating
4.5/5
Price at the time of publication: $70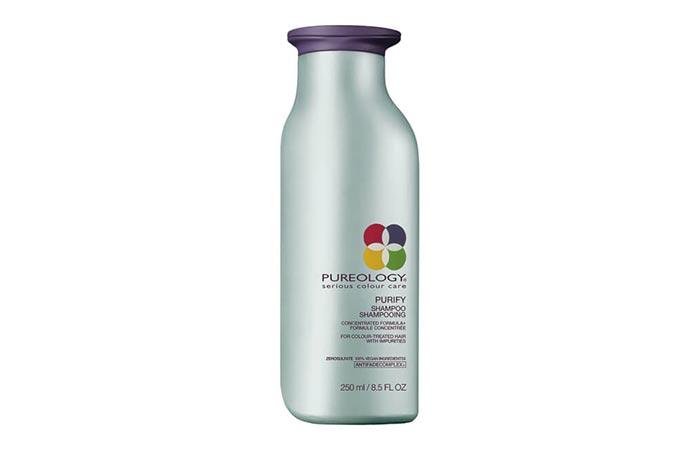 This tea tree oil-infused clarifying shampoo is made with witch hazel and baking soda, a unique combination that helps remove the residue and build-up of hard water minerals and hair styling products. Since it is free from sulfates, this shampoo is ideal for daily use. It protects your hair color and its vibrancy. It has a strong, invigorating fragrance extracted from peppermint and rosemary. This detoxifying shampoo leaves your hair feeling clean and fresh and improves the condition of your scalp.
Pros
Produces rich lather
Contains antibacterial ingredients
Long-lasting effect
Nourishes your hair
Shows quick results
Cons
Rating
4.4/5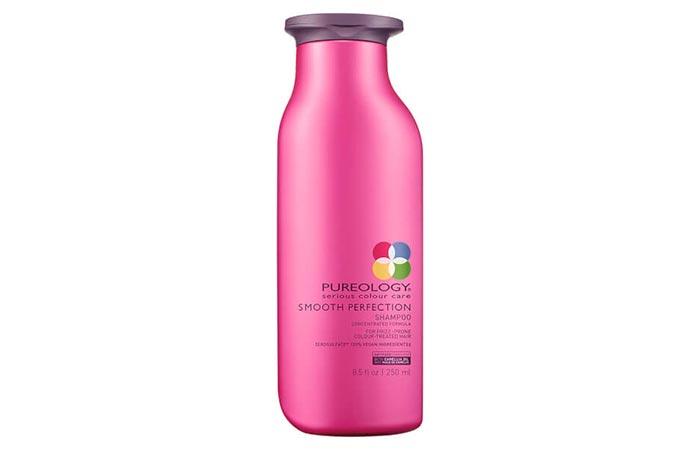 This anti-frizz shampoo helps fight dry and frizzy hair with its advanced micro-emulsion technology. Along with that, this shampoo contains a blend of moisturizing and conditioning natural oils like camellia oil and vitamin E oil that helps maintain the smoothness of your hair. The thermal antifade complex in this shampoo provides thermal protection and prevents your hair color from fading caused by heat styling tools. It also claims to restore manageability and provide long-lasting shine and smoothness to your hair. This shampoo is enriched with the invigorating aroma of musk, violet, and clove.
Pros
Suitable for all hair types
Improves hair texture
Gives you salon-finish soft hair
Creamy formula
Adds sheen to dry and dull hair
Cons
Creates a tingling feeling on the scalp
Rating
4.3/5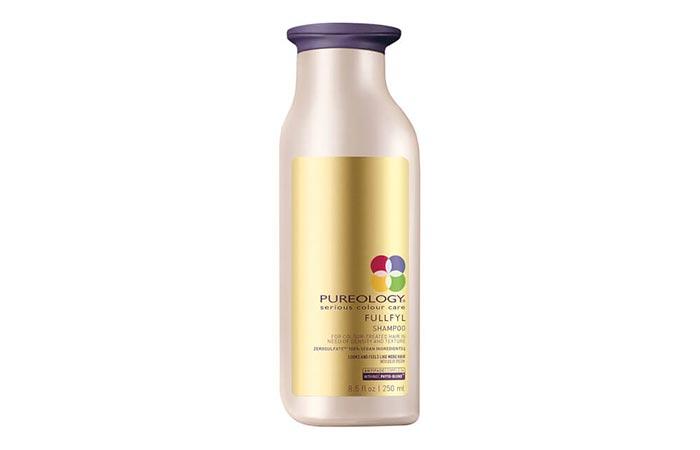 This densifying shampoo claims to add fullness to thin and limp hair. It contains keravis and Phyto blend, a protein derived from plants that helps add density to each hair strand. It creates luxurious, full-bodied, and strong hair. Within a couple of washes, you see the change in your hair texture and thickness. Besides thickening, this shampoo prevents breakage, promotes healthy hair growth, and restores your hair's elasticity. This shampoo claims to plump up each hair strand by infusing nutrients into the cuticles. It is scented with the delightful aroma of tropical fruits, white florals, and vanilla.
Pros
Suitable for fine and brittle hair
Long-lasting effect
Gives you silky and bouncy hair
Strengthens damaged hair
Makes your hair visibly stronger
Cons
Rating
4.3/5
Price at the time of publication: $10.0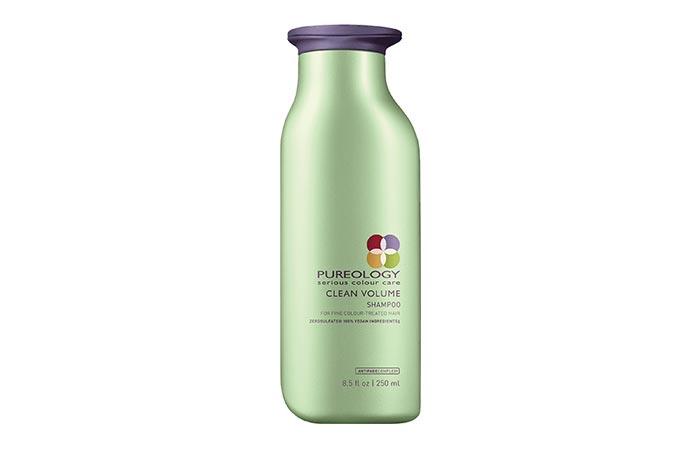 This volumizing shampoo is formulated for thin and fine color-treated hair. It infuses your hair with fullness and gives it a bouncy look. This lightweight, non-greasy, and silicone-free shampoo does not weigh your hair down and gives it a long-lasting voluptuous structure. It is gentle on color-treated hair and protects and enhances its vibrancy with the help of aloe water and soy proteins. This shampoo claims to nourish your hair, giving it a salon-quality shiny and silky finish. On the whole, this shampoo improves the texture of fine hair by restoring its elasticity and strengthening it from within. It contains aromatic ingredients like cedarwood, citrus, and bergamot.
Pros
Gives quick results
Lightweight formula
Keeps your scalp residue-free
Lathers well
Leaves your hair feeling fresh and healthy
Cons
Can turn your hair frizzy after the first couple of washes
Rating
4.2/5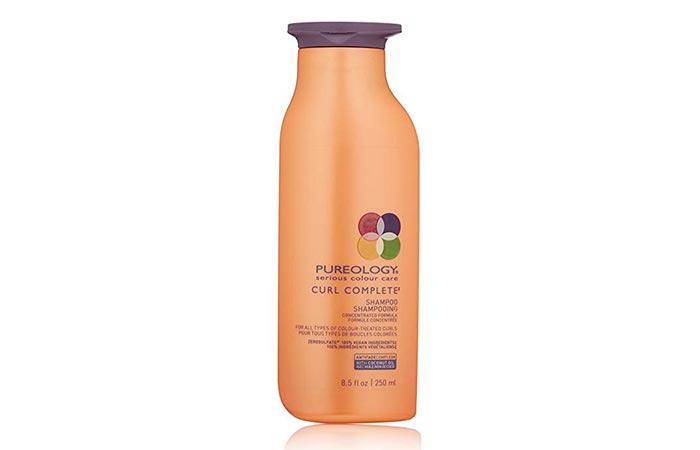 Pureology Curl Complete Shampoo helps restore the moisture in your curls without stripping away the natural oils. It contains coconut oil that helps revitalize the hair fibers and enhance the curl definition. This shampoo claims to reduce breakage and replenish the moisture in your locks. This anti-static cleanser eliminates frizz and extends the life of curls by reviving their shape. It comes with a low-lather formula designed to protect the hair's fiber and lipidic layers. This shampoo also conditions your curls, giving them a soft, bouncy, and vibrant look. It has a floral fragrance that is pleasant and soothing.
Pros
Gentle enough for daily use
Protects your hair color
Makes your hair visibly soft
Imparts shine to your locks
Nourishes the scalp
Cons
Rating
4.2/5

Fun Fact

Shampoos can clean your tresses as well as hair brushes! Dip your brush in a tub of water adding a little bit of shampoo; rinse after 15 minutes.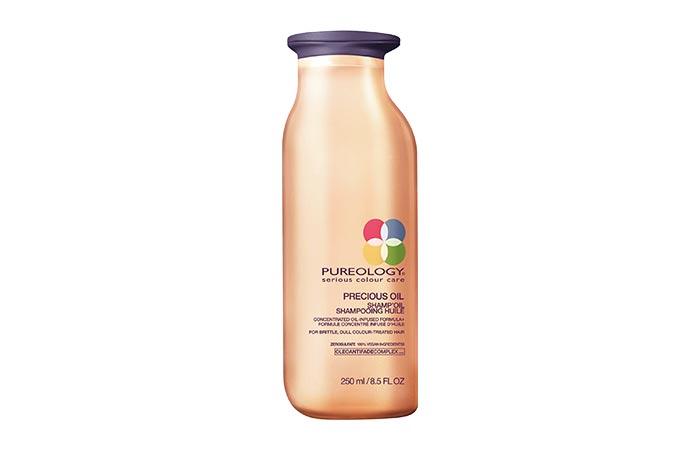 Pureology Precious Oil Shampoo is infused with coconut oil that helps reduce dryness and roughness by making each hair strand supple. With its new triple-action micro-oils repairing technology, this shampoo helps replenish and moisturize your locks and prevent any breakage or split ends. It contains a range of exotic and nourishing ingredients like jojoba oil, coconut oil, and sunflower extracts that provide long-lasting hydration, softness, and vitality to your hair. The aromatic fragrance of orange blossom and sandalwood is pleasant and soothing.
Pros
Softens dried ends
Controls frizz and dryness
Hydrates your hair thoroughly
Adds shine to your locks
Suitable for all hair types
Cons
Can turn your hair greasy
Rating
4.1/5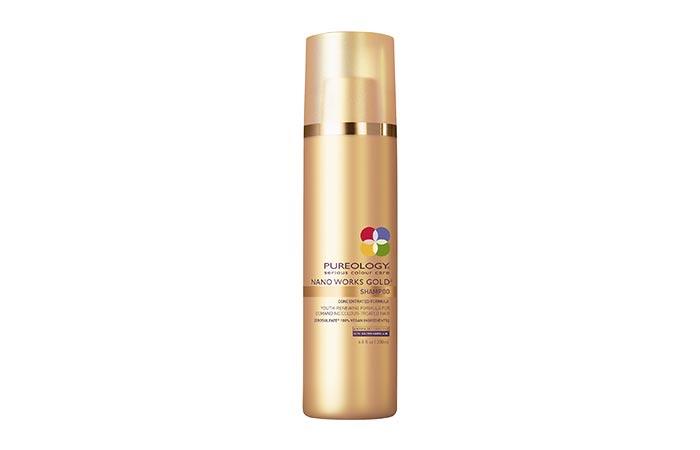 This luxurious sulfate-free shampoo has a light-weight formula that helps restore softness to dry and damaged hair. It gently cleanses and improves the manageability of your hair. This shampoo contains keravis that helps strengthen your hair from within, and rich antioxidants like golden marula oil that nourishes your hair intensely by restoring suppleness and radiant shine to it. This shampoo contains nourishing ingredients like shea butter and vitamin B that add a radiant glow to your hair and protects against environmental damage. It contains extracts of rose, jasmine, vanilla, and amber that impart a pleasant fragrance.
Pros
Gently cleanses your hair
Adds moisture to your locks
Long-lasting effect
Improves hair texture
Cons
Rating
4.1/5
Price at the time of publication: $15.0
Pureology shampoos are available to address all kinds of hair issues. These can protect your colored hair, repair dry hair and damaged roots, and many more. If you are having a hard time narrowing down on one shampoo that will suit your hair the most, check out our buying guide below. We have discussed a few factors that you might consider before adding a shampoo to your hair care regimen.
How To Choose The Best Pureology Shampoo For Amazing Hair
Formula
To make your hair silky-smooth, look for ingredients like peach, honey, ylang-ylang, etc. These ingredients have a creamy texture that will moisturize your hair very well and reduce the damage caused to them. All Pureology shampoos are free of harsh chemicals like sulfates. Instead, they use plant-based cleansers derived from sugar, corn, and coconut.
Hair Type
The Pureology shampoos that use ingredients like tree tea oil or witch hazel are known to have a lightweight formula that will not weigh down your hair and are highly recommended if you have curly or heavy hair texture. Pureology shampoos that use ingredients like olive oil, aloe vera gel, and coconut oil are suitable for straight hair. On the other hand, ingredients like green tea, sunflower oil, vitamin E, etc., are good for fine hair. Look for Pureology shampoos that contain oats, soy, and wheat if you have dry hair. They add the required amount of nourishment and moisture to your hair. Also, for smooth and frizz-free hair, you can look for ingredients like vitamin E or natural oils, as they restore the moisture and hydration of your hair, making them feel butter smooth.
Fragrance
To have a natural and good smell to your hair, look for ingredients such as lavender, vanilla, bergamot, etc., in your Pureology shampoo formula. But, if you are sensitive to smell or fragrances, it is better to look for fragrance-free or subtly fragrant formulas to avoid nausea or allergic reactions.
The Bottom Line
If you are looking for the right products to leave your color-treated hair beautifully shiny, soft, and gorgeous, try out the best Pureology shampoos. The brand has a huge fan following, especially in the professional hair care industry. The 'no-nasties' formula will keep your hair color looking its best. They have a gentle and sulfate-free formula that offers restorative care and will also target your specific hair needs. The Pureology Strength Cure Shampoo is perfect for treating split ends, while the Pureology Hydrate Shampoo provides much-needed hydration and hair strength. The Pureology Nano Works Gold Shampoo is great for those seeking advanced hair repair and rejuvenation. Some of their formulas are enriched with natural ingredients that effectively tackle damaged roots and dry hair. There is something that you will find for all types of colored hair. Opt for products that have received numerous positive reviews online and perform a patch test before using the product to check for allergic reactions.
Frequently Asked Questions
Can Pureology shampoo cause hair fall?
The Pureology Strength Cure Shampoo is sulfate-free and contains anti-inflammatory properties that lower DTH hormones. Therefore, they help reduce hair fall and soothe the scalp.
Is it okay to use Pureology shampoo every day?
Yes, it is okay to use Pureology Hydrate shampoo every day. It protects the hair color and hydrates the hair.
Is Pureology shampoo good for greasy hair?
The Pureology Purify Shampoo is suitable for oily hair as it detoxifies the scalp by gently removing the excess sebum without weighing your hair down.
Which Pureology shampoo smells like mint?
Pureology Hydrate Sheer Shampoo smells like mint as it contains extracts of corn mint and peppermint essential oils.
Are Pureology shampoos all-natural?
No. Pureology shampoos are vegan and contain organic ingredients, but not all-natural.
Recommended Articles:
The following two tabs change content below.