9 Bestselling Hair Follicle Detox Shampoos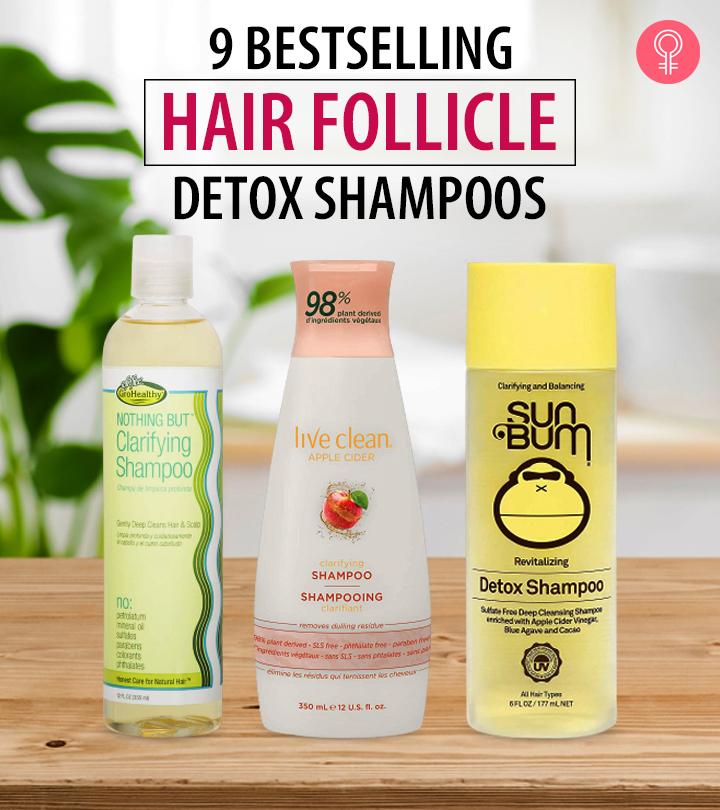 Is your hair getting dull by the day? Do you feel your shampoo is not giving you clean and satisfactory results? Then it is high time you replaced it. Dull and limp hair can be a sign of accumulation of gunk in the scalp and hair follicles. Such hair is easily prone to infections. What you need is something different from a regular shampoo – a shampoo that can detox your hair follicles.
Detoxing your hair follicles is essential. If not done regularly, it can lead to scalp related concerns like hair thinning, hair loss, flakiness, and clogged pores. Detoxing also helps remove traces of chemicals accumulated around the hair strands. Here, we have listed the 9 best hair follicle detox shampoos. Check them out!
9 Best Hair Follicle Detox Shampoos
The OGX Purifying + Charcoal Detox Shampoo gives a deep clean to your hair and scalp. This purifying shampoo contains clarifying ingredients like kaolin clay and coconut charcoal that eliminate build-up and leave your hair looking clean and shiny. The ingredients do not dry your hair out.
Kaolin clay is additionally known for its soothing properties. Charcoal helps trap the scalp toxins. This gentle exfoliating shampoo also helps improve blood circulation and makes your hair look fuller and feel smoother.
Pros
Preserves natural oils
Boosts hair shine
Pleasant smell
Calming
Non-greasy
Cons
The Nothing But Clarifying Shampoo gently wipes off build-up, residue, and excess oil from your follicles and leaves them clean. It is suitable for all hair and scalp types, including sensitive scalp. The shampoo is free from harmful additives and chemicals like sulfates and parabens. It also contains no petrolatum, mineral oil, colorants, or phthalates. Its non-irritating formula rejuvenates hair. It does not weigh the hair down.
Its clarifying properties leave no residue behind. The shampoo intensively cleanses the scalp and makes your hair shiny, healthy, and manageable. This product is also suitable for chemically-treated or colored hair.
Pros
Suits all hair types
Suits all scalp types
Paraben-free
Sulfate-free
Phthalate-free
Mineral oil-free
Petrolatum-free
Colorant-free
Boosts hair shine
No residue
Safe for colored hair
Safe for chemically-treated hair
Non-irritating formula
Cons
The Live Clean Apple Cider Detox Shampoo helps free your follicles and hair from the excess build-up. This gentle shampoo is free from harmful chemicals and preservatives and can be used daily. Its apple cider vinegar helps remove residue. Its organic chamomile and sunflower seed oil help seal scalp moisture and boost hair shine. This shampoo is suitable for all hair types.
The product is vegan and 98% plant-based. It is free from parabens, SLS, phthalates, petrolatum, silicone, phosphate, and dyes. It also is cruelty-free.
Pros
Paraben-free
SLS-free
Phthalate-free
Petrolatum-free
Silicone-free
Phosphate-free
Dye-free
Cruelty-free
Vegan
Suits all hair types
Moisturizes hair
Boosts hair shine
Gentle on hair
Pleasant smell
Cons
The TRESemme Expert Selection Shampoo is formulated with purifying properties. It helps eliminate residue and leaves your hair feeling healthy, clean, and shiny. This mild shampoo can be used regularly to get rid of impurities, oiliness, and dirt. It consists of a botanical blend of ingredients like ginger and green tea that contain massive amounts of natural antioxidants.
Its pleasant fragrance, with the fusion of ginger and jasmine, will revive your senses and give you salon-quality hair. It also is free from harmful ingredients like silicones, dyes, and parabens.
Pros
Paraben-free
Dye-free
Silicone-free
Gentle on hair
Moisturizes hair
Balances scalp oils
Cons
The Head & Shoulders Supreme Scalp And Hair Shampoo will revive your scalp by hydrating and detoxifying it. This purifying and protecting shampoo uses advanced technology to cleanse and nourish the scalp deeply. It contains natural additives like coconut water and argan oil that moisturize the scalp and maintain its pH balance.
Its mild formula is safe to use daily and does not compromise on the quality of your hair. Also, it contains no harmful chemicals like dyes or sulfates that may otherwise strip off the natural hair oils. It is also free from parabens, phthalates, phosphates, and ethanol.
Pros
Suitable for colored hair
Paraben-free
Sulfate-free
Phthalate-free
Phosphate-free
Dye-free
Ethanol-free
Balances scalp pH
Moisturizes hair
Pleasant fragrance
Boosts hair shine
Cons
May not suit sensitive scalp
The Sun Bum Revitalizing Detox Shampoo works gently to wipe off impurities, chlorine, saltwater, and other forms of build-up from the hair roots to the tip. This detoxifying shampoo uses apple cider vinegar and blue agave to clean the scalp and leave it revitalized thoroughly. It also contains banana and coconut oil that nourish and hydrate the scalp and offer you smooth and soft hair.
Its vegan blend does not contain any harmful chemicals like parabens, dyes, or sulfates. It also helps maintain healthy hair and scalp balance by restoring natural nutrition. It contains sunflower oil, hemp seed oil, and quinoa protein that have a role to play here. The shampoo is also cruelty-free.
Pros
Vegan
Cruelty-free
Paraben-free
Sulfate-free
Dye-free
Mild
Hydrates hair
Balances scalp
Tropical fragrance
Cons
The Phytodetox Clarifying Detox Shampoo is an anti-pollution product. It contains natural oils of eucalyptus and burdock extracts that deeply cleanse the scalp by stripping away the excess build-up, oils, and impurities caused due to environmental pollution and lifestyle habits.
It contains witch hazel that softens hair and sage extracts that help in hair-regrowth and blood circulation. Its chamomile is rich in antioxidants. It soothes the scalp and adds radiance to hair. This shampoo works by using the botanical extracts obtained from natural substances to replenish the scalp and leave your hair clean, shiny, and healthy. The shampoo is free of parabens and silicones. It also is cruelty-free and vegan.
Pros
Paraben-free
Silicone-free
Cruelty-free
Vegan
Softens hair
Improves blood circulation
Suits all hair types
Cons
The Kevin.MurphyMaxi.Wash: Detox Shampoo keeps your scalpclean and clear due to the presence of fatty acids and AHA fruit acids. These ingredients also purify the hair follicles. This clarifying shampoo has natural antiseptic properties that allow the essential oils to penetrate the scalp and remove any flakiness or build-up.
It also contains anti-pollution ingredients that effectively remove chemicals, mineral build-up, and impurities from the scalp and follicles. It is suitable for all hair types, including color-treated hair. It helps maintain a normal pH balance to soothe the scalp. Besides, its healing properties help hair absorb the nutrients better. This product is free of parabens and sulfates.
Pros
Paraben-free
Sulfate-free
Balances pH scalp
Moisturizes scalp
Suits color-treated hair
Cons
Unusual smell
Consistency could be too thin
The Luseta Charcoal Detox Shampoo is an excellent product to detox your hair and scalp. It thoroughly cleanses residue from the follicles to revive their health. It contains activated charcoal that effectively removes impurities and supplies essential nutrients to your scalp. It stimulates hair growth, prevents damage, enhances volume, and strengthens hair. The shampoo works without stripping off the natural hair moisture.
Charcoal also helps absorb impurities and sebum from the scalp. This refreshing shampoo is free of sulfates, parabens, and phosphates.
Pros
Paraben-free
Sulfate-free
Phosphate-free
Adds luster to hair
Moisturizes hair
Actives hair growth
Cons
Conclusion
You may have any reason to detox your follicles. Detoxing or purifying hair follicles helps you get rid of the residue and excess oils. It also leaves your scalp clean and hair shiny. An effective detoxifying shampoo should deeply cleanse the scalp by penetrating the follicles and hair. The shampoos listed above will help you get the detox job done flawlessly. Make your purchase today.
Expert's Answers For Readers' Questions
What does a detox shampoo do to your hair?
A detox shampoo rebalances your scalp by removing problematic residue, impurities, and oil. Detoxification is vital as it increases blood circulation and activates hair follicles to promote healthy hair growth.
How often should you detox your hair?
Detoxing depends on your hair type and the use of hair products. If you have an oily scalp and use hair sprays and other styling products regularly, it is recommended to detox once a week. Dry hair may need a detox once in two weeks. If you have textured hair, detoxing your follicles once a month should be enough.
Additionally, different detoxing products have different applications and usage patterns. Do consider following the same to get the best results.
Is apple cider vinegar good for the scalp?
Apple cider vinegar is considered an effective treatment to wipe off residue, build-up, dirt, and impurities from the scalp. It also may prevent infections and itchiness. Besides, it helps balance scalp pH levels and promotes healthy hair growth, and strengthens the hair follicles.
Can a hair follicle test go back 6 months?
There is no concrete research in this regard. But a hair follicle test can go back up to one year.
Recommended Articles