15 Best Shampoos For Swimmers That Remove Chlorine
Keep toxicity away from your gentle tresses with effective cleansing products.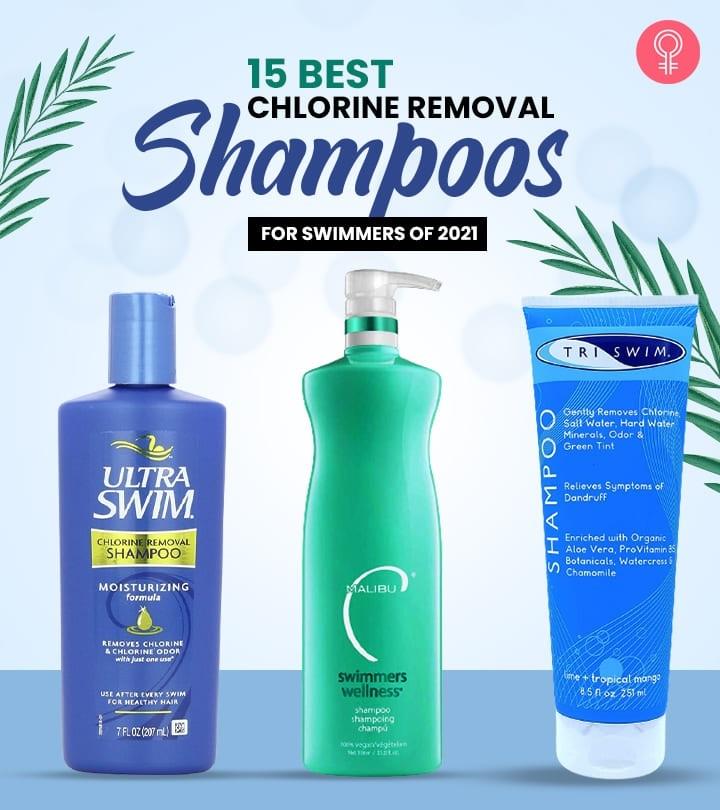 If you enjoy spending time in the pool or if you are a professional swimmer, you are aware of how challenging it gets to keep the chlorine away from your hair. To cope with this, you must try the best shampoo for swimmers made with the most effective cleansing agents that remove dirt, impurities, and buildup from your hair. They also prevent dryness, brittleness, green tint, and chemical odor. They keep your hair and scalp moisturized and prevent itchiness.
Beurena Johnson, a certified trichologist and the founder of The Trichology School of Business, suggests, "Any exposure to chlorine will do a number on your tresses. It's different for different hair types, depending on the hair health state. Chlorine is a bleach, and it treats hair and skin equally. It strips natural oils and melanin regardless of any hair type. If you're swimming several times per week and wearing a swim cap is not an option, shampoo and rinse your hair directly after chlorine exposure to help flush the chemicals out and moisturize the hair."
Try out a shampoo from our list of the 15 best chlorine removal shampoos below!
What Is The Impact Of Chlorine On Your Hair?
When you swim in a pool treated with chlorine, your hair turns brittle, knotted, and dry. In certain scenarios, your hair may become thin and fall out. When you take a dip in a chlorine-treated pool, your hair absorbs this chemical and strips away the natural oil – sebum – that acts as a conditioner. It oxidizes the internal disulfide bonds of your hair causing it to lose strength and elasticity, which leads to breakage. Frequent exposure to chlorinated water results in split ends, cracks in the hair cuticles, and unhealthy hair.
This is how chlorine will damage your hair. But, do chlorine removal shampoos really work? Scroll down to know in detail.
Do Chlorine Removal Shampoos Really Work?
Yes. Chlorine removal shampoos work by targeting hard water minerals like chlorine and effectively removing them from your hair. Their nourishing and hydrating formulas give relief from itchy and dry. They also help strengthen hair cuticles, improve hair texture, and impart natural shine to your hair.
Below is a list of the best 15 chlorine removal shampoos for swimmers.
15 Best Chlorine Removal Shampoos For Swimmers
Best For Relieving Itchy Scalp:
TRISWIM Shampoo
Pros
Mango fragrance
Paraben-free
Gluten-free
Cruelty-free
Suitable for all hair types
Cons
Price at the time of publication: $11.95
This cult-classic shampoo cleans out everything clinging to your hair from the swimming pool, like chlorine and the buildup of grunge refuses to wash off. It helps retain your hair's moisture as well as keep the greening effect of chlorinated water at bay. Malibu C Swimmers Wellness Shampoo helps hydrates the hair and imparts shine.
This ultra-mild, plant-based shampoo is infused with allantoin that prevents scalp irritation and inflammation,while rice protein smoothes the hair cuticles and improves the shine and texture of hair. Pro vitamin B5 helps fight the adverse effects of the pool's impurities on your hair. Flax protein acts as a conditioner to nurture your hair and keep it hydrated. Also, it uses mild surfactant technology that offers foam-boosting properties.
Key Ingredients: Allantoin, Provitamin B5, Rice protein, Flax protein
Pros
Preservatives-free
Sulfate-free
Paraben-free
Gluten-free
Cruelty-free
Vegan
Cons
Defects in the pump may be an issue.
Price at the time of publication: $38
If you are looking for the best affordable option in chlorine removal shampoos, go for Ultra Swim Chlorine-Removal Shampoo without a second thought. It eliminates chlorine as well as copper deposits from your hair effectively. This shampoo is infused with vitamin E that helps support a healthy scalp by reducing free radical damage. It also has aloe vera that help keep your hair moisturized, healthy, and soft. It also gets rid of the pungent chlorine smell from your hair, even if you have been in the pool multiple times. You can use this shampoo on permed, relaxed, chemically treated, or colored hair. For best results, use the Ultra Swim Conditioner right after this shampoo and leave it on for a few minutes before rinsing your hair. It treats dry, damaged hair and prevents split ends.
Key Ingredients: Vitamin E, Aloe vera
Pros
Effective after just one wash
Ideal for daily use
Safe for color-treated hair
Suitable for all hair types
Cons
Price at the time of publication: $25.16
Pros
Sulfate-free
Safe for colored hair
Scented
Paraben-free
Phthalate-free
Vegan
Cruelty-free
Cons
Price at the time of publication: $15.99
Pros
Safe for color-treated hair
Ideal for curly hair
Cons
Price at the time of publication: $18.0
Ion Swimmer's Shampoo is a plant-based, organic shampoo for green hair caused by chlorine water. It works wonders on your hair to restore its gloss, softness, and manageability in just a few washes. It helps remove all mineral buildup like chlorine in your hair after a long session of swimming in the pool. The moisturizers in it give your hair back its lost health and volume.
Key Ingredients: Linseed extracts
Pros
100% Vegan
Sulfate-free
Surfactants-free
Safe for all hair types
Ideal for daily use
Cons
Price at the time of publication: $20.89
Pros
Sulfate-free
Paraben-free
Dye-free
No synthetic fragrance
Safe for sensitive skin
Safe for color-treated hair
Cons
None
Price at the time of publication: $14.99
Pros
Effective results in just one use
pH-balanced formula
Safe to use on color-treated hair
Suitable for all hair types
Cons
Price at the time of publication: $7
Pros
Color-safe
Scented
Sulfate-free
Phosphate-free
Paraben-free
Cons
None
Price at the time of publication: $75.0
Zealios Swim & Sport Shampoo is a shampoo for swimmers' hair. It is the best shampoo for pool swimmers as well as those who love to take a dip in the sea. This chlorine removal shampoo is formulated with vitamin B that strengthens and revitalizes dry and brittle hair and also helps prevent split ends. Aloe vera in the formula soothes and hydrates the scalp.
Key Ingredients: Vitamin B
Pros
Sulfate-free
Safe for color-treated hair
Gentle for daily use
Scented
Vegan
Gluten-free
Cruelty-free
Cons
Price at the time of publication: $14
Pros
Ideal for color-treated, damaged hair
Scented
Ideal for sun protection
Cons
None
Price at the time of publication: $25
Pros
Vegan
Paraben-free
Ideal for all skin types
Ideal for daily use to cleanse residues from styling products
Cons
Price at the time of publication: $38.0
Pros
Natural ingredients
Prevents itching
Hydrates dry hair
Eliminates pool odors
Paraben-free
SLS-free
Alcohol-free
GMO-free
Cruelty-free
Gentle on hair
Refreshing smell
Cons
None
Price at the time of publication: $19.98
Pros
pH balancing formula
Color-safe
Suitable for all hair types, hair colors
Salt-free
Gentle for daily use
Cons
Price at the time of publication: $28
Use this clarifying shampoo right after your swimming session to keep your hair protected from the chlorine odor. Peter Coppola Legacy Keratin Concept Clarifying Shampoo is perfect for you if you swim regularly in a chlorinated pool. This high-performance clarifying shampoo has a pH value of 8 to cancel out the toughest environmental buildup in your hair. It is infused with keratin that improves hair elasticity and strength and vitamin B5 that helps in moisture retention of hair. Swimmers prefer this shampoo because it also eliminates excess oil from their hair and scalp.
Key Ingredients: Keratin, Vitamin B5
Pros
Versatile
Color-safe
Gentle for daily use
Ideal for gray or blonde hair
Cons
None
Price at the time of publication: $7.5
Wondering how to use chlorine removal shampoos to get their maximum benefits? Here's how.
How To Use Chlorine Removal Shampoo
Chlorine removal shampoos are specially formulated to remove chlorine, its associated odor, and that green tint from your hair.
For this, you should wash your hair thoroughly with a chlorine removal shampoo immediately after you get out of the swimming pool.
Massage shampoo into your hair and scalp and let it sit for a minute before rinsing it out from your hair.
Use a deep conditioner that is suitable for your hair type to prevent dryness and hair tangling.
If you have color-treated hair, look for shampoos with color-safe options.
Pro Tip:  Before you enter the pool, wet your hair with fresh water so that it absorbs less chlorine.
Not every shampoo works well on swimmers' hair to remove chlorine, mineral buildup, and pungent odor. Check out the next section to pick the best chlorine removal shampoo to get the best results.
How To Choose The Best Chlorine Removal Shampoo – Buying Guide
Never forget to check the ingredients of a swimmers' shampoo. They usually contain proteins, minerals, vitamins, and aloe vera. Vitamins A, B, C, and E are included in certain shampoos to fix hair cracks and make it stronger. Proteins in your shampoo work on your hair follicles and cuticles to avert serious metal buildup. Aloe vera soothes your hair and scalp. Choose the best swimmers' shampoo that does not contain sulfates, gluten, parabens, or formaldehyde that leads to dry, itchy scalp.
Once the chlorine and heavy metals are removed from your hair, you need something that will soothe and moisturize your hair to undo the damage. The essential ingredients in a good shampoo are minerals, vitamins, aloe vera, and natural oils. Vitamin E and aloe vera are known to fight dryness and brittleness to keep your hair hydrated.
Some pool chemicals can slow down or even stop your hair from growing. It is a serious concern if you are a swimmer with long hair. Your hair will not only be dry, thin, and brittle, but it will stop growing to replace the lost hair. Therefore, you need to look for a shampoo that is rich in nutrients to repair hair damage and protect it from the heavy metals and chlorine in the pool water. Make sure your shampoo contains proteins, antioxidants, and vitamins to fix damaged hair and boost protection.
Why Trust StyleCraze?
Oyendrila Kanjilal is passionate about hair care. In this article, she has reviewed and curated a list of the best shampoos for swimmers. She has picked products specifically formulated to hydrate dry, brittle hair and contain cleansing ingredients to prevent scalp buildup. In addition, she has carefully checked online feedback and the brand websites to pick products that can prevent the green tint and chemical odor you often get after spending time in swimming pools.
Should swimmers shampoo every day?
If you are a regular swimmer, then switch to regular shampoos over clarifying shampoos about once a week. Daily usage of clarifying shampoos is not recommended as they can dry out your hair.
Does swimming in chlorine water make your hair turn green?
Chlorine alone does not make your hair green when you swim in chlorinated water. The copper and chlorine together build a thin film that sticks to your hair, making it green. Exposure to chlorine and metals makes your hair lose its natural oils and color.
Does wearing a swim cap help keep chlorine out of your hair?
Yes, it does. Swimming caps keep your hair from getting wet and soaked in the chlorine-treated pool water. They will add one layer of protection to your hair. If you are a swimmer, wet your hair first under a shower and then wear a swim cap. You can even apply a little conditioner before wearing the cap to keep your hair protected in the water.
I heard putting shampoo or oil in my hair before I swim will help—true?
Yes, applying oil keeps your hair a little protected before you get into the swimming pool. Take a shower before swimming to rinse off the deodorant and sweat from your skin or hair so that it takes less chlorine and pool water when your hair is already soaked.
Do chlorine shampoos affect colored hair?
A few anti-chlorine shampoos do not work well on colored hair. Check the label to find out if the shampoo is safe for color-treated hair.
What happens if you don't wash the chlorine out of your hair?
The chemicals in the pool can remove natural oils from the hair and make it dry. It will lead to split ends and damage.
Recommended Articles