15 Best pH-balanced Shampoos
A pH-balanced shampoo is a must-have for maintaining healthy, bouncy, shiny hair.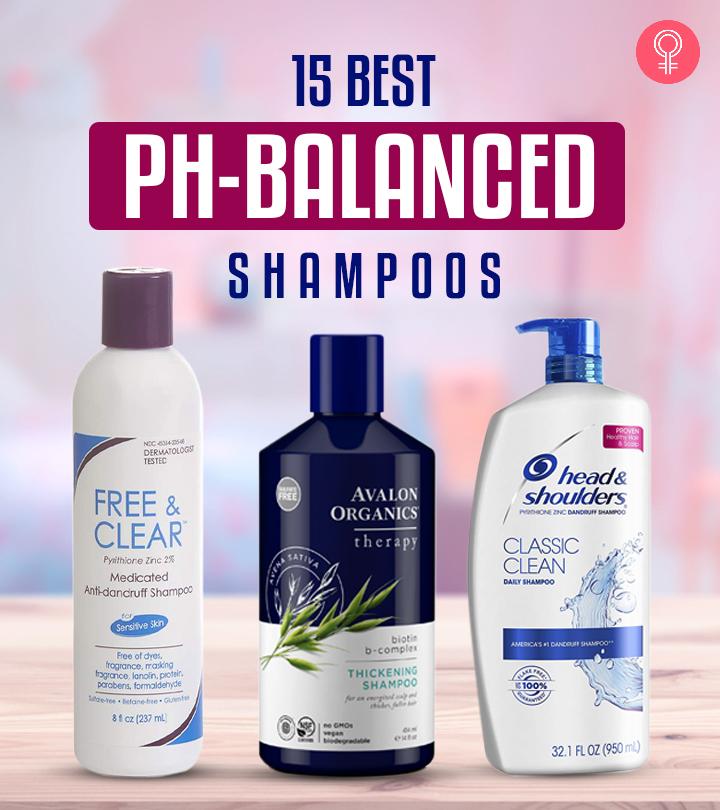 A shampoo plays a great role in keeping your hair clean and well-balanced. However, according to the research, alkaline pH in shampoos emits negative charges that lead to hair fiber breakage and cuticle damage (1). So, you must go with the best pH-balanced shampoo to keep your hair healthy and reap the best hair care benefits. In this article, we have mentioned the 15 best pH-balanced shampoos that address multiple scalp and hair issues. Check them out to learn more.
What Does pH-balanced Mean?
The pH level of any product indicates how acidic or alkaline that product is. On a scale of 1 to 14, 0 to 6.9 signifies an acidic level, and 7.1 to 14 signifies an alkaline level. Any ingredient with a pH of 7 is considered neutral.
A pH-balanced hair care product is important, but how does your shampoo's pH level affect your scalp and hair health? Read on to know more.
Why Is pH Balance Important For The Hair?
A balanced pH level for your hair and scalp stimulates hair growth. As stated above, an alkaline pH level of shampoos creates a negative electrical charge, causing hair breakage and damage. This negative electrical charge also causes friction between hair fibers, making the cuticles prone to damage (1).
Why Should You Use pH-balanced Shampoos?
The pH level of the hair should be 3.7, while the pH level of the scalp should be 5.5 (2). Alkaline shampoos cause the hair cuticles to swell up and open, making the hair frizzy. Acidic shampoos cause the hair fibers of the cuticles to shrink and lie flat on the hair shaft, making the hair fiber surface smoother (3). To maintain these levels, use shampoo and pH-balanced hair products with a level of 4.5-5.5. A pH-balanced formula also keeps fungal infections away from the scalp and improves the appearance of oily hair.
Let's now look at the 15 best pH-balanced shampoos with positive reviews online.
15 Best pH-balanced Shampoos
The Avalon Organics Biotin B-Complex Thickening Shampoo nourishes and volumizes the hair. This certified organic and plant-based formula contains organic botanicals and essential oils. These essential ingredients cleanse and replenish the scalp and thicken the hair.
This pH-balanced volumizing shampoo is formulated with biotin, saw palmetto, plant protein, and vitamin E. It also maintains the pH of the scalp and hair. This dermatologist-tested balanced shampoo with a thickening formula also conditions the human hair follicles from root to end. It strengthens and softens weak hair fiber. This EWG verified shampoo is vegan, cruelty-free, and does not contain any GMOs, parabens, harsh preservatives, synthetic colors, synthetic fragrances, phthalates, or sulfates. Use this product to keep your scalp healthy To get more information about this vegan shampoo along with the tester's experience of using it, click this video.
Pros
EWG verified
Cruelty-free
GMO-free
Paraben-free
No harsh preservatives
No synthetic colors and fragrances
Phthalate-free
Sulfate-free
Cons
Contains alcohol and sodium chloride
Price at the time of publication: $9.99
The Head And Shoulders Classic Clean Anti-Dandruff Shampoo is made with a three-action formula that cleanses, protects, and moisturizes the scalp and hair. The head and shoulders pH-balanced gentle shampoo removes excess oil, residue, and flakes. This dermatologist-recommended and clinically-proven pH-neutral shampoo is suitable for daily use on all hair types. Achieving healthy hair doesn't get any easier than this!
Pros
Dermatologist recommended
Clinically-proven
Color-safe
Dermatologist-tested
Safe on chemically processed hair
Eliminates flaky scalp
Gentle formula
Suitable for daily use
Cons
Contains SLS, SLES, sodium chloride, and added fragrance
Price at the time of publication: $20.99
The Tree To Tub Soapberry For Hair removes buildup and residue, maintaining a pH level of 5.5. The saponin produces a deep cleansing lather that has anti-dandruff properties and cleanses the scalp. It is formulated with calming botanicals like argan oil, chamomile, olive leaves, and aloe vera.
This dermatologist-recommended dandruff control shampoo soothes an irritated scalp, curbs excess oil residues, and tones down any overpowering odor. Argan oil and aloe vera moisturize the scalp, chamomile soothes the scalp, and olive leaves balance the pH of the scalp. This gentle formula is vegan, fair trade, eco-friendly, sustainable, cruelty-free, and suitable for all hair types, especially dry and curly hair. It does not contain any sulfates, SLS, parabens, silicones, DEA/MEA, gluten, or artificial fragrances. Check this video to learn more about this cruelty-free, anti-residue hair shampoo.
Pros
Dermatologist recommended
DHT blocking
Vegan
Fair trade
Sustainably harvested
Color-safe
Paraben-free
Sulfate-free formula
Silicone-free
DEA-free
MEA-free
No artificial fragrance
Gluten-free
Gentle formula
Eliminates flaky scalp
Suitable for all hair types and sensitive scalp
Cons
May cause allergic reactions
Price at the time of publication: $35.98
The sebamed Everyday Shampoo volumizes, softens, and makes the hair healthy. It does not strip the scalp of moisture and cause any irritation. It is formulated with a pH level of 5.5 and thickens the hair without causing any irritation as it is clinically-tested for sensitive skin.
This dermatologist-tested shampoo cleanses the scalp deeply by removing any dirt, residue, or impurities. It moisturizes the scalp and boosts hair shine. The pH-balanced paraben-free shampoo with a gentle 5.5 pH formula is dermatologist-developed, dermatologist-recommended, hypoallergenic, and does not contain any soap or alkalis. It protects and maintains the natural balance of the scalp and hair. Enjoy voluminous hair with just one wash!
Pros
Hypoallergenic formula
Dermatologist-developed
Ultra-mild formula
Suitable for all hair types and sensitive scalp
Cons
Contains sulfates and added fragrance
Price at the time of publication: $10
The Nature Sustained Raw And Wild Soapnut Shampoo restores the hair's natural health and luster. It contains soapberry or saponin, which replenishes the hair and cleanses it with natural lather. This gentle pH shampoo is infused with potent vegan probiotics made from wild-harvested fruits and plants. It minimizes scalp erythema, itching, greasiness, malassezia, and dandruff.
This phthalate-free shampoo formula soothes and calms itchy, dry, or damaged scalp. It also reduces scalp psoriasis, eczema, and dandruff. The probiotics, combined with plants and fruits ferment, control oil production and eliminate odor caused by bacteria. This hypoallergenic shampoo is sulfate-free, cruelty-free, and does not contain propylene glycol, phthalates, petroleum, parabens, preservatives, pesticides, harmful chemical additives, or synthetic fragrances for healthier scalp and hair. It forms a protective layer on the hair, keeping it healthy and protected for you to flaunt any hairstyle without any hassle. Moreover, multiple reviewers online mentioned how healthy their scalps looked after using this shampoo.
Pros
Hypoallergenic formula
Addresses multiple hair and scalp issues
Forms a protective barrier on the hair
Gentle formula
Vegan
Cruelty-free
Sulfate-free
Propylene glycol-free
Petroleum-free
Paraben-free
Preservative-free
Pesticide-free
No synthetic fragrance
No chemical additives
Cons
Price at the time of publication: $24.95
The Om Botanical Anti-Hair Loss Organic Shampoo fuses Ayurvedic secrets with modern science to create a plant-based formula. It maintains the natural balance of the hair and scalp. This pH-balanced shampoo contains 100% natural soap nuts fused with shikakai to cleanse the hair without stripping its nutrients. It also strengthens and conditions hair follicle.
Pumpkin seed oil is a DHT blocker that prevents hair loss. Other amazing ingredients like neem, basil, willow bark, and vitamin B3 prevent dandruff and relieve itchy scalp, eczema, psoriasis, and seborrheic dermatitis. The Moroccan argan oil hydrates the scalp and detangles the hair. It retains moisture and strengthens the hair.
This shampoo enhances hair manageability while building body, texture, and shine. It revitalizes dry, damaged, brittle, and limp hair. This hair care product is vegan, cruelty-free, and color-safe, making it easier to maintain your hair after a hair color treatment. It is free of gluten, SLS, parabens, silicones, petrochemicals, artificial fragrances, and other toxic chemicals.
Pros
100% plant-based
SLS free
Paraben-free
Silicone-free
Petrochemical-free
No toxic chemicals
Color-safe
Vegan
Gluten-free
Cruelty-free
Improves hair texture
Cons
Unpleasant smell
May cause allergic reactions
Price at the time of publication: $23.99
The Free And Clear Shampoo is dermatologist-tested and ideal for sensitive scalp. It eliminates flaking and scaling and controls oil production on oily scalps. This dermatologist-recommended pH-balanced shampoo removes buildup, product residue, dirt, grime, and impurities. It makes the hair soft and manageable and is suitable for all hair types. This anti-residue hair cleanser is free of common chemical irritants like dyes, fragrances, masking fragrances, lanolin, parabens, formaldehyde, formaldehyde releasers, cocamidopropyl betaine, sulfates, phosphates, protein, gluten, and preservatives. Take a look at this video to get more information on using this dye-free shampoo to achieve shiny and healthy hair. This will help you get insights on the tester's experience about the same.
Pros
Dermatologist -tested
Fragrance-free
Lanolin-free
Paraben-free
No formaldehyde releasers
Cocamidopropyl betaine-free
Sulfate-free
Phosphate-free
Gluten-free
Preservative-free
Suitable for all hair types
Cons
Contains EDTA, sodium hydroxide, and sodium chloride
Price at the time of publication: $9.99
The Phillip Adam Shampoo is formulated with pea protein and plant-based ingredients that make the hair silky, healthy, and shiny. It contains apple cider vinegar, which cleanses the hair and scalp, minimizing frizz.
This natural shampoo removes toxins and dirt from the scalp. This scalp-friendly shampoo maintains the natural balance of the hair too, prevents dandruff, and reduces static. This color-safe product is suitable for all hair types and sensitive scalps, including textured hair. It does not contain parabens, preservatives, silicones, or dyes that may cause hair damage. Effectively conquer your dandruff issues with this amazing shampoo!
Pros
Gentle formula
Suitable for all hair types and sensitive scalp
Paraben-free
Preservative-free
Silicone-free
Dye-free
Anti-static
Controls frizz
Improves hair texture
Color-safe
No animal testing involved
Cons
Contains cocamidopropyl betaine
Price at the time of publication: $15.53
The Giovanni 50:50 Balanced Hydrating-Clarifying Shampoo moisturizes and protects damaged and color-treated hair. It is formulated with ECO Chic Advanced Technology, nourishing ingredients like aloe vera, rosemary, and other botanical extracts that cleanse the hair gently, leaving it pH balanced, frizz-free, and manageable. It improves hair strength and vitality by infusing vitamins, nutrients. It is gentle for everyday use and locks in color and shine, making your hair vibrant and bouncy. The pH-balanced clarifying shampoo is ideal for normal to dry hair, over-processed, and environmentally stressed hair. Add this product to make your hair silky and shiny as you go about your day!
Pros
Natural ingredients
Gentle for everyday use
Revitalizing formula
Eliminates frizzy hair
Harmful-sulfate free
Paraben-free
Cruelty-free
Vegan
Color-safe
Cons
None
Price at the time of publication: $19.99
The Medline Soothe & Cool Cleanse Shampoo & Body Wash cleanses the scalp effectively. It also conditions the scalp and hair gently. This dermatologist-tested pH-balanced shampoo contains aloe vera, which moisturizes the scalp and hair. Aloe vera also has cooling and soothing properties that relieve dryness, itching, and scalp irritation. This latex-free shampoo maintains the natural balance of the scalp and hair. Massage it to your wet hair and watch the magic unfold!
Pros
Gentle formula
Conditions the hair and scalp
Non-irritating
Latex-free
Dermatologist-tested
Cons
None
Price at the time of publication: $35.22
The ResQ Organics Hair Loss Prevention Shampoo has a pH level of 5.5, which maintains a clean and balanced scalp to promote healthy and strong hair growth. It is formulated with manuka honey that has strong antiseptic properties. The honey also soothes burns and wounds. This shampoo does not strip the acidic balance of the scalp and protects the skin from bacteria, allergens, and pollution. It contains all-natural ingredients that reduce dryness, redness, and irritation.
The shampoo stimulates hair growth, strengthens the hair, and eliminates split ends and hair breakage. It contains pure aloe vera, which moisturizes and nourishes the scalp with vitamins, minerals, and oils. The shampoo penetrates and nurtures the scalp and treats psoriasis, dermatitis, itching, and cracking. The frizz-fighting shampoo also prevents hair loss. This color-safe shampoo does not contain parabens, sulfates, and fragrances. Add this amazing shampoo to your list to up your hair care treatment!
Pros
Soothing
Low pH
All-natural ingredients
Color-safe
Paraben-free
Sulfate-free formula
Fragrance-free
Controls frizz
Cruelty-free
Promotes hair and scalp health
Cons
Contains starch and gum
Expensive
Price at the time of publication: $24.95
The Neutrogena Healthy Scalp Gentle & Soft Shampoo is a non-medicated, ultra-gentle formula suitable for people with sensitive scalps. This clinically-proven shampoo delivers lightweight moisture and softens the hair. It is also infused with micellar water that removes dirt and sebum from the pores and cleanses your scalp. The gentle and revitalizing, clinically-proven formula improves your scalp's natural barrier and makes your hair appear shiny and bouncy. This dermatologist-recommended shampoo is safe for all hair types, be it straight, wavy, or curly hair, and can also be used as a color-treated hair shampoo. It has a fresh scent that invigorates your senses!
Pros
Dermatologist recommended
Suitable for color-treated hair
Improves the scalp's natural protective barrier
Ideal for all hair types
Pleasant fragrance
Paraben-free
Sulfate-free
Cons
Leaves residue on your hair
Price at the time of publication: $8.74
The Keracare Anti-Dandruff Moisturizing shampoo is infused with natural ingredients like apple extracts, green tea extracts, lemon peel extracts, and aloe leaf juice that condition your hair and soothe itchiness. The gentle formula of this dandruff control shampoo moisturizes your dry scalp and reduces flakiness while detangling your tresses. This pH-balanced sulfate-free shampoo reduces inter-fiber friction, which is highly effective in treating hair conditions like dandruff, seborrheic dermatitis, and seborrhea to promote scalp health. Flaunt your strong hair everywhere you go!
Pros
Suitable for daily use
Textured hair-friendly
Eliminates dandruff issues
Affordable
Mild fragrance
Sulfate-free
Cons
Might leave your hair greasy
Price at the time of publication: $9.11
The HARKLINIKKEN Balancing Shampoo is an ideal formula for blondes with processed hair, heavy product users, and people with dry and damaged tresses. It is infused with fortifying mustard seed oil and organic oats that strengthen the hair, treat split ends, and prevent hair breakage. The mild pH shampoo with a revitalizing formula deep cleanses the hair and soothes the scalp, leaving your strands voluminous and bouncy. This pH-balanced dermatologist-recommended shampoo eliminates dandruff and treats mild seborrheic dermatitis, not to mention that this shampoo can be safely used after a hair color treatment.
Pros
Ideal for chemically-processed blonde hair
Dermatologist recommended
SLS-free
Perfume-free
Silicon-free
Paraben-free
Petrochemical-free
Essential oil-free
Synthetic color-free
Cons
None
Price at the time of publication: $38
The L'Oreal Paris EverPure Glossing Shampoo cleanses your hair without stripping its moisture. The anti-fade formula with UV filters retains hair shine and smoothness. This dermatologically-approved shampoo lathers quickly and gently removes product buildup from the scalp. It is formulated with argan oil that intensely moisturizes your hair and volumizes the hair strands. This glossing shampoo contains tantalizing notes of sandalwood and rose that deliver soothing benefits to your scalp and is a great pH-balanced shampoo for all hair types and maintains your straight, wavy, or curly hair texture.
Pros
Suitable for chemically-treated and colored hair
Vegan
Value for money
Pleasant fragrance
Uplifts flat hair
Paraben-free
Aluminum-free
Gluten-free
Dye-free
Formaldehyde-free
Cons
Price at the time of publication: $7.97
Choosing a shampoo to add to your hair care routine with the ideal level of pH ensures your scalp is moisturized and not dry. It also leaves your hair healthy, shiny, and fuller. Besides choosing the right pH, there are other features to consider in order to ensure maximum benefits from your pH balance shampoo.
How To Choose The Best pH-balanced Shampoos
1. Look For Moisturizing Ingredients
To ensure that your hair is hydrated and flawless, look for pH-balanced moisturizing shampoo or nourishing ingredients like silk proteins, milk proteins, coconut milk, aloe vera, keratin, argan oil, and jojoba oil. These essential ingredients hydrate and offer a long-lasting shine to dry, damaged, or curly hair.
2. Consider Your Hair Type
Almost all shampoos come labeled with the type of hair they are best suited for, as choosing the right formulation for your hair type is of utmost importance. For instance,
For color-treated hair choose a color-safe shampoo without any chemicals that may ruin the intensity of your hair color. You may also opt for a gentle shampoo for your permed or colored hair.
For an oily scalp, choose a shampoo without any essential oils or high quantities of lipids that may leave your hair greasy or heavy. While if you have a sensitive scalp go for an allergy-tested or dermatologist-tested formula.
For fine or thin hair, avoid a shampoo with heavy oils or moisturizing ingredients like mango or shea butter to prevent a greasy scalp and limp hair strands.
If your hair is prone to breakage, choose a strengthening shampoo with deep conditioning formula, to rejuvenate the damaged hair.
3. Ingredients To Avoid
Several ingredients in a shampoo can cause irritation, allergic reactions, or even damage your scalp. Here are a few ingredients to avoid:
Alcohols: It strips your hair of its natural oils and causes irritation as well as dryness.
SLS: It is a foaming agent and a harsh cleanser that is fatal to delicate and sensitive skin. It may also cause redness, itching, and irritation, causing scalp and hair damage.
Phthalates: These are gelling agents found in synthetic fragrances, and are powerful enough to irritate and damage your scalp.
Synthetic Fragrances: Synthetic fragrances are usually a combination of chemicals that can damage and dry out your hair. Opt for pH-balanced fragrance-free shampoo or pH-balanced natural shampoos with fragrances like organic oils and fruit extracts for the best hair care treatment.
Why Trust StyleCraze?
The author, Shiboli Chakraborti, loves all things hair care. She has a keen interest in experimenting with new products and review them for her readers. She went through different brand websites to research the products and checked many online user reviews to curate this list of the best pH-balanced shampoos available on the market. These products may help prevent hair breakage and keep hair clean and healthy.
Frequently Asked Questions
How can I restore the pH balance in my hair?
If you want to know how to maintain a healthy pH level for your hair, check out.
How do I test the pH of my hair?
You can find test strips online to help you figure out the pH level of your hair.
What ph shampoo is best?
The Avalon Organics Biotin B-Complex Thickening Shampoo is the best pH shampoo on the market. It is made from all-plant ingredients that strengthen, soften, and condition hair follicle from the root. This scalp care shampoo is free of any toxins making it ideal for sensitive scalps and can be easily incorporated into your hair care routine.
Can ph imbalance cause hair loss?
Yes. A shampoo with an alkaline pH level can create a negative electrical charge. This causes friction between hair fibers and damages the cuticles, causing frizzy hair. So, a pH imbalance can lead to hair breakage and hair fall.
How often should you use ph- balancing shampoo?
A pH-balancing shampoo can be used daily and can easily replace your regular shampoo. If you have extremely dry tresses, reduce the frequency of this hair care product to a few times a week.
Recommended Articles