10 Best Professional Dandruff Shampoos Of 2023
Remove excess oil and sebum from the scalp and prevent the appearance of dry flakes.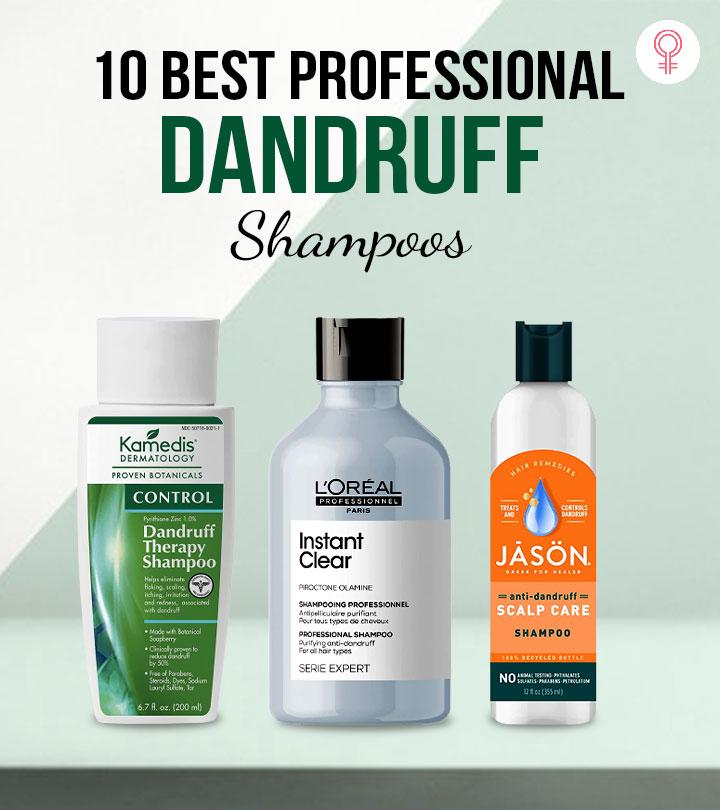 Dandruff is a common concern that makes your scalp flake, itchy, dry, irritate, and hair fall. Dealing with this issue is much necessary to keep your scalp healthy. You need the best dandruff shampoo to deal with all your dandruff concerns. In addition, they are formulated with special ingredients to control dandruff and prevent its reoccurrence thus helping in reducing hair loss.
The best anti-dandruff shampoo reduces the occurrence of flakes, eliminates irritation, prevents the growth of fungus, and reduces the buildup of skin cells. These anti-dandruff shampoos come with medicated formula and are dermatologist-recommended. They prevent the recurrence of dandruff. Professional dandruff shampoos always give the desired results. In this article, we have sifted out a list of the 13 best professional dandruff shampoos that provide a healthy scalp. Keep scrolling to read further.
10 Best Professional Dandruff Shampoos
If you are looking for the ultimate solution for your scalp concerns, go for the Nizoral A-D Anti-Dandruff Shampoo. This potent yet gentle formula is clinically-proven and has proven efficacy in fighting the dandruff-causing fungus, thereby relieving scalp itching, flaking, and scaling. This clinically proven formula can be used on color and chemically treated hair. Its rich lather gives you a pleasing bathing experience while the fresh scent invigorates your senses. Before buying, have a look at a reviewer's experience in this video for more details.
Key Ingredient: Ketoconazole 1%
Pros
Gentle on scalp
Quick lathering
Safe for color-treated hair
Fresh fragrance
Budget-friendly
Cons
None
Price at the time of publication: $26.83
The cult-favorite medicated formula of the Selsun Blue Maximum Strength Medicated Antidandruff Shampoo is made with selenium sulfide that treats scalp infections. Its rich, anti-fungal properties help get rid of dandruff and dead skin cells. It also contains cooling menthol to heal inflammation and redness. In addition, this shampoo also makes your hair shiny and silky. Watch this video to know more about the product from the tester's experience.
Key Ingredient: Selenium sulfide 1%, Pyrithione zinc, and Salicylic acid
Pros
Quick lathering
Gentle for sensitive scalp
Budget-friendly
Suitable for all hair types
SLS-free
Cons
None
Price at the time of publication: $7.48
The Vanicream Free & Clear Medicated AntiDandruff Shampoo is a popular over-the-counter remedy for allergy-prone scalp, dandruff, and seborrheic dermatitis. The powerful anti-fungal 2% pyrithione zinc controls and relieves the symptoms of dandruff and fungal infections on the scalp. It also relieves symptoms of scalp flaking, itching, redness, and scaling. . This video will give you more insights and how people experience multiple benefits from this dermatologist-tested shampoo.
Key Ingredient: Pyrithione zinc 2%
Pros
Non-drying
Sulfate-free
Dermatologist tested
pH-balanced
Protein-free
Gluten-free
Essential oil-free
Dye-free
Fragrance-free
Lanolin-free
Formaldehyde-free
Paraben-free
Cocamidopropyl betaine-free
Cons
None
Price at the time of publication: $16.79
Say bye-bye to itchy, flaky, and irritated scalp with the Jason Dandruff Relief Treatment Shampoo. This flaky scalp solution employs a combination of FDA-approved sulfur and salicylic acid to target scalp dermatitis and mild psoriasis. In addition, the blend of jojoba and olive oils softens your locks while the rosemary oil deeply conditions the scalp and regulates scalp balance and sebum production. Further, the product has not been tested on animals.
Key Ingredients: Salicylic acid, Jojoba oil, and Rosemary oil
Pros
Budget-friendly
Pleasant fragrance
Artificial color-free
Non-GMO
Paraben-free
Petrolatum-free
Phthalate-free
Sulfate-free
Cruelty-free
Cons
None
Price at the time of publication: $9.99
For a salon-like scalp detoxification action, try the L'Oreal Professionnel Serie Expert Instant Clear Shampoo. Its state-of-the-art formula is enriched with piroctone olamine for fighting flakiness and relieving scalp dryness and discomfort. It contains a powerful blend of zinc pyrithione and glycolic acid that keeps dandruff in check.
Key Ingredients: Zinc pyrithione, Piroctone olamine, and Glycolic acid
Pros
Suitable for all hair types
Ideal for daily use
Lathers well
Unisex product
Cons
The Dermasolve Psoriasis Shampoo is dermatologist-recommended and the ultimate solution for itching, flakiness, and dandruff concerns caused by scalp psoriasis. This luxurious conditioning and hydrating shampoo has nourishing ingredients that relieve dry scalp, seborrheic dermatitis, and dandruff, leaving you with silky soft and tangle-free tresses. It is powered by the patented Ovasome technology that incorporates the nourishing goodness of a whole egg into the shampoo for overall scalp care.
Key Ingredients: Salicylic acid 3%
Pros
Non-greasy
Safe for color treated hair
Fragrance-free
Steroid-free
Gentle on scalp
Cons
None
Price at the time of publication: $19.99
The Kamedis Dermatology Dandruff Therapy Shampoo is a clinically proven formula that provides long-lasting relief from itching, irritation, and redness of the scalp associated with dandruff. It is enriched with anti-inflammatory soapberry for its soothing and anti-microbial benefits, along with zinc pyrithione for its anti-fungal and anti-dandruff benefits. In addition, the salicylic acid helps clear stubborn dandruff and scaly patches while nourishing the scalp.
Key Ingredients: Soapberry, Zinc pyrithione, and Salicylic acid
Pros
Dye-free
Tar-free
SLS-free
Paraben-free
Steroid-free
Dermatologist-recommended
Cons
Price at the time of publication: $38.38
The Jupiter Balancing Shampoo is an all-in-one solution for dry, flaky, and itchy scalp. It has ingredients like zinc pyrithione, reduces dandruff, and coconut oil nourishes and softens the hair. The plant-derived squalane boosts hair shine and prevents breakage. It also contains hydrating sugar kelp extract that provides anti-aging and anti-bacterial benefits to your scalp and hair. Further, the product is free from animal testing.
Key Ingredients: Zinc pyrithione 1%, Coconut oil, Squalane, and Sugar kelp extract
Pros
Sulfate-free
Paraben-free
Phthalate-free
Cruelty-free
Dye-free
Artificial fragrance-free
Safe for color-treated hair
Safe for chemically-treated hair
Suits all hair types
Vegan
Cons
None
Price at the time of publication: $27
If you are tired of a constantly itchy scalp and dry flakes, try the dermatologist recommended formula of Neutrogena T/Gel Therapeutic Shampoo. It is formulated with coal tar extract that targets dandruff, psoriasis, and seborrheic dermatitis by regulating the production of skin cells and reducing inflammation. It promotes shinier and manageable hair.
Key Ingredients: Neutar solubilised coal tar extract
Pros
Gentle formula
Value for money
Dermatologist-recommended
Cons
Price at the time of publication: $33.99
The pH balanced formula of Avalon Organics Therapy Anti-Dandruff Shampoo is a godsend for anyone struggling with seborrheic dermatitis! This medicated formula clears your scalp without stripping your hair off its natural oils. It also prevents the reoccurrence of dandruff. It is enriched with a blend of 2% salicylic acid, aloe vera, tea tree, chamomile, and essential oils that condition and nourish hair. Further, the product is not tested on animals.
Key Ingredients: Salicylic acid, Aloe vera, Tea tree, Chamomile, and Essential oils
Pros
Non-GMO
SLS-free
Phthalate-free
Synthetic color-free
Synthetic fragrance-free
Paraben-free
Cruelty-free
Vegan
Cons
Price at the time of publication: $25.0
The products listed above are tried and tested and loved by all users. They help you tackle dandruff effectively. But which one will suit you the best? To understand this, read the section below.
How To Choose The Best Dandruff Shampoo
Potent clinically-tested anti-fungal ingredients like zinc pyrithione, octopirox, ketoconazole, climbazole, selenium sulphide, and keratolytics like salicylic acid are a must in anti-dandruff shampoo formulas because they target the root cause of dandruff, thereby preventing their reoccurrence. Look for shampoos with a blend of antifungals and exfoliants to get dual-action benefits. They help break down dead skin cells and clumps of dry skin to clear your scalp and improve its overall health.
The problem of dandruff can occur, regardless of your hair or scalp type. So, choosing a shampoo based on your hair type is a must even with anti-dandruff formulae. For instance, if you have oily hair, go for deep cleansing and clarifying shampoos that leave your scalp clean; similarly if you have dry hair, consider a hydrating shampoo to leave your scalp feeling moisturized.
Why Trust StyleCraze?
The author of this article, Shiboli Chakraborti, is a certified skin care coach and has a keen interest in hair care. She loves to research various hair care products to bring the top list for the readers, making their choice easy. After extensive research and reading many consumer reviews online, she has curated this list of the best professional dandruff shampoos for her readers. These shampoos are the best way to combat dandruff and prevent reoccurrence.
Frequently Asked Questions
Does dandruff mean your hair is dirty?
No. Excessive product buildup and accumulation of oils are the primary reasons for dandruff. However, people with clean scalp may also suffer from the problem.
Can I use a professional dandruff shampoo daily?
No. Do not wash your hair with an anti-dandruff shampoo daily. Otherwise, it will cause hair breakage and make the strands dull and brittle.
What is the best remedy for dandruff?
An anti-dandruff shampoo is the best remedy for eliminating dandruff. In addition, home remedies like applying apple cider vinegar, coconut oil, lemon juice, and green tea to the hair are also effective in reducing dandruff.
Can we use a clarifying shampoo as dandruff shampoo?
No. Clarifying shampoo removes excess product buildup and may eliminate dandruff just for once. But, if you only want a more permanent solution for dandruff, opt for an anti-dandruff shampoo.
Can I use a regular conditioner after using professional dandruff shampoo?
No. A regular conditioner decreases the potency and reverses the effect of professional anti-dandruff shampoo. Use a formula from the same line of products for the best results.
Recommended Articles