11 Best Cruelty-Free Body Lotions For All Skin Types
Grab these cruelty-free and sustainable products to keep your body nourished and glowy!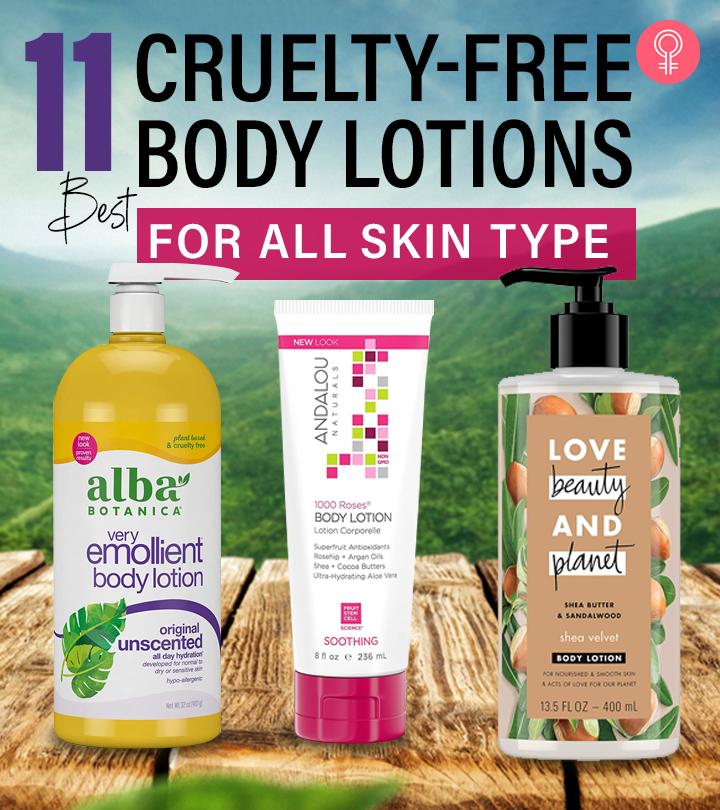 Several popular brands today have come up with some of the best cruelty-free body lotions that consciously choose not to test their products on animals. If you love animals and want to switch to a more sustainable option, opt for these lotions. If you want to go one step further, you can always opt for lotions that are not only cruelty-free but are also vegan to keep your body nourished. Please take a look at our list of cruelty-free body lotions for more details!
11 Best Cruelty-Free Body Lotions For All Skin Types
This rich body lotion from Alba Botanica consists of nourishing moisturizing ingredients like avocado oil, shea butter, and jojoba seed oil. These components come together to hydrate and nourish dry skin all day long. Chamomile, aloe, and cucumber soothe and calm the skin while keeping it soft and smooth. This lotion has a quick-absorbing formula that does not leave any greasy residue on the skin. This fragrance-free lotion does not irritate the skin, maintains its pH balance, and combats dryness. To understand the nuances of this body lotion from Alba Botanica, you can check this YouTuber's personal review.
Key Ingredients: Shea butter, Avocado oil, Jojoba seed Oil, Aloe vera, Cucumber extract, Chamomile
Pros
pH-balanced formula
Hypoallergenic
Vegan
Paraben-free
Phthalate-free
Sulfate-free
Artificial color-free
Cons
Contains artificial fragrance
The moisturizing Shea Velvet Body Lotion from Love Beauty And Planet harnesses the goodness of shea butter. It offers long-lasting hydration to the skin. The ethically sourced shea butter, extracted through traditional methods, nourishes, and moisturizes your skin. Exotic sandalwood adds a sensual fragrance to the lotion, which uplifts your mood. Its non-greasy formula eliminates dry and rough patches while keeping the skin soft and supple.
Key Ingredients: Shea butter and Sandalwood oil
Pros
Vegan
Lightweight
Long-lasting
Paraben-free
Sulfate-free
Dye-free
Silicone-free
Phthalate-free
Cons
This lavender-scented body lotion from Mrs. Meyer's Clean Day has a cool and refreshing fragrance that uplifts your spirits and invigorates your senses. This gentle body lotion is crafted with shea butter and sweet almond oil. Together, these ingredients lock in moisture to keep the skin soft and hydrated. Flaxseed, olive oil, and chamomile keep the skin calm and rejuvenate the skin cells while protecting them from free radical damage. This non-greasy formula slows down the aging process and brightens the skin tone.
Key Ingredients: Shea butter, Almond oil, Flaxseed, Olive oil, and Chamomile
Pros
Long-lasting hydration
Non-greasy texture
Dermatologist-tested
Paraben-free
Phthalate-free
Fresh fragrance
Cons
This luxurious moisturizing body lotion from Live Clean is formulated with apricot oil and coconut milk to provide intense hydration and long-lasting nourishment to the skin. These botanical ingredients, combined with vitamin C, vitamin E, and provitamin B5, minimize the appearance of fine lines, wrinkles, and blemishes to bring out a youthful glow. It restores and soothes dry and chapped skin to give you a youthful, glowing appearance.
Key Ingredients: Coconut milk, Apricot oil, Vitamin E, Vitamin C, and Provitamin B5
Pros
Organic ingredients
Anti-aging formula
Dermatologist-tested
Hypoallergenic
Paraben-free
Phthalate-free
SLS-free
Silicone-free
Dye-free
Petrolatum-free
Vegan
Cons
The Alaffia Everyday Shea Body Lotion is packed with nutrient-rich unrefined shea butter and shea leaf extracts that deliver moisturization to the skin. This handcrafted lotion is rich in antioxidants that protect the skin and prevent moisture loss. Lemongrass is an anti-inflammatory agent that soothes skin irritation, while lavender calms and relaxes the senses to promote stress release. This unscented lotion softens rough patches and leaves the skin soft and supple.
Key Ingredients: Shea butter, Lemongrass, Shea leaf, and Lavender
Pros
Handcrafted lotion
Ethically-sourced ingredients
Paraben-free
Vegan
Sulfate-free
Phthalate-free
Silicone-free
Mineral oil-free
Cons
This Andalou Naturals body lotion is powered by the advanced Fruit Stem Cell Science that combines alpine rose, apple, and grape to protect and preserve the skin's natural moisture barrier. This soothing blend of argan oil, rosehip oil, and shea and cocoa butters targets specific skin concerns like dry skin, inflammation, and irritation. Fragrant rosewater calms the senses, while aloe vera provides deep hydration. The formula is enriched with pomegranate antioxidants to give a youthful glow to the skin. This luxurious body treatment is quick-absorbing and leaves a satin-smooth finish on application.
Key Ingredients: Rose flower water, Aloe vera, Rosehip oil, Argan oil, Shea butter, and Cocoa butter
Pros
Quick-absorbing formula
Protects the skin from damage
Non-GMO
Vegan
Gluten-free
Cons
The Marlowe Extra Moisturizing Body Lotion is packed with willow bark, passionflower, deep-sea algae, and green tea extracts. These ingredients aid in cell renewal, reduce inflammation, and protect the skin from environmental stressors. It is enriched with soothing aloe extracts that remove dry, flaky skin to bring out a healthy skin tone. This lotion has a lightweight texture that glides smoothly on the skin and gets absorbed quickly with no residue.
Key Ingredients: Aloe vera, Passionflower extract, Willow bark extract, Deep sea algae extract, and Green tea extract
Pros
Reduces inflammation
Non-greasy
Quick-absorbing formula
Mild refreshing fragrance
Paraben-free
Phthalate-free
Cons
None
This hydrating body lotion from SheaMoisture has a nourishing blend of virgin coconut oil, coconut milk, and coconut water that provides intense hydration to dry skin. The Acacia senegal extract present in the formula prevents moisture loss and enhances the skin's smoothness, while raw shea butter and vitamin E protect the skin from pollution and other environmental aggressors. This lotion can be repurposed as a massage cream to keep the skin soft and supple.
Key Ingredients: Virgin coconut oil, Coconut milk, Coconut water, Acacia Senegal, Shea butter, and Vitamin E
Pros
Hydrating formula
Multipurpose
Paraben-free
Sulfate-free
Cruelty-free
Mineral oil-free
Vegan
Cons
The innovative blend of nourishing antioxidants in this Kiss My Face body lotion keeps the skin moisturized and soothed all day long. It combines nutrient-rich olive oil and aloe vera to protect the skin from harsh and damaging environmental elements. This lightly scented lotion has a non-greasy texture and can be used under makeup. Add this body cream to your morning or bedtime skin care routine to keep your skin soft and hydrated. If you want an honest review of this body lotion, make sure to check out this skincare aficionado's detailed video.
Key Ingredients: Olive oil and Aloe vera
Pros
Quick-absorbing formula
Fragrance-free
Paraben-free
Phthalate-free
SLS-free
Vegan
pH-balanced formula
Biodegradable
Value for money
Cons
This invigorating Pharmacopia body lotion hydrates and nourishes the skin to keep it soft and healthy. It is packed with macadamia oil, olive oil, jojoba oil, sweet almond oil, grapeseed oil, and pomegranate fruit extract. While the blend of nourishing oils hydrates the skin, the antioxidant-rich grapeseed oil and pomegranate extract preserve the skin's youthful glow. Aloe vera and chamomile soothe irritation while healing dry, damaged skin. Additionally, it is fortified with shea butter that strengthens the skin's natural barrier.
Key Ingredients: Olive oil, Sweet almond oil, Macadamia oil, Pomegranate fruit extract, Aloe vera, Shea butter, Grapeseed oil, Jojoba oil, Chamomile extract
Pros
100% natural ingredients
Non-greasy
Vegan
Paraben-free
Propylene glycol-free
Phthalate-free
No synthetic fragrance
Dye-free
Cons
None
The lightweight Derma-E body lotion is crafted with natural shea butter to help fortify the skin's natural moisture barrier and protect it against environmental aggressors. Additionally, shea butter hydrates the skin and keeps it soft and supple. This fast-absorbing emollient lotion is enriched with rosehip fruit extract and sweet almond oil to boost cell regeneration and improve skin flexibility. Vitamin E reduces sun damage while keeping the skin hydrated. It soothes irritation and leaves the skin feeling silky soft.
Key Ingredients: Shea butter, Vitamin E, Rosehip fruit extract, Sweet almond oil, Olive fruit oil
Pros
Lightweight
Quick-absorbing formula
Vegan
Gluten-free
GMO-free
Phthalate-free
Petrolatum-free
Lanolin-free
Cons
Why Trust StyleCraze?
The author of this article, Shiboli Chakraborti, is a certified skin care coach. She has curated this list of the best cruelty-free body lotions after carefully researching, checking reviews online, and going through multiple forums for user feedback. Her well-researched article mentions products that are hypoallergenic and devoid of artificial colors.
Frequently Asked Questions
Does AVEENO test its products on animals?
Yes, AVEENO tests its products on animals, especially in countries like China, where they have to abide by specific laws before launching their products in stores.
Does Jergens test on animals?
Yes, although Jergens claims that they are a cruelty-free brand, as they are a seller in China, their products are required to be tested on animals because of the local laws.
Is Dove body lotion cruelty-free?
Yes, Dove body lotion is 100% cruelty-free. Moreover, PETA has also certified the Dove brand as cruelty-free in 2018.
Does Vaseline animal-test its products?
Yes, Vaseline tests their products on animals even today, similar to their parent company Unilever.
Is Clinique cruelty-free?
No, Clinique practices animal testing of their products. This is because it sells its goods in mainland China and where animal testing is mandatory.
Recommended Articles