15 Best Aloe Vera Lotions To Help Soothe Dry And Irritated Skin
Heal dry skin with the antimicrobial, soothing, and hydrating goodness of aloe vera.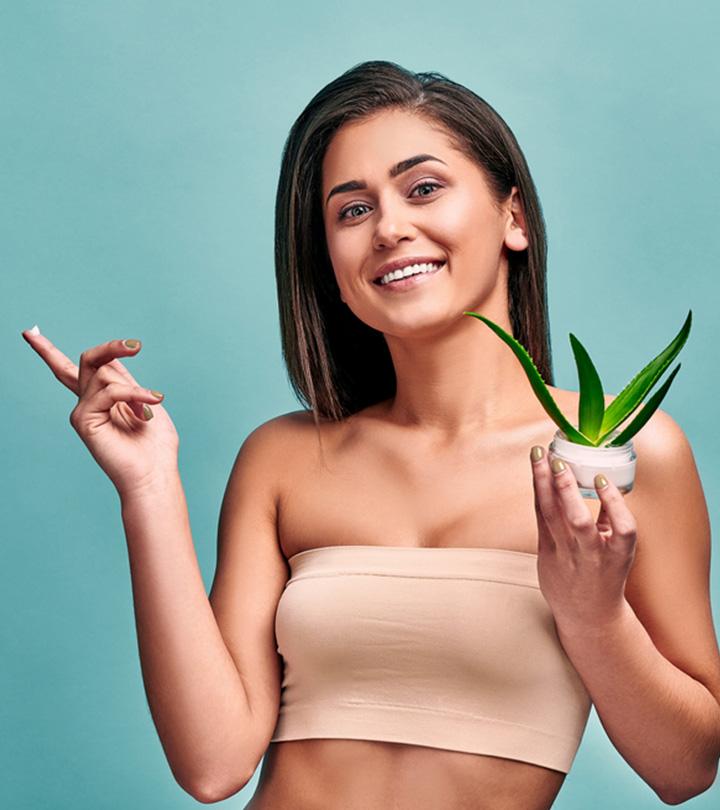 The benefits of aloe vera are numerous and well-known, and its therapeutic and medicinal properties are undeniable. It has hydrating properties, which is why aloe vera is widely used in skin care products. If you have dry or itchy skin, we have a list of the best aloe vera lotions for dry skin that you can check out. People have used this succulent to cure skin concerns, minor scrapes, razor burns, and lesions for ages. Aloe vera's antimicrobial and anti-inflammatory properties benefit the skin in numerous ways, and aloe vera is also the answer to hydrating dry skin, cooling sunburns, promoting skin suppleness, and preventing peeling.
Aloe vera leaves contain a gel-like substance containing 99.5% water. It is rich in antioxidants, minerals, and amino acids. Fresh aloe vera gel is a humectant, which means it stops water loss. Applying freshly pressed aloe vera gel is more helpful; however, making it every day can be a nuisance for some. As a result, an expert-recommended aloe vera skin lotion is the next best attempt. We have compiled a list of the top-rated 15 aloe vera lotions for you. Scroll down to check it out.
15 Best Aloe Vera Lotions To Try In 2023
You can't go wrong with this moisturizing lotion formulated with 2 skin-soothing and hydrating ingredients — pure aloe vera and cucumber extract. This formula relieves dry skin and restores your natural moisture, leaving your skin feeling refreshed. All while the hydralucence blend in this body cream makes your skin appear radiant. Incredibly lightweight, you won't believe how quickly it absorbs into your skin without leaving any greasy residue. All you will be left with is super-soft and luminous skin, as attested by the reviewers.
Pros
Lightweight moisturizer
Dermatologist-tested
Improves skin texture
Lends even-toned skin
Tested to be suitable for normal to dry skin
24-hour moisture-lock
Cons
Powered with the extracts of organic plant-based ingredients and essential oils, this unscented aloe vera body lotion not only hydrates your skin but also replenishes the natural lipids that help seal in moisture and prevent skin damage. Along with aloe, this formula contains calendula, shea butter, and beta-glucan, all of which have excellent moisturizing properties, working together to smoothen and soothe your skin. Best suits for dry and sensitive skin types, the best time to use this paraben-free aloe vera lotion is after bathing and post-hand wash to prevent your skin from drying out.
Pros
Non-GMO formula
Vegan and biodegradable
Not tested on animals
Sulfate, paraben, and phthalate-free
Does not contain synthetic colors or fragrances
Cons
Some may find it slightly greasy
The Gold Bond Ultimate Healing Skin Therapy Lotion With Aloe gives you intense hydration that keeps your skin moisturized for up to 24 hours. This body lotion is formulated with a triple vitamin blend of vitamins B, C, and E that locks in the moisture of the skin and aloe vera that soothes the skin and prevents dryness. This dermatologically tested body lotion is a quick-absorbing formula that reaches the deepest layers of your skin. This lotion has a soothing property that increases the level of hydration in dry and dull skin and does not feel greasy.
Pros
Quick absorbing
Long-lasting
Dermatologically tested
Hypoallergenic
Tested to be suitable for sensitive skin
Cons
We all have days when we forget to apply sunscreen before heading out to the beach or the pool. And you know what prolonged exposure to the sun does to your skin — sunburn. Hence, you should always have an after-sun aloe vera lotion with you at all times.The aloe vera and vitamin E content in the formula work in soothing sunburned skin, while the blend of cotton seed extract, jojoba seed oil, and cocoa butter provides deep hydration and helps bind moisture into the skin, which further prevents peeling. Not convinced? This dermatologist-tested, hypoallergenic formula also helps your skin retain your newly acquired tan for longer. According to the reviews, slather this non-sticky lotion on your entire body to leave your skin soft and feeling refreshed. Don't let sunburn ruin your fun; instead, give your skin the care it needs with this aloe vera lotion for after-sun care.
Pros
Lightweight
Fast-absorbing
Reef-friendly
Vegan and cruelty-free
Contains antioxidant-rich vitamin E
Suitable for before and after sun exposure application
Cons
May not work well for extremely sensitive skin
Say yes to this cucumber-infused moisturizer that smells just like fresh cucumbers and feels incredibly cool — like it just came out of the refrigerator. This product absorbs into your skin quickly to help calm distressed skin while providing nutrients and proteins to clear and rejuvenate your complexion. This formula features active ingredients such as aloe vera, green tea extract, soybean oil, and sweet almond oil that boost your skin's natural radiance. For those with sensitive skin, give this everyday moisturizer a try as it is dermatologist-tested and contains no harsh ingredients like parabens, petroleum, and SLS.
Pros
Vegan formula
Cruelty-free
Hydrates skin
Ideal for daily use
Ultra-comforting facial moisturizer
Made from 95% natural ingredients
Cons
It contains phenethyl alcohol, which some skin types could be mildly allergic to.
Want to keep your summer tan around for a bit longer? That's possible with this Banana Boat aloe vera lotion! It is specially designed to heal sunburned and prickly skin while also preventing your beautiful tan from fading. For a rich-looking tan, apply this formula after you have spent a day getting sun-drenched, as attested by reviewers. It is a reef-friendly skincare product made from a blend of active ingredients like coconut oil, aloe vera, and vitamin E, which are known for their deep moisturizing power that helps eliminate dryness and peeling.
Pros
Non-greasy
Soothes irritation
Extends tan
Restores moisture in the skin
Cons
This Triple Lanolin aloe vera lotion contains all the key ingredients needed to refresh your parched skin. As the name suggests, it is composed of two of the best moisturizers available in nature — aloe vera and lanolin — that work to instantly quench your skin's thirst and provide a calming effect. Ultra-rich and creamy, this formula readily absorbs into your skin, restoring your skin's natural glow without leaving a greasy film behind. The result is soft and healthy-looking skin. This formula also helps minimize flaky skin, redness, and swelling caused due to acne. Experience the soothing effects of this calming aloe vera lotion for redness. Nourish and hydrate your skin while reducing redness and promoting a more even complexion. Incorporate this lotion into your skincare routine to improve the appearance of your skin and help it feel revitalized.
Pros
Non-sticky
Locks in moisture
Provides long-lasting relief
Can be used for manicure and pedicure use
Cons
Might smell off-putting for some
For something to really help your mildly sunburned skin, the Vaseline Intensive Care Soothing Hydration Body Lotion should do the trick, while also providing deep moisturization. One of the best aloe vera lotions for sunburns, it features a Triple Hydration Complex, which is a combination of 1% pure aloe vera content, glycerin, and Vaseline jelly. Active ingredients aloe and glycerin immediately get to work, offering quick relief for inflamed skin and absorbing moisture to your skin. All while the microdroplets in Vaseline jelly seal moisture and help your skin's protective barrier heal. According to reviews, it absorbs quickly and can provide 48 hours of moisture. Apply this clinically tested lotion on your hands and body daily for 4 weeks, and your dry skin will stay healed for 3 weeks.
Pros
Absorbs quickly
Non-greasy
Tested to be suitable for year-round use
Provides soothing and refreshing hydration
Lends visibly healthy-looking skin after first use
Cons
Made with the wholesome goodness of aloe vera that's naturally rich in proteins, vitamins, and minerals, this lotion heals sunburns and dryness. It replenishes the moisture lost due to the drying effects of the sun, water, and wind and protects your skin against the environmental elements. It also contains other moisturizing ingredients that soak well into your skin to help soften and refresh it. Use it regularly to reveal healthy-looking skin.
Pros
Locks in moisture
Offers lasting hydration
Cools the skin
Instantly smoothes away dryness
Cons
Might have a strong perfume-like scent
Vitamin E is well known for its antioxidant and anti-inflammatory properties that heal sun-damaged skin, minimize the signs of aging, and soften dry and rough skin, among other things. Suave Skin Solutions Aloe Soothing Lotion does all this and more as it comes enriched with vitamin E as well as aloe vera. Along with this powerhouse duo, this aloe vera lotion for aging skin contains cucumber extract that soothes and hydrates your skin in an instant. Moreover, this aloe vera lotion with vitamin E keeps your skin moisturized for 24 hours straight.
Pros
Not greasy
Fast-absorbing
Smoothes skin
Soothing fragrance
Can be used after sun exposure
Cons
On the hunt for the best organic aloe vera lotion for sensitive skin? Well, look no further than this hand and body lotion by JASON. Treat your stressed and dehydrated, thirsty skin to this non-greasy, soothing formula infused with potent juice from the aloe leaf, sunflower seed oil, avocado oil, and panax ginseng root extract among others. It works to soothe your sun-damaged or freshly-shaved skin by cooling it down and gives a boost of moisture. Made with skin-loving botanicals, this nourishing aloe vera lotion is best suited for those with dry, sensitive skin. What we love the most is that this vegan formula is free of parabens, petrolatum, phthalates, sulfates, and artificial colors.
Pros
Cruelty-free
Nourishing formula
Absorbs quickly
Keeps skin hydrated for longer
Cons
Some people may not like the medicinal smell.
This aloe vera moisturizing lotion by K-beauty brand, Spanature, goes above and beyond to relieve dry skin problems. It uses active ingredients aloe and hyaluronic acid to reduce dryness and seal in moisture, while allantoin and glycerin hydrate and nourish dull, flaky skin, making it appear smoother and rejuvenated. It dries quickly on contact, so there is no greasy or sticky feeling left behind. Not only does this sticky texture feel good on your skin, it is also formulated without parabens, sulfates, and dyes.
Pros
Improves skin texture
Restores moisture
Lightweight formula
Gentle on skin
Tested to be suitable for all skin types
Cons
May not be suitable for fragrance-sensitive skin
After a long, tiring day at work or an intense workout, all one looks forward to is some much-needed pampering and a relaxing massage. If you are looking for a budget-friendly fix for your tired or dry skin, this lotion is a great choice. The rich aloe vera heat lotion by Forever Living is designed just for that! Featuring a unique blend of active ingredients like aloe gel (100% stabilized), eucalyptus, menthol, and emollient oils, it eases tension in your muscles by stimulating blood flow. It has both heating and cooling effects, which means it immediately relieves muscle pain while calming and moisturizing your dry, cracked skin. All you have to do is apply this emollient to the affected area and massage it into your skin.
Pros
Mint-scented
Lubricating lotion
pH-balanced formula
Penetrates deep into your skin
Cons
It's not always that you come across a body lotion that works for your face too, so when you find one, give it a shot. Every bottle of the Deluvia Face & Body Lotion contains active ingredients like aloe vera, olive oil, jojoba oil, and vitamins B5 and E. Rest assured, the sticky texture works incredibly well on your skin as it hydrates it, treats acne, and provides lasting softness. Its quick-absorbing formula ensures that it glides and soaks into your skin swiftly. The best part about this aloe vera lotion for acne-prone skin is that it is unscented, so it can be used on its own or combined with your favorite essential oil for a feel-good therapeutic experience.
Pros
Cruelty-free
Gentle formulation
Tested to be suitable for eczema prone skin
Ideal for all skin types
Enriched with plant extracts
Diminishes fine lines and wrinkles
Cons
Contains dandelion extract, which some may be allergic to.
Free of parabens, sulfates, and artificial colors and fragrances, this is a great product for anyone looking for a natural moisturizing sunscreen without the nasty chemicals. It features active ingredients such as organic aloe extract, glycerin, vitamins A, B5, and E, ginseng extract, and organic calendula extract. All these ingredients nourish your skin by replenishing any loss of water due to exposure to harsh environments. Plus, it is pH-balanced, which means that it repairs and protects your skin's protective film known as the acid mantle, preventing harmful impurities from penetrating the skin's surface. This soothing aloe vera lotion for irritations is also composed of PABA that acts as a sunscreen and shields against harsh UVA/UVB rays, thus protecting you from sunburns.
Pros
Non-greasy
Not tested on animals
Gluten-free and vegan
Soothes skin irritations and rashes
Moisturizes and smoothens cracked skin
Cons
The scent might be too strong for individuals with fragrance-sensitive noses.
*The prices provided in this article are based on the latest available information. However, they may vary due to changes in pricing by the seller and/or promotional offers.
If you're still unsure about which scientifically formulated aloe vera lotion is right for you, we suggest you read through the points given below.
How To Choose The Best Aloe Vera Lotion For Your Skin
While most of these professional-grade products are best suited for dry skin type since aloe vera is known for its moisturizing power, some products may contain additional standout ingredients that could work well for other skin types. If you have oily or combo skin, choose results-driven lotions that rub in easily and absorb quickly without leaving any greasy residue. As for sensitive skin, scientifically formulated products that are non-irritating and contain no harsh chemicals should be your go-to choice.
When choosing an aloe-based moisturizer, or a lotion with a concentration of aloe, it's essential to read through the ingredient list. Certain professional-grade products may contain ingredients you could be allergic to or are harmful, which you may want to avoid, such as sulfates, phthalates, parabens, dyes, and artificial or synthetic fragrances. You could also opt for an expert-recommended aloe vera-based lotion that contains other ingredients that are beneficial for your skin and pack a powerful punch of moisturizing and soothing powers.
No matter if the lotion has a thick or thin consistency, it should go on super smooth and absorb easily. Also, make sure it doesn't leave behind a sticky, tacky layer of film.
Why Trust StyleCraze?
The author, Kirtana Divakar, is a skin care enthusiast and loves creating well-researched articles on beauty and skin care. She has analyzed numerous user reviews on trusted online platforms and read product specifications to compile this list of the best aloe vera lotions that relieve dry and irritated skin. These products are also effective in addressing concerns like acne, hyperpigmentation, and sunburn.
Frequently Asked Questions
Is aloe vera lotion good for dry skin?
Yes, clinically tested aloe vera lotion works incredibly well for dry skin as it offers a soothing effect on your skin while also hydrating it.
Does aloe vera lotion help with stretch marks?
Regular usage of aloe vera lotion will rejuvenate the skin and repair damaged collagen, which helps reduce the appearance of stretch marks.
Does aloe vera lotion lighten skin tone?
Enriched with minerals, vitamins, and nutrients, aloe vera has the ability to minimize dark spots, blemishes, and skin tan. Hence, topical application of an expert-recommended aloe vera lotion will brighten your skin and restore your original color.
Does aloe vera lotion help treat acne?
Aloe vera is a natural astringent and has antibacterial properties. It can get rid of acne-causing bacteria and impurities from deep beneath the surface of the skin, reducing the formation of acne and preventing future breakouts.
How long is aloe lotion good for?
When stored properly in a cool, dry place, away from direct sunlight, an opened bottle of aloe lotion may last for two years.
Recommended Articles: