15 Best Aloe Vera Lotions To Help Soothe Dry And Irritated Skin
Heal dry skin with the antimicrobial, soothing, and hydrating goodness of aloe vera.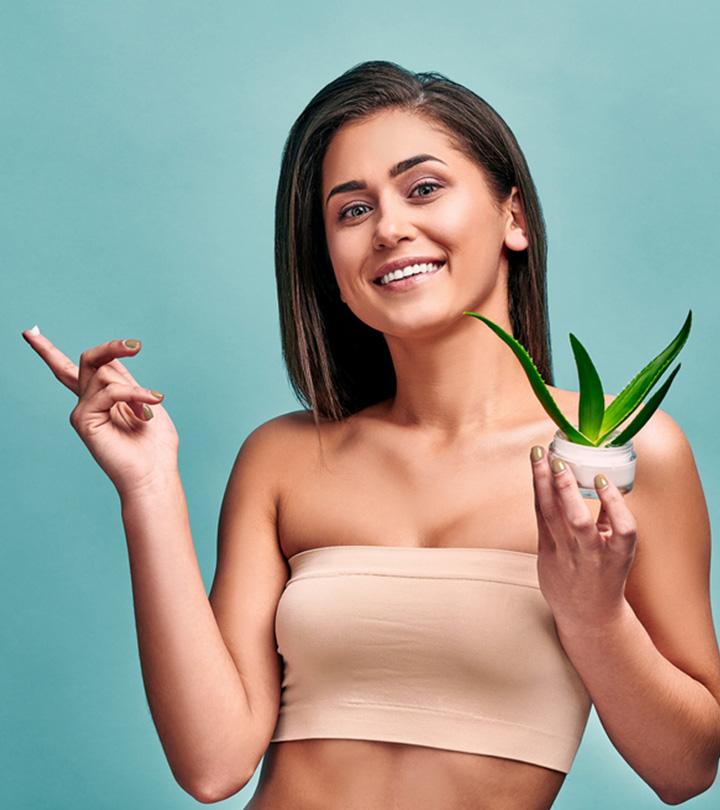 Aloe vera's therapeutic and medicinal properties are undeniable. It has hydrating properties, which is why aloe vera is widely used in skin care products. If you have dry skin, we have a list of the best aloe vera lotion for dry skin that you can check out. People have used this succulent to cure minor scrapes, razor burns, and lesions for ages. Aloe vera has antimicrobial and anti-inflammatory properties, which benefit the skin in numerous ways. Aloe vera is the answer to hydrating dry skin, cooling sunburns, promoting skin suppleness, and preventing peeling.
Aloe vera leaves contain a gel-like substance containing 99.5% water. It is rich in antioxidants, minerals, amino acids. Fresh aloe vera gel is a humectant, which means it keeps your skin moisturized and stops water loss. Applying freshly pressed aloe vera gel is more helpful; however, making it every day can be a nuisance for some. As a result, an aloe vera skin lotion is the next best attempt. We have compiled a list of the top 15 aloe vera lotions for you. Scroll down and check it out.
Top Picks
15 Best Aloe Vera Lotions To Try In 2023
Pros
Lightweight moisturizer
Dermatologist-tested
Improves skin texture
Lends even-toned skin
Suitable for normal to dry skin
24-hour moisture-lock
Cons
Price at the time of publication: $6.47
Pros
Non-GMO formula
Vegan and biodegradable
Not tested on animals
Sulfate, paraben, and phthalate-free
Does not contain synthetic colors or fragrances
Cons
Some may find it slightly greasy
Price at the time of publication: $19.49
Pros
Quick absorbing
Long-lasting
Dermatologically tested
Hypoallergenic
Suitable for sensitive skin
Cons
Price at the time of publication: $7.99
We all have days when we forget to apply sunscreen before heading out to the beach or the pool. And you know what prolonged exposure to the sun does to your skin — sunburn. Hence, you should always have an after-sun aloe vera lotion with you at all times. The aloe vera in the formula works in soothing sunburned skin, while the blend of cucumber extract, cotton seed extract, jojoba seed oil, and cocoa butter intensely hydrates and helps bind moisture into the skin, which further prevents peeling. Not convinced? This dermatologist-tested, hypoallergenic formula also helps your skin retain your newly acquired tan for longer. Slather this non-sticky lotion on your entire body to leave your skin soft and feeling refreshed.
Pros
Lightweight
Fast-absorbing
Reef-friendly
Vegan and cruelty-free
Contains antioxidant-rich vitamin E
Suitable for before and after sun exposure application
Cons
May not work well for extremely sensitive skin
Price at the time of publication: $11.99
Pros
Vegan formula
Cruelty-free
Hydrates skin
Ideal for daily use
Ultra-comforting facial moisturizer
Made from 95% natural ingredients
Cons
It contains phenethyl alcohol, which some skin types could be mildly allergic to.
Price at the time of publication: $10.94
Pros
Non-greasy
Soothes irritation
Extends tan
Restores moisture in the skin
Cons
Price at the time of publication: $34.81
Pros
Non-sticky
Locks in moisture
Provides long-lasting relief
Can be used for manicure and pedicure use
Cons
Might smell off-putting for some
Price at the time of publication: $5.97
Pros
Absorbs quickly
Non-greasy
Suitable for year-round use
Provides soothing and refreshing hydration
Lends visibly healthy-looking skin after first use
Cons
Price at the time of publication: $19.47
Pros
Locks in moisture
Offers lasting hydration
Cools the skin
Instantly smoothes away dryness
Cons
Might have a strong perfume-like scent
Price at the time of publication: $13.99
Pros
Not greasy
Fast-absorbing
Smoothes skin
Soothing fragrance
Can be used after sun exposure
Cons
Price at the time of publication: $11.24
Pros
Cruelty-free
Nourishing formula
Absorbs quickly
Keeps skin hydrated for longer
Cons
Some people may not like the medicinal smell.
Price at the time of publication: $25.55
Pros
Improves skin texture
Restores moisture
Lightweight and gentle
Suitable for all skin types
Cons
May not be suitable for fragrance-sensitive skin
Price at the time of publication: $16.5
Pros
Mint-scented
Lubricating lotion
pH-balanced formula
Penetrates deep into your skin
Cons
Price at the time of publication: $64.95
Pros
Cruelty-free
Gentle formulation
Suitable for eczema
Ideal for all skin types
Enriched with plant extracts
Diminishes fine lines and wrinkles
Cons
Contains dandelion extract, which some may be allergic to.
Price at the time of publication: $13.78
Pros
Non-greasy
Not tested on animals
Gluten-free and vegan
Soothes skin irritations and rashes
Moisturizes and smoothens cracked skin
Cons
The scent might be too strong for individuals with fragrance-sensitive noses.
Price at the time of publication: $11.6
If you're still unsure about which aloe vera lotion is right for you, we suggest you read through the points given below.
How To Choose The Best Aloe Vera Lotion For Your Skin
While most of these products are best suited for dry skin type since aloe vera is known for its moisturizing power, some products may contain additional standout ingredients that could work well for other skin types. If you have oily or combo skin, choose lotions that rub in easily and absorb quickly without leaving any greasy residue. As for sensitive skin, products that are non-irritating and contain no harsh chemicals should be your go-to choice.
When choosing an aloe-based moisturizer or lotion, it's essential to read through the ingredient list. Certain products may contain ingredients you could be allergic to or are harmful, which you may want to avoid, such as sulfates, phthalates, parabens, dyes, and artificial fragrances. You could also opt for an aloe vera-based lotion that contains other ingredients that are beneficial for your skin and pack a powerful punch of moisturizing and soothing powers.
No matter the lotion has a thick or thin consistency, it should go on super smooth and absorb easily. Also, make sure it doesn't leave behind a sticky, tacky layer of film.
Why Trust StyleCraze?
The author, Kirtana Divakar, is a skin care enthusiast and loves creating well-researched articles on beauty and skin care. She has analyzed numerous user reviews on trusted online platforms and read product specifications to compile this list of the best aloe vera lotions that relieve dry and irritated skin. These products are also effective in addressing concerns like acne, hyperpigmentation, and sunburn.
Frequently Asked Questions
Is aloe vera lotion good for dry skin?
Yes, aloe vera lotion works incredibly well for dry skin as it offers a soothing effect on your skin while also hydrating it.
Does aloe vera lotion help with stretch marks?
Regular usage of aloe vera lotion will rejuvenate the skin and repair damaged collagen, which helps reduce the appearance of stretch marks.
Does aloe vera lotion lighten skin tone?
Enriched with minerals, vitamins, and nutrients, aloe vera has the ability to minimize dark spots, blemishes, and skin tan. Hence, topical application of aloe vera lotion will brighten your skin and restore your original color.
Does aloe vera lotion help treat acne?
Aloe vera is a natural astringent and has antibacterial properties. It can get rid of acne-causing bacteria and impurities from deep beneath the surface of the skin, reducing the formation of acne and preventing future breakouts.
How long is aloe lotion good for?
When stored properly in a cool, dry place, away from direct sunlight, an opened bottle of aloe lotion may last for two years.
Recommended Articles: