11 Best Alpha Hydroxy Acid Lotions of 2023 To Fight Dryness!
Hydrate your skin with effective skin care products that offer a youthful glow.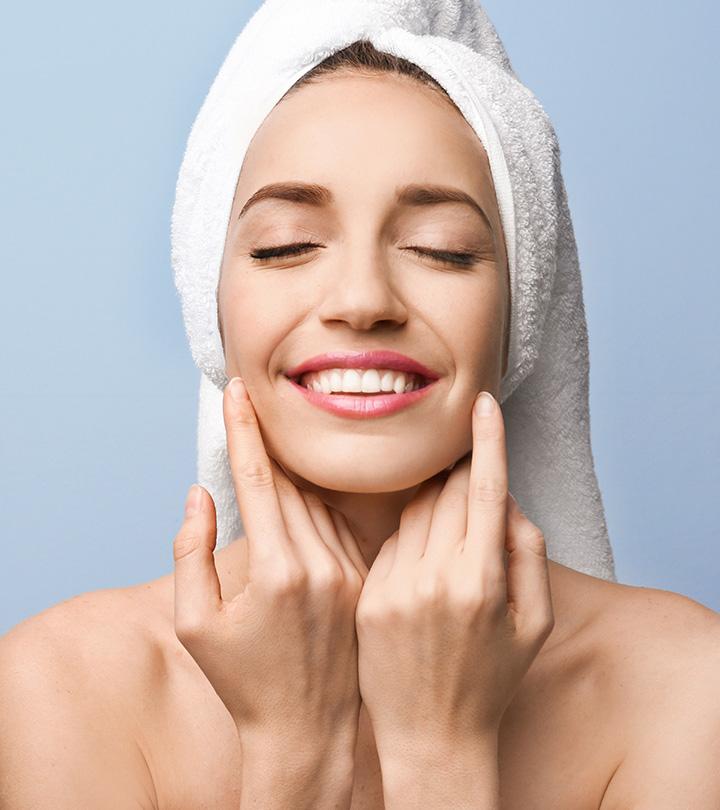 There's nothing better you can do for your skin than by adding the best alpha hydroxy acid lotion to your skincare routine. AHAs or alpha hydroxy acids are chemical compounds that promote exfoliation while fighting skincare problems like hyperpigmentation, scars, and enlarged pores. They also add hydration to the skin and reduce fine lines, age spots, and surface wrinkles. Trusted by skincare experts all over, you too must try it to believe its benefits. for dry and rough skin. Scroll through our list below and find the perfect one for your skin!
What do alpha hydroxy acids do?
The benefits of alpha hydroxy acid lotions are countless! Like little soldiers, they gently exfoliate dead skin cells and unclog and minimize the pore size, followed by moisturizing and soothing the skin. They also aid in cell renewal, increase collagen production, and fight hyperpigmentation, making them great for reducing aging signs. And to top it all, they are safe and suitable for sensitive skin too!
So, if you are dealing with dry, dull, damaged, or problematic skin, you should give the best alpha hydroxy acids lotion a try! Here we have rounded up the 11 best alpha hydroxy lotions of 2023 for you.
Exfoliate And Glow With 11 Best Alpha Hydroxy Acid Lotions Of 2023
With this botanical booster, erase the white lines, eliminate dead cells, and curb the dryness! A clinically tested and intense moisture solution, it contains aloe vera, chamomile, shea butter, and green tea to nourish your skin from the core. More like a blend of healthy juices and oils, your skin can also enjoy the benefits of avocado oil, jojoba oil, grape seed oil, cucumber fruit, and lavender extract with every use. Intensely hydrating, improves skin texture and pH balance. This alpha hydroxy acid body lotion helps in alleviating dryness and itchiness instantly. It is also free from parabens, phthalates, sulfates, artificial colors, and artificial fragrances.
Pros
Unscented
Non-greasy
Hypoallergenic
All-day hydration
Clinically-proven
Cruelty-free
Works best for sensitive, normal, dry, severely dry skin
Cons
Slightly thick consistency
May not absorb instantly
Price at the time of publication: $14.99
Did you know dryness and environmental stressors can quicken aging lines? But not if you have this AHA blend in your routine. This body lotion is infused with 12% glycolic alpha hydroxy acid (AHA) to combat early aging lines. Derived from natural sugar (sugarcane), it gently exfoliates dead skin cells, stimulates collagen production, combats dryness, and improves skin tone and sunburns to restore your youthful glow. Soft, smooth, and radiant skin, anyone?
Pros
Toned skin
Cruelty-free
Clinically-tested
Paraben-free
Fragrance-free
Gentle with a pH level of 4
Suitable for all skin types
Cons
Oily skin may turn slightly greasy
Price at the time of publication: $17.99
The Obagi Medical Intensive Daily Repair Exfoliating and Hydrating Lotion contains vital peptides and antioxidants to make your skin ageless, acne-free and helps with skin brightening. This daily moisturizer comes with a non-irritating and non-sensitizing solution that reduces the appearance of pores and visible symptoms of aging by peeling away dead skin cells with the assistance of active PHAs, gluconolactone, and lactobionic acid. This skin smoothing lotion is dermatologist-tested, hypoallergenic, and suitable for all skin types.
Pros
Hydrating formula
Hypoallergenic
Softens skin
Non-greasy formula
Unscented
Paraben-free
Fragrance-free
Dermatologist tested
Cons
None
Price at the time of publication: $77
The countless benefits of this face lotion need your attention if you are dealing with hyperpigmentation, dark spots, fine lines, and early signs of aging. Powered with broad-spectrum SPF 15 for sun protection, the cream also has pro-vitamin B-5, vitamin C, E, and alpha hydroxy acid to tone, nourish and soften the skin. It is clinically-proven to soften the skin and make it clearer. Also, a fantastic choice for dull and damaged skin, this quick-absorbing and dermatologist-recommended moisturizing lotion will restore glowing skin and prevent early signs of skin aging. Learn more about the Neutrogena Healthy Skin Face Lotion – SPF 15 in this video.
Pros
Oil-free
Non-greasy
Alcohol-free
Allergy-tested
Non-comedogenic
Suitable for sensitive skin
Cons
Contains parabens
Slightly greasy
Price at the time of publication: $12.59
While you sleep, this gentle exfoliator will work hard to retexturize and tone your skin overnight. Wake up to naturally glowing skin with this rejuvenating and plant-derived blend. It exfoliates dark spots, dead skin cells, age spots, and blemishes with 5% alpha hydroxy acid and lactic acid. If your skin is damaged or fighting dryness, the infused jojoba seed oil, green tea, and vitamin C will work toward renewing, restoring, and nourishing your skin to its optimal health. Just what you need to peel away the dullness and bring back your natural radiance and help with skin rejuvenation. This blend is also free from parabens, mineral oil, gluten, sulfates, GMOs, and more. Take a look at this video for a reviewer's experience with the dermatologist-recommended Derma E Overnight Peel.
Pros
Vegan
Cruelty-free
No redness
Skin-brightening
Non-abrasive blend
UV damage protection
Cons
May sting slightly on sensitive skin
Price at the time of publication: $15.32
Fight keratosis pilaris with this exfoliating lotion infused with 12% glycolic acid (AHA) and 2% salicylic acid (BHA). Although keratosis pilaris has no cure, this lotion will penetrate the skin to reduce redness, bumps, and skin discoloration to a great extent! Apply it generously to tone skin and work on skin regeneration and smoothness over time. Besides this, it will also exfoliate pores, prevent acne, and moisturize intensely with aloe vera, vitamin E, and glycine soja oil helps with skin elasticity. And the best part— it's free from parabens, sulfates, alcohol, dyes, and phthalates.
Pros
Silky skin
Non-greasy
Ultra-hydrating
Gentle with a pH level of 4
Suitable for all skin types
Cons
The scent may be overpowering for some.
Price at the time of publication: $29.95
For skin as dry as a desert, this alpha hydroxy acid body lotion will provide 24-hour relief and skin firmness. With naturally-derived 15% lactic acid (AHA) and 3 ceramides, this skin-hydrating blend will boost and lock in moisture while also exfoliating gently and improving optimal health and radiance of the skin. It is clinically proven to relieve dryness and makes for a fantastic choice for ashy, severely dry, and flaky skin. This dermatologist-recommended ammonium lactate blend will also tone the skin and reduce the appearance of fine lines and wrinkles. The brand claims that users may notice visible results, such as relief from skin dryness and soft, silky, and youthful skin, with consistent usage.
Pros
Non-greasy
Paraben-free
Fragrance-free
Softens skin
Guarantees instant results
Cons
Are you using multiple skincare products to fight severe dryness or keratosis pilaris? You can now do it with one! With the power to exfoliate, moisturize, and fight aging signs, this body lotion by DRMTLGY ensures 24-hour hydration. Infused with 12% lactic acid, it exfoliates dead skin cells, removes debris, and moisturizes intensely to repair flaky, bumpy, and inflamed skin. It also contains nopal cactus, soybean oil, apple fruit extract, sunflower seed oil, vitamin E, and other peptides to pamper and hydrate skin. And that's not all; it reduces aging signs and is free from toxins such as parabens, sulfates, gluten, hormones, formaldehyde, and more.
Pros
Cruelty-free
Softens skin
Rehydrates dry patches
Dermatologist-recommended
Cons
Not suitable for sensitive skin
Price at the time of publication: $21.95
The Nonie AHA All-Natural Body Lotion provides your skin with gentle exfoliation and cleanses your pores to keep your skin hydrated and smooth. This body lotion is formulated with alpha hydroxy acids, various plant-based oils, and vitamins A, B, C, and E that visibly reduce fine lines and wrinkles, fight sun damage, and give your skin a glowing look. The lotion absorbs deep into your skin to improve collagen and elastin fibers and helps you to achieve healthy skin. With a refreshing citrus smell, this high-quality body lotion is definitely a treat for your skin.
Pros
Cruelty-free
Vegan
100% natural
Paraben-free
Alcohol-free
Perfume-free
Does not contain mineral oil
Cons
Can feel sticky on the skin
Price at the time of publication: $33.17
If you don't mind loosening the purse strings a little, this premium product has an all-natural AHA-BHA therapy for your skin! The infused glycolic acid and salicylic acid exfoliate dead skin cells, stimulate collagen, increase cell turnover, and unclogs pores to encourage toned and younger-looking skin. It also works as a great acne treatment and can help reduce them and make your skin look flawless. It contains skin-loving ingredients such as cucumber extract for tightening and reducing inflammation and tea tree oil to prevent breakouts. The formula also heals, repairs, and soothes with chamomile, green tea, and comfrey extracts. In addition, it nourishes and pampers skin intensely with licorice, pumpkin, papaya, pineapple, and bearberry. And bonus, the body lotion is free from toxic ingredients such as parabens, sulfates, SLS, phthalates, and gluten.
Pros
Cruelty-free
Ultra-light
Fast-absorbing
Anti-aging formula
Maximum hydration
Suitable for face and body
Gentle with pH level 3.1-3.5
Cons
Price at the time of publication: $24.95
Drench your skin in the ultra-moisturizing blend of Derma Therapy. With 10% urea, this skin-repairing lotion aids skin cells in absorbing and retaining moisture to fight the dryness from within. And as for your youthful glow, the infused 10% alpha hydroxy acid exfoliates dead skin cells to reveal new, more elastic, and younger-looking skin. The therapeutic formula also contains silk proteins to boost your skin's softness, silkiness, and glow. Give it a try if you have rough, dry, or problematic skin.
Pros
Non-greasy
Non-irritating
Fragrance-free
Cruelty-free
Cons
Price at the time of publication: $30.84
How about something exotic and zesty to fight dryness and restore your glow? Infused with coconut and jojoba esters, the lotion will hydrate, soothe, and pamper your skin intensely. It also contains shea butter, aloe vera, vitamin E, oat protein, green tea, Kakadu plum, grape seed extract, and sunflower seed oil for moisturizing benefits. And as for redness and dryness, leave it to alpha hydroxy acid to heal and repair! Leaving your skin smooth, soft, and smelling fresh with the infused lemon verbena, coconut water, and citrus, the lotion is free from toxic and harmful chemicals such as parabens, gluten, phthalates, and artificial colors.
Pros
Vegan
Non-GMO
Cruelty-free
Non-greasy
Suitable for daily use
Cons
Slightly expensive
Not suitable if you are sensitive to smell
Price at the time of publication: $32.0
So long, dead skin cells! Restore your natural and beautiful radiance with one of the 11 best alpha hydroxy acid lotions for you. Still, wondering how to pick the best face or body lotion with alpha hydroxy acids? We have some tips for you in our buying guide below.
How to Choose the Best Alpha Hydroxy Acid Lotion?
Look out for the following features in the alpha hydroxy acid peels before buying:
Identify types of AHAs:
There are different kinds of AHAs, such as glycolic acid, lactic acid, citric acid, and more. You must choose a lotion depending on the type of exfoliation you need. Glycolic acid is the strongest of all and is ideal for intense exfoliation but can hamper skin sensitivity and make it more irritated. Lactic acid is slightly gentler than glycolic acid as it is derived from milk. It is suitable for sensitive skin and all other skin types.
Soothing ingredients:
Besides looking for AHAs, check the moisturizing ingredients infused in the blend for nourishing the skin after exfoliation. If you have oily skin, pick the one with water or gel based ingredients such as aloe vera, coconut water, cucumber, etc. However, if you have severely dry skin, oil-based moisturizing cream and lotions will suffice.
Stay power:
Unless you enjoy re-applying lotion, pick an alpha hydroxy acid lotion that is long-lasting and ensures all-day hydration. For example, AmLactin Rapid Relief Restoring Lotion and DRMTLGY Exfoliating Body Lotion both guarantee 24-hour relief.
Ingredients to avoid:
Choose all-natural, organic, and vegan products over toxic chemicals for maximum benefits. Avoid products with harmful ingredients such as parabens, sulfates, phthalates, silicones, mineral oil, formaldehyde, lanolin, dye, nickel, and more.
The Bottom Line
With that, we bet you'll end up with the best alpha hydroxy acid lotion of 2023! AHA lotions and peels can make your skin appear healthier, younger-looking, and clearer than before. Unlike other grainy exfoliators, these lotions with alpha hydroxy acid are exfoliating, moisturizing, and fight other skin conditions, all in one go. The Alba Botanica Very Emollient Body Lotion offers all-day hydration with its non-greasy, hypoallergenic formula, while the Alpha Skin Care Renewal Body Lotion boosts collagen production and improves your overall skin texture. But for those seeking a multipurpose lotion for dull and sensitive skin, try the Neutrogena Healthy Skin Face Lotion with SPF 15. Vanessa Huerta, Licensed Esthetician and Co-Founder of The Switch Suites explains, "There are certain AHAs that specifically target skin pigmentation more than others like lactic acid, mandelic acid, and azelaic acid. Incorporate those AHAs if pigmentation is your main concern." More like a one-stop savior for all your skin woes and to restore your natural radiance, these lotions will make you fall in love with your skin all over again. Now, what are you waiting for? With the 11 best alpha hydroxy acid lotions for all skin types on our list, add one to your skincare routine today!
Why Trust StyleCraze?
Our writer Kirtana Divakar is a skincare and make-up enthusiast. She brings you this list of the best alpha hydroxy lotions to help you take care of your skin better. Alpha hydroxy acids or AHAs are a blessing for skin types that are prone to hyperpigmentation or acne. This list of products is prepared after careful research and consideration of the product's constituents, benefits, and efficiency.
Frequently Asked Questions
Is alpha hydroxy acid good for your skin?
Absolutely! AHA lotions are gentle exfoliators that eliminate dead skin cells, moisturize intensely and also fight skin conditions like eczema and dry skin. And since they are mild, they are suitable for sensitive skin too.
Does alpha hydroxy acid lighten skin?
Yes, to an extent. Since AHA lotions are exfoliators, they'll gently eliminate dead skin cells and encourage the emergence of newer, clear, and healthy-looking skin. It will not only lighten dark spots but also sun spots, age spots, and hyperpigmentation.
How often should you use alpha hydroxy acid?
Once in 7-10 days, but this may vary from one person to another. If your skin can take the lotion well, you can increase the application in a week. However, to be safe, you must consult your dermatologist, especially if you have sensitive skin.
Is alpha hydroxy acid good for sensitive skin?
Absolutely! AHA lotions with lactic acid are safe for sensitive skin. Lactic acid is derived from milk and is gentler than glycolic acid, thus a safe option for sensitive skin.
Recommended Articles