9 Best Exfoliating Scrubs For Legs Available In 2023
Exfoliate your legs and improve their appearance with the best moisturizing scrubs.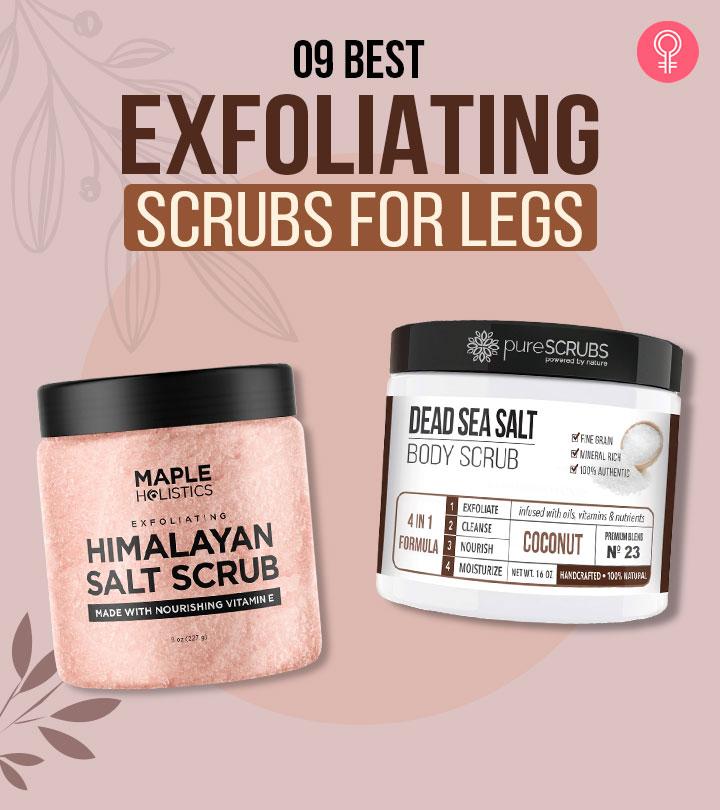 Yes, your legs require some pampering too. Just washing and applying that lotion is not always enough. To give them the glowing skin they deserve, you need to set your heart on the best exfoliating scrubs for legs. These physical exfoliant scrubs are meant to decrease the dead skin cells and reduce the flakiness on the skin surface without damaging the skin barrier. So when you need to boost circulation and limit cellulite appearance on the skin of your legs to enhance their appearance, get some of these scientifically formulated scrubs. Don't worry. We have already made a list of the top 9 exfoliating scrubs for legs so that you can cut down on the time you were otherwise going to spend searching. Now, go check them out.
9 Best Exfoliating Scrubs For Legs
If you are struggling with dull and dry skin, the Tropical Mango Tree Hut Shea Sugar Scrub is the one for you. It works to exfoliate and deeply nourish the skin revealing glowing, smooth skin. This physical exfoliant scrub contains the moisturizing elements of mango enriched with beta-carotene, vitamin A and vitamin C for refining uneven texture and boosting radiance along with shea butter for promoting elasticity.
This natural exfoliating scrub for legs is enriched with a rich blend of oils including avocado, macadamia, sweet almond, sweet orange, evening primrose, and safflower. This blend works to balance skin hydration and prevent dryness while improving overall skin health. The sugar crystals act as a physical exfoliator and help in dead cell removal and boost blood circulation in the skin. Watch this video to find out more about the tester's experience of using the Tropical Mango Tree Hut Shea Sugar Scrub.
Key Ingredients: Real sugar, Shea butter, Natural oils, and Mango
Pros
Moisturizing
Reduces ingrown hair
Eliminates keratosis pilaris
Softens the skin
Non-greasy
Pleasant fragrance
Value for money
Paraben-free
Gluten-free
Sulfate-free
Alcohol-free
Vegan
Cons
None

Are you worried about the dry, rough, and red bumps on your skin? Well, we have just the right solution for your bumpy skin. The First Aid Beauty KP Bump Eraser Body Scrub helps get rid of keratosis pilaris. This dermatologically tested scrub uses 10% AHA, an active blend of glycolic and lactic acids that exfoliate dead skin cells on the surface, thereby revealing radiant and smoother skin.

This gentle scrub and body exfoliator also contains pumice buffing beads to mechanically remove the dead skin cells on the skin surface and bisabolol to soothe and calm the skin. Additionally, its antioxidant-rich vitamin E conditions the skin while fighting off environmental aggressors. Look at this video for the tester's experience with this vegan exfoliating scrub for legs.
Key Ingredients: Pumice buffing beads, Glycolic acid, Lactic acid, Bisabolol, and Vitamin E
Pros
Relieves keratosis pilaris
Gentle on the skin
Non-greasy
Smoothens the skin
Allergy tested
Nano-free
Gluten-free
Soy-free
Vegan
Artificial fragrance-free
Cruelty-free
Dermatologist tested
Cons
Want an exfoliating scrub for sensitive skin? Try the Brooklyn Botany Brown Sugar Scrub. It is a gentle and effective exfoliator, specially made to cleanse and soothe sensitive skin. Brown sugar is enriched with glycolic acid, a chemical exfoliant with powerful AHA-fighting bacteria, and scrubs away dead skin cells to reveal naturally glowing skin. It also helps boost cell turnover, reverse sun damage, and support aging skin.
Brown sugar also acts as a natural humectant that attracts moisture from the air and locks it into your skin. This conditioning formula reduces toxins and impurities while also diminishing the appearance of stretch marks, cellulite, acne, and varicose veins. Take a look at this video of the tester's experience before purchasing this leg exfoliator to have a clear idea about the most popular exfoliating scrubs for legs.
Key Ingredients: Brown sugar
Pros
Softens the skin
Moisturizing
Gentle on the skin
For face and body
Reveals glowing skin
Cons
The four-in-one nutrient-dense formula of the PureScrubs Dead Sea Salt Body Scrub exfoliates, cleanses, nourishes, and moisturizes your skin. It contains 100% fine grain Dead Sea salt infused with oils, vitamins, and nutrients that provides a gentle exfoliating action.
This skin-pampering sea salt body exfoliator has essential organic oils of coconut, carrot seed, and geranium that work as microscopic cleansing agents. In addition, the oil blend of argan, sweet almond, aloe vera, and avocado work together with shea butter to soften and smoothen the skin. These benefits of this gentle scrub have been attested for by the reviewers.
Key Ingredients: Dead Sea salt, Organic essential oils, and Vitamin E
Pros
Softens the skin
Pleasant fragrance
Moisturizing
Brightens the skin
Cons
None

Treat yourself to the relaxing and soothing scent of lavender and bergamot essential oils while getting softer skin. Lavender essential oil also decreases itchiness and acne, while bergamot removes scars. According to reviews, the ultra-fine Dead Sea salt gently exfoliates dead skin cells and flaky skin. This exfoliating physical scrub for acne-prone skin is enriched with a moisturizing blend of jojoba, argan, and sweet almond oils that nourish the skin to offer overall healthy skin.
Key Ingredients: Jojoba oil, Argan oil, Sweet almond oil, and Dead Sea salt
Pros
Moisturizing
Alleviates keratosis pilaris
Relieves psoriasis
Value for money
Cons
None
Try the GiGi No Bump Body Scrub, a cruelty-free exfoliating scrub for legs that diminishes ingrown hair to leave you with silky, smooth skin. It works by supporting dead cell removal and unclogging pores in bumpy skin, as noted by multiple reviewers. This highly affordable exfoliator for legs and overall body is enriched with antioxidant-rich rice bran wax for fighting off free radicals and salicylic acid, a chemical exfoliant for exfoliating the skin.
Key Ingredients: Rice bran wax and Salicylic acid
Pros
Reduces ingrown hair
Eliminates bumps
Smoothens the skin
Paraben-free
Triclosan-free
Synthetic dye-free
Sulfate-free
Cruelty-free
Cons
None
Say bye-bye to itchy, rough, dry, and scaly skin with the gentle physical exfoliation of the Bare Botanics Lemon Orange Small Batch Organic Salt Scrub. The fine Dead Sea salt particles melt away oils, dirt, impurities, and dead skin cells while enhancing the skin's natural radiance. This exfoliating scrub for dry skin uses a blend of organic oils of avocado, jojoba, and argan with aloe vera to deeply moisturize the skin without being greasy. According to reviews, this body exfoliator for legs will leave your skin feeling buttery smooth.
Key Ingredients: Dead Sea salt, Avocado oil, Argan oil, Jojoba oil, Vitamin E, Shea Butter, Coconut oil, and Aloe vera
Pros
Softens the skin
Value for money
Pleasant fragrance
Imparts glow
Non-greasy
Synthetic fragrance-free
Vegan
Cruelty-free
Cons
None
For melting away grime and impurities, choose this Maple Holistics Exfoliating Himalayan Salt Scrub. It is ideal for all skin types and helps smoothen your skin, improve overall health, and enhance radiance. This pink Himalayan salt physical scrub contains aloe vera and sweet almond, grapeseed, and jojoba oils that hydrate the skin while the Himalayan salt clears the skin. This exfoliating scrub for all skin types has vitamin E in its formula which provides luxurious nourishment and prevents irritated skin. Choose the Maple Holistics Exfoliating Himalayan Salt Scrub to effectively exfoliate your skin, reduce impurities, and enhance its overall health and radiance.
Key Ingredients: Vitamin E, Himalayan salt, Jojoba oil, Almond oil, and Aloe vera
Pros
Softens the skin
Moisturizing
Pleasant fragrance
Makes the skin smooth
Non-sticky
Cons
None
The Majestic Pure Mango Butter Scrub is deeply moisturizing and enriched with the rejuvenating action of collagen. This pure salt exfoliator for legs contains a gentle exfoliant that detoxifies and hydrates the skin while providing essential nutrients for overall skin health. It is also enriched with biotin and stem cells enhancing skin tone, texture, and natural radiance.
This scrub uses high concentrations of vitamins A and C to boost elasticity and hydration. These also prevent damage due to the sun's rays, pollution, and blue light, along with premature aging. This leg exfoliator prevents muscle cramps and soreness while prolonged use reduces marks and cellulite. You can use this scrub to fight water retention as well.
Key Ingredients: Biotin, Collagen, Stem Cell, and Mango butter
Pros
Smoothens the skin
Non-greasy
Softens the skin
Hydrating
Pleasant fragrance
Cons
None
*The prices provided in this article are based on the latest available information. However, they may vary due to changes in pricing by the seller and/or promotional offers.
Why Trust StyleCraze?
Shiboli Chakraborti is a certified skincare coach and writes articles well-backed by scientific evidence. After going through several online products, she has put together this list of the best exfoliating scrubs for legs. This curated list of products has been created after thorough research of their ingredients, suitability to skin type, and customer reviews. Shiboli has also included detailed descriptions, pros and cons, and answers to some frequently asked questions to assist you in picking the best.
Frequently Asked Questions
Do I use body scrub before or after soap?
When using body scrub, a clean skin absorbs nutrients better and provides better results. So, use a soap before you use a body scrub.
Which is better, sugar or salt scrub?
Salt scrubs tend to be bigger granules as compared to sugar scrubs and are also more abrasive. So, for a gentle physical exfoliation, especially for sensitive skin, a scientifically formulated sugar scrub is the better choice.
How many minutes should I scrub my body?
Scrub your skin with the professional-grade body scrub using gentle and small circulation motions for no more than 30 seconds.
Is it better to exfoliate in the morning or evening?
Your skin tends to produce oils overnight and accumulates dirt, dead skin, and impurities,  so it is best to exfoliate in the morning before you shower.
What is the best scrub to get rid of strawberry legs?
The Tropical Mango Tree Hut Shea Sugar Scrub is the best product to eliminate strawberry legs. It features exfoliating sugar crystals that eliminate dead skin cells, deep clean the pores, and hydrate the skin.
How many times a week should you exfoliate your legs?
Exfoliate your skin two or three times a week to reveal your bright and smooth texture.
Do I exfoliate before or after shaving my legs?
Exfoliate before shaving your legs to remove dead skin cells and smoothen the skin.
Recommended Articles