13 Best Coconut Body Washes Of 2022 To Remove Dirt And Impurities
Keep your skin away from dirt and impurities with gentle cleansing formulas.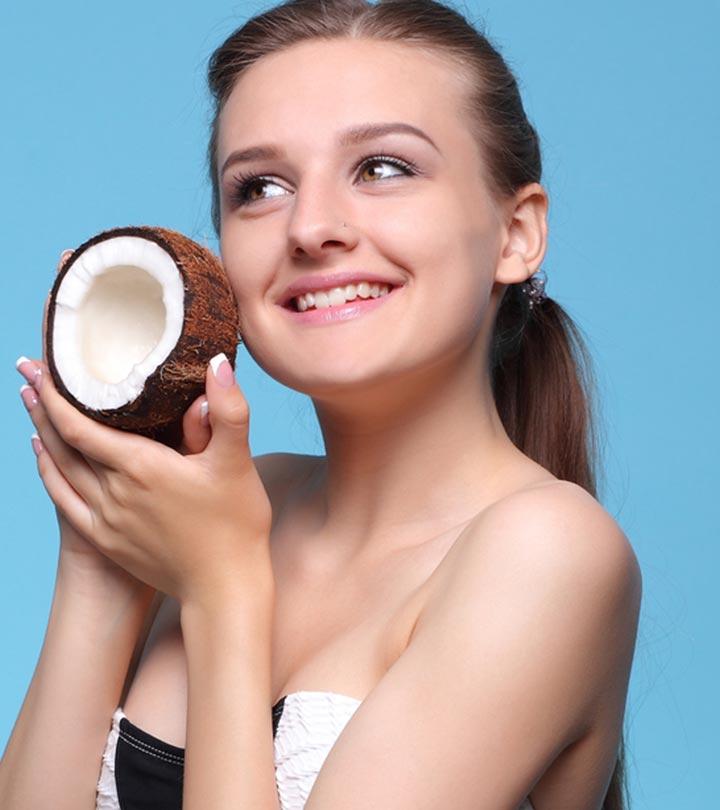 Coconut is known for its healing power and is considered the goodness of nature. It is rich in nutrients and offers a great dose of nourishment to your skin. Having the best coconut body wash in your skincare regimen not just cleanses and refreshes your body but also uplifts your senses with a pure aroma. It removes dirt and impurities from the body and provides hydration to a maximum extent. Coconut body washes contain water, coconut milk, and coconut oil with skin-conditioning properties. They help prevent dryness and keep your skin moisturized and supple. The presence of antioxidants in the formulations can soothe your irritated skin and restore the natural oils instead of stripping them off. Coconut body washes make your skin smooth and soft. In this article, we have narrowed down the 13 best coconut body washes to keep your skin perfectly hydrated. Scroll down and check them out.
13 Best Coconut Body Washes To Relax Your Senses In 2022
OGX is known for its wonderful range of skincare products loaded with exotic ingredients like coconut and argan oil. One of its finest products is this moisturizing body wash that cleans the skin and makes it feel refreshed every time you use this product. Fortified with the ultra-hydrating blend of coconut oil, vanilla bean extract and essence tiare, it smells great and makes the skin feel super smooth. The rich formula gets quickly absorbed into the skin and restores moisture, thus making your skin hydrated. This coconut oil shower gel is great for all types of skin. With consistent use, you can get soft, smooth hydrated skin. For more information about the product, click this video.
Pros
SLS free formula
Makes skin glowy
Thick creamy formula
Has a pleasant fragrance
Cons
Scent might be slightly overpowering for some
JASON smoothing coconut body wash is all you need when you wish to pamper yourself with chemical-free creamy rich lather. Infused with unrefined coconut oil, it is high in vitamin E that makes skin feel silky smooth. This coconut oil body wash also contains shea butter that helps the skin feel nourished intensely. The ingredients are safe and very gentle on the skin. The fragrance of this coconut scented body wash gives you a beautiful feel all day long.
Pros
Cruelty-free
No phthalates
Free from parabens
No GMOs
No artificial colors
Cons
Slightly strong for acne-prone skin
This award-winning plant-powered formula is developed by a team of chemists and dermatologists. It is a premium shower gel that cleanses impurities and levels up hydration in the skin. Made of a coconut-based cleanser and sea-salt, the body wash builds a rich foam that hydrates skin and leaves your skin feeling soft and smooth. The ingredients are naturally derived and are free from chemicals. Thus, being safe for skin. The fragrance is ultimate and might make you fall in love with this coconut vanilla body wash.
Pros
No dyes
No formaldehyde
No sulfates
No parabens
No perfumes
Peta-certified cruelty-free
Cons
Fragrance might not last very long
Everyone 3-In-1 coconut lemon soap is a unique blend of lemon and sweet coconut brought together to upgrade your bathing experience. The body wash helps in cleansing the body and reviving your senses with its amazing formula. A cool morning shower with this body wash leaves you more energized, refreshed and ready to conquer the day. You can use it all over your body from head to toe and nourish your skin at the same time. You can even use it on your hair like a shampoo and expect nothing but deep nourishment.
Pros
Gluten-free
GMO free
Triclosan-free
Free from synthetic fragrances
Cons
Lather might be less for some
If looking for a gentle cleanser that helps you get rid of impurities, makes your skin feel moisturized and maximize your skin's vitality, then this is the body wash you need to choose. With coconut oil and Vitamin E, this body wash is designed to keep up with the hydration of skin. It is super nourishing and helps keep dryness at bay. This could also be your solution, if you have itchy and irritating skin. The formula is dermatologist tested and is safe for the skin. Its beautiful coconut scent is delightful and gives you a pleasant bathing experience.
Pros
pH balanced
Paraben-free
Dye-free
Also works for shaving
Not tested on animals
Cons
Ivory Clean Body Wash is the ideal body wash for people who fear to wear out their skin by ripping off excess body oils. It leaves the skin clean and hydrated at the same time. The formula forms a thick lather and still is mild on the skin. It can be used by the entire family including kids. The perfume-like scent makes the formula pleasing enough to give you a divine bathing experience. Chemical-free formula gives a comfortable, light and dewy feel with no residue on skin.
Pros
Smooth texture
Moisturizes skin
Refreshing lather
Free of dyes
Cons
Slightly thin consistency
Olay Ultra Moisture Coconut Oasis Body Wash can be your fancy regular body wash to keep your cleansing experience heavenly. It has an advanced formula with lock in moisture technology that your body wants when there is excessive dryness. Loaded with triple-action cleansers and vitamin B3 complex, the body wash boosts hydration and nourishes your skin. It helps the moisture penetrate beneath your skin and keep the moisture locked for up to 24 hours. The formula is gentle and has an amazing exotic coconut fragrance that makes shower time full of pleasure.
Pros
Has silky texture
Reasonably priced
Light-weight formula
Available in multiple scents
Cons
Alaffia everyday coconut body wash is enriched with coffee berry extract, vitamin E and virgin coconut oil. The high nutrient formula makes cleansing easy, mild and is ideal for everyday use. It is handcrafted without the use of sulfates, silicones and parabens. Formulated with pure virgin coconut oil, the body wash does a great job at moisturizing, restoring and protecting the skin. Check this video to learn more about the product.
Pros
No synthetic fragrance
No phthalates
No Mineral oil
Does not dry out skin
Cons
Fragrance might not be pleasing for all
Expecting to feel silky smooth after every bath? Then you have to give this body wash from Shea Moisture a try. Infused with organic raw shea butter, acacia senegal, coconut oil and coconut milk, this body wash is super gentle on the skin. It cleanses effectively and still contains amazing conditioning properties. Acacia senegal helps in sealing moisture and keeping the skin soft. Coconut milk works great for itching, dryness and soothing of skin. Coconut oil, on the other hand, provides hydration and nourishment to the skin cells making the skin all soft and supple. Altogether, it is a refreshing formula which turns out as an amazing daily body wash.
Pros
Balances skin pH
High in vitamin E
Calms down irritated skin
Does not make the skin greasy
Cons
Slightly watery consistency
When looking for a body wash that has a perfectly balanced pH and intense nourishment formula, don't waste time opting for other body wash options. This is the ultimate coconut body wash that has a nourishing formula enriched with jojoba oil, vitamin E, aloe vera and coconut. Boondy sands body wash cleanses and softens skin without ripping off the natural oils from the skin. By simply massaging the body wash in a rich lather on your damp skin, you provide your skin with the deep moisturization that it needs. The product stands out due to its ability to cleanse and give a naturally golden tan that looks beautiful on the skin.
Pros
Vegan formula
Cruelty-free
Clear, gel consistency
Light, pleasant fragrance
Cons
Are you someone who loves to indulge in hot baths to de-stress and leave the day's mess behind? If yes, then you must try this coconut cream body wash from Pacifica. It is formulated with fresh coconut and vanilla, to smell wonderful and lift your spirits as soon as you wash yourself with it. The formula is based on de-stress plant-powered aromatherapy which actually makes you feel delighted, moisturizes the skin and calms down your senses. The packaging is recyclable which means you are saving the environment too.
Pros
Vegan formula
Cruelty-free
No mineral-oil
Phthalates free
Paraben-free
No SLS
Cons
Fragrance doesn't last long.
Archipelago Botanicals brings to you the real goodness of coconut oil, that you wish your body wash had. It has no skin stripping chemicals, instead is loaded with natural ingredients. Enriched with natural coconut oil, water, the body wash does a great job at moisturizing the skin. It is wonderfully scented with lemon verbena that gives a splendid feel and keeps you delighted. This foaming gel wash has a sugar base which lets you exfoliate and clean deeply. Induced with fine quality oil, this coconut exfoliating body wash leaves the skin nourished, hydrated and soft.
Pros
Balanced pH
Light on skin
Beautiful aroma
Leaves no residue behind
Cons
Does not smell like pure coconuts
Palmers Coconut body wash with Monoi is a must-have product when it comes to reviving your body and keeping your body clean. This body wash contains pure coconut oil along with Monoi to hydrate your skin and keep it smooth. Induced with sustainably produced plant derived ingredients, the formula is great to pamper your skin. The body wash is moisturizing and keeps dryness at bay. It smells wonderful and feels really silky.
Pros
Makes skin soft
Gluten-free
No mineral-oil
Contains no sulfates
Cons
Some may not like the peculiar coconut smell
Hope the products mentioned above suit your interest. If you wish to get a coconut body wash for yourself, consider the points mentioned below to invest in a better product.
How Do I Choose The Best Coconut Body Wash?
Look for the following points when choosing the best coconut body wash-
The formula must be free from harsh chemicals like sulfates, parabens, mineral oils if you have sensitive or acne-prone skin.
If you wish to have a coconut body wash that de-stresses you, look for something that has pure coconut fragrance.
A coconut body wash that contains other nourishing ingredients like aloe, lemon and jojoba oil are good for dry skin.
In case, you have oily skin, look for coconut body wash which has gel formula and does not contain oils.
How To Use Coconut Body Wash?
Take a few drops of body wash.
Massage it onto your damp skin.
Rinse it with water.
Benefits Of Coconut Body Wash
A coconut body wash is moisturizing for the skin.
It is a great product to pamper oneself and feel fresh instantly.
Coconut body wash helps clean the skin in a very gentle way.
It is relaxing and soothing for the body.
Coconut body wash can help keep dryness in control.
The coconut scent can reduce stress.
It keeps your skin silky smooth.
Why Trust StyleCraze?
The author of this article is a skin and hair care enthusiast and loves to talk about skin and hair care products. Body washes are a crucial part of our bathing routine. The author understands that and has compiled this list of the best coconut body washes for you. The author has carefully researched plenty of user reviews and product feedback online to handpick the best ones. The above-listed items are great to keep your skin clean, supple, and hydrated throughout the day.
Frequently Asked Questions
Is Coconut Body Wash Good For Your Skin?
A coconut body wash that does not contain chemicals is good for your skin.
Is Dial Coconut Water Body Wash Antibacterial?
No, Dial coconut water body wash is not antibacterial.
Recommended Articles