The 13 Best Korean Hair Care Products Of 2023 (Updated)
Your search for the mysteries of gorgeous Korean hair ends here with these products.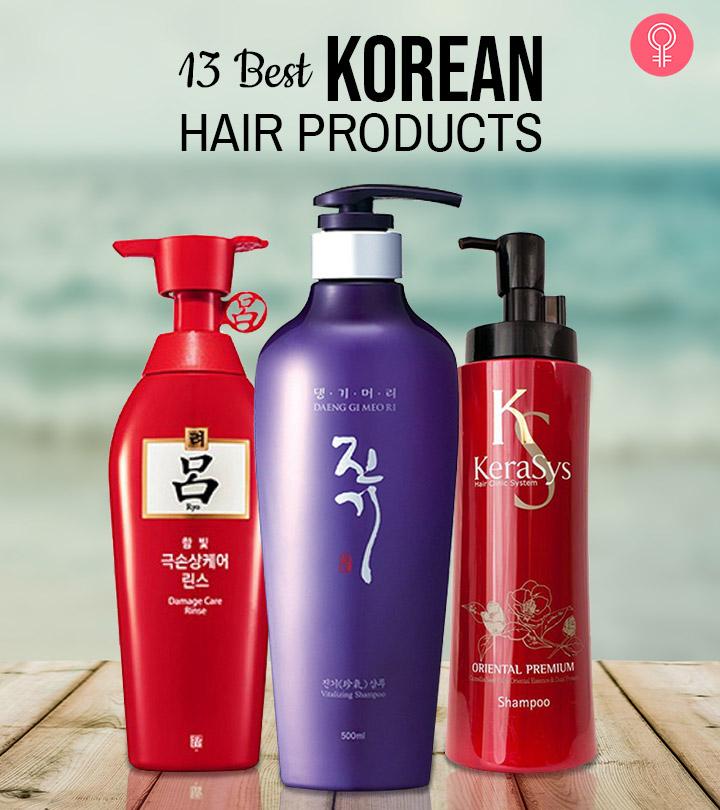 K- beauty is one of the top global markets in the world today. With innovative formulas offering nourishment and protection from damage, it's no wonder that beauty bloggers and experts can't stop talking about Korean beauty products. Laura Dale, a licensed cosmetologist and a hair expert, says, "Korean hair care focuses on ingredients for both healthy hair and a healthy scalp, which is why your hair feels so smooth and healthy after using them." Here is a list of the 13 best Korean hair products you can try to up your hair care game. Scroll down to check out the K-beauty hair products!
13 Best Korean Hair Products
This mayo mask from the popular K beauty brand is fortified with nutrition enriched oils. It provides moisture and shine to dry tips and damaged hair giving smooth hair. It leaves the hair smelling like vanilla and macadamia nuts and exuding natural beauty. This hair care mask contains shea butter and macadamia seed oil that hydrate and moisturize dry and brittle hair. It also contains egg yolk extract that nourishes and smoothes hair to give a natural shine. Many reviewers have noticed this Korean protein hair treatment mask to reduce frizz and remove split ends. It supplies nutrition and hydration to the hair, making it healthy. To learn about the tester's experience and find out more about this product, check out this video.
Pros
Nourishes and strengthens hair
Reduces split ends
Tames frizz
Repairs and reduces hair damage
Makes hair soft and smooth
Cons
Has a tiny spout.
May not work for all hair types.
May not suit all scalp conditions (oily, dry, normal).
Price at the time of publication: $16.0
Similar products:
This protein hair care treatment contains ceramide 3 and collagen. It claims to enhance the purity of hair in just 5 minutes. This Korean product reduces and prevents intense hair damage from the sun or heat. It is a rich, deep conditioning and repairing protein hair treatment mask for damaged and over-processed hair of all textures. It contains soy protein extract, allantoin, ceramide 3, and pig collagen components. This Korean hair treatment improves hair texture and health. If you are still unsure, this video review of a tester's experience might be useful.
Note: Use a cap when going out for a few days after using this treatment.
Pros
Volumizes fine and soft hair
Nourishes and strengthens hair
Smoothens hair
Repairs heat damage
Safe for colored hair
Cons
Little quantity for the price.
May increase frizz.
May not work for all hair types.
Price at the time of publication: $7.84
Similar products:
This nourishing hair pack provides intensive care to severely damaged hair, helping with hair loss control. It contains argan oil, rosehip oil, and evening primrose oil that lock moisture into the hair while nourishing and conditioning the tresses. It uses an advanced deep conditioning treatment formula that imparts shiny and smooth hair. It repairs split ends, white dots, and hair damage from styling tools and treatments. Use this pack after shampooing your hair and towel drying it. Apply it to your hair from midway down to the ends. Wrap your hair in a hair cap and gently massage it. Leave the pack for about 5-10 minutes and then rinse off thoroughly. For best results, use this once a week.
Pros
 Nourishes and moisturizes hair
 Makes the hair silky and shiny
 Reduces split ends
 Smoothens hair
 Repairs hair damage
Cons
Price at the time of publication: $23.88
Similar products:
The Mise En Scene Perfect Repair Serum is a highly concentrated nourishment for your dull hair as it repairs the harshest of hair damage caused by styling and coloring treatments. It contains a special cocktail of seven beneficial oils: argan, Camellia, coconut, apricot, marula, jojoba, and olive oils. This shine serum for color treated hair also helps repair split ends and rejuvenates dry, tangled, and rough hair strands. It also improves hair strength, and elasticity as well. After you wash and towel dry your hair, pump a quarter-sized amount of the serum into your palms. Spread it evenly onto damp hair. After it dries, apply more to the ends. It can also be applied to dry hair. Check out this review of a tester's experience for a closer understanding about the product.
Pros
Repairs damaged cuticle
Reduces split ends
Improved hair elasticity
Adds shine
Smoothens hair
Cons
Strong smell
May not work for all hair types.
Price at the time of publication: $14.6
Similar products:
The All New Plus TS Shampoo is suitable for all hair issues and types utilizing the goodness of rice water for hair growth. This Korean hair shampoo stimulates hair growth, reduces thinning, and prevents hair breakage with the help of essential ingredients. The strengthening scalp treatment formula is enriched with the goodness of biotin, niacinamide, panthenol, and zinc pyrithione to help with hair loss control, shinier hair and keep the scalp clean for hair regrowth. This herbal shampoo with keratin contains 10 supplementary ingredients, including hydrolyzed rice protein, and arginine to control hair loss. It also contains traditional Korean herbs like camellia sinensis leaf, ginseng, grapefruit extract, chrysanthemum, and honey rejuvenates damaged hair by eliminating product buildup from the hair. Natural botanical oils such as orange peel, bergamot fruit, and lavender oils are also present in this Korean salon shampoo. They hydrate and smoothen the hair strands, while ensuring long-lasting shine. Reviewers were also impressed with the product's ability to strengthen their hair.
Pros
Promotes scalp health
Non-sticky
Natural aroma
Promotes lustrous hair
Silicone-free
Natural lavender scent
Cons
None

Price at the time of publication: $32.85
This sheep steam K beauty product is a complex formula, specifically for hair damaged by perming or coloring. This product for color treated hair, is a solution to several hair concerns as it makes damaged hair silky and provides professional salon care to hair. The aroma steam collagen works into the hair shaft to deeply help repair hair of all types. It revitalizes and repairs weak, burnt, forked, dyed, sunburned, and frizzy hair. After you shampoo your hair, gently dry it, so it is left damp. Apply the steaming hair pack. Remove the paper from the sticker and fix it in front of your face. Lightly massage the pack and wait for about 10-15 minutes before washing it off.
Pros
Repairs damaged hair
Nourishes hair
Makes hair smoother
Suitable for all hair types
Cons
The sticky part loses grip.
Price at the time of publication: $20.0
The food-grade tea tree essential oil complex in the vegan formula of the Aromatica Tea Tree Purifying Shampoo has scalp treatment properties and controls excess sebum production to preserve scalp freshness, while the salicylic acid helps relieve product buildup from oily scalp. Peppermint soothes the itchy scalp, and the gentle scalp scrub formula cleanses and refreshes the clogged pores and balances scalp oils on the irritated scalp. This Korean hair shampoo leaves a refreshing herbaceous fragrance that lingers all day long on the glossy hair.
Pros
Prevents hair loss
Prevents scalp acne
Removes scalp odor
Free of artificial fragrances
Sulfate-free
Silicone-free
EWG verified
Vegan
Cons
None
Price at the time of publication: $23.99
Kerasys Oriental Premium Shampoo and Conditioner is a perfect combination and is based on the hair science of Kerasys and oriental beauty formula. The Korean hair care product strengthens the hair, improves its elasticity and keeps the hair hydrated. The camellia seed oil present in the shampoo and conditioner makes the hair glossy. The duo contains dual proteins of hydrolyzed wheat protein and wool keratin. These ingredients revitalize damaged hair tissue and strengthen the scalp and hair roots. This set from the renowned K beauty brand reduces hair fall and hair loss and also protects the hair from further damage.
Pros
Strengthen the scalp and hair
Reduce hair fall
Reduce hair damage
Decrease hair breakage
Impart a glossy shine to the hair
Cons
May not suit all scalp conditions (oily, dry, normal).
Price at the time of publication: $21.5
This curling essence is an ideal Korean hair volumizer for curly hair from a reputed K beauty brand. This product also moisturizes curly hair and is a recommended inclusion for your Korean hair care routine. It has been formulated by hair experts, researchers, and marketers who created an essence mixed with wax to style hair professionally at home. This Korean hair care product contains aloe vera extracts, which hydrate your hair and give it a healthy glow. It also contains Amos Professional's patented aqua chain effector technology. This technology produces a simultaneous hair-softening essence effect, conditioning the hair strands. It also helps style wavy hair, defines curls, and gives bouncy hair.
Pros
Defines curls
Imparts a healthy shine
Softens hair
Strengthens hair
Reduces hair damage
Cons
May make curls hard to touch.
Price at the time of publication: $13.65
This beautiful and vibrant AROMATICA Cypress Deep Cleaning Shampoo features cypress, pine, and eucalyptus extract, which offer a refreshing deep cleansing experience. The Korean hair cleansing shampoo is formulated to remove up to 94% of dust particles from the scalp and hair strands. The vegan formula is derived from plant-based ingredients and has a therapeutic and pleasant herbaceous scent. It gives you a sense of holistic well-being.
Pros
Plant-derived ingredients
EWG-verified
Non-irritating
Vegan
Paraben-free
Cons
None
Price at the time of publication: $24
The LA'DOR Tea Tree Scalp Clinic Hair Pack invigorates and cools up your senses while keeping your hair healthy. The tea tree and snail mucin extracts in this natural product are great skin care ingredients for controlling impurities and reducing redness. In addition, the menthol content in this hair pack is perfect for soothing and cooling down itchy scalp skin during dry conditions. The natural beauty formula makes it safe for use on sensitive scalp. Multiple reviewers have noted a soothing effect on their itchy scalp after using this product. So whether you're trying to soothe a dry scalp or keep it hydrated, this hair pack is a perfect choice!
Pros
Suitable for all skin types
Natural ingredients
Strengthens hair
Soothing effect
Cons
Price at the time of publication: $17.99
This shampoo is specially formulated with organic ingredients rich in hair care properties for highly damaged hair. It deeply nourishes, conditions, and hydrates the hair strands, making dry and frizzy hair manageable and silky smooth. This Korean scalp treatment shampoo contains camellia oil that hydrates hair, softens it, and mends split ends to prevent further damage, thus promoting healthier hair. The presence of pomegranate extract stimulates blood circulation to the scalp and strengthens hair follicles, while Schisandra extracts promote better hair growth. The shampoo not only prevents hair damage but also makes it supple, stronger, and conditioned, leading to healthier hair.
Pros
Ideal for dry, frizzy, coarse hair
Herbal fragrance
Cons
May not work for all hair types
Price at the time of publication: $15
The Skin Food Argan Oil Repair Plus Heat Serum in Oil rejuvenates and protects hair damaged by heat styling. The Korean beauty product also protects dry and brittle hair strands from heat damage. This nourishing Korean hair serum for hair growth contains skin care ingredients such as cyclopentasiloxane, dimethicone, and jojoba seed oil. This Korean heat protectant serum is lightweight, which makes your hair stronger and silky smooth. This Korean hair oil and serum also nourishes your hair strands and imparts shine, promoting healthier hair.
Pros
Lightweight
Moisturizes the hair
Smoothes the hair
Controls frizz
Cons
None
Price at the time of publication: $15
Why Trust StyleCraze?
Shiboli Chakraborti is our in-house skin care expert and has keen interest in hair care. In this article, she has scanned multiple products before curating a list of the best Korean hair products for healthy and luscious tresses. She went through multiple product reviews, their ingredients, and user feedback to curate this list of the best options for her readers. The products mentioned in this list nourish and strengthen hair, repair damage, add volume, and reduce split ends.
Frequently Asked Questions
What is the hair care routine for smooth and shiny hair like Koreans?
Follow these steps to achieve smooth and shiny hair like Koreans:
Step 1: Use a scalp scrub or scaler to exfoliate and get rid of dirt and product buildup.
Step 2: Follow it up with a shampoo, according to your hair and scalp type.
Step 3: Moisturize your hair with a good conditioner.
Step 4: Follow this up with a hair rinse using vinegar.
Step 5: Use a hair mask (once a week) to rejuvenate your hair and scalp.
Step 6: Use a scalp tonic to balance the pH levels of the scalp.
Step 7: Apply a scalp serum to heal and hydrate the scalp.
Step 8: Follow this up with a hair essence to hydrate the strands.
Step 9: Use overnight treatments to nourish and rejuvenate the hair.
What to look for in a Korean hair care product?
Look for shea butter, macadamia seed oil, ceramides, allantoin, and soy protein in your Korean haircare products. You can also invest in products with argan oil, rosehip oil, Moroccan oil, jojoba oil, and olive oil. These ingredients possess hair care properties that nourish and rejuvenate the scalp and promote hair health and shine.
What are the best Korean hair care products for thinning hair?
The Kerasys Oriental Premium Shampoo and Conditioner work as a power couple to reduce hair thinning and protect from damage. The Daeng Gi Meo Ri Vitalizing Shampoo also helps with thinning hair.
Recommended Articles