10 Best Korean Beauty Boxes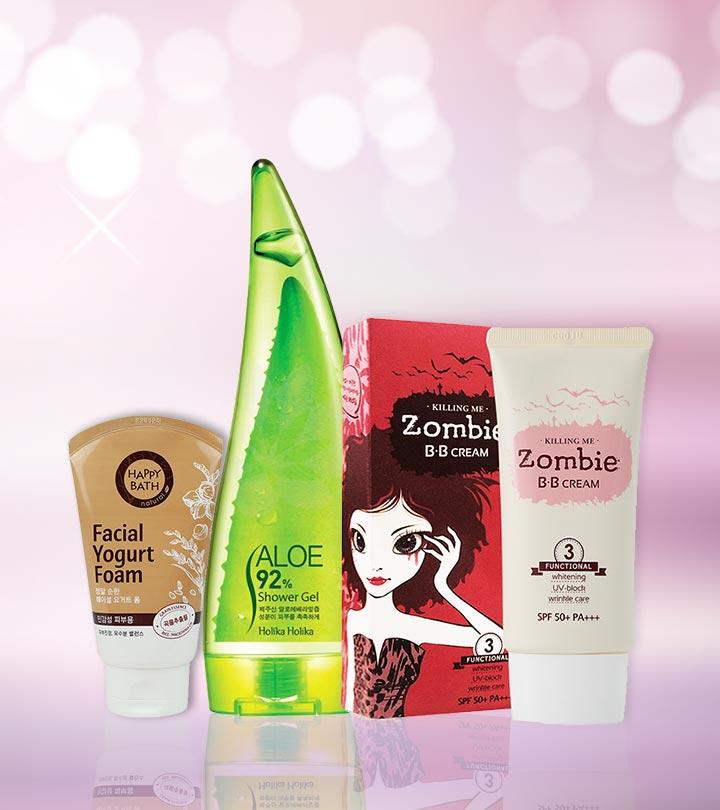 From skincare to makeup, the Korean beauty world is the epicentre of new beauty technology and is always a step ahead. Korean beauty products are super efficient, and they are oh-so-popular at the moment. I got my hands on a bunch of these incredible beauty boxes as I love to indulge in a transformative sheet mask and throw on some rich moisturizer – who doesn't, right? These K-beauty subscription boxes are the real deal and will make you want to show off your gorgeous skin without the help of concealer #nofilterneeded.
Let's take a look at what's best, and you'll know why they have a cult following.
10 Best Korean Beauty Boxes That You Need To Try
1. Facetory
What's In The Box?
Sheet Masks
Facetory Korean Beauty Subscription Box Review
This is a box that's solely dedicated to sheet masks. So if you're like me and love occasional self-pampering, you will love the variety of masks it contains. You can treat yourself to either four or seven of them each month depending on the package you choose. Every month, Facetory has a whole different set of sheet masks in its beauty box, and I also love how the company offers special-themed boxes. I must say, the packaging is brilliant, and the masks contain brilliant ingredients that will leave your skin with a radiating glow. This is a must-try!
Rating: 5/5
Purchase Link: www.facetory.com
2. Miss Tutii
What's In The Box?
You can choose your products from the ones offered by Tuttibox, which comes with six full-sized products each month. You can also choose a Tuttibag, which is a smaller version of the box, and it contains samples of skincare and makeup products. Mask lovers can opt for the TuttiMask box for a set of sheet masks.
Miss Tutii Korean Beauty Subscription Box Review
Miss Tutti is one of the most popular K-beauty box subscription services out there. The products are hand-picked by experts and put together in a gorgeous, personalized manner. I was impressed with the Collagen Mask, which made my skin so soft and supple – it was nothing like I've ever experienced before. You can choose between a 12 month, six months, and a three-month subscription as per your preference. Definitely give Tuttibox a shot if you're into trying new skincare and makeup products!
Rating: 5/5
Purchase Link: www.misstutii.com
3. Mishibox
What's In The Box?
It contains a combination of 5-6 deluxe-sized samples and full-sized Korean beauty products from a wide range of Korean brands. These include haircare, skincare, and makeup.
Mishibox Review
If you're looking for an easy, affordable, and convenient way to try out new Korean beauty products, Mishibox is a budget-friendly option. This box also makes understanding ingredient lists and directions easy for non-Korean speakers by translating them on the packaging and website. I personally enjoyed using its Donkey Milk sheet masks, which made my skin soft and glowy. This box is definitely worth trying and subscribing to.
Rating: 4.9/5
Purchase Link: www.mishibox.com
4. 3b Beauty Beyond Borders
What's In The Box?
4-5 deluxe samples each month that are new or popular in Asia (but are quite hard to get your hands on).
3b Beauty Beyond Borders Review
3b stands for 'beauty beyond borders'. This box introduces about four or more hand-picked products to its subscribers. I was impressed to find products from brands like Etude House, Sulwhasoo, and Kanebo which happen to be high-end premium brands in Asia. I was relieved to see the information card along with the box that contains a brief description of the products and directions for use. This was full of interesting goodies and products that I really enjoyed using. Do give this a shot!
Rating: 4.9/5
Purchase Link: hellosubscription.com
5. Kokobox
What's In The Box?
Each of its handmade boxes come with 2-3 full-size items, and the deluxe box contains 3-4 products including makeup, skincare, haircare, and body care products.
Kokobox Review
The Kokobox comes in different variations – KokoStyle and KokoBites so you can feed both your beauty addiction and your appetite. I was impressed with the well chalked-out plans the company had to offer – you can purchase boxes on a month-to-month basis or through either a three or six-month prepaid plan that includes free international shipping.
Also, the boxes are semi-customizable so you can choose your makeup color and you'll receive your exact shade. I also had the chance to try some delicious Korean snacks which I got in my KokoBites box.
Rating: 4.8/5
Purchase Link: kokobox.net
6. JoahBox
What's In The Box?
Korean makeup items and skincare products – 5 to 7 real size items valued up to $100.
JoahBox Review
I was so impressed by the quality of the products in this box – they were very effective and of top-notch quality. It offers free worldwide shipping, and I honestly feel it's such an incredible steal! I love how the company does not include animal ingredients in its product selection. The box includes makeup, skincare, haircare, and beauty tools from premium brands. Plus, you also get tips and tricks on how to make the best use of them!
Rating: 4.8/5
Purchase Link: joahbox.com
7. Beauteque Monthly
What's In The Box?
The 'Mask Maven' subscription offers nine facial masks, and the 'BB Bag' option offers six full-sized K-beauty products.
Beauteque Monthly Review
If you're new to Korean beauty culture, this one is a great way to start off. It has monthly themes, giveaways and more, and you have two boxes to choose from! I also thought it was quite reasonably priced, and if you're on a budget, this is something you can look into. The mask box contains some extremely adorable sheet masks with fancy ingredients that have helped my skin. The beauty box had makeup, skincare, and body care products.
Rating: 4.7/5
Purchase Link: www.beautequemonthly.com
8. BomiBox
What's In The Box?
This box treats its customers to eight full-size bottles of the newest skincare goodies (including tools) tailored to suit all skin types.
BomiBox Review
This brand's website has some profound words to share – "less makeup, more skincare."Its skincare products are amazing, and the packaging is adorable. It offers so many things to try, and you get more than your money's worth.
Rating: 4.7/5
Purchase Link: bomibox.com
9. Mask Box
What's In The Box?
You'll get the monthly oasis your skin needs – this box delivers three or more sheet masks that will leave your face feeling rejuvenated and hydrated.
Mask Box Review
If you're tired of your dull and dry skin and nothing seems to work, you need to subscribe to this Mask Box ASAP! The masks are high-quality and made of ingredients like green tea, snail, bee venom and honey. It was a joy using these masks because they did help me fix my skin to a great extent. This is a convenient way to treat yourself, and you'll always be surprised with something new that comes along!
Rating: 4.6/5
Purchase Link: www.maskboxbeauty.com
10. Pink Seoul
What's In The Box?
A bunch of customizable, full-sized, and specially curated products that include haircare, skincare, and body care items.
Pink Seoul Review
This box was a thrill. You can choose from three monthly subscription boxes: one customized box with four full-sized items, a 'Pink Plus Box' that's meant for mature skin, and a mask box. This is K-beauty that's easy to access and makes creative usage of natural ingredients!
Rating: 4.6/5
Purchase Link: www.pinkseoul.com
Korean beauty products are the new rage. These beauty products are effective. Whether you want to moisturize your facial skin or pamper the face with a good mask, the products listed above help to achieve it easily. Be it oily, dry, or normal skin, the beauty boxes are tailored to provide you with the best ones. The products are crafted with high-quality ingredients and help to rejuvenate your skin and make your skin appear attractive.
Recommended Articles
The following two tabs change content below.