The 10 Best Laneige Products Of 2023 That You'll Love
Now hydrate your beautiful skin with these toxic-free, water-based products.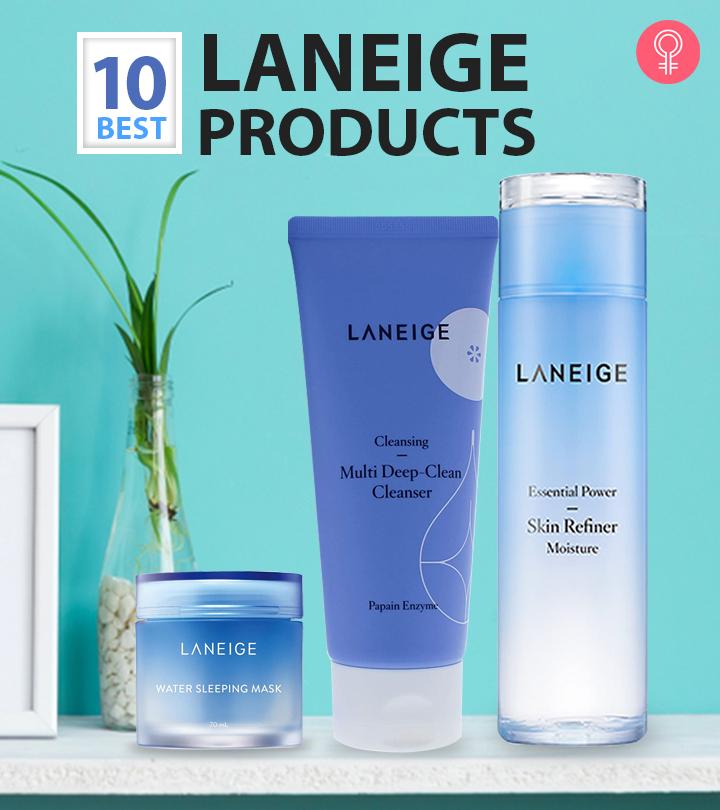 The best Laneige products work like magic on your skin. Hydration is the most vital factor for skin at any age, and no one does it better than Laneige, a South Korean brand that specializes in deep skin hydration. Laneige studied water science for about 25 years. They feel that hydration is the major factor in beautiful skin. Laneige products use effective water-based recipes for different skin types and concerns, thanks to their knowledge in moisture research.
Laneige products are dermatologist-approved and free of phthalates, parabens, and other hazardous ingredients. They are well-known for their sleeping and lip masks, but they offer much more. If you are interested in trying their products, read down to see our list of the 10 best Laneige products for your skin!
The Top 10 Laneige Products of 2023
Pros
Lightweight
Balances oil-moisture level
Paraben-free
Phthalate-free
Dewy finish
Cons
May look greasy on oily skin
Price at the time of publication: $32
This water-based sleeping mask contains highly concentrated Hydro Ionized Mineral Water to keep the skin hydrated and revitalize it overnight, giving you a well-rested appearance. It is infused with Laneige's Calming Sleep Scent™, a blend of orange flower, rose, sandalwood, apricot, and evening primrose fragrances that invigorate your senses. It is a water-based and non-greasy formula that gets absorbed fast, leaving a matte finish. This sleeping mask comes in two variants – regular and lavender. If you are newly using the product, this review might be useful.
Pros
Relaxing aroma
Paraben-free
Phthalate-free
Lightweight
Non-greasy
Matte finish
Cons
Contains silicones
Contains phenoxyethanol
Contains artificial fragrance
Price at the time of publication: $29.0
Pros
Absorbed easily
Suitable for dry and sensitive skin
Paraben-free
Dermatologist-tested
Cons
None
Price at the time of publication: $33
The Laneige Multi Deep-Clean Cleanser is formulated with papain enzyme and blueberry extract. This is a deep-clean face wash that dirt, dust, and dead skin cells, leaving your skin fresh and polished. This cleanser also contains palm oil and cellulose beads that scrub the skin remove every trace of makeup! Blueberry extract is rich in antioxidants, which improves overall skin health.  This product is suitable for oily skin.
Pros
Non-drying
Subtle scent
Biodegradable cellulose beads
Cons
Price at the time of publication: $23.0
Pros
Pleasant fragrance
Travel-friendly tube package
Lightweight
Cons
Pros
Deeply nourishing
Protects the lips
Patented moisture wrap technology
Easy to use
In-built applicator
Long-lasting
Cons
None
Price at the time of publication: $25
Pros
Lightweight
Gets absorbed quickly
Cons
Contains artificial fragrance
Price at the time of publication: $46.99
Pros
Suitable for all skin types
Non-comedogenic
Dermatologist-tested
Hypoallergenic
Non-sticky formula
Lightweight
Cons
None
Price at the time of publication: $33.6
Pros
Can double as an eye cream
Non-greasy
Suitable for dry skin
Gets absorbed quickly
Cons
Price at the time of publication: $74.99
Treat and pamper your skin while you are sleeping with the Laneige CICA Sleeping Mask. This mask is infused with patented forest yeast, cypress leaf extract, and panthenol that helps to rejuvenate your skin. The cream also creates a barrier at night, preventing moisture loss. It soothes your sensitive skin and increases its resilience to protect itself from damages.
Pros
Lightweight
Hypoallergenic
Silicone-free
Dye-free
Perfume-free
Cons
None
Price at the time of publication: $34
Laneige offers a magical skin care product line that makes you fall in love with your skin. Laneige manufactures potent formulas that restore and boost your skin's natural moisture. The brand sells multifarious products that meet the different needs of different people. To ensure that you choose the best Laneige product depending on your skin's needs, we have curated a helpful buying guide below.
1. Know Your Skin Type: Know your skin type first to build solid skin carotene. If you have dry skin, choose a product with natural emollients like shea butter. Opt for exfoliating ingredients like salicylic acid, clay, and niacinamide if you have oily skin. Choose an allergy-tested formula containing soothing ingredients like aloe vera for sensitive skin.
2. Skin Requirements: Choose a Laneige product that caters to your skin's needs. If you have fine lines, wrinkles, or dark spots, choose ingredients like retinol, panthenol, aloe vera, and hyaluronic acid, which minimize signs of aging and improve skin elasticity. On the other hand, if you are troubled with acne, go for pore-refining ingredients like salicylic acid, tea tree oil, and witch hazel extract, which reduce acne and prevent future acne breakouts. If you suffer from hyperpigmentation, choose vitamin C-rich products containing kojic or mandelic acid to restore your skin's natural tone and glow.
3. Skin Care Regimen Essentials: A few skin care practices are a base for a good skin care regimen. They are-
Cleansing: Start by investing in a quality cleanser that does not strip your skin of its natural oils. Use foaming cleansing gels that eliminate accumulated bacteria, dirt, and other external pollutants while leaving your skin hydrated and refreshed.
Toning: Opt for toners infused with witch hazel, rosewater, or green tea to remove the leftover dirt and prepare your skin for the following skin care steps.
Moisturizing: Go for moisturizers and serums with hyaluronic acid, ceramide, and milk proteins to nourish your skin and restore its natural moisture.
Protection Against Aging: Use anti-aging serums or essences to combat early signs of aging. Look for products infused with retinol, niacinamide, and vitamin C to smooth out your fine lines and improve skin elasticity.
Sun Protection: Opt for lightweight sunscreens with a minimum of SPF 30 and a broad spectrum to avoid sunburns and unwanted tanning.
Why Trust StyleCraze?
Shiboli Chakraborti is a certified skin care coach, and among an array of skin care brands, Laneige is one of her favorites. Laneige skin care products work like magic on your skin. She has read thousands of reviews and user feedback to pick the products included in the list and help her readers make the best choice.
Frequently Asked Questions
Is Laneige a Korean brand?
Yes. Laneige is a South Korean skincare brand launched in 1994 by Amore Pacific, a South Korean beauty and cosmetics conglomerate, that has expanded internationally.
Can Laneige sleeping mask be used daily?
It's advisable to use it once or twice a week as its potency is high.
Can I use Laneige products during pregnancy?
Yes, you can use Laneige products during pregnancy. Avoid the ones that contain ingredients like retinol, benzoyl peroxide, salicylic acid, hydroquinone, or aluminum chloride.
Is Laneige a cruelty-free brand?
No, Laneige is not a cruelty-free brand. Some of their products may be tested on animals.
Are Laneige products good for sensitive skin?
Yes, Laneige products are suitable for sensitive skin. Their lightweight formulations successfully keep sensitive skin hydrated without clogging pores or causing breakouts.
Are Laneige products non-comedogenic?
Yes, some Laneige products are non-comedogenic. They keep your pores from getting clogged and offer intense nourishment.
Do Laneige products cause acne?
No, most Laneige products do not cause acne. However, consult your dermatologist before committing to products from this brand.
How long can Laneige products last?
Most Laneige products last two years. Some products even work wonders for three years. Quit using the products if you find uncomely changes regarding the smell or overall appearance.