The 14 Best Aveda Products For Your Hair – 2023
Make hair care easy with these hair-enriching products that transform your tresses.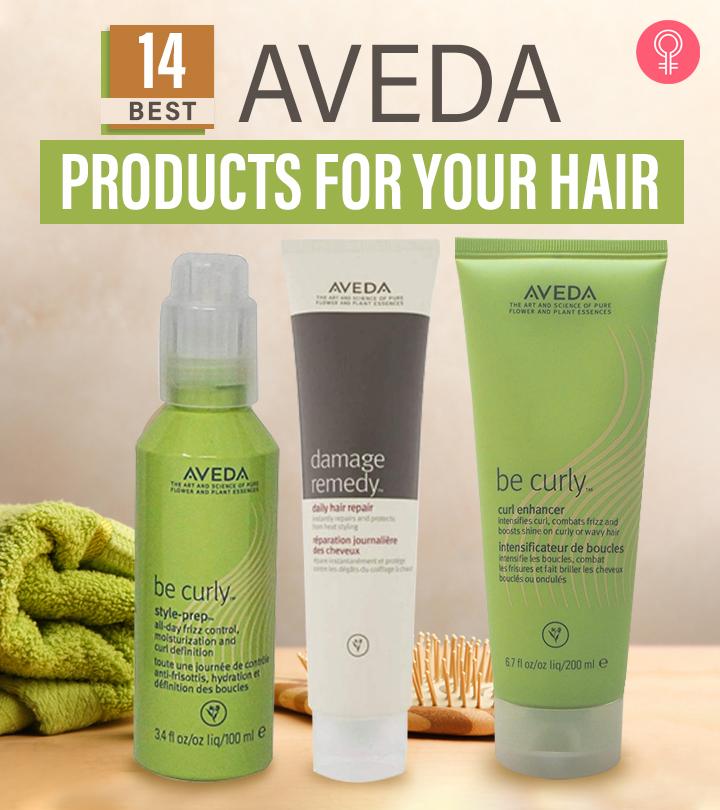 Aveda is a well-known name in the world of luxury skin and hair care. So, include the best Aveda products in your hair care routine, which provide fantastic benefits by protecting your hair and making it shiny and beautiful. As a result, millions of clients throughout the world adore them. Aveda has a variety of products for various hair types and issues. It has something for everyone, whether you need to repair damaged hair or flaunt beautiful hair. Nevertheless, a few products truly stand out from the crowd and have a devoted fan base! Do you want to know which ones to put your money into? The 14 best Aveda products are listed here. Have a look!
Top 14 Aveda Products Of 2023
If you have curly hair, and trying to maintain it is a daily struggle for you, you need to try the Aveda Be Curly Curl Enhancer. It defines the curls, imparts shine to your hair, and tames frizz. Apply this lightweight formula to towel-dried hair and dry your mane with a diffuser to get shiny, bouncy curls. The Aveda Be Curly Curl Enhancer contains a wheat protein blend that starts to expand when wet and retracts as soon as it starts drying. Some reviewers have noticed that this hair product helps your hair strands hold their shape – whether curly or wavy.
Pros
Pleasant fragrance
Works on baby hair strands
A little goes a long way
Anti-frizz
Non-sticky
Lightweight
Long-lasting
Paraben-free
Petrolatum-free
Formaldehyde-free
Cruelty-free
Cons
Expensive
May cause an allergic reaction
If your thinning hair is giving you sleepless nights, try the Aveda Thickening Hair Tonic. Include this volumizing hair spray in your hair care routine to add body, volume, and bounce to fine, limp hair. It expands your hair strands from root to tip and makes your mane look fuller instantly. The tonic is 97% natural and contains highly effective botanical extracts, including certified organic amla (Indian gooseberry) fruit and wheat, which facilitates hair thickening and volumizing. The best part is, it protects your hair against environmental damage. Application is a breeze – simply shake the bottle and spray on towel-dried hair. Use a wide-toothed comb to spread it across the hair evenly. Blow-dry, and you are done!
Pros
Dairy-free
Paraben-free
Petrolatum-free
Formaldehyde-free
Cruelty-free
Pleasant fragrance
Cons
Non-texturizing
May cause dandruff
May make damaged hair coarse and dry
Aveda's Damage Remedy Daily Hair Repair is a must-have if you are experiencing hair damage, breakage, and split ends. This lightweight leave-in hair treatment repairs broken bonds and protects the hair against further damage from heat styling and chemicals. With this miracle product, you get to experience instant and visible repair from the very first use. This 98% natural product contains quinoa, an organic ingredient that is a complete protein, soy-derived oil that nourishes the hair, and macadamia oil which smoothens the strands. It protects your hair against thermal damage up to 450 degrees Fahrenheit. According to online reviewers, with regular use, you will notice 90% less breakage in just a week. Work a little amount of product through your damp hair and comb it to distribute it evenly. The product is suitable for normal hair types. Watch this video to learn more about the product.
Pros
Cruelty-free
Paraben-free
Mineral oil-free
Petrolatum-free
Formaldehyde-free
No animal ingredients
No synthetic fragrances
Cons
Expensive
Drying
Strong smell
The Aveda Phomollient Styling Foam provides medium hold to hair. It works great for styling limp and fine hair. The patented weightless formula adds shine to your tresses without causing product buildup. This styling agent contains certified organic honey, marshmallow root, and burdock. Pump a coin-sized amount into your hands and work it gently through your hair. Blow-dry and style as usual.
Pros
Pleasant fragrance
Cruelty-free
Lightweight
Minimizes static
Paraben-free
Mineral oil-free
Petrolatum-free
Formaldehyde-free
Cons
Drying ingredients
May make curly hair sticky
May cause hair breakage
The Aveda Smooth Infusion Style-Prep Smoother makes styling hair a much faster and easier process. It contains plant extracts, such as organic aloe vera, maize, and guar bean, which make the hair strands smooth. Organic tapioca is protective against humidity for up to 12 hours, while wheat protein protects against damage from heat styling. Reviewers love the scent and mention that it is not overwhelming. To use, simply apply to damp hair. Blow-dry and style as usual.
Pros
Paraben-free
Mineral oil-free
Petrolatum-free
Formaldehyde-free
Cruelty-free
Works for dry, damaged hair
Lightweight
Cons
The Aveda Smooth Infusion Glossing Straightener effectively straightens out waves and curls and gives you sleek, shiny, and straight hair. It keeps your style intact the entire day and provides 12-hour protection against humidity. It is filled with the goodness of Australian sandalwood and organic bergamot, palmaris, and other plant extracts, which nourish and revitalize your hair and reduce frizz and flyaways.
Pros
Hydrates the hair
A little goes a long way
Paraben-free
Mineral oil-free
Petrolatum-free
Formaldehyde-free
Cruelty-free
Cons
The Aveda Control Force Firm Hold Hair Spray is a stronghold hair spray that keeps your style intact for hours and protects against humidity for 24 hours. It suits all hair types. Several online reviews state that this styling potion has a quick-drying, non-flaking formula and UV filters that protect the hair against sun damage. The product is suitable for the normal hair type and contains antioxidants and the goodness of organic essential oils of Bulgarian lavender, palmarosa, bergamot, and vetiver.
Pros
Contains UV filters
Washes out easily
Paraben-free
Mineral oil-free
Petrolatum-free
Formaldehyde-free
Cruelty-free
Cons
Brushes out easily
Expensive
Boost the longevity and bounce of your curls with the Aveda Be Curly Style-Prep spray. It helps define curls, impart shine, and tame frizzy hair. It is lightweight and leaves no residue. The hairspray contains a wheat protein blend that expands when wet and contracts when dry, keeping the curls in place once they have dried. To use this hair product, spray over towel-dried damp hair and dry it with a diffuser for best results. To rejuvenate curls on non-shampoo days, dampen your hair and reapply.
Pros
Works well in humidity
No residue
A little goes a long way
Paraben-free
Petrolatum-free
Formaldehyde-free
Mineral oil-free
Cruelty-free
Silicon-free
Cons
As the name suggests, Aveda Air Control Light Hold Hair Spray provides light hold to your hairstyle. This heat protectant spray protects your hair from heat styling damages, provides volume, and makes it glossy and shiny. It also eliminates static and protects against damage. This styling agent or volumizing hair spray is suitable for all hair types. To use, spray on dry hair, and you are done.
Pros
Lightweight
A little goes a long way
Paraben-free
Petrolatums-free
Formaldehyde-free
Cruelty-free
Silicon-free
Cons
The Aveda New Shampure Dry Shampoo instantly refreshes your hair. It has a calming fragrance and contains 25 flower and plant essences that revive your hair immediately. The naturally derived powders absorb excess oil and impurities from your scalp and hair and give it a freshly washed and styled appearance. This dry shampoo is suitable for all hair types, as attested by several online reviews.
Pros
Long-lasting
A little goes a long way
Paraben-free
Mineral oil-free
Petrolatums-free
Formaldehyde-free
Cruelty-free
Cons
May make the scalp itchy
Expensive
The Aveda Smooth Infusion Nourishing Styling Crème is a conditioning styling product that hydrates the hair and reduces frizz, even in humid conditions. It contains cupuaçu extract and shea butter that provide long-lasting moisturization and nourish the hair and scalp from within. If used daily, this results-driven crème will transform your tresses and make them healthy, shiny, and more manageable.
Pros
Lightweight
Paraben-free
Mineral oil-free
Petrolatum-free
Formaldehyde-free
Cruelty-free
Cons
May make hair dull or sticky
Aveda's Cherry Almond Conditioner is a lightweight yet intensely nourishing conditioner. It is infused with a blend of cherry blossom extract, shea butter, and sweet almond oil, which help detangle and smoothen hair and add shine. When used along with the Cherry Almond Shampoo or any gentle hair cleanser, it makes your tresses super healthy and soft. If weightless bounce and super soft hair are what you are looking for, give this conditioner a try.
Pros
Pleasant fragrance
Paraben-free
Mineral oil-free
Petrolatums-free
Formaldehyde-free
Cruelty-free
Cons
The Aveda Light Elements Smoothing Fluid Lotion is a lightweight styling agent that helps to smoothen and condition hair. It is formulated with plant-based natural ingredients, such as organic jojoba, rice bran oil, lavender oil, and soybean oil. After drying, it makes your hair super touchable and soft. It is suitable for all types of hair. To use, work a little bit of the product through your dry hair and spread it evenly with a comb to add shine and tame flyaways. You can also use it on damp hair for salon-quality shine and smoothness.
Pros
Paraben-free
Mineral oil-free
Petrolatum-free
Formaldehyde-free
Cruelty-free
Silicone-free
A little goes a long way
Lightweight
Cons
The Aveda Light Elements Defining Whip is an airy, whipped wax that defines and separates your hair locks. You can use it repeatedly on your hair without the fear of buildup as it is super light. It defines your mane without adding bulk to it. This wax lets you create texture in your hair for easy hairstyling and provides medium hold. It contains certified organic flaxseed, lavender water, and marshmallow root. To apply, take a small amount in your palms and rub to emulsify. Work through your dry hair evenly with your fingertips. Add more if required.
Pros
Lightweight
Eliminates static
A little goes a long way
Paraben-free
Mineral oil-free
Petrolatum-free
Formaldehyde-free
Cruelty-free
Silicone-free
Cons
None
*The prices provided in this article are based on the latest available information. However, they may vary due to changes in pricing by the seller and/or promotional offers.
Whenever you decide to introduce a new product into your hair care regime, you have to go through some details about the products and your hair for the best results. There are various products introduced in the market that promise to correct thinning, offer frizz-free hair, help in hair growth, and prevent hair loss; however, not every product offers the desired results. Aveda on the other hand offers effective results that cater to a variety of hair types. So, go ahead and check out the factors to consider while selecting the best products from the Aveda product line for your hair type.
Things To Consider While Choosing Aveda Hair Care Products
You must check the ingredients of hair care products before making your purchase. Avoid the ingredients that you are allergic to and opt for organic and natural ingredients for hair care products such as natural oils including coconut oil, macadamia oil, burdock, olive oil, wheat protein, tapioca, green tea extract, jojoba oil, shea butter, aloe vera, rice, keratin protein, lemon oil, and orange extract. Avoid using hair care products that include sulfate, paraben, artificial fragrances, dyes, formaldehyde, phthalates, silicone, and other harmful ingredients.
You must consider your hair type when choosing the best Aveda hair care products. If you have thin and fine hair, look for thickening formulas enriched with botanical extracts and amla to thicken the hair. For curly and wavy hair, go for moisture-rich products and for straight hair, choose lightweight products to maintain the natural look of the hair.
Determining the condition of your scalp is another important factor when choosing the right hair care products for your hair. If you have a dry scalp, choose hair products that have hydrating and moisturizing ingredients. For a normal scalp, opt for hair care products that are rich in natural oils. For oily hair and scalps, avoid heavy, greasy hair care products, instead look for scalp soothing products such as dry shampoos, which come in extremely handy for instant refreshment of the scalp and hair.
Look for sun protection formulas for your hair that also provide humidity resistance to tame frizzy hair and flyaways throughout the day. Look for products that leave no residue and are lightweight on the strands, especially if you have curly or fine hair.
Aveda has an extensive range of hair care products that can do a lot more than just take care of your mane. If you are wondering why Aveda and no other brands, here's your answer.
Why Use Aveda?
Aveda is one of the most eco-friendly hair care and body care brands globally, making it great for those concerned about the planet and who want to make better environmental choices. This expert-recommended brand is cruelty-free – none of the products are tested on animals or contain animal ingredients. Aveda takes great pride in pioneering the way for wind-powered manufacturing and post-consumer recycled packaging.
This brand only uses naturally-derived ingredients in its products. It never compromises on the ingredients and conducts the required quality testing, which means you get quality care for your hair and skin. Opting for quality products will ensure your mane stays shinier, healthier, and more beautiful for longer. Aveda is a one-stop brand for you if you love your hair – and the planet!
Why Trust StyleCraze?
Shiboli Chakraborti is a certified skin care coach who is passionate about hair care and loves researching brands and products that help maintain scalp and hair health. She suggests using the best Aveda products for people looking for products to target particular hair problems. She has reviewed the products carefully after considering a substantial amount of reviews and user feedback on trusted online platforms and the brand website.
Frequently Asked Questions
Is Aveda Cherry Almond Shampoo gluten-free?
Yes, the Cherry Almond Softening Shampoo is an everyday shampoo that is gluten-free. It is also silicone-free and vegan.
Which Aveda product can you not live without?
Consumers love the Aveda Shampure Shampoo as it smells heavenly. It contains Morikue protein sourced from Peruvian rainforests and 25 flower essences.
Which Aveda product is your go-to for your guests?
If there's a go-to product among Aveda's products, it is anything in the Smooth Infusion range. These products are excellent for smoothening hair and keeping it soft. They also keep those annoying flyaways under control.
What one Aveda product does everyone need?
Aveda's Damage Remedy range is much loved. Even if your hair is not damaged, it does a great job at keeping your hair healthy and damage-free. This is definitely one Aveda product everyone needs.
Are Aveda products worth the money?
Yes. Aveda products are infused with plant-based ingredients that improve the shine and health of your hair. Also, they are free of harsh chemicals, so they are worth your money.
What is so special about Aveda products?
Aveda is an environmentally conscious brand that offers products infused with pure flowers and plant extracts. Also, the brand is cruelty-free.
Does L'Oreal own Aveda?
No. Estée Lauder Companies, not L'Oreal, own Aveda.
Are Aveda products really natural?
Yes. Aveda products are organic as their ingredients are naturally derived.
Recommended Articles