4 Best Hair Botox For Healthy And Beautiful Tresses
Bring back the lost shine and strength of your hair without heading to the salon!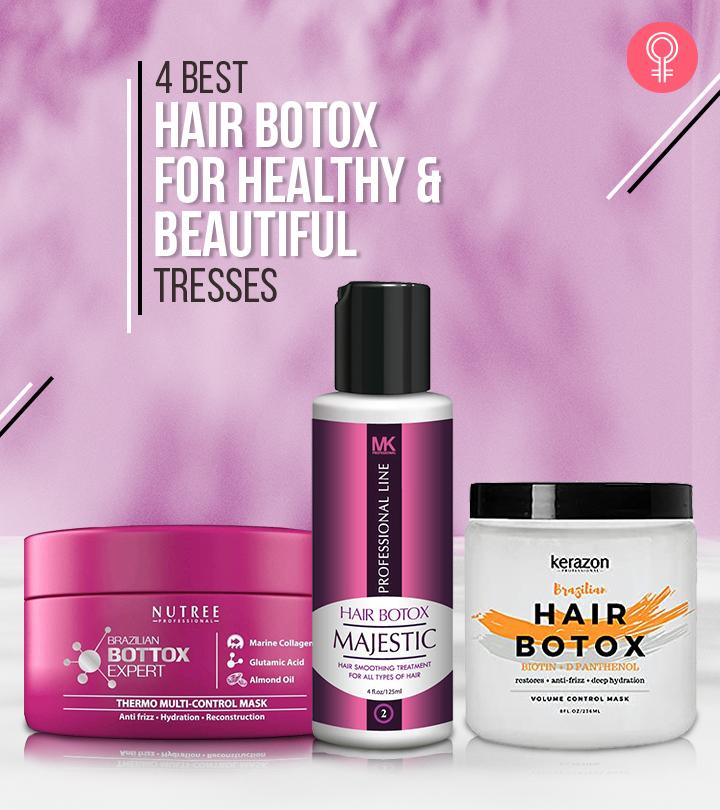 Our hair is one of the most fragile parts of our body and needs to be pampered to maintain its health. Sometimes all it needs is the best hair botox treatment to get replenished. If you think hair botox means injecting something into your scalp, it's not! It is more like a mask full of collagen, keratin, and other fillers that hydrate your hair and protect it against everyday damage. Botox treatments are essential to get rid of frizz and manageable hair and bring back the lost shine of your hair from being dragged into pollution and dust every day. Here are the 4 best hair routines to choose from that will give your hair a new life.
Top Picks
4 Best Hair Botox For Healthy And Beautiful Tresses
Give your dull, frizzy hair a new life with this intense hair treatment from Nutree Professional. This thermal mask gives your hair the ultimate smoothness and shine while protecting and nourishing them from damage. The formula fortifies the hair follicles, strengthens hair strands, and protects them from heat damage. It is powered by antioxidant-rich almond oil that improves hair health, while amino acid-rich marine collagen strengthens and repairs the damaged hair fibers from inside out. The glutamic acid in this hair mask, a type of amino acid, controls frizz to keep the hair smooth and shiny. It is a complete hair treatment to get bouncy, hydrated, and healthy locks. Here's an honest review of the product.
Key Ingredients: Almond Oil, Marine Collagen, and Glutamic Acid
Pros
Non-greasy
Vegan
Color-safe
Value for money
Cons
Has a strong chemical smell

Did You Know?
Hair botox can affect the tone of already coloured hair.
Price at the time of publication: $34.99
Kerazon Hair Botox is a non-toxic formula that reconstructs hair bonds and seals the breakages. It is infused with biotin and D-Panthenol that enriches the hair with nutrition, hydration, volume, shine, and smoothness. It also includes the added goodness of hydrolyzed collagen, wheat protein, and shea butter for extra strength and moisturization for a soft frizz-free look. It replenishes the lost mass of the hair follicles, making them bouncy, strong, and healthy. It is easy to apply and does not cause any irritation to the scalp or eyes. This product is suitable for all hair types.
Key Ingredients: Biotin and D-Panthenol, Shea butter, and Hydrolyzed collagen
Pros
Easy to apply
Hydrating ingredients
Safe for color-treated hair
Formaldehyde-free
Odor-free
Fume-free
Cons
Not much effective on very curly hair

Quick Tip
Wait at least 2 weeks after your hair botox treatment before you dye your hair to avoid any unwanted side effects.
Price at the time of publication: $39.99
This intense hair botox treatment by Kachita Spellhelps in repairing damaged hair. The moisture enhancer in this hair mask hydrates the hair follicles and removes frizz to restore vibrancy and volume. It is enriched with amino acids, coconut oil, aloe vera, avocado oil, and collagen. These ingredients nourish the hair fibers by filling in the cracks and making them stronger, healthier, and glowing. You can also use this mask before a keratin treatment to protect your tresses from protein overload. Though suitable for all hair types, it is ideal for hair that has borne the brunt of styling products, heat, and other chemical processes.
Key Ingredients: Coconut oil, Aloe vera, Avocado oil, Collagen, and Keratin
Pros
Formaldehyde-free
Hypoallergenic
Neutralizes brassiness
Cruelty-free
Cons
None


Pro Tip
Use a hair mask once a week after your hair botox treatment to give your hair the deep conditioning it needs.
Price at the time of publication: $35.99
Looking to spice up your hairstyle? The I Belli Capelli Organic Hair B-tox is the best option! This botox hair treatment contains panthenol, keratin, and argan oil to revitalize and repair damaged hair. It helps develop firmer, fuller, and shinier strands. If you have frizzy or difficult-to-manage hair, this is your ideal hair treatment. The moisturizing and nourishing formula reconstructs hair structure and revives lost volume. This product provides long-lasting benefits to your hair that lasts up to three months.
Key Ingredients: Glycerine, panthenol, argan oil, shea butter, citric acid.
Pros
Formaldehyde-free
Adds volume
Long-lasting
Easy to apply
Anti-residue
Cons
None
Price at the time of publication: $34.9
Hair Botox has become a popular procedure, which has taken the Beauty World by a storm. Having a hair botox treatment done at the salon can be quite expensive, but you can always buy the right product and do the procedure at the comfort of your home. To ensure optimal results, here are a few features to consider when choosing a hair botox treatment product:
How To Choose The Best Hair Botox
Hair Botox is most useful during humid weather and monsoon seasons, as it deeply conditions your hair while leaving them frizz-free. In order to get maximum benefits look for ingredients like peptides, proteins, vitamins, amino acids, lipids, and collagen compounds that replenish and rejuvenate your hair. For a balanced treatment, here our the common ingredients and their benefits:
Protein: If your hair needs structure, protein is one of the most important ingredients to look for in your treatment. Protein is a nutrient that repairs keratin, strengthens your hair shaft and induces hair growth, that's turning a limp and lifeless hair into voluminous tresses.
Emollient And Humectant: Emollients are moisturizers and humectants are lubricants that coat the top of your hair and seal in the cuticle to hold in moisture, thereby preventing hydration loss. Examples of emollients are vitamin B5, mango butter, aloe vera, shea butter, and fatty alcohols like isocetyl, isostearyl, lanolin, cetyl, lauryl, and cetearyl.
Nourishing Formula: Go for deep penetrating and nourishing ingredients that have smaller molecular weight. Examples: water, hydrolysed protein, glycerin, coconut oil, avocado oil, castor oil, almond oil, argan oil, and olive oil.

Consider your hair and scalp type when choosing a hair botox treatment. For instance if you have a sensitive scalp, opt for hypoallergenic formulas without formaldehyde, triclosan, and sulfates, and if you have coloured hair, choose a color-safe formula devoid of SLS and SLES. Choose protein-rich products for curly or wavy hair.
Choose a botox treatment, which targets your concerned hair ailments, for maximum results. Opt for formulas that may strengthen, hydrate, volumize, rejuvenate, and deeply moisturize the hair.

Infographic: How To Buy The Best Hair Botox

A hair botox is a mask packed with collagen, keratin, and other fillers that moisturize and protect your hair from everyday damage. Botox treatments are necessary to remove frizz, make hair manageable, and restore the luster of your hair that is lost due to pollution and dust. The infographic below will help you make the best selection of hair botox. Check it out!


Botox hair treatment is a chemical-free hair treatment that boosts your hair strands, controls the frizz, hydrates your hair, and minimizes hair damage. This hair treatment improves the overall health of the hair and turns it smooth and shiny. Such treatments are extremely beneficial for dry and damaged hair. Some products listed in the article fortify the hair follicle while others strengthen the hair strands, and moisturize the hair. And some products also promote hair growth. Consider investing in Botox hair treatment products loaded with hair-friendly ingredients as they are safe for your tresses. Alexandro Vasquez, an expert hairdresser says, "Botox products are one of the best for bringing back the shiny and smoothness of your hair. Make sure you're using it correctly and select the one that is suitable for your hair type. In case you're in doubt just look for your Hairdresser opinion because some of these products can make your hair lose your waves too. But on the other hand they are amazing for frizzy hair and dryness."

Why Trust StyleCraze?

The author, Shiboli Chakraborti, is a hair care enthusiast. She has carefully researched the various hair botox methods and checked several reviews online to compile the list of the best hair botox for healthy and beautiful tresses. These treatments help get rid of frizz, hydrate and smoothen the hair, and add shine.

How long does hair Botox last?

Generally, Botox hair treatment lasts about two to four months, depending on the hair type and the product use.

Does hair Botox straighten hair?

Most Botox hair products do not primarily straighten hair, but they do smoothen and soften hair for better manageability. In case you want a straight hair look, go for a keratin-infused Botox treatment.

Does Botox ruin your hair?

No. If you choose the right treatment under the guidance of a professional, then it is unlikely that Botox will ruin your hair. It is an expensive but long-lasting treatment for dull and damaged hair.

Is Botox better than Keratin?

It depends on what you are looking for. Hair Botox provides deep conditioning that improves the quality of your hair. It rectifies damages and makes the hair healthy inside out. Keratin, on the other hand, keeps the hair smooth, silky, and straight.

Can I wash my hair after hair Botox?

Yes. You need to wash your hair post the Botox treatment, but wait at least 48 hours before washing it off This ensures maximum absorption and deep conditioning effects.