4 Best Hair Botox For Healthy And Beautiful Tresses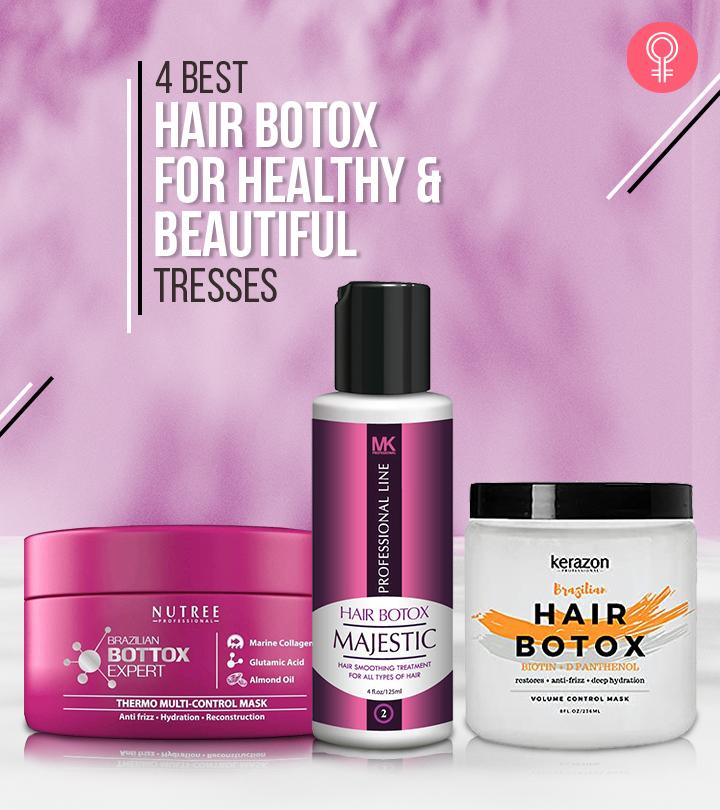 Our hair is one of the most fragile parts of our body and needs to be pampered to maintain its health. Sometimes all it needs is the best hair botox treatment to get replenished. If you think hair botox means injecting something into your scalp, it's not! It is more like a mask full of collagen, keratin, and other fillers that hydrate your hair and protect it against everyday damage. Botox treatments are essential to get rid of frizz and manageable hair and bring back the lost shine of your hair from being dragged into pollution and dust every day. Here are the 4 best hair routines to choose from that will give your hair a new life.
4 Best Hair Botox For Healthy And Beautiful Tresses
Give your dull, frizzy hair a new life with this intense hair treatment from Nutree Professional. This thermal mask gives your hair the ultimate smoothness and shine while protecting and nourishing them from damage. The formula fortifies the hair follicles, strengthens hair strands, and protects them from heat damage. It is powered by antioxidant-rich almond oil that improves hair health, while amino acid-rich marine collagen strengthens and repairs the damaged hair fibers from inside out. The glutamic acid in this hair mask, a type of amino acid, controls frizz to keep the hair smooth and shiny. It is a complete hair treatment to get bouncy, hydrated, and healthy locks.
Key Ingredients: Almond Oil, Marine Collagen, and Glutamic Acid
Pros
Non-greasy
Vegan
Color-safe
Value for money
Cons
Has a strong chemical smell
Kerazon Hair Botox is a non-toxic formula that reconstructs hair bonds and seals the breakages. It is infused with biotin and D-Panthenol that enriches the hair with nutrition, hydration, volume, shine, and smoothness. It also includes the added goodness of hydrolyzed collagen, wheat protein, and shea butter for extra strength and moisturization for a soft frizz-free look. It replenishes the lost mass of the hair follicles, making them bouncy, strong, and healthy. It is easy to apply and does not cause any irritation to the scalp or eyes. This product is suitable for all hair types.
Key Ingredients: Biotin and D-Panthenol, Shea butter, and Hydrolyzed collagen
Pros
Easy to apply
Hydrating ingredients
Safe for color-treated hair
Formaldehyde-free
Odor-free
Fume-free
Cons
Not much effective on very curly hair
This intense hair botox treatment by Kachita Spellhelps in repairing damaged hair. The moisture enhancer in this hair mask hydrates the hair follicles and removes frizz to restore vibrancy and volume. It is enriched with amino acids, coconut oil, aloe vera, avocado oil, and collagen. These ingredients nourish the hair fibers by filling in the cracks and making them stronger, healthier, and glowing. You can also use this mask before a keratin treatment to protect your tresses from protein overload. Though suitable for all hair types, it is ideal for hair that has borne the brunt of styling products, heat, and other chemical processes.
Key Ingredients: Coconut oil, Aloe vera, Avocado oil, Collagen, and Keratin
Pros
Formaldehyde-free
Hypoallergenic
Neutralizes brassiness
Cruelty-free
Cons
None
Majestic hair Botox treatment has active ingredients like caviar oil, proteins, amino acids, and argan oil, making it one of the advanced hair treatment formulas. It strengthens the hair follicles, stimulating new hair growth, removes frizz, and makes the hair soft and shiny. Unlike other keratin treatments, this formula is formaldehyde-free and does not irritate sensitive skin.
Key ingredients: Caviar, Collagen, Amino Acids, and Argan Oil
Pros
Stimulates hair regrowth
Formaldehyde-free
Irritation-free formula
Cons
Botox hair treatment is recommended for damaged and dehydrated hair. The products above are the best picks for this intense treatment. Pick from the 4 best hair botox products and give your hair a long-lasting, safe therapy.
Why Trust StyleCraze?
The author, Shiboli Chakraborti, is a hair care enthusiast. She has carefully researched the various hair botox methods and checked several reviews online to compile the list of the best hair botox for healthy and beautiful tresses. These treatments help get rid of frizz, hydrate and smoothen the hair, and add shine.
Frequently Asked Questions
How long does hair Botox last?
Generally, Botox hair treatment lasts about two to four months, depending on the hair type and the product use.
Does hair Botox straighten hair?
Most Botox hair products do not primarily straighten hair, but they do smoothen and soften hair for better manageability. In case you want a straight hair look, go for a keratin-infused Botox treatment.
Does Botox ruin your hair?
No. If you choose the right treatment under the guidance of a professional, then it is unlikely that Botox will ruin your hair. It is an expensive but long-lasting treatment for dull and damaged hair.
Is Botox better than Keratin?
It depends on what you are looking for. Hair Botox provides deep conditioning that improves the quality of your hair. It rectifies damages and makes the hair healthy inside out. Keratin, on the other hand, keeps the hair smooth, silky, and straight.
Can I wash my hair after hair Botox?
Yes. You need to wash your hair post the Botox treatment, but wait at least 48 hours before washing it off This ensures maximum absorption and deep conditioning effects.
Recommended Articles
The following two tabs change content below.