7 Best Salon Heat Lamps Of 2023 (Buying Guide)
Boost the effectiveness of your hair serum and the base color to transform your tresses.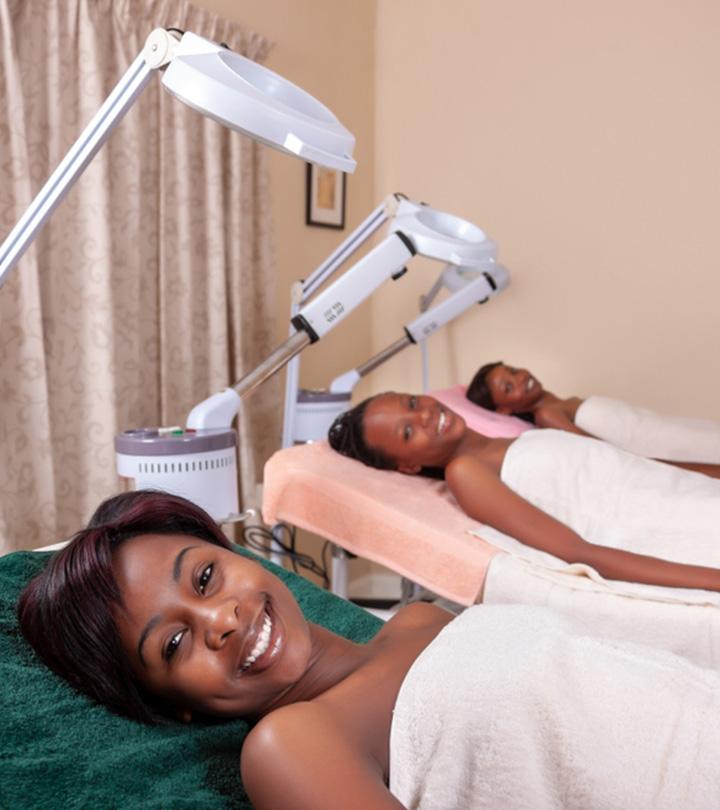 Salon heat lamps are unsung heroes when it comes to making your hair look and feel super gorgeous and stunning. These lamps produce infrared heat to improve the intensity of your base colors and enhance the performance of your hair serums, so they easily penetrate. Apart from their cosmetic use, salon heat lamps also have a therapeutic use! You can use these heat lamps to alleviate muscle pain and cramps while they warm you up from head to toe to relax and keep you stress-free!
With myriad options in the hair care market that constantly compete for your attention, one can be overwhelmed about which model to buy and take home. But fret not, as we're here to solve that problem for you with our list of the top 7 best heat lamps of 2023.
Also, keep in mind that heat lamps can become extremely hot when used. So you must ensure you wear heat-resistant gloves and take all necessary precautions when handling them.
Relax And Rejuvenate With The Top 7 Salon Heat Lamps of 2023!
With a 360◦ adjustable neck and body, here's a salon infrared heat lamp that guarantees optimal heating for your tresses, body, and skin. TDP Infrared Heat Lamp with a sleek construction is sturdy enough to provide quality heating for a long time. Plus, it gives full control to the user with its power on/off switch and the 60-minute timer, thus making it last through most of the hair and body treatments effortlessly. Also, the device uses 110V to provide holistic heating with its wide-sized head. Try it!
Pros
FDA-certified
User-friendly and space-efficient
Provides far-infrared heat through coil and mineral plate
Ensures protection through metal faceplate guard
Ideal to use for hair, skin, and body treatments
The heating head is detachable.
Cons
It might take a long time to heat up.
Price at the time of publication: $169.99
If you prefer multiple heating options, then this salon infrared lamp with a heat intensity dial would be ideal for you. Also, did you notice the sleek design? Made to fit the décor in your salon or home space, this hair heat lamp ensures intense heating for up to 60 minutes. So, whether you want to use it for general heating, hair spas, body massages, or acupuncture, this one promises the finest quality and all-rounded heating experience with its adjustable neck. Do not skip it!
Pros
Uses 100V
Adjustable height
Heats up quickly
Portable and travel-friendly
Easy-to-use design and timer
Cons
Price at the time of publication: $189.0
This octopus-inspired 5-head infrared heat lamp is a great pick for those who desire some intense heating for their hair treatments and body massages. With each light running on 150W, which adds up to 750W, the lamps also have adjustable arms to ensure a holistic heating experience. Also, it stays true to its name with its therapeutic attributes of improving blood circulation, alleviating muscular pain, and increasing metabolism too. And as far as hair treatments are concerned, consider your scalp and tresses relaxed and rejuvenated with the optimal heating!
Pros
Heats up quickly
Sturdy construction with a sleek design
Produces intense and healing red lights
Ensures protection with wire guards
Easy-to-use with one-knob power control
Cons
Price at the time of publication: $289.0
The Topbarber Infrared Lamp is a multifunction infrared lamp that comes with five red lights. You can use these lamps for drying, hair dyeing, and oil treatment. In addition, the lamp comes with temperature adjustment making it more suitable for different hair types and hair lengths. Moreover, the flexible arm allows you to position the lamp as per your needs.
Pros
 Height adjustable
 Standing lamp design
 Temperature control
 Easy to assemble
 Portable
Cons
Price at the time of publication: $100.99
Just what you need to enjoy uniform heating on all sides! Quit making your job tedious by moving the salon heat lamp every few minutes to ensure even heating during hair treatments. With this 3-headed heating lamp using 250W each, it delivers intense heat effectively. Also, other than its optimum functionality, it has flexible arms and an adjustable stand too, thus giving you the liberty to use it as per your convenience. Do not skip it! You can check out this YouTuber's review of the product if you require more convincing.
Pros
Strong construction
Portable and user-friendly
Sturdy base with 5 casters to prevent wobbling
The lamps can be individually controlled.
Cons
Price at the time of publication: $429.0
Be it perming, hair coloring, hair dyeing, oil treatment, or conditioning, this free-stand heating hairdryer guarantees beautiful hair all the time! A great option for salon experts to deliver intense hair-beautifying sessions, this hair color heat lamp also claims to stimulate blood circulation, relax the scalp and hair with its optimum heating. Also, it features 6 hair-related modes and 3 main functions that are— fan, rotating, and heating. Besides this, the temperature and the height of the stand are adjustable too. A hair-friendly device, anyone?
Pros
Runs on 850W
Provides 360-degree rotation
Portable with a strong wheeled base
Ensures quiet to low-noise functioning
Ideal to use in beauty salons and studios
Cons
Bulky
Not ideal for beginners
Price at the time of publication: $264.9
Lastly, this unique free-standing salon heat lamp, which allows the user to individually control the two lights! A great option for intensifying the base color or highlights, the lamp has flexible arms so you can position them as per your needs, and plus, the stand is adjustable too. Also, are you worried about heat damage or heat shocks? Don't be! Each bulb comes with a lampshade and cage for extra protection. Give it a try if you haven't already.
Pros
Runs on 500W (250W each bulb)
Lightweight and easy-to-assemble
Sturdy and durable construction
Provides quality heating for beautiful hair
Portable with a strong wheeled base
User-friendly with an easy-to-use control system
Cons
Not recommended if you need high heating temperature
Price at the time of publication: $339.0
There you go! Those were the 7 best salon heat lamps that you must consider if you are looking for an intense heating device for your hair treatments. Also, do you need more tips on buying the right salon heat lamp? If yes, then check out the buying guide below!
Buying Guide:
Tips to Consider While Buying A Salon Heat Lamp
Considering there are umpteen beauty salon lamps out there offering diverse functionalities, here are some features you must look out for to end up with the best:
Temperature Control: Heating lamps are either designed to produce a standard temperature or multiple temperatures where you can control the heat intensity as per your needs. So, inspect the temperature control system before purchasing.
Adjustable Lamp Head: The lamp head should be flexible and it should move at 360-degree angles for the best experience. Also, opt for a heating lamp with flexible arms so you can enjoy an all-rounded heating experience effortlessly.
Sturdy Construction: Given how the heat lamp needs to be moved and adjusted frequently, you must select a model with sturdy and durable construction to last longer and endure all the tedious movements.
Portability: Portability is an indispensable factor too. The heat lamp should be lightweight and portable enough to be moved around freely, especially if you are purchasing one for a salon.
Heat Protection: Lastly, check for heat protection around the bulb. These heat lamps can get extremely hot if used for a long time, so check if the bulb has a strong heat protection coverage as well as if the lampshade is burn-proof to prevent hazardous situations.
Why Trust Stylecraze
Vaishnavi Kothuri, the author, loves to write articles about hair care and she believes that using salon heat lamps is essential because it makes your hair look gorgeous. She has checked many reviews online, browsed through multiple forums for user feedback, and went through the products in detail to ensure they are the best for your hair. According to her, salon heat lamps are versatile and they can be used for therapeutic purposes too.
Frequently Asked Questions
Is It Safe To Leave The Heat Lamp On?
No, you must turn off the heat lamp immediately after usage or when it overheats, as it could lead to heat or bulb damage.
What Does Heat Do To Your Hair When Coloring?
A heat lamp is used in salons for hair treatments and coloring because it helps intensify the serums and products used. Also, the infrared heat penetrates deep into the tresses, thus making the hair color adhere accurately to the strands to last longer than otherwise.
Are Infrared Heat Lamps Safe?
Extreme or frequent exposure to infrared heat can damage your skin or eyes. However, these heat lamps are safe as long as you use them occasionally.
How long should you use a heat lamp?
Use a heat lamp for 20 to 30 minutes per session.
Is it OK to leave a heat lamp on overnight?
No, it is not recommended to leave a heat lamp on overnight. If used a lot, the heat can damage your skin and hair.
Recommended Articles