15 Best Tattoo Aftercare Products, According To Reviews (2023)
From prepping your skin to taking care of the finished tattoo, they do it all!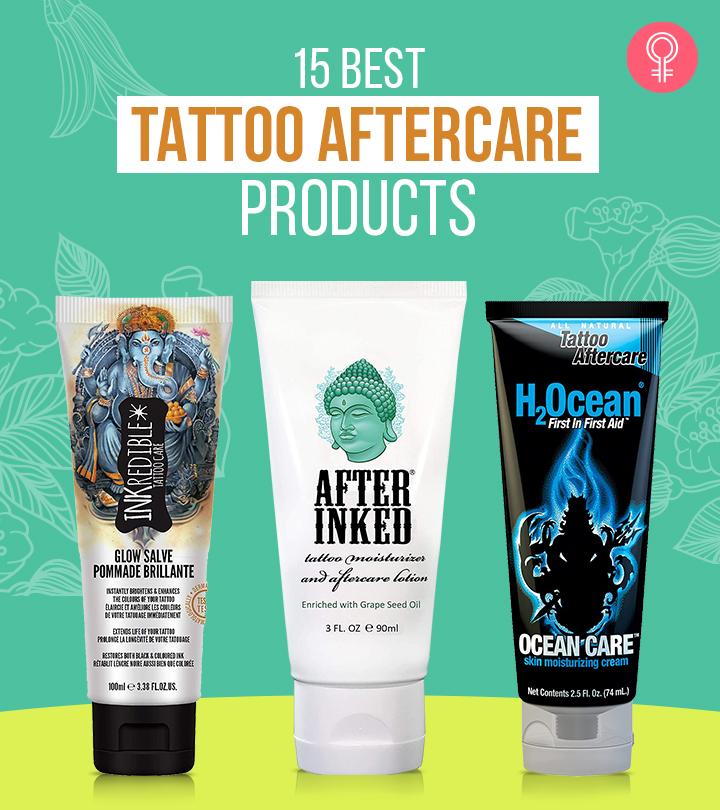 If you love body art and tattoos, you should also know that it doesn't end at getting a tattoo. You also need to care for it properly using the best tattoo aftercare products. These products help keep your tattoo smooth, soft, and infection-free. Also, these aftercare products help in the quick healing of the tattooed area. But, finding the right product could be difficult as there is a flood of options on the market. So, keep reading this article to explore our compilation of the best tattoo aftercare products. Scroll down!
15 Best Tattoo Aftercare Products
Many tattoo artists worldwide prefer the Hustle Butter Delux  Tattoo Care Balm, thanks to its multiple benefits. The balm preps your skin for the tattoo process by making your skin soft and supple. It also provides post-tattoo moisturizing and healing benefits to your skin. The balm is enriched with all-natural ingredients like shea butter, mango, aloe butter, and coconut oil. These ingredients help reduce redness, swelling, and bleeding and promote fast healing. The balm has a nice fragrance and is perfect for a daily skincare routine to heal dry, cracked skin and make it soft and smooth. If you want to know more about the results, take a look at this review on YouTube.
Key Ingredients: Shea butter, Mango, Aloe butter, and Coconut oil
Pros
Easy to use
Non-comedogenic
Paraben-free
Petroleum-free
Cruelty-free
Cons
None
Price at the time of publication: $37.7
The Ora's Aamzing Herbal Tattoo Salve promotes fast healing and minimizes itchiness. It is formulated with herbal extracts like grapeseed, calendula, comfrey, rosemary, thyme, coconut oil, beeswax, and vitamin E. These ingredients promote tissue healing, reduce inflammation, and the risk of infection in the tattooed area. The salve has a mild herbal fragrance and keeps the skin supple and smooth. It does not clog pores or leach off the colors from your tattoo. The product's healing property makes it useful in treating everyday scrapes, burns, and bruises. You can check this YouTube video for more information about the product.
Note: Do a patch test to avoid allergic reactions.
Key Ingredients: Grapeseed oil, Calendula, and Comfrey
Pros
Synthetic fragrance-free
Lanolin-free
Paraben-free
Non-comedogenic
Mineral oil-free
Gluten-free
Dyes-free
Petroleum-free
Cons
May cause allergic reaction
Price at the time of publication: $36.99
Soothe your tattooed area and keep your skin moisturized with the Viking Revolution Tattoo Care Balm. It contains organic and natural ingredients to keep the skin moisturized and ensure proper healing. The balm does not contain petroleum and has a non-greasy finish with a gentle fragrance. You can also apply the balm on old tattoos to keep them moisturized. The balm is suitable for prepping the skin before getting a tattoo to make the application process smoother. If you are still unsure about purchasing, you can check out a review of this product on YouTube.
Key Ingredients: Shea butter and Coconut oil
Pros
Vegan
Chemical-free
Petroleum-free
Cons
May cause allergic reactions
Price at the time of publication: $9.88
The Hustle Bubbles Tattoo Soap is fantastic for post-tattoo and piercing care. It keeps new tattoos and piercings clean during the recovery to minimize discomfort and avoid infection. This vegan-friendly soap is made from all-natural ingredients. It is a hydrating and antibacterial soap free from parabens or other harmful ingredients that could irritate your skin. It safely removes impurities and dead skin from your tattoo that frequently makes the ink appear dull.
Pros
Natural ingredients
Vegan
Hydrating
Paraben-free
Cons
May cause a skin reaction
Price at the time of publication: $26.72
Nourish, revitalize and hydrate your tattooed skin with H2Ocean Ocea-care skin moisturizing cream. It has a water-based and petroleum-free formula that creates a protective barrier and prevents bacterial infection in the tattooed area. The cream is enriched with 82 essential trace elements and minerals that keep your tattoo healthy and well moisturized. It reduces the chances of infection and helps in preserving your new tattoo. The cream is ideal for all skin types, including sensitive skin.
Key Ingredients: Sea salt, Aloe vera gel, and Rosehip seed oil
Pros
Fragrance-free
Petroleum-free
Does not stick to the skin
Cons
Contains parabens
Contains alcohol
Price at the time of publication: $10.49
The Mad Rabbit Repair Tattoo Aftercare Gel works quickly to reduce irritability and the itching of a new or old tattoo. It is a super-soothing, cooling, and healing gel with anti-inflammatory, moisturizing, and anti-aging components. The lightweight oils in the formula repair damaged skin and restore the moisture barrier. It is also infused with natural antioxidants that counteract environmental influences that can aggravate your ink further. This non-comedogenic tattoo aftercare gel helps the skin feel calm and less irritated and itchy.
Key Ingredients: Aloe vera, Bisabolol, and Allantoin
Pros
Clean ingredients
Soothing
Non-comedogenic
Lightweight
Water-resitant
Cons
May cause an allergic reaction
Price at the time of publication: $21.99
This aftercare balm by ScalpaProdigy contains soothing and natural ingredients that encourage safe and healthy recovery after tattoo procedures. It contains hemp seed oil and aloe vera extract that provides intense moisturization and relief from redness and inflammation. These ingredients reduce discomfort, ensures fast recovery, and preserves the color intensity of older tattoos.
Key Ingredients: Hemp seed oil, Beeswax, Aloe vera, and Arnica montana
Pros
Long-lasting
Safe for all skin types
Cons
Price at the time of publication: $13.99
The Redemption Tattoo Lubricant &Aftercare is made of organic and natural ingredients. It can be used during tattooing to soothe the skin, and after tattooing to promote healing.  The product contains moisturizing ingredients like beeswax and cocoa butter. It keeps the skin lubricated to prevent the tattoo from cracking and boosts its vibrancy.
Key Ingredients: Cocoa butter and Beeswax
Pros
Chemical-free
Smells great
100% natural ingredients
Cruelty-free
Fast absorbing
USDA-certified
Petroleum-free
Cons
None
Price at the time of publication: $4.99
The Tattoo Moisturizer And Aftercare Lotion duo from After Inked has a patented vegan formula that delivers ample moisturization to your skin and preserves the tattoo vibrancy. The formula is enriched with grape seed oil to moisturize your skin and provide relief from itching and scabbing. The healing lotion also works as a great tattoo removal aftercare product. It relieves dryness, does not cause allergic reactions, and can be used on other sensitive areas like lips, eyelids, and eyebrows.
Key Ingredients: Grapeseed oil, Glycerin, and Beeswax
Pros
Dermatologist tested
Petroleum-free
Allergen-free
Cruelty-free
Paraben-free
Fragrance-free
Clinically tested
Vegan
Cons
None
Price at the time of publication: $21.99
The Sanibalm Nourishing Tattoo Aftercare Balm nourishes and heals the tattoo efficiently. It is an organic balm containing 100% natural and skin-loving ingredients like sea buckthorn and coconut oil to minimize skin irritation and prevent infection and scabbing. Shea butter in the formula helps to keep the tattooed skin moisturized and hydrated all day. It promotes faster skin regeneration and protects and maintains the color and vibrancy of the tattoo. Unlike petroleum jelly ointments and other tattoo balms, this protectant and healing balm is petroleum-free which allows the tattoo the oxygen it requires to heal quickly.
Key Ingredients: Colloidal silver and Sea buckthorn seed oil
Pros
Eco-friendly
Easy to use
Paraben-free
Petroleum-free
GMO-free
Waterproof
Travel-friendly
Cons
Price at the time of publication: $11.95
With this three-piece Tattoo Goo Aftercare Kit, you can preserve the vibrant color and glow of your tattoo and take care of it. It includes a soap that provides broad-spectrum antibacterial and antimicrobial protection. The soap has a mild, pH-balanced formula, and the balm acts as a barrier to promote healing. The lotion in the recovery kit contains healix gold and panthenol to help avoid scabbing and hasten the healing process. This water-resistant kit contains all-natural ingredients that help your tattoo recover more quickly and restore moisture.
Key Ingredients: Healix gold and Panthenol
Pros
Petroleum-free
Contains natural ingredients
Ideal for sensitive skin
Lanolin-free
Cruelty-free
Cons
Price at the time of publication: $14.96
The Cleanskin Cleansing Tattoo Wipes make a great, all-in-one product for comprehensive tattoo care. They help remove excess ink and clean up impurities and fluids to ensure only the pigment stays for a smooth and even recovery. Perfect for tattoo and PMU artists, the wipes are made of 100% natural ingredients and clean the area in a single wipe effectively, making them safe and gentle for all skin types. These pre-soaked, gentle cleansing wipes are ready to use straight out of the pack, which saves time and ensures a hygienic work environment.
Pros
Easy to use
Pre soaked
Antibacterial
Antimicrobial
Hypoallergenic
Fragrance-free
Alcohol-free
Lint-free
Cons
Price at the time of publication: $9.95
Take care of your tattooed area with the Sorry Mom Tattoo Aftercare Bandage. It enables faster healing while keeping the fresh ink dry and protected. The convenient grid design makes it easy to cut and size and apply to any body part. This clear tattoo skin wrap offers optimum coverage and allows you to maintain an active lifestyle. The adhesive tattoo care film is also moisture-resistant and stretchable and helps the recovery process, keeping your tattoo clean and safe.
Key Ingredients: Olive oil, Jojoba oil, Calendula, and Aloe vera
Pros
Transparent
Waterproof
Breathable
Hypoallergenic
Stretchable
Cons
May cause rashes and breakouts
Price at the time of publication: $34.99
Get healthier-looking and nourished skin with the Stories and Ink Tattoo Care Aftercare Cream. It contains panthenol that reduces inflammation and redness to soothe and hydrate damaged skin. The cream also contains vitamin E, bisabolol, and other botanical blends To speed up healing and keep the skin moisturized. It has a non-greasy texture and allows your skin to breathe during recovery.
Key Ingredients: Panthenol, Vitamin E, and Bisabolol
Pros
Hypoallergenic
Fragrance-free
Non-greasy
Vegan-friendly
Cruelty-free
Gluten-free
Paraben-free
Cons
None
Price at the time of publication: $10.28
The H2Ocean Nothing Tattoo Glide And Soothing Balm is all-natural and rich in nutrients. It contains 4% pain-relieving lidocaine that helps numb the skin, with effects lasting up to an hour. You can use it before, during, and after the tattoo session for continuous pain relief and intense healing. The organic formula also contains volcanic clay, beeswax, silver oxide, zinc oxide, and red sea salt that help heal the tattooed skin. This numbing balm also contains chamomile oil and golden jojoba seed oil that help soothe and protect the skin and improve skin elasticity.
Key Ingredients: Volcanic clay, Beeswax, Silver oxide, Zinc oxide, and Red sea salt
Pros
Waterproof
Pain relieving
Petroleum-free
Fragrance-free
Color-free
Cruelty-free
Safe for all skin types
Cons
Price at the time of publication: $59.99
From lotion to soaps, there are a lot of tattoo aftercare products available on the market. Keep reading to know more about these products.
Types Of Tattoo Aftercare Products
Lotions, Creams, And Ointments: Moisturizing the tattooed area is key to healing. Use fragrance-free lotions, creams, and ointments with ingredients like aloe vera and plant oils to keep the tattooed area soft and nourished.
Soap: After getting a tattoo, it is crucial to keep the area bacteria-free. For that, use a gentle soap (bar or liquid)containing antibacterial ingredients.
Sunscreen: Exposure to UV rays can fade the tattoo. Hence, applying sunscreen with at least SPF 30 is crucial to maintain the desired color intensity.
Bandage: Bandages are widely used by tattoo artists to protect the tattooed area and keep it moisturized. Bandages help keep dust particles and water away from your tattoo to avoid infection.
There is a high chance of your tattoo getting infected if it is not taken care of properly. Below are a few tips that you should keep in mind to keep your tattooed area safe.
Safety Tips To Keep In Mind After Getting A Tattoo
Do not rub or scratch your tattoo until the area is fully healed.
Avoid sun exposure. Use sunscreen to cover the tattooed area or wear protective clothing to avoid exposure.
Avoid contact with water before your tattoo has fully healed.
Consult a doctor immediately if you experience swelling, redness, and constant itching in the tattooed area.
Why Trust StyleCraze?
Oyendrila Kanjilal, the author, is a certified skincare coach who advocates using tattoo aftercare products to help with the healing of tattooed skin. To help our readers find the best quality products that deliver on their claims, she has researched the numerous options available on the market. Her understanding of key ingredients and how they affect the skin have helped her narrow down the options. She has also gone through user reviews to understand better how the products can affect various skin types. The recommended products are formulated with quality and safe ingredients to keep your tattoo smooth, soft, infection-free, and help quickly heal the tattooed area.
Frequently Asked Questions
Can I use Vaseline on my tattoo?
No, using Vaseline can trap moisture and restrict the breathability of your skin, thus preventing proper healing.
How do I moisturize a new tattoo?
You can use a tattoo aftercare lotion, creams, and ointments to moisturize your tattoo. Choose a lotion that has healing ingredients and is free from artificial fragrance. Use the lotion 3-6 times a day.
Some paragraphs lack cohesion.
Avoid dangling modifiers.
What is the best thing to put on a new tattoo?
Apply a fragrance-free moisturizer on your new tattoo to heal your skin while maintaining the shine and color of the tattoo.
What cream is the best for tattoo aftercare?
The Stories & Ink Tattoo Care Aftercare Cream is the best for tattoo aftercare. This hypoallergenic cream contains panthenol that moisturizes the skin and soothes inflammation. The non-greasy formula lets your skin breathe freely.
Can you over-moisturize a tattoo?
No. Do not over-moisturize your tattoo to prevent clogging the pores. Applying excessive amounts of moisturizer also increases the chances of infections.
Is coconut oil good for new tattoos?
Yes. Coconut oil boosts moisture into your skin and quickly heals skin cuts. In addition, it retains the vibrancy of your tattoo.
When should I moisturize my new tattoo?
Wait for 24 to 48 hours after getting a tattoo, then moisturize it. Skip using a cream immediately to let the skin heal on its own.
How many times a day should I wash my tattoo?
Wash the tattoo area two or three times daily to get rid of the accumulated bacteria or dirt from the skin.
Recommended Articles