12 Best Tattoo Aftercare Products To Keep Your Skin Smooth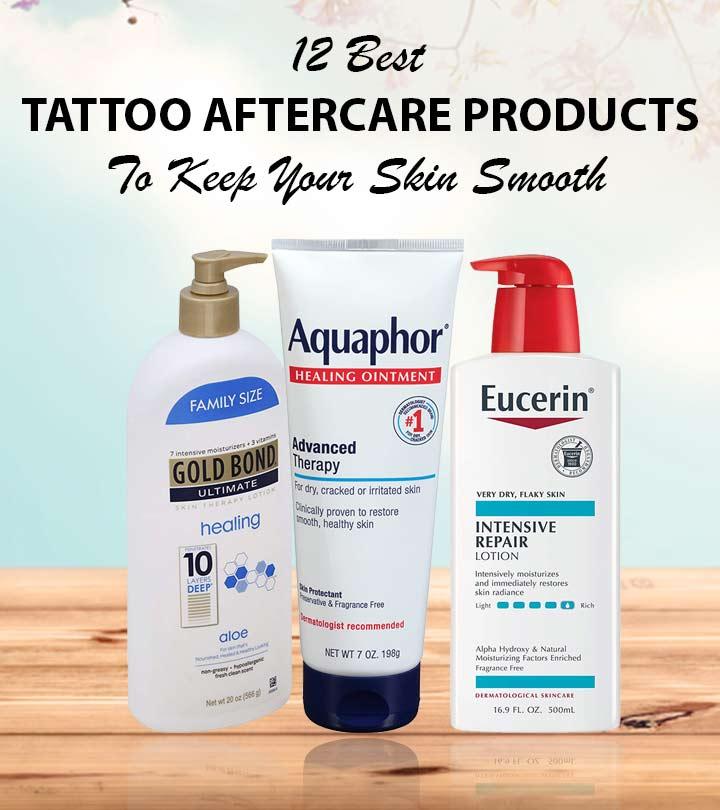 If you have gotten a brand new tattoo, the aftercare is essential and critical. Choosing the right product to apply on your brand new tattoo is necessary to keep your skin smooth, moisturized, and soft without causing any allergies or infections. The best tattoo aftercare products are the ones that are loaded with natural essential oils and soothing elements without any added fragrances. We have lined up the 12 best tattoo aftercare products in this article. Check them out!
12 Best Tattoo Aftercare Products
The Aveeno Daily Moisturizing Body Lotion is a fragrance-free lotion. It contains a unique, quick-absorbing oatmeal formula that soothes your skin and makes it soft and healthy. It is one of the best lotions for tattoo healing as it helps to prevent skin from drying out and replenishes it with moisture and softness. The lotion is also non- comedogenic (doesn't clog pores to cause blackheads) and keeps the moisture intact for the entire day.
Pros
Forms a barrier against allergies
Gentle
Non-comedogenic
Fragrance-free
Keeps your skin moisturized for 24 hours
Cons
The Hustle Butter Deluxe is one of the most recommended tattoo butters. It can be used before, during, and after the tattoo process. This lotion makes your skin super-soft, hydrated, and supple and aids healing. It is made entirely from natural ingredients, like shea butter, mango and papaya extract, aloe butter, sunflower rice bran oil, coconut oil, vitamin E, and other essential oils. It helps keep the tattoo color intact and rejuvenates the skin. If you are experiencing post-tattoo skin problems, like redness, swelling, bleeding, Hustle Butter Deluxe should be your go-to.
Pros
Tackles all types of post-tattoo skin issues
Promotes quick and smooth healing
Paraben-free
Cruelty-free
Petrolatum-free
Made from all-natural ingredients 
Cons
Too oily
Leaves stains on the clothes
Not fragrance-free (has a coconut fragrance that lingers on for long)
Anjou's extra virgin, organic coconut oil is 100% natural. It promotes healing and smoothening of the skin after the tattoo is inked. It has a soothing effect on your skin and helps moisturize and soften it. It helps in healing skin irritation and wounds, which is why it is one of the best products for tattoo aftercare. The all-natural element of this coconut oil ensures that there are no side effects on your skin. Whether your skin is itchy, red, dehydrated, or peeling due to dryness or tattoo after-effects – coconut oil helps in fixing it all.
Pros
Relieves itching and redness
100% natural and organic
Moisturizes skin
Makes the skin soft and supple
Cons
Needs frequent reapplication.
4. Gold Bond Ultimate Healing Skin Therapy Lotion
The Gold Bond Ultimate Healing Skin Therapy Lotion is loaded with seven intensive moisturizers and vitamins A, C, and E that nourish and moisturize dry, healing, or newly inked skin areas. The body lotion is long-lasting and keeps the moisture intact for 24 hours. It is non-greasy with a fresh and pleasant fragrance. Apart from being one of the best lotions for tattoos, it also prevents and helps in fixing redness, swelling, or itching. This lotion also contains aloe, which naturally cools the skin and soothes and relieves skin irritation or discomfort.
Pros
Keeps moisture intact for 24 hours
Loaded with 7 moisturizing elements and vitamins
Provides a soothing and relaxing effect
Quickly absorbed
Does not stain clothes
Cons
5. Eucerin Intensive Repair Lotion
The Eucerin Intensive Repair Lotion is great for tattoo healing as it is a 3-in-1 lotion that moisturizes, exfoliates, and conditions dry, flaky skin. It is filled with natural nourishing elements, like alpha hydroxy and extra-enriched moisturizers, that are good for healing skin. It is fragrance–free, dye-free, and hydrates your skin for 24 hours. This lotion claims to restore radiance and moisture to dry, patchy, and rough skin.
Pros
Restores skin radiance
Fragrance-free
Dye-free
Keeps moisture intact for 24 hours
Cons
You cannot go out in the sun for some time after applying this lotion as the exfoliation tends to make your skin sensitive.
6. Aquaphor Healing Ointment
The Aquaphor Healing Ointment is a one-stop solution for literally every skin problem. This multipurpose ointment is uniquely formulated to soothe and help restore smooth, healthy skin. It is a lotion that most of the tattoo artists recommend for new tattoos as it creates a protective barrier from germs and seals the moisture in. It also doesn't have fragrance, dyes, and preservatives, which makes it ideal for newly inked and sensitive skin.
Pros
Recommended by tattoo artists
Soothes all types of skin problems
Contains no preservatives
Dye-free
Cons
Greasy
Doesn't get absorbed completely.
Pungent odor
7. After Inked Tattoo Moisturizer And Aftercare Lotion
After Inked is one of the most popular and best lotions for tattoo healing. It contains grape seed oil, glycerin, shea butter, orange, jojoba, and synthetic beeswax. It moisturizes new, old, and healing tattoos and makes the skin look healthier and the tattoo shinier. After Inked doesn't cause any type of irritation or allergies as it is dermatologically and clinically tested. Many renowned tattoo artists recommend and use it pre and post inking. It instantly hydrates the skin and is absorbed quickly.
Pros
Keeps the tattooed area moisturized for long
Vegan and cruelty-free
Paraben-free
No harmful chemicals
Hydrates skin instantly
Doesn't feel sticky or greasy 
Cons
Slightly stings on freshly inked skin.
8. Lubriderm Daily Moisture Body Lotion
The Lubriderm Daily Moisture Body Lotion is an unscented lotion that helps to replenish and hydrate the skin that has been newly tattooed or is healing from inking. This water-based lotion is easy to apply, absorbed quickly, and keeps your skin moisturized for 24 hours. It contains vitamin B5 that speeds up healing and glycerin that boosts the moisture level of your skin and maintains smoothness.
Pros
Water-based
Quickly absorbed
Non-greasy
Soothes and heals skin
Cons
May not suit sensitive skin.
9. Ora's Amazing Herbal Tattoo Salve
This salve is infused with herbs that help tattoos heal faster without itching or scabbing. It keeps your skin smooth and soft and heals redness, swelling, bruises, and ink bleed. It can also be used after the tattoo is completely healed to keep your skin soft and your tattoo fresh. The fragrance of this ointment is mild and comes from essential oils, like tea tree, rosemary, and cedar. Other organic ingredients include grape seed oil, calendula, and coconut oil that accelerate the healing process and make your skin soft and supple. It heals, soothes, and relieves most skin issues.
Pros
Completely natural, herbal, and organic
Soothes itching and irritation
Paraben-free
Mineral oil-free
Gluten-free
Dye-free
Lanolin-free
No synthetic fragrances
Cons
Thick and oily consistency
May stain clothes.
May need reapplication.
The scent may be too strong for some people.
10. Tattoo Goo Original Aftercare Lotion
The Tattoo Goo Original Aftercare Lotion aids healing and prevents scabbing. It contains a unique combination of vitamins A and D, healthy skin ingredients, and proven moisturizers. The lotion promotes fast healing and soothes the skin. It penetrates your skin quickly and enhances colors on new and old tattoos. This non-greasy lotion restores your skin's natural moisture balance and provides long-lasting protection against dryness.
Pros
Soothes irritation and itching
Promotes healing
Paraben-free
Mineral oil-free
Alcohol-free
Petroleum-free
Lanolin-free
No added fragrances
Cons
Thick consistency
May need frequent reapplication.
Unpleasant smell
11. Fisticuffs Tattoo Balm
The Fisticuffs Tattoo balm is a healing balm that is formulated to promote recovery during the healing process of your tattoo. The all-natural ingredients in the balm help soothe swelling and pain and heal skin dryness and bruises. It also contains antimicrobial ingredients that help eliminate any bacteria and prevent infections. It has a pleasant peppermint fragrance that lingers on for a while. It also does not contain any chemicals or petroleum that may cause irritation or damage to the skin.
Pros
Contains all-natural ingredients
Antimicrobial
Facilitates healing of the tattoo
No petroleum jelly
Cons
May not suit sensitive skin.
12. Tattoo Goo The Original Aftercare Salve
The Tattoo Goo Original Aftercare Salve promotes quick healing and is perfect for damaged or healing skin from burns, tattoos, or scrapes. It is loaded with naturally healthy and healing ingredients, like olive oil, cocoa butter, beeswax, wheat germ oil, vitamins E, D, and C, lavender oil, sunflower oil, and rosemary extract. The salve allows the skin to breathe and soothes it while promoting healing.
Pros
Contains all-natural healing ingredients
Non-staining
Petroleum-free
Lanolin-free
Mineral oil-free
Cons
Doesn't hydrate the skin as expected.
Not suitable for sensitive skin.
These were some of the best products for tattoo aftercare that many tattoo artists around the world recommend. Taking care of your newly inked tattoo or a healing tattoo is essential. While the tattoo is healing, avoid using products that contain alcohol, Vaseline, balms, and tattoo-harming chemicals like neosporin or peroxide. Remember to consult the tattoo artist before you apply these products. It also essential to know the ingredients and check if you are allergic to any of them.
These lotions, balms, and salves keep your skin soft, smooth, and supple and your tattoo fresh. Pick any of these products and rejuvenate your skin.
Recommended Articles
The following two tabs change content below.

Latest posts by Harini Natarajan (see all)

Harini Natarajan
As Chief Editor, Harini sets the tone and editorial direction for StyleCraze to deliver engaging, interesting, and authentic content revolving around women's health, wellness, and beauty. She has over 14 years of experience in content writing and editing for online media. She specializes in the areas of Beauty, Lifestyle, and Health & Wellness and is proficient in Medical Sciences (Biology, Human Anatomy and Physiology, and Biochemistry). Her background in Biomedical Engineering helps her decode and interpret the finer nuances of scientific research for her team. Harini is a certified bibliophile and a closet poet. She also loves dancing and traveling to offbeat destinations.