15 Best Tattoo Concealers Of 2023, According To Reviews
It is possible to hide permanent inks without experiencing the slightest of pain.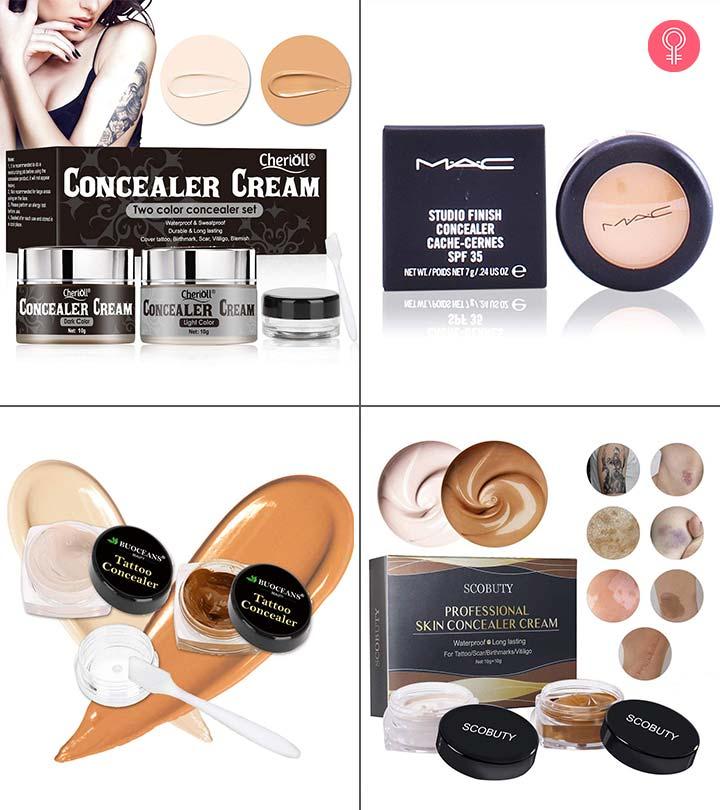 We know that tattoos tell special tales in your life; after all, it is branded on your body! But these beautiful art forms sometimes need to be covered when you are going to certain events like meetings, interviews, and photoshoots. This is where the best tattoo concealers come to the rescue. Tattoo concealers are the quick and easy way to camouflage your tattoos temporarily and instantly. They can hide the permanent or temporary ink perfectly.
Choosing the ideal concealer and finding the right hiding techniques to conceal your tattoos is tricky as some concealers can make your skin dry, while some may provide poor coverage. Then again, some concealers come with SPF that protects your skin. And you need to pick just the right formula. Check out our list of the 15 best tattoo concealers that will give your skin a virgin look! Scroll down and pick a product for yourself.
15 Of The Best Concealers To Hide Your Tattoos Perfectly
Review
Cherioll tattoo cover-up makeup concealer cream that offers full coverage on your skin. It provides an ideal balanced skin tone by covering pigmentation, acne, blemishes, and tattoo ink. The concealer can not only be used for color-correction but also to camouflage makeup according to your needs.
It is the best tattoo makeup concealer as it is made with natural ingredients and gives an undetectable finish on your skin. This concealer cream set contains two creams, light, and dark. The two need to be mixed in the right proportion to achieve the desired color as per your skin tone.
Pros
Lightweight
Versatile
Undetectable finish
Contains natural ingredients
Long-wearing
Cons
None
Price at the time of publication: $20.99
Review
M.A.C. Studio Finish SPF 35 tattoo cover up sleeve Concealer is a long-lasting formula that forms a protective layer on your skin. It is a highly-concentrated, creamy formula that gives opaque coverage in an instant. Its SPF 35 protects your skin from the harmful UV rays of the sun.
It is one of the best tattoo cover up concealers among the mainstream makeup brands, which gives a natural-looking flawless finish to your skin. Depending on your skin tone, it has a myriad of shades that you can choose from.
Pros
Lightweight
Creamy texture
Non-drying
Contains SPF 35
Buildable coverage
Cons
None
Price at the time of publication: $22.99
Review
Cover your age spots, tattoos, and scars with the Judith August Killer Cover Concealer. It offers full coverage and works as a highlighter as well to offer the perfect finish. The Universal palette comes in a 5-color wheel, suitable for different toned parts of your body. This highly pigmented concealer has a thick consistency, so you have to warm it up on the back of your hand before application. If you have deep-colored tattoos, you have to use a double layer of concealer to cover it effectively. Moreover, this concealer can also be used to cover up vitiligo for a flawless complexion.
Pros
Versatile
Waterproof
Full coverage
Long-lasting
Cons
Price at the time of publication: $34
Review
Cover your tattoo, scars, dark spots, and vitiligo with the Aobbiy Tattoo Concealer Cover Cream Set. The kit includes a dark and a light color paste, cushion puff, cleansing oil, plastic spatula scoop, and a color palette. It is formulated alcohol-free and with no harsh chemicals. The enriched formula offers immediate coverup and comes in handy for important occasions to effectively cover up your spots and sleeve tattoos.
You need to mix the two different shades and then increase the ratio to get your desired shade for your specific skin tone. The concealer comes with good water resistance and can be removed with the special cleansing oil. You can also use a setting powder for a more natural appearance.
Pros
Unisex
Waterproof
Long-lasting
Easy to use
Cons
Price at the time of publication: $14.97
Review
SegMiniSmart Tattoo Concealer is a natural and non-sticky formula that makes your skin smooth and radiant while imparting a subtle glow to it. Its thin formula does not clog your pores and lets your skin breathe. It is one of the best makeup for covering tattoos as it provides complete coverage to hide your tattoo ink, surgical bruises, blemishes, and acne marks. Its buildable pigments stick to you for long-lasting concealing.
This concealer can also be used for color correction, wherein you can lighten or darken your skin tone according to your preferences. Its waterproof formula does not smudge with sweat or water, and it's light texture is a cherry on the top, making it the best tattoo concealer for summer
Pros
Provides full coverage
Brightens skin
Lightweight formula
Won't clog your pores
Smooth texture
Cons
None

Price at the time of publication: $21.24
Review
This concealer is super-pigmented and stays on long to offer an opaque coverage to your tattoos, acne, scars, or hyperpigmentation. It does not require any setting powder yet lasts for 12 hours. It blocks out the toughest discoloration and gives you a matte finish.
The concealer is available in nine different shades to suit the needs of every skin tone. The formula blends easily to sink into your skin without being cakey. Moreover, it does not stain your clothes and is free from harmful chemicals.
Pros
Smudge-proof
Water-proof
Full-coverage
Paraben-free
Gluten-free
Non-greasy
Hypoallergenic
Suitable for all skin types
Cruelty-free
Cons
Price at the time of publication: $32.94
Review
Dermablend Cover Crème Broad Spectrum SPF is a foundation makeup that contains mineral sunscreen broad spectrum SPF 30. The crème is a long-lasting formula that gives a flawless and natural look to your skin. It is the best makeup to cover tattoo.
This concealer is a breeze to apply – it effectively covers tattoos, blemishes, acne marks, and birthmarks. You can also use this foundation to cover surgery bruises. It is one of the best tattoo cover-up makeup with SPF that can be applied on your face as well as body.
Pros
Lightweight
Long-wearing
Versatile
Easy to use
Contains mineral sunscreen blend
Cons
None
Price at the time of publication: $40.0
Review
This tattoo concealer from Mehron has a creamy formula to glide on your skin for an opaque coverage. It effectively masks your tattoos, birthmarks, and discoloration. However, for long-lasting coverage, the brand recommends using a setting powder or spray over it.
It is available in five different shades to match varied skin tones. It is advised not to use your fingers but a sponge for a seamless blending. You can use a makeup remover to remove the concealer, followed by soap and water.
Pros
Creamy-formula
A little bit goes a long way
Smudge-proof
Cons
Price at the time of publication: $15
Review
Makeup Forever Full Cover Concealer is a waterproof formula that offers a fresh, matte finish to your skin. The cult-favorite makeup covers tattoos, redness, blemishes, birthmarks, and other unwanted marks on your skin.
It contains a high concentration of pigments and is oil-free, so it does not ever make your skin greasy or sticky. Apply a small quantity directly on your skin, dab it with a blender, blend the camouflage cream to avoid lines, and apply a setting powder to seal the deal.
Pros
Long-wearing
Waterproof
Oil-free
Lightweight
Highly pigmented
Cons
None
Price at the time of publication: $32.0
Review 
The IT Cosmetics Bye Bye Under Eye Full Coverage Concealer is a must-have in your makeup kit. It's a waterproof and long-lasting concealer that effectively conceals the appearance of all tattoos, dark circles, fine lines, redness, and discoloration.
It is highly pigmented and provides long-lasting coverage that also improves the appearance of wrinkles without creasing or cracking. It has a smooth, creamy texture that delivers full coverage for up to 24 hours. It also has anti-aging ingredients such as peptides, vitamins, hydrolyzed collagen, hyaluronic acid, and antioxidants that nourish the skin while hiding your tattoos for a clean, supple look.
Pros
Highly pigmented
Long-lasting
Full coverage
Clinically tested
Cons
None
Price at the time of publication: $24.65
Review
The Clinique Airbrush Concealer has a creamy, lightweight formula for instantly concealing dark circles, blemishes, and other imperfections, apart from the darkest tattoos. Its smooth texture provides a flawless, airbrushed finish that lasts all day.
The concealer comes in convenient bottle packaging and has a coverage level that's perfect for those who prefer a light and natural look. It comes in a range of shades to suit different skin tones, ensuring that you find a perfect match for your complexion and sensitive skin.
Pros
Long-lasting
Buildable coverage
Blends easily
Variety of shades
Cons
Price at the time of publication: $23.34
Review
Laura Geller New York Real Deal Concealer is a highly pigmented formula that hides imperfections, tattoos, and dark circles effectively. It is formulated using gentle ingredients such as Vitamins A & E, Centella Asiatica, Antioxidants, and White Tea Extracts that provide deep conditioning to your skin while masking the tattoo ink.
Nothing can go wrong when you have applied this concealer as it is formulated by the world-renowned makeup artist, Laura Geller, who is known to always bring out the best in the department of women's beauty.
Pros
Conceals dark circles
Offers full coverage
A little goes a long way
Protects your skin from damage
Long-wearing
Cons
None
Price at the time of publication: $18.0
Review
The Benefit Boi-ing Cakeless Concealer is a multipurpose liquid that can hide it all, from tattoos to dark under-eye circles, blemishes, and discoloration. It offers full coverage, making it an ideal choice for those looking to hide their colored tattoos.
This concealer comes in a bottle packaging and is suitable even for sensitive or acne-prone skin. Its creamy texture blends seamlessly into the skin, providing a flawless finish that lasts up to 24 hours. It comes in a range of shades to suit different skin tones, ensuring that everyone can find their perfect match which makes it an ideal concealer for professionals.
Pros
Full coverage
Long-lasting
Multipurpose
Creamy texture
Multiple shades
Cons
None
Review
Xtreme Lashes Skin Renewing Concealer is an anti-aging formula that helps rejuvenate your skin cells. It keeps your skin hydrated for long hours, and with regular application, it makes your skin appear firmer, smoother, and plumper.
The concealer offers medium coverage to hide tattoos, blemishes, fine lines, crease lines, and acne marks. Apply it to your skin with the help of your fingertips and blend it well to attain precision. Yielding instant results and being easy to remove, it is ideal to use as special effects makeup and a cover-up for stage actors. This is another excellent tattoo cover-up concealer at an affordable price for everyday use.
Pros
Anti-aging properties
Hydrates skin
Firms skin
Diminishes fine lines
Long-wearing
Cons
None
Price at the time of publication: $32.0
Review
The Charlotte Tilbury Color Corrector has a light, buttery formula that offers full coverage to conceal all tattoos. It's suitable for all skin types and comes in convenient tube packaging. It offers instant cover-up for formal events.
This product is formulated to provide a flawless finish that lasts all day, while feeling comfortable and weightless on the skin. As the formula is lightweight, it does not feel heavy or cakey on the skin, making it comfortable to wear for extended periods.
Pros
Full coverage
Lightweight
Long-lasting
Brightening
Suitable for all skin types
Cons
Why Trust StyleCraze?
Shalini Roy, the author of this article, is a makeup enthusiast. She always keeps herself updated about everything in the fashion industry and has a special interest in the tricks and hacks of using makeup. She sought the guidance of professional makeup artists and conducted thorough research of online reviews to pick the best tattoo concealers listed above. The products mentioned in our article are effective, long-wearing, and safe to use.
Frequently Asked Questions
Does tattoo concealer really work?
Yes. Tattoo concealers have full-coverage formulas that cover your tattoo entirely. Usually, these formulas are infused with high SPF that protects your skin from harsh sun rays making them a suitable camouflage for outdoor activities.
Is it safe to put concealer on a new tattoo?
No. Putting concealer on a new tattoo irritates the skin and leads to infections. Therefore, let your tattoo heal first, then apply concealers.
How do you use concealer to cover tattoos?
• Wash your tattoo with a gentle cleanser.
• Take a color-correcting, high-coverage cream or liquid concealer.
• Use a makeup sponge and dab or blot the concealer onto the tattooed area.
• Let the product dry, and add more layers to hide the tattoo entirely.
How long does a tattoo concealer last?
The shelf life of a tattoo concealer is one to two years.
How do you remove tattoo concealer?
• Pour a few drops of alcohol-free makeup cleanser on a cotton pad.
• Press the pad on the concealer.
• Rub the pad gently all over the covered tattoo to clean the area.
• Wash the place with a gentle cleanser.
Are red tattoos easy to cover up with concealer?
Yes. Use a green color corrector to counterbalance the red color of the tattoos, then cover the tattoos entirely with a full-coverage concealer.
Does makeup to cover up tattoos cause your tattoos to fade?
No. A high-quality concealer free of irritants like alcohol does not damage the tattoo color. Instead, they simply cover the tattoo without fading the color.
Recommended Articles