15 Best Mizani Natural Hair Products Of 2023
Give your curls a bouncy look with hydrating hair care products comprising gentle formulas.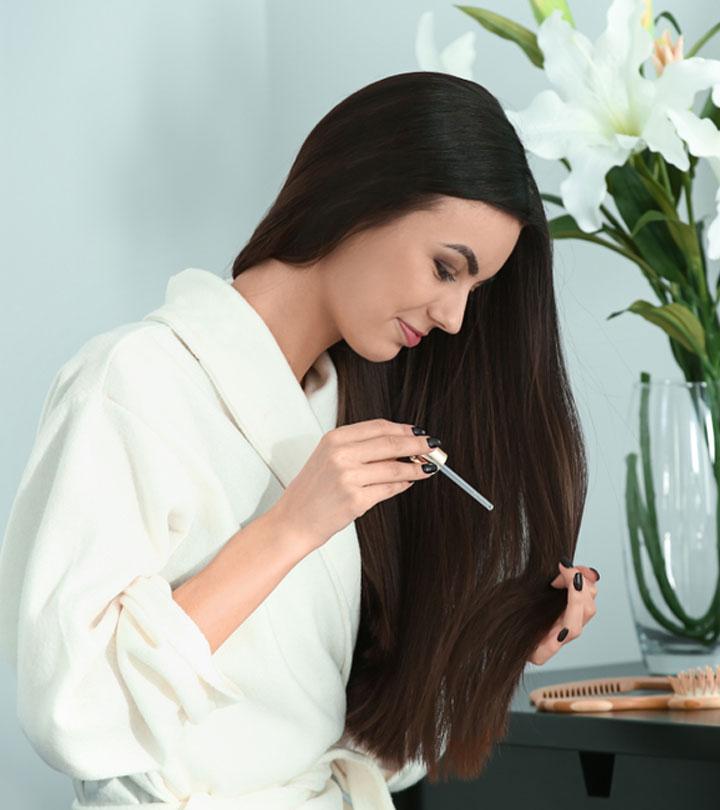 Flaunting your gorgeous and bouncy curls is impressive, but preventing them from becoming frizzy and dry is the challenge. Thankfully mizani natural hair products are just the perfect solution for your frizzy curls. This special line of hair care products has been specially formulated to revitalize your curls and prevent it from becoming frizzy.
Apart from catering to curly-haired beauties, mizani natural products have an entire range of products for different hair types. They are designed to nourish and hydrate your hair and give it that lovely glossy texture you deserve! Here are the 15 best mizani natural hair products of 2023 for you!
Top 15 Best Mizani Natural Hair Products For All Hair Textures
Who doesn't love a frizz-free finish! Here is the 25 Miracle Milk Leave-In Conditioner that will tame frizz and detangle your hair, providing a neat, even, and smooth look. It acts as a heat protectant to prevent damage, breakage, and thinning. The best part about this Mizani heat protectant spray is that it is weightless, which makes it suitable for fine hair (with low porosity). This serves as a perfect hydrating agent for straight, wavy, curly, and coily hair. This video offers a more detailed explanation of the product.
Pros
Keratin-safe
Boosts shine
Gentle on color-treated hair
Suitable for wigs and weaves
Contains fennel seed and coconut oil
Cons
Might have a slightly sticky consistency
Price at the time of publication: $38.0
We are sure many of you would agree that serums are worth all the hype as they tackle most hair concerns! Check out this heat protecting serum by Mizani, which is formulated especially for coiled hair. It contains shea butter extract and an anti-breakage ceramide mechanism that facilitates in enhancing the tensile strength. Plus, it nourishes both natural and relaxed hair by retaining moisture and reducing damage.
Pros
Tames frizz
Lightweight
Restores shine
Ideal for blow-drying and styling
Creamy consistency for a better spread
Cons
Might possess a strong smell
Price at the time of publication: $20.0
Are you obsessed with a night care routine? Then, this Strength Fusion hair mask that offers intensive overnight hair care may be excellent for you. This Mizani hair care product provides the required nourishment to your damaged hair at night, eliminating dryness and brittleness. The result is sleek, glossy, and conditioned strands in the morning. Being a non-sticky and lightweight mask, it can be easily applied and spread without any hindrance. You may check this video for a better understanding of this product.
Pros
Pleasant smell
Suitable for heat styling
Lends smooth and silky hair
Contains shea butter for hydration
Includes vitamins for strengthening the follicles
Cons
Price at the time of publication: $23.0
Want to have well-defined curls? Then, you may want to try this curl define pudding product by Mizani. Designed by texture experts, this cream delivers soft, shiny, and intensified coils with perfection. This Mizani curl cream moisturizes and seals the cuticles leaving no room for hair loss, shedding, and thinning. Also, it adds more volume to your hair, providing a lightweight hold. This video review will help you learn more about the product.
Pros
Wax-free
Easy styling
Frizz-free look
Free from parabens
Includes coconut, olive, and marula oils for nourishment
Cons
The consistency might be slightly thin.
Price at the time of publication: $22.0
Flaunt the dramatically voluminous curly look you have always dreamt of with this Shine Extend Anti-Humidity Spritz! It not only locks in moisture and shine in the cuticles but also resists humidity effectively. Also, it lends you a neat hair look, eliminating dullness and greasiness. With this Mizani hair spray formulated with coconut oil, you can achieve a smooth, silky, and frizz-free finish.
Pros
Sulfate-free
Salon-like finish
Long-lasting effect
Enhances manageability during styling
Suitable for hair with different porosities
Cons
May not be suitable for a wet hair look
Price at the time of publication: $20.0
Amplify and give some life to your dry and dull strands with this moisturizing mask by Mizani. This sulfate and paraben-free formula moisturizes your tresses and nourishes them with all the essential minerals and nutrients. With this Mizani hair moisturizer, you can achieve a soft, detangled, healthy, and well-hydrated hair look with ease.
Pros
Lightweight
Eliminates build-up
Contains argan oil for shine
Enhances the bounciness of hair
Has extracts of honey and cupuacu butter to retain moisture
Cons
Expensive
Might have a strong smell
Price at the time of publication: $32.0
Say goodbye to frizzy and brittle strands and hello to glossy, luxurious, and voluminous coils within seconds! This Mizani styling gel is formulated with essential coconut and marula oils that hydrate, nourish, and give a long-lasting hold to your curls. With this gel being lightweight and non-sticky, it doesn't tangle or clump your hair. In addition to this, it also comes with a pleasant odor that isn't overwhelming.
Pros
Vegan
Gives a defined look
Lends smooth and shiny hair
Free of parabens and sulfates
Ideal for "wash-and-go" styling
Cons
Price at the time of publication: $26.0
Lift your spirits by providing luxurious shine to your lovely tresses! Formulated with sunflower, olive fruit, coconut, and marula oils, this Mizani deep conditioner enriches every follicle with ample quantities of nutrients. With its excellent hydrating and conditioning agents, it moisturizes and lifts your curls, eradicating frizz and dullness.
Pros
Good smell
Silicone-free
Paraben-free
Builds volume
Gentle on natural hair
Cons
Might not offer a long-lasting effect
Price at the time of publication: $28.0
Tough on dandruff, but gentle on your scalp — here is a Mizani scalp treatment product that facilitates both cleansing and deep conditioning! Crafted with cucumber extracts, rose flower oil, and pyrithione zinc, it eliminates all the grime, dirt, and impurities from the scalp thoroughly. What we love the most is the calming and cooling effect that this Mizani shampoo leaves after every wash!
Pros
Kills bacteria
Eliminates itching
No harsh chemicals
Suitable for oily scalp
Removes dead skin flakes
Cons
A few people may not like the strong smell.
Price at the time of publication: $86.0
Do you prefer multi-cultural hair styling gels? Then, this Mizani edge control gel may be the right choice. It effectively tames flyaways, strays, and wild edges for all types of hairstyles — be it sharp, tapered, and highly defined. It is formulated with sunflower, jojoba, and argan oils that add shine, offer manageable hold, provide moisture to your hair, and deliver a soothing and rejuvenating effect.
Pros
Non-sticky
Non-greasy finish
Free of petrolatum
Contains antioxidant vitamin E
Equipped with ceramide technology to protect hair against breakage
Cons
Might not be long-lasting
Price at the time of publication: $12.6
Are you fond of natural and hydrating shampoos? Then, you may want to check out this Moisture Fusion Moisture Rich Shampoo by Mizani. It acts as an excellent cleanser and exfoliator with the help of ingredients like cupuacu butter, honey, and argan oil. Formulated especially for dry hair, it combats humidity, brittleness, and chaotic tangles. Alongside these benefits, it offers a sweet smell of honey after your shower.
Pros
No parabens
Prevents split ends
Promotes hair growth
Lends smooth and glossy hair
Provides intense moisturization
Cons
Might not be suitable for relaxed hair
Don't miss out on this Mizani hair spray for styling formulated with flower extracts and coconut oil. These ingredients deliver dramatic shine and volume to your hair. Its anti-frizz feature detangles the hair strands with ease, reducing breakage and damage during styling. Free of sulfates, parabens, and other harsh chemicals, it shields and protects the scalp while promoting healthy hair growth.
Pros
Lightweight
Clears flaky skin
Prevents build-up
Suitable for all curl types
Safe for natural, relaxed, and color-processed hair
Cons
Might not be suitable for oily scalp
Price at the time of publication: $18.0
When you need one of the best styling cream to achieve flawless curls, you can count on this Mizani Thermasmooth heat-activated styling cream. This non-sticky and non-greasy formula penetrates the hair cuticles, leaving them hydrated and healthy. Made from beeswax and cranberry seed oil, this Mizani curl cream offers the essential treatment your hair deserves.
Pros
Easy styling
Boosts shine
Paraben-free
Offers heat protection
Lends a soothing effect
Cons
Might not be suitable for some hair types
Looking for that lovely softness and shine in your curly locks? Well, here is a natural hair mask by Mizani, powered with Moroccan clay that offers exactly the desired results. It contains essential high-quality ingredients like shea butter, olive fruit, sunflower, and soybean oil, which boosts your scalp health. What we love the most is its non-greasy formula that deeply penetrates the roots to condition your hair without eliminating the natural moisture.
Pros
Vegan
Has a sweet odor
Lends defined strands
No harmful chemicals
Detangles hair with ease
Cons
Price at the time of publication: $36.0
Want to strengthen and condition your hair follicles? Well, say hello to this Bond pHorce Fiber Maintenance Conditioner. Formulated with coconut, olive, and jojoba oils, this Mizani deep conditioner lends you soft, glossy, and healthy locks. It facilitates intensive conditioning, strengthening the cuticles and reducing hair fall. Ideal for relaxed hair, this natural formula detoxifies your roots and promotes new hair growth.
Pros
Cruelty-free
Hydrating formula
Works for all hair types
Paraben and sulfate-free
Mild and gentle formulation
Cons
Might not be efficient in treating flaky scalp
Frequently Asked Questions
Is Mizani good for natural hair?
Yes. Most Mizani curl products are formulated with high-quality essential oils, butters, and fruit extracts, which makes them safe and suitable for natural hair.
Does Mizani help grow hair?
Mizani products not only encourage healthy hair growth by strengthening your scalp but also eliminates hair problems like hair loss, thinning, damage, and breakage.
Are Mizani products sulfate-free?
Most products are free of parabens, sulfates, and other harsh chemicals.
Is Mizani shampoo good for black hair?
Yes. Formulated by texture experts, Mizani shampoos are suitable for all hair types, colors, and textures. It is also gentle on treated hair, wigs, and weaves. It boosts shine and volume to your hair strands.
Is Mizani good for 4C hair?
Yes, Mizani is good for 4C hair. It reduces frizz and revitalizes kinky, curly hair.
Who owns Mizani hair products?
Zaino Mizani is the owner of Mizani hair products.
Is Mizani a salon brand?
Yes, Mizani is a salon brand that caters to hair types of all textures.
How do you use a Mizani hair mask?
Wet your hair and make small sections. Apply the hair mask. Wear a shower cap and let the product sit for 20-25 mins. Rinse with cold water and towel dry.
Does L' Oreal own Mizani?
Yes, Mizani is a branch of L'Oreal that specializes in curly hair types.
Recommended Articles