The 9 Best Gels For Dreadlocks You Must Try Out in 2023
Create and maintain perfect dreadlocks with these strong-hold and protective gels.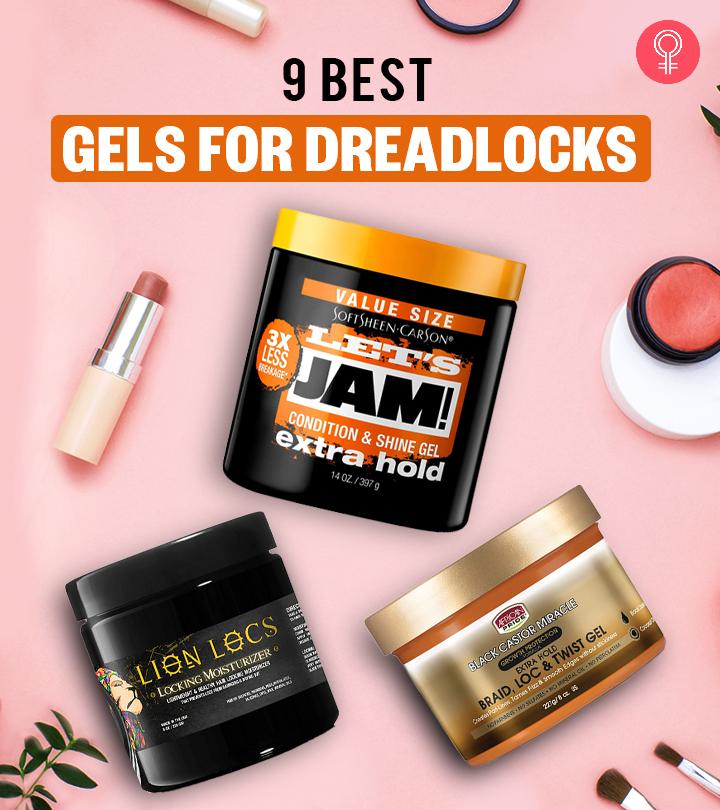 There is no set rule for getting the perfect dreadlocks as it is all about experimenting after all. Dreads, locs, weave, however you want to call it, are not only culturally representative but have now evolved into a statement-making style. They require a lot of maintenance including the best gel for dreadlocks in addition to good maintenance and cleansing routine to avoid breakage, brittleness, and frizz.
Gels made specifically for dreadlocks should be mildly formulated to avoid any residue getting stuck. It is easy for such ingredients to get stuck in dreadlocks as they absorb quickly. How do you differentiate between gels with good consistencies and gels that only promote product accumulation in the scalp? Well, we have compiled the 9 best gels for you to try right here.
Top Picks
9 Best Gels For Dreadlocks for 2023
Pros
Smells good
Lightweight
Unisex
Provides good hold
A little goes a long way
Cons
Sticky
May melt in the sun.
Price at the time of publication: $3.53
This hair gel is made with 100% pure shea butter and several other plant-based ingredients. It controls frizz and flyaways and gives you a smooth-looking hairdo. This gel has hydrating properties and locks moisture in your hair shafts to help your hairstyle stay put. To understand the nuances of the product in detail, you can check out this review.
Pros
Contains natural ingredients
Sulfate-free
Paraben-free
Mineral oil-free
Silicone-free
Long-lasting
Nice smell
Cons
Price at the time of publication: $5.38
Pros
Paraben-free
Sulfate-free
Silicone-free
Contains natural ingredients
Preservative-free
No artificial color
Non-greasy
Cons
Price at the time of publication: $8.48
Pros
Color-safe
Smells good
Petroleum-free
Mineral oil-free
Paraben-free
Sulfate-free
Silicone-free
Cons
Pros
Paraben-free
Silicone-free
Sulfate-free
Petroleum-free
Mineral oil-free
Smells great
Cons
Price at the time of publication: $24.99
Pros
Cruelty-free
Silicone-free
Mineral oil-free
Mild scent
Non-sticky
Cons
Price at the time of publication: $9.71
Pros
Dairy-free
Pleasant scent
Long-lasting hold
Cons
Price at the time of publication: $7.18
Pros
Contains organic ingredients
Smells good
Water-soluble
Lightweight
Cons
Price at the time of publication: $34.95
Pros
Paraben-free
Sulfate-free
Silicone-free
Mineral oil-free
PEG-free
Phthalate-free
Artificial dye-free
Cons
Price at the time of publication: $23.49
There are different types of gels available, so it is important to find the one that is right for your hair type. Choose premium-quality, skin-friendly products that are gentle on your hair and offer protection to your tresses. Here are a few points you should keep in mind before buying a hair gel.
How To Choose The Perfect Gels For Dreadlocks – Buying Guide
Hair gels have different holding capacities. If you want a crisp look with minimal movement, go for a strong-hold gel. If you want a more natural look with more volume, and just slight texturing, go for a regular gel.
Some products tend to get runny when exposed to heat and the sun. If you work outdoors during the day a lot, choose products that will stay intact even in immense heat.
To maintain healthy hair, your routine should contain gels that are water-based or oil-based, in case of extremely dry hair. Invest in products that can keep the moisture in your hair for a longer time. Castor oil and coconut oil are two of the greatest natural oils. Adding gels containing these oils to your arsenal of hair care products can assist improve your routine as a whole.
When looking for hair gel for dreadlocks, it is important to think about the brand. Many companies use their key ingredients in a product which might not be suitable for your hair type. Also, customers have more faith in certain brands based on the formulations and how the brand has fared in the past. So, if you are unsure about which product to opt for, go for one that is made by a popular brand or simply stick to your safety brand.
Since the product will be in your hair for a long time, you can go for gels that smell good. They may be slightly drying though, so keep your hair texture in mind before purchasing one. However, if you experience dryness after continued usage, you should switch to fragrance-free gels.
Why Trust StyleCraze?
The author of this article, Shiboli Chakraborti, is a hair care enthusiast. She understands that maintaining and styling dreadlocks can be really challenging. To help the readers find the best products to keep their proud locks well maintained, she has carefully and exhaustively researched numerous gels for dreadlocks and poured through several reviews online to compile this list of the best options. The products included in the list help to protect locks against frizz, brittleness, and breakage.
Frequently Asked Questions
Is gel good for dreadlocks?
Yes. Hair gels are good for dreadlocks. It makes the hair more malleable and prevents them from weighing down. Gels keep the outer surface of hair smooth which make them ideal for styling . They also keep your locks healthy and flowing.
What is better for dreadlocks -wax or gel?
Gels are better than waxs. Wax is cumbersome and can weigh down your hair and make it look dull and less voluminous.
Can you use Vaseline on dreadlocks?
No. Vaseline is a petroleum-based wax and can be harmful to dreadlocks.
When is it better to retwist dreads – dry or wet?
Retwisting dreads on either dry or wet ways are good. But, retwisting wet hair is much easier and better for your hair.
How often do you have to apply gel for dreadlocks?
Ideally, for well-maintained dreadlocks, you can apply locking gels between 3 to 6 months. If you are using a good-quality, no-residue styling gel, you can use it as frequently as you wish.