The 9 Best Gels for For Dreadlocks You Must Try Out in 2022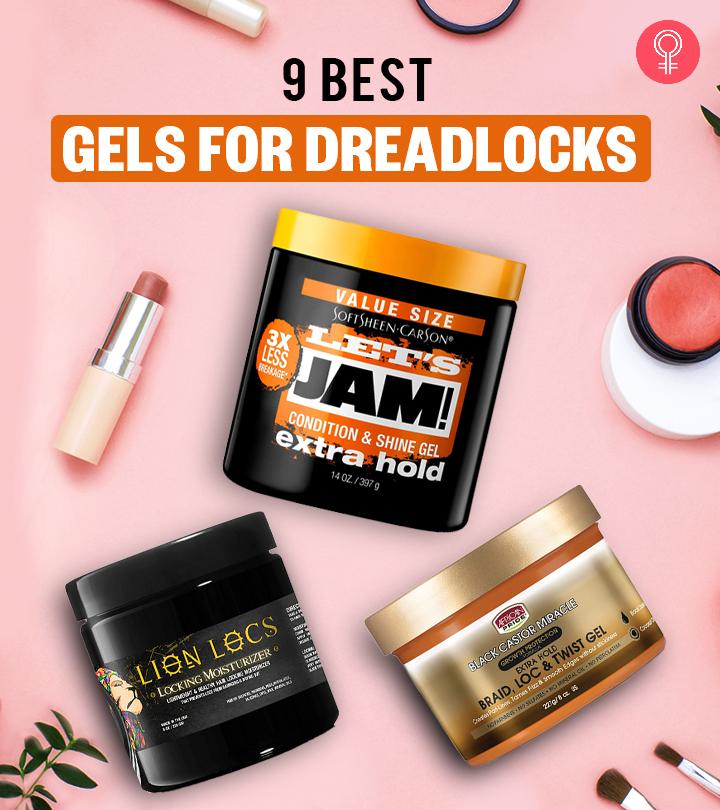 There is no set rule for getting the perfect dreadlocks as it is all about experimenting after all. Dreads, locs, weave, however you want to call it, are not only culturally representative but have now evolved into a statement-making style. They require a lot of maintenance including the best gel for dreadlocks to avoid breakage, brittleness, and frizz.
Gels made specifically for dreadlocks should be mildly formulated to avoid any residue getting stuck. It is easy for such ingredients to get stuck in dreadlocks as they absorb quickly. How do you differentiate between gels with good consistencies and gels that only promote product accumulation in the scalp? Well, we have compiled the 9 best gels for you to try right here.
9 Best Gels For Dreadlocks for 2022
The Let's Jam! Condition & Shine Gel by Soft Sheen Carson uses micro-emulsion technology that conditions your hair and imparts shine. It reduces hair breakage and does not leave any residue as it does not contain wax or alcohol. The extra hold formula of the hair gel is perfect for braiding, styling, twisting, smoothing edges, and taming frizz and flyaways. Unlike regular creams or waxes, this gel does not cause flaking. Click here to check out a detailed personal review of this product.
Pros
Smells good
Lightweight
Unisex
Provides good hold
A little goes a long way
Cons
Sticky
May melt in the sun.
This hair gel is made with 100% pure shea butter and several other plant-based ingredients. It controls frizz and flyaways and gives you a smooth-looking hairdo. This gel has hydrating properties and locks moisture in your hair shafts to help your hairstyle stay put. To understand the nuances of the product in detail, you can check out this review.
Pros
Contains natural ingredients
Sulfate-free
Paraben-free
Mineral oil-free
Silicone-free
Long-lasting
Nice smell
Cons
This all-natural hair gel is made with an advanced formula using potent ingredients like placenta, biotin, West African shea butter, extracts of peach leaves, peach oils, onion juice, and wild bee honey. The essential oils, natural plant and herbal extracts, amino acids, and minerals help induce natural hair growth. This hair gel prevents hair loss and thinning and aids faster and thicker hair growth. Check out this YouTuber's review of this product.
Pros
Paraben-free
Sulfate-free
Silicone-free
Contains natural ingredients
Preservative-free
No artificial color
Non-greasy
Cons
The Jamaican Mango & Lime Locking Gel provides a solid hold and a smooth finish without flaking or leaving a residue. It is infused with moringa seed oil and manuka honey that nourish your hair. This combination of ingredients helps reverse hair damage and strengthens the hair follicles. It also prevents brittleness and hair breakage, keeping your locks shiny, smooth, and healthy. This locking gel is safe for all types of hair and all kinds of hair textures.
Pros
Color-safe
Smells good
Petroleum-free
Mineral oil-free
Paraben-free
Sulfate-free
Silicone-free
Cons
This gel for dreadlocks keeps your hairdo neat and manageable – it smooths flyaways and boosts shine. It is infused with a potent combination of black castor oil and coconut oil. Black castor oil seals in moisture in your locks, prevents hair breakage, and promotes hair growth. Coconut oil hydrates and repairs damaged hair. The extra hold hair gel can be used on dry and wet hair.
Pros
Paraben-free
Silicone-free
Sulfate-free
Petroleum-free
Mineral oil-free
Smells great
Cons
The ORS Lock & Twist Gel is a cream-textured hair gel infused with coconut milk extracts and soybean oil that lock in moisture and nourish the locks. It softens the hair and eliminates frizz and flyaways. This hair gel imparts shine and gives your hairdo a neat and clean finish.
Pros
Cruelty-free
Silicone-free
Mineral oil-free
Mild scent
Non-sticky
Cons
The Tropical Roots Firm Locking Gel is perfect for braids, twists, and locks. It contains tropical ingredients like pineapple and guava that nourish and maintain your hair. Pineapple has enzymes that enrich the hair follicles and provide nutrition. It reduces hair fall, strengthens the hair shafts, and improves the elasticity and thickness of hair.
Guava extract is enriched with vitamin C that improves collagen and aids hair growth. It is also a natural antioxidant with antibacterial and antimicrobial properties that helps maintain scalp health and protects the hair from thermal damage and UV rays. This gel does not leave behind any residue and does not cause flakiness.
Pros
Dairy-free
Pleasant scent
Long-lasting hold
Cons
The Dollylocks Coconut, Aloe And Lime Tightening Gel is specifically formulated for dreadlocks. It is infused with a blend of coconut extract, aloe vera extract, lime oil, avocado oil, oat protein, hemp seed oil, and grapefruit extract. The natural essential oils and extracts help nourish and tighten dreadlocks.
The aloe and coconut extracts strengthen the hair shafts and promote healthy hair growth. This gel for dreadlocks also helps improve hair elasticity and repair damage caused by chemicals and heat. The unique formula tames frizz and eliminates flyaways, giving you a clean and neat-looking hairdo.
Pros
Contains organic ingredients
Smells good
Water-soluble
Lightweight
Cons
The Lion Locs Locking Moisturizer holds, twists, and tames your locks. The all-natural gel is infused with aloe vera leaf juice, hydrolyzed wheat protein, lavender oil, argan oil, and ylang ylang. It is made with handpicked organic ingredients that nourish and fortify your hair. This lock gel penetrates deep into your hair shafts, opens the cuticles, and seals in moisture. It prevents breakage, makes your hair healthy and shiny, and eliminates frizz.
Pros
Paraben-free
Sulfate-free
Silicone-free
Mineral oil-free
PEG-free
Phthalate-free
Artificial dye-free
Cons
Why Trust StyleCraze?
The author of this article, Shiboli Chakraborti, is a hair care enthusiast. She understands that maintaining and styling dreadlocks can be really challenging. To help the readers find the best products to keep their proud locks well maintained, she has carefully and exhaustively researched numerous gels for dreadlocks and poured through several reviews online to compile this list of the best options. The products included in the list help to protect locks against frizz, brittleness, and breakage.

Recommended Articles