15 Best Hair Masks For Blonde Hair
Time to bring your blonde tresses back to life with cost-effective products.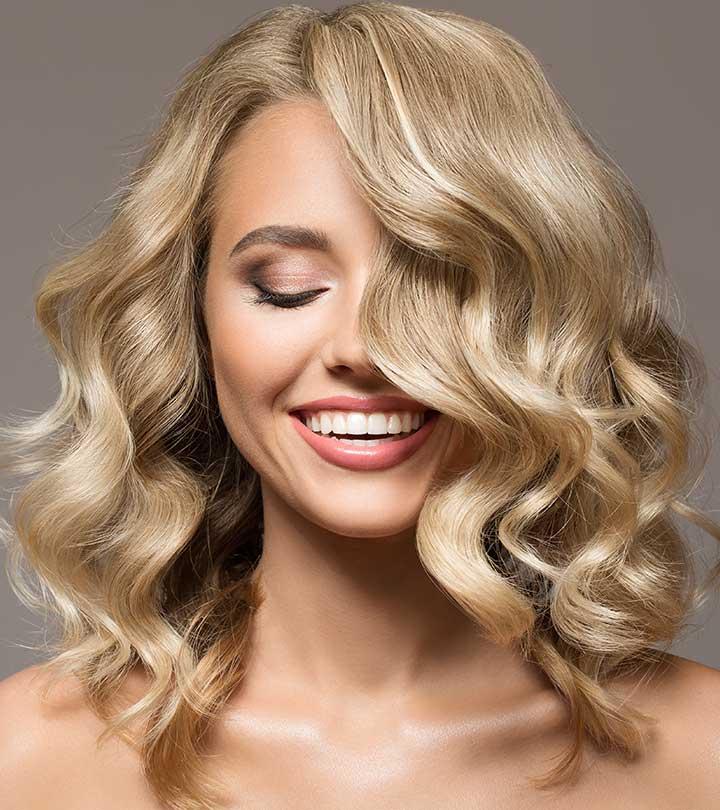 If you are one of those souls who wish they had blonde hair and don't, join the club. While coloring your hair blonde means trips to fancy salons, the up-keep behind it is another task altogether. With brassiness stripping your hair of its color and moisture, you need the best hair mask for blonde hair to come to the rescue. As blonde hair can cause damage, breakage, and split ends, taking steps to reduce it is essential. Violet-tinged hair masks are the perfect solution to blonde hair woes. They deliver essential proteins to your hair which helps retain the moisture in your hair—hydrating your blonde locks and keeping brassy tones at bay. We have rounded up a list of the top hair masks out there to keep your blonde hair shining.
Read on to know more.
15 Best Hair Masks For Blonde Hair
Go from brassy to blonde with this hair toner from Manic Panic! This is a violet-tinted, ultra-gentle toner to neutralize the yellow tones for the lightest level of blonde. It doubles up as a conditioner too. This is the only glow up your blonde hair needs to look fresh as new, Manic Panic Virgin Snow Hair Toner is vegan-friendly, ready-to-use, and ammonia-free. If you are still unsure about purchasing, you can check out a review of this product on YouTube.
Pros
Neutralizes yellow tones
Brightens the hair
Conditions and hydrates hair
Gentle and cream-based
Suitable for 9-10 lightest level of blonde
Cons
Price at the time of publication: $13.98
This Keratin Purple & Blue Hair Mask from the brand Vitamins repairs damaged hair with its professional deep conditioning formula. The color depositing formula removes orange, yellow, and brassy tones from your hair. If you're too tired to visit the salon for a perfect hair treatment, this hair mask might help you as it also protects your hair against breakage and nourishes the roots as well as the ends of your hair strands. To add more, it eliminates frizz while locking moisture inside your hair.
Pros
Color corrector
Cruelty-free
Nourishes and hydrates the hair
Reduces frizz
Cons
Price at the time of publication: $24.98
Are you looking for a hair mask for blonde hair that replenishes your hair? Choose this intense deep conditioning hair mask from Schwarzkopf that uses integrated bonding technology to replenish porous and fragile blonde hair. It is composed of keratin that helps restore the natural texture of your hair. The mask helps repair, hydrate, and revive blonde and platinum shine. You can check out this YouTuber's review of the product if you require more convincing.
Pros
Makes hair soft and manageable
Revitalizes and hydrates bleached hair
Increases level of moisture
Promotes bright and shining blonde hair
Cons
It only conditions and doesn't eliminate yellowness
Price at the time of publication: $39.81
Brunettes, are you finding your hair color brassy lately? Neutralize with this mask made especially for lightened or highlighted brunettes as it counters all the warm tones with its highly pigmented blue-violet cream formula. And it's not just a toner, it conditions too, making hair 10 times less prone to breakage. Say goodbye to fragile hair that looks orange or brassy. It makes hair stronger and keeps the hair color intact, making you want to flaunt it!
Pros
Blue-violet pigment formula counters orange and brassy tones
Nourishes and hydrates fragile hair
Makes hair 10 times less breakable
Suitable for color-treated and natural hair
Cons
The formula may stain hands
Price at the time of publication: $44.0
This leave-in conditioning treatment gives your salon-fresh hair instantly. It reduces yellowness and brassiness, reduces the silver, grey, and blonde hair tones and highlights, leaving hair bright and color enhanced. The mask also nourishes and moisturizes the hair, leaving it smooth and soft. Use this hydrating mask once a week and see wonders.
Pros
Vegan
Suitable for dull and frizzy hair
Smoothes and softens hair
Instant results
Cons
Leaves a purple residue on the scalp
Price at the time of publication: $20
Sometimes all your hair needs is a touch of essential oils to brighten up! Especially for blonde, silver, and gray hair, a yellow tone can diminish the vibrancy and make your tresses look lifeless. Botanic Hearth Purple Hair Mask has an ultraviolet pigmented conditioning formula that corrects brassy and yellow tones while hydrating the porous cuticles. Its deep nourishing ingredients energize damaged hair and restore natural moisture level, thus leaving your hair enviably beautiful!
Pros
Deep and intense conditioning with essential oils
Corrects yellowness and brassy tones
Hydrates porous hair
Conditions damaged and dry hair
Detangles hair easily
Cons
It's more a conditioner than a toner
Works on light, warm tones
Price at the time of publication: $11.99
Experience the enriching benefits of nature on your tresses! Honeyskin Purple Dream Purple Hair Mask is formulated using natural and organic ingredients that provide deep and intense conditioning to color-treated hair. Reaching the core of the cuticles to repair and replenish, it ultimately recharges your hair needs, posts all the bleaching treatment. So, if organic is your thing, then you've found your mask!
Pros
All-natural and organic
Corrects warm and yellow tones
Deep and intense conditioning
Cons
Price at the time of publication: $14.99
Are you missing your bombshell blonde, silver, and platinum locks? It is time to revive your gorgeous tresses with a perfect dose of this purple hair mask. This mask features a plant-based formula that nourishes not only dull and damaged hair but the scalp too. Transforming your hair from boring to beautiful, it cools down warm tones to let the golden color shine through. It is suitable for straight, permed, and even curly hair!
Pros
Balances the moisture level
Repairs damaged and dull hair
Promotes natural shine
Eliminates yellow hues
Suitable for all types of hair
Cons
The toner may not deliver a strong color
Price at the time of publication: $14.95
If you want to reset your color-treated hair without taking away its shine and vibrancy then this L'Oreal Paris EverPure is for you! It is formulated with hibiscus and purple pigment that protects your hair from damage and hair color from fading. It is easy to use and neutralizes even the most stubborn brass within 5 minutes. This mask is suitable for bleached, highlighted, color treated, and blonde hair. The sulfate-free formula prevents hair from becoming dry and moisturizes it evenly.
Pros
Creamy texture
Paraben-free
Sulfate-free
Phthalate-free
Eliminates brassy tone
Moisturizes hair
Vegan
Cons
The smell is not pleasing to all
Price at the time of publication: $10.29
To recover your hair from excessive styling and environment-induced damage, give Truss Blond Mask a shot. Its photo-nutrient formula provides high-performance toning, while essential oils treat damaged hair. The violet pigments neutralize brassy hues to impart a natural glow. The conditioning power, on the other hand, restores elasticity, repairs cuticles and protects it from everyday damage. A perfect package for beautiful and gorgeous hair, Truss Blond Mask packs the best of vitamins and essential oils for you.
Pros
High-performing toning strength with violet pigments
Restores elasticity and shine
Eliminates brassy hues
It contains vitamins and oils
Cons
Not suitable for dry hair
Price at the time of publication: $23.96
The Bold Uniq Purple Mask helps diminish brassiness and yellow tones and revitalize blonde hair. It conditions your hair and prevents dullness. The hydrating formula is a blend of natural oils that offer deep nourishment for color-treated blonde hair.
This mask helps strengthen your hair and smoothen dry, damaged strands. It contains soy protein, vitamin B5, and moisturizing oils that restore damaged hair. This hair mask is enriched with a deep violet-pigment that neutralizes brassy hues. The UV filters absorb the harmful sun rays to prevent your hair color from fading.
Pros
Offers UV protection
Cruelty-free (PETA certified)
Vegan
Sulfate-free
Paraben-free
Mineral oil-free
Phthalate-free
Formaldehyde-free
Cons
Price at the time of publication: $27.95
Are you looking for something magical to revive the coveted blonde shine? Prokpil Cenizo Treatment is exactly what your hair needs. This ultra-gentle hair toner mask targets and corrects the warm tones. The conditioning ingredients nourish the cuticles and soften your hair. Just like magic, watch your hair go from lifeless to lively in one wash with this purple hair mask!
Pros
Tackles warm hues
Imparts salon-treated shine
Revives the original blonde shine
Cons
Price at the time of publication: $16.97
Say hello to beautiful and flawless blonde hair with Inoar Absolut Speed Blond Mask. Its progressive toning formula guarantees quick anti-yellowing treatment for blonde, bleached, gray, and brassy hair. It neutralizes orange and yellow tones while conditioning, softening, and restoring the elasticity of the hair. A power-packed, quick, and advanced formula that'll keep your hair and hair color intact for weeks.
Pros
Neutralizes brassy, orange, and yellow tones
Deep conditions and hydrates hair
Gentle and progressive toning formula
Suitable for blonde and gray hair
Cons
Price at the time of publication: $54.0
Whether your hair is colored, highlighted, or naturally blonde, they tend to turn yellowish or brassy over time. Go back to your original blonde with this Shade Variation Mask from Christophe Robin. Free from harsh chemicals like paraben, silicones, oxidants, and ammonia, it is an all-natural color revival mask that lifts off yellow and gray tones to restore the original shine, softness, and texture.
Pros
Lifts off yellow and gray tones
Hydrates and moisturizes hair
Offers deep nourishment and toning
Cons
The quantity is less for long hair
Price at the time of publication: $16.3
No products found.
A healthy and nourishing mask is the safe haven your hair needs! Curated especially for color-treated locks that tend to lose their moisture after coloring and bleaching, Redken Blonde Idol Mask has everything that your hair needs to recharge and replenish. Its nourishing oils formula boosts shine, strengthens hair, and enhances color. A perfect conditioner to bounce your hair back to its brighter tone, Redken Blonde Idol Mask controls frizz and provides hydration too.
Pros
Deep conditioning with nourishing oils
Controls frizz
Enhances color and shine
Strengthens damaged and dull hair
Cons
It does not tone brassy hair
When it comes to hair care, those with blonde hair have unique requirements. The delicate color can be challenging to maintain, and blonde hair is often more susceptible to damage and breakage. That's why finding a suitable hair mask is essential for keeping your blonde locks looking their best. Here are a few things to remember when shopping for a hair mask for blonde hair.
How To Choose The Best Hair Mask For Blonde Hair
Various types of hair masks are available for different hair types. For instance, deep-conditioning hair masks are perfect for those with dry and damaged hair to restore nourishment. On the other hand, water-based moisturizing masks are great if you need some extra boost of hydration. If you're struggling with brassiness or lackluster color, look for a hair mask that contains violet pigments to neutralize unwanted yellow tones. Finally, choose a sulfate-free hair mask if you've recently colored your hair to avoid stripping the color.
While choosing a hair mask, consider your hair type and what issues you want to address. For example, do you have dry, damaged, or color-treated hair? Once you've determined that, look at the ingredients list and find a mask packed with deeply hydrating ingredients like hyaluronic acid, shea butter, or avocado oil.
Once you've determined your primary goal, look at the ingredients of different hair masks. For example, if you're seeking hydration, look for masks that contain hydrating ingredients like aloe vera, honey, or avocado. On the other hand, if you want to smooth out frizz or add shine, opt for masks with soothing oils like argan oil or coconut oil. Finally, if you're looking for a hair mask that will help repair damage from heat styling or color-treating your hair, look for one with protein-rich ingredients like keratin or collagen.
Why Trust StyleCraze?
Vaishnavi Kothuri, the author of this article, is a hair care fanatic and loves experimenting with different hair care products. She understands that hair masks are a good solution to prevent hair breakage, split-ends, and keeping the shine. For this article, she analyzed various hair masks online by reading hundreds of reviews on various platforms. These hair masks for blonde hair moisturize and condition your hair without stripping off the natural color.
Frequently Asked Questions
How do you keep blonde hair moisturized?
You can keep your blonde hair moisturized by using nourishing hair care products like masks, oil, conditioners, etc. The formulas in these masks also keep brassy tones at bay and offer your tresses great shine.
How often should I use a hair mask for blonde hair?
You can use a hair mask on blonde hair once or twice a week. If your tresses are significantly damaged, use the mask two to three times a week.
How can I make my blonde hair silky and shiny?
To make your blonde hair appear silky and shiny, generously use a moisturizing shampoo and a nourishing hair mask. Keep a check on your scalp health and use a heat protectant to keep your tresses free of dullness and damage.
Recommended Articles