15 Best Hair Masks For Blonde Hair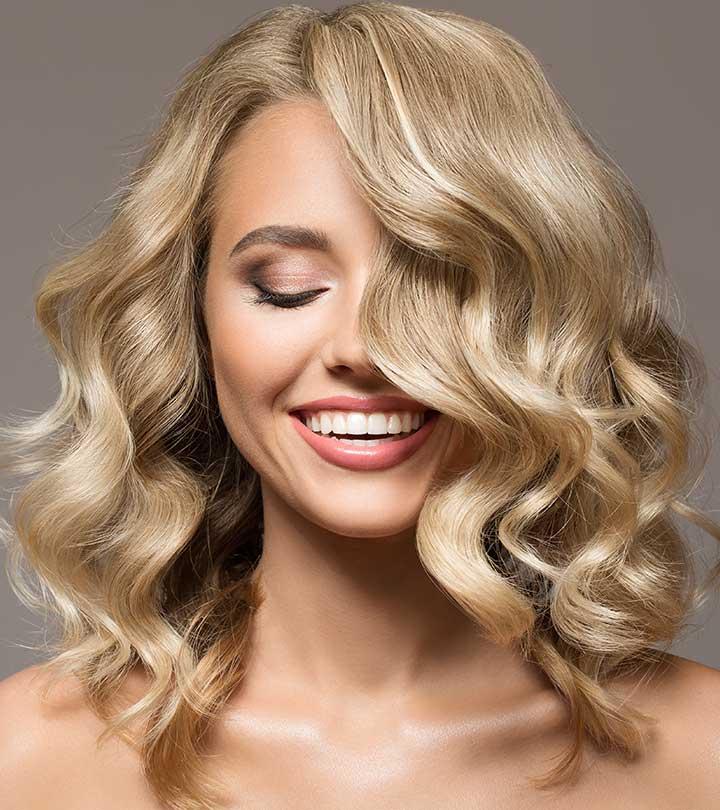 If you are going to go blonde, we say, you do it the right way! But unfortunately, bleached hair turns porous and makes the original color shed, thus letting brassiness takes over. And purple shampoos and conditioners are not enough to keep the blondeness, bright and healthy. Hence, you need these hair masks or toners to save your blonde pride! These semi-dye toners easily double up as intense conditioners that rejuvenate your hair and make the blonde color shine brighter.
Try them once, and you'll know what all the buzz is about. And if you are wondering which one to pick, we've got you covered. Here are the 15 best hair masks for blonde hair that will rekindle your love for blonde hair!
Read on to know more.
15 Best Hair Masks For Blonde Hair
Go from brassy to blonde with this hair toner from Manic Panic! This is a violet-tinted, ultra-gentle toner to neutralize the yellow tones for the lightest level of blonde. It doubles up as a conditioner too. This is the only glow up your blonde hair needs to look fresh as new, Manic Panic Virgin Snow Hair Toner is vegan-friendly, ready-to-use, and ammonia-free.
Pros:
Neutralizes yellow tones
Brightens the hair
Conditions and hydrates hair
Gentle and cream-based
Suitable for 9-10 lightest level of blonde
Cons:
Similar Products
Beat yellow hair with this Purple Hair Mask! This revitalizing mask nourishes and rejuvenates porous hair, thus making the color appear stronger for weeks. It fights discoloration, yellowness, and brassiness with its gentle formula that is infused with avocado oil, retinol, silk protein, and more. Free from paraben and silicone, watch your hair go from lifeless to gorgeous within 15 minutes!
Pros:
Tackles discoloration and yellowness
Nourishes and strengthens hair
Makes controlling pigment stronger
Eliminates brassiness
Guarantees result in 15 minutes
Free from harsh chemicals
Cons:
Similar Products
Are you looking for a hair mask for blonde hair that replenishes your hair? Choose this intense deep conditioning hair mask from Schwarzkopf that uses integrated bonding technology to replenish porous and fragile blonde hair. It is composed of keratin that helps restore the natural texture of your hair. The mask helps repair, hydrate, and revive blonde and platinum shine.
Pros:
Makes hair soft and manageable
Revitalizes and hydrates bleached hair
Increases level of moisture
Promotes bright and shining blonde hair
Cons:
It only conditions and doesn't eliminate yellowness
Similar Products
Brunettes, are you finding your hair color brassy lately? Neutralize with this mask made especially for lightened or highlighted brunettes as it counters all the warm tones with its highly pigmented blue-violet cream formula. And it's not just a toner, it conditions too, making hair 10 times less prone to breakage. Say goodbye to fragile hair that looks orange or brassy. It makes hair stronger and keeps the hair color intact, making you want to flaunt it!
Pros:
Blue-violet pigment formula counters orange and brassy tones
Nourishes and hydrates fragile hair
Makes hair 10 times less breakable
Suitable for color-treated and natural hair
Cons:
The formula may stain hands
Similar Products
This intense blend of keratin, argan oil, avocado oil, and more is making people fall head over heels in love with this purple hair mask. Get rid of brassy hues that show up post bleaching your hair blonde, platinum, or ash. The mask counters all the yellowness with its strong essential oil and keratin formula that also moisturizes dull and dry strands. If this isn't one of the best combos for gorgeous platinum and ash hair, then we wonder what is!
Pros:
Composed of natural oils
Eliminates brassy hues and yellowness
Hydrates dull and dry hair
Free from paraben, sulfates, and silicones
Cons:
It does not tone deep, brassy hues
Similar Products
Sometimes all your hair needs is a touch of essential oils to brighten up! Especially for blonde, silver, and gray hair, a yellow tone can diminish the vibrancy and make your tresses look lifeless. Botanic Hearth Purple Hair Mask has an ultraviolet pigmented conditioning formula that corrects brassy and yellow tones while hydrating the porous cuticles. Its deep nourishing ingredients energize damaged hair and restore natural moisture level, thus leaving your hair enviably beautiful!
Pros:
Deep and intense conditioning with essential oils
Corrects yellowness and brassy tones
Hydrates porous hair
Conditions damaged and dry hair
Detangles hair easily
Cons:
It's more a conditioner than a toner
Works on light, warm tones
Experience the enriching benefits of nature on your tresses! Honeyskin Purple Dream Purple Hair Mask is formulated using natural and organic ingredients that provide deep and intense conditioning to color-treated hair. Reaching the core of the cuticles to repair and replenish, it ultimately recharges your hair needs, posts all the bleaching treatment. So, if organic is your thing, then you've found your mask!
Pros:
All-natural and organic
Corrects warm and yellow tones
Deep and intense conditioning
Cons:
Are you missing your bombshell blonde, silver, and platinum locks? It is time to revive your gorgeous tresses with a perfect dose of this purple hair mask. This mask features a plant-based formula that nourishes not only dull and damaged hair but the scalp too. Transforming your hair from boring to beautiful, it cools down warm tones to let the golden color shine through. It is suitable for straight, permed, and even curly hair!
Pros:
Balances the moisture level
Repairs damaged and dull hair
Promotes natural shine
Eliminates yellow hues
Suitable for all types of hair
Cons:
The toner may not deliver a strong color
The Bellisso Purple Hair Mask for Cold Blond Shades is enriched with herbal extracts that repair split ends, control frizz, and revive lifeless hair. The mask neutralizes the brassy yellow tones of color-treated blonde hair to give them a beautiful enhanced texture. It is packed with powerful nutrients and botanicals such as argan oil, jojoba oil, rosemary and chamomile essence, keratin, and aloe vera. This blend conditions your hair deeply, protects against daily pollution, and infuses vitality to give you healthy and lustrous tresses.
Pros
Lifts off brassy yellow tones
Controls frizz
Paraben-free
Sulfate-free
Silicone-free
Cons
To recover your hair from excessive styling and environment-induced damage, give Truss Blond Mask a shot. Its photo-nutrient formula provides high-performance toning, while essential oils treat damaged hair. The violet pigments neutralize brassy hues to impart a natural glow. The conditioning power, on the other hand, restores elasticity, repairs cuticles and protects it from everyday damage. A perfect package for beautiful and gorgeous hair, Truss Blond Mask packs the best of vitamins and essential oils for you.
Pros:
High-performing toning strength with violet pigments
Restores elasticity and shine
Eliminates brassy hues
It contains vitamins and oils
Cons:
Not suitable for dry hair
The Bold Uniq Purple Mask helps diminish brassiness and yellow tones and revitalize blonde hair. It conditions your hair and prevents dullness. The hydrating formula is a blend of natural oils that offer deep nourishment for color-treated blonde hair.
This mask helps strengthen your hair and smoothen dry, damaged strands. It contains soy protein, vitamin B5, and moisturizing oils that restore damaged hair. This hair mask is enriched with a deep violet-pigment that neutralizes brassy hues. The UV filters absorb the harmful sun rays to prevent your hair color from fading.
Pros:
Offers UV protection
Cruelty-free (PETA certified)
Vegan
Sulfate-free
Paraben-free
Mineral oil-free
Phthalate-free
Formaldehyde-free
Cons:
Are you looking for something magical to revive the coveted blonde shine? Prokpil Cenizo Treatment is exactly what your hair needs. This ultra-gentle hair toner mask targets and corrects the warm tones. The conditioning ingredients nourish the cuticles and soften your hair. Just like magic, watch your hair go from lifeless to lively in one wash with this purple hair mask!
Pros:
Tackles warm hues
Imparts salon-treated shine
Revives the original blonde shine
Cons:
Say hello to beautiful and flawless blonde hair with Inoar Absolut Speed Blond Mask. Its progressive toning formula guarantees quick anti-yellowing treatment for blonde, bleached, gray, and brassy hair. It neutralizes orange and yellow tones while conditioning, softening, and restoring the elasticity of the hair. A power-packed, quick, and advanced formula that'll keep your hair and hair color intact for weeks.
Pros:
Neutralizes brassy, orange, and yellow tones
Deep conditions and hydrates hair
Gentle and progressive toning formula
Suitable for blonde and gray hair
Cons:
Whether your hair is colored, highlighted, or naturally blonde, they tend to turn yellowish or brassy over time. Go back to your original blonde with this Shade Variation Mask from Christophe Robin. Free from harsh chemicals like paraben, silicones, oxidants, and ammonia, it is an all-natural color revival mask that lifts off yellow and gray tones to restore the original shine, softness, and texture.
Pros:
Lifts off yellow and gray tones
Hydrates and moisturizes hair
Offers deep nourishment and toning
Cons:
The quantity is less for long hair
No products found.
A healthy and nourishing mask is the safe haven your hair needs! Curated especially for color-treated locks that tend to lose their moisture after coloring and bleaching, Redken Blonde Idol Mask has everything that your hair needs to recharge and replenish. Its nourishing oils formula boosts shine, strengthens hair, and enhances color. A perfect conditioner to bounce your hair back to its brighter tone, Redken Blonde Idol Mask controls frizz and provides hydration too.
Pros:
Deep conditioning with nourishing oils
Controls frizz
Enhances color and shine
Strengthens damaged and dull hair
Cons:
It does not tone brassy hair
Don't let the brassy, yellow, and orange tones dull your blonde shine! Pick your mask, indulge in a little TLC to unveil those beautiful and enviable blonde tresses. This was a list of the 15 best hair masks for blonde hair that will help you make an informed purchase.
Did we miss out on your favorite purple hair mask? Or do you have a query about this post? Write to us in the comments below!
Recommended Articles