15 Best Skin Care Products For Dark Skin – Our Top Picks For 2023
Enhance the beauty of your natural complexion with the right skincare essentials.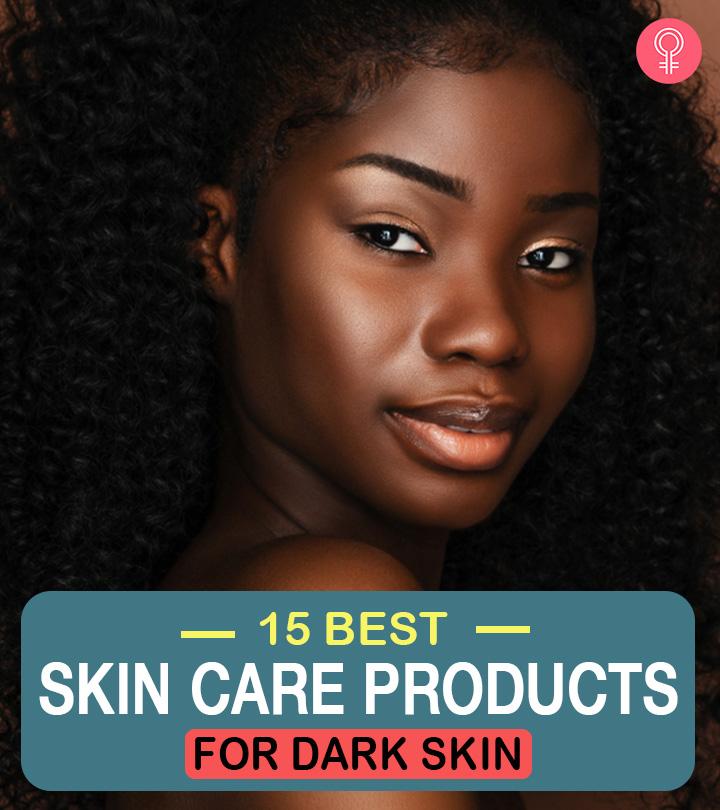 As per the American Academy of Dermatology's study, people with darker complexion are more prone to acne, eczema, and hyperpigmentation (1). Hence, we bring you the best skincare products for dark skin. It's very important to start taking care of your skin from a young age. Dark skin needs extra care and love; that's why one needs to pay extra attention.
Having said that, we've decided to curate some fantastic products that will work like magic on dark skin. From getting rid of uneven skin tone to bidding goodbye to acne to making skin glowing, these products will do it all. Keep scrolling, and you'll thank us later!
Top Picks
15 Best Skin Care Products For Dark Skin
The Wonderfully Natural African Black Soap is handcrafted with 100% organic ingredients from Africa. It is made with palm oil, palm kernel oil, coconut oil, unrefined shea butter, purified water, and cocoa pod ash. Organic shea butter revitalizes, softens, and smoothens the skin. It also has anti-aging properties that induce cell renewal and reduce the appearance of wrinkles and fine lines. Shea butter also contains vitamins A and E, which strengthen, restore, and repair damaged skin. These vitamins soothe sores, burns, scars, and treats acne, dermatitis, psoriasis, and eczema.
The cocoa pod ash softens and firms the skin. Its antioxidant properties repair and renew damaged skin and combat free radicals. It also has anti-inflammatory properties that soothe the skin. The organic palm oil enriched with vitamin E and antioxidants help treat eczema and acne, soothes burns, and reduces cell damage. The organic kernel oil is high in lauric acid with antibacterial and antifungal properties. The organic coconut oil restores the skin's lipid barrier and seals in moisture. It also repairs dry skin and minimizes the appearance of wrinkles and fine lines. You can also check this video out for a brief review of the product.
Pros
100% organic
Soothes eczema and acne
Handcrafted
Minimizes the appearance of wrinkles and fine lines
Repairs damaged skin
Soothes burns
60-day money-back guarantee
Cons
Might dry out the skin
Might cause breakouts
Price at the time of publication: $19.99
Pros
Suitable for all skin types
Vegan
Mineral oil-free
Silicone-free
Paraben-free
Formaldehyde-free
Paraffin-free
Petrolatum-free
Sulfate-free
Cruelty-free
Cons
Price at the time of publication: $18.48
Pros
100% natural
Repairs damaged skin
Fights aging signs
Treats dark spots
Reduces stretch marks
Hydrates the skin
Cons
Price at the time of publication: $13.5
The SheaMoisture African Black Soap Facial System Kit comes with a face and body bar, facial mask, facial wash and scrub, and moisturizer. All the products contain tamarind extract and tea tree oil that exfoliate the skin and soothe and mattify it, respectively. The face and body bar cleanses, hydrates, and calms the skin. It soothes irritated skin, clears blemishes, and evens out the skin tone. The facial mask purifies the skin and helps reduce acne.
The facial wash and scrub exfoliates the skin mildly. It absorbs excess oil, controls breakouts, reduces blemishes, and makes the skin young-looking and fresh. The moisturizer imparts a shine-free and natural glow to the skin. This kit is made with certified organic and natural ingredients that are suitable even for sensitive skin. It is cruelty-free and does not contain sulfates,phthalates, parabens, mineral oil, and propylene glycol.
Pros
Cruelty-free
Propylene glycol-free
Phthalate-free
Paraben-free
Sulfate-free
Mineral oil-free
Cons
Price at the time of publication: $20.97
Pros
Suitable for dry and mature skin
Paraben-free
Sulfate-free
Phthalate-free
Alcohol-free
Propylene glycol-free
Mineral oil-free
Petroleum-free
No synthetic fragrance
Dye-free
Cruelty-free
Cons
May cause allergic reactions
Price at the time of publication: $21.89
The Sisley Black Rose Cream Mask makes the skin young-looking instantly. It contains rich anti-aging ingredients like black rose, padinapavonica, and alkekengi calyx extracts. These active ingredients reduce signs of fatigue and revitalize and refresh the skin. This mask hydrates the skin instantly, making it smooth, soft, and plump. It improves skin texture, brightens the skin, and reduces signs of aging like fine lines and wrinkles.
Pros
Hydrates the skin
Adds glow
Reduces signs of aging
Cons
Might cause redness
Expensive
Price at the time of publication: $72.1
Pros
Hand-pressed
Reduces inflammation, eczema, and psoriasis
Can be used as a makeup foundation
Moisturizes the skin
Non-toxic
Cons
Price at the time of publication: $18.98
Pros
Suitable for all skin types
Easy-to-use
Lathers well
Mild scented
Cons
May be itchy on sensitive skin
Price at the time of publication: $21.94
The Skinceuticals Physical Fusion UV Defense with SPF 50 is a lightweight, universal tinted sunscreen that allows the skin to breathe. It is formulated with color-infused sunscreen technology that boosts skin radiance. The broad-spectrum, physical filters, zinc oxide, and titanium dioxide provides photo protection. It also contains artemiasalina, a plankton extract, which enhances the power of the sunscreen. This sunscreen improves the skin's immunity and resistance to UV rays and heat.
Pros
Contains SPF 50
Paraben-free
Chemical-free
Water-resistant
Can be used as a makeup foundation
Non-drying
Absorbed quickly
Lightweight
Tinted
Cons
Not suitable for combination, oily, or acne-prone skin
May cause breakouts
Unpleasant smell
Price at the time of publication: $65.01
The Acne Killer Body Wash contains horseradish, green tea, and African black soap, which unclog pores, moisturize and replenish the skin, and prevent breakouts. Green tea is rich in antioxidants that prevent signs of aging and damage caused by UV rays and stress. This body wash helps soothe rosacea-prone skin and is suitable for all skin types. This oil-free formula should be used twice a day for best results.
Pros
100% natural
Non-comedogenic
Oil-free
Suitable for all skin types
Non-drying
Chemical-free
Preservative-free
Cons
May cause allergic reactions
Price at the time of publication: $13
The Specific Beauty Advanced Dark Spots Correcting Pads employ MelaTone therapy with potent scientific and natural ingredients that even tones and brightens the skin. They are formulated with rich botanical extracts like bearberry and licorice that make your skin radiant. The pads also contain kojic acid and vitamin C, which brighten the skin and reduce the signs of aging like age spots.
This blend of ingredients diminishes dark spots, pregnancy marks, discoloration, and hypo/hyperpigmentation. It also exfoliates the skin, reduces visible age damage, and boosts healthy cell turnover. These pads also contain green tea polyphenols that nourish the skin and aid in skin repair and Indian gooseberry that calms and soothes the skin.
Pros
Hydroquinone-free
Dermatologist-developed
Suitable for dry and sensitive skin
Evens the skin tone
Fragrance-free
Dye-free
Soothes the skin
Diminishes pregnancy marks
Minimizes discolorationExfoliates the skinBoosts cell turnover
Cons
Price at the time of publication: $55
Pros
Vegan
Cruelty-free
Gluten-free
Non-comedogenic
Non-drying
Lightweight
Eco-friendly
Cons
Might peel off under makeup
Leaves an orange mark
Price at the time of publication: $24
The Flurries African Anti-Wrinkle Moisturizer With Avocado tightens, clears, and lightens the skin. It minimizes the size of enlarged pores, lifts, brightens, and hydrates the skin. This moisturizer contains avocado with a high quantity of folic acid, which nourishes the skin deeply. It helps soothe allergies and dryness and heals damaged skin barriers.
The sterols and vitamin E in avocado boost collagen production, soothe the skin and prevent aging signs. Avocado is also rich in vitamin A and cinnamic acid, which repair wounds and protect the skin. This cream also contains unsaturated fatty acids and vitamins that replenish the skin with moisture and restore its suppleness. It is absorbed into the skin quickly and is non-greasy and lightweight. This cream does not clog pores or cause breakouts and is suitable for all skin types.
Pros
Paraben-free
Phthalate-free
Sulfate-free
Smoothens the skin
Repairs damaged skin
Lightweight
Non-greasy
Non-comedogenic
Suitable for all skin types
Suitable for kids
Minimizes enlarged pores
Adds glow
Cons
Might dry out the skin
Expensive
The Donuyale Essentials Blemish Ointment is a skin-friendly fusion of organic and natural ingredients that imparts a glow to the skin. It has a spice-wood fragrance and can be used on the face, body, and scalp. This ointment clears the skin within a week and makes it soft and supple. It contains rich moisturizing agents that revitalize dry and dull skin. The ricinoleic acid reduces acne, psoriasis, dermatitis, eczema, and other skin and scalp issues by removing dirt and dead cells from the skin. It also reduces swelling and inflammation and improves blood circulation and flow to the skin. The product boosts the growth of healthy skin tissues and improves collagen and elastin production. It makes the skin supple, toned, and firm and reduces fine lines and wrinkles.
The ointment contains organic castor, chamomile, cade, juniper berry, cinnamon leaf oils, and organic beeswax. Castor oil deeply moisturizes the skin, soothes inflamed skin, and diminishes the signs of aging. It contains nutrients that smoothen and hydrate dry skin patches. Chamomile oil reduces the appearance of scars and spots on the face. It also decreases any redness or flaring on the skin. Cade oil soothes irritated and itchy skin or scalp. Juniper berry oil soothes itching, swollen and weeping skin and helps treat scalp ailments. Cinnamon leaf oil reduces inflammation, fine lines, and wrinkles. The organic beeswax has immense anti-inflammatory and medicinal properties.
Note: Do not use this product if you are pregnant or epileptic.
Pros
Tones the skin
Reduces blemishes
Treats mild acne
Soothes the skin
Reduces fine lines and wrinkles
Cons
Price at the time of publication: $29.99
Pros
Paraben-free
Phthalate-free
Sulfate-free
Mineral oil-free
Cruelty-free
Removes makeup
Suitable for oily skin
Gentle
Cons
Might cause breakouts
Strong smell
Here are some tips to help you choose the best skin care product for dark skin.
How To Choose Skin Care Products For Dark Skin
Skin Type: There are many skin types – normal, oily, dry, combination, acne-prone, sensitive, and very dry. Skin care products that work for a particular skin type might not work for others. Thus, check the reviews to ensure the product suits your skin type.
Ingredients: Women with dark skin are prone to severe allergic reactions from ingredients like hydroquinone. Therefore, go for natural ingredients like shea butter, almond oil, aloe vera, baobab oil, and castor oil. These ingredients contain vitamins and fatty acids that keep dark skin moisturized and healthy. Vitamin C helps even out the skin tone and reduce hyperpigmentation, and acne. Ensure the product does not contain bleaching agents, parabens, phthalate, and silicone that cause irritation, reactions, and discoloration.
Note: If you are using products with ingredients like hydroquinone, retinol, salicylic acid, glycolic acid, and benzoyl peroxide, ensure they are in the FDA-approved quantity.
Testing: Always do a patch test before application to check if the product works for your skin or causes irritation.
Texture: Pick a product whose texture suits your skin. If you have oily skin, choose a light, non-greasy cream. For dry skin, choose a hydrating and creamy product.
Why Trust StyleCraze?
The author, Shiboli Chakraborti, is a certified skin care coach and has a keen interest in exploring products that cater to various skin needs. She has researched the best skin care products for dark skin and compiled the list.The products included in the list effectively manage dark skin issues like acne, hyperpigmentation, and eczema, and impart a glow to the skin.
Frequently Asked Questions
How do you take care of dark skin?
• Gently cleanse your skin to get rid of all dirt and grease.
• Exfoliate to improve skin texture and stimulate cell renewal by removing dead skin cells.
• Moisturize to keep your skin hydrated.
• Use sunscreen to avoid ultraviolet radiation, which increases aging, induces hyperpigmentation, and tans the skin.
• Use non-comedogenic products to minimize and prevent acne outbreaks.
Does black skin need different skincare?
No, irrespective of skin color, the components, and types of products required to treat skin issues remain the same. However, black skin tends to get dry and ashy, and hence, needs to be moisturized more often.
How can I make my dark skin glow?
• Exfoliate your skin to eliminate dead skin cells and get a more even skin tone.
• Drink a lot of water to keep your skin hydrated and revitalized.
• Moisturize your skin to keep your skin's moisture barrier intact and to protect it from environmental damage.
• Serums contain beneficial antioxidants and skin-restoring ingredients that assist in decreasing fine lines and wrinkles while keeping skin supple, nourished, and glowing.
• Cleanse daily to remove any dirt, makeup, oil, or grime accumulated on your skin throughout the day.
• To protect your skin from UV damage, apply sunscreen.
How can dark skin look beautiful?
Apply SPF to protect yourself from sun damage.
Use a tinted moisturizer foundation.
As dark skin is prone to pimples and acne, cleanse your face twice a day to unclog the pores.
Use a toner to gently exfoliate skin and remove any accumulated filth on its surface.
How can I clean my black skin?
Cleanse your face with a gentle cleanser to remove any dirt, makeup, oil, or grime built on your skin throughout the day, then exfoliate and moisturize.