5 Best Hair Products For Pixie Cuts To Highlight Your Features
Invest in non-greasy, lightweight hair care products to make your hair cut bouncy.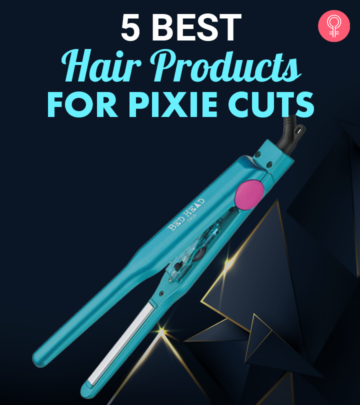 Standing the wrath of time, pixie cuts are a classic and timeless hairdo! You might be on the search for the best hair products for pixie cuts if you've recently gotten yourself this hairstyle, and we don't blame you. This hairstyle requires the right hair products as they tend to fall flat and look dead. To avoid the annoying bedhead hair that our pixie has to suffer, go through our list of the 5 best hair products that will do your short hair justice.
5 Best Hair Products For Pixie Cuts
The TIGI Bed Head Straightener features a ½-inch plate that enables styling your short hair conveniently. The plates are made of tourmaline ceramic, which helps tame frizz, eliminate flyaways, add shine, and make your hair manageable. The highest temperature setting is 450°F.
This straightener heats up within 30 seconds. It is equipped with a dual voltage option and a tangle-free swivel cord. This device is lightweight, travel-friendly, and easy to use. Jessica Noonan, an expert hair stylist says, "Before you start, protect your countertop with a silicone sleeve that also doubles as storage for your iron. Use clips and work in small sections. The finer the hair the lower the heat setting should be. Start with the lowest setting and find the lowest temperature that works for your hair."
Pros
Heats up quickly
Lightweight
Easy to use
Value for money
Travel-friendly
Cons
None


Pro Tip
Take a small amount of serum in your hands and run it through your tresses after straightening for extra frizz control.

Price at the time of publication: $25.89
The Garnier Fructis Style Pixie Play Crafting Cream contains black fig, grapefruit, and castor oil. It helps redefine your short hair and sets your hairdo. Jessica says, "Hair pastes and pomades add definition, texture, and hold on short hair. A little goes a long way, start with a pea sized amount. Warm the product in your hands really well before applying." This crafting cream is non-greasy and non-clumpy and imparts a glossy finish to your hair. It offers an extra-strong hold and makes your pixie cut bouncy. This unisex product is lightweight and dairy-free.
Pros
Pleasant smell
Long-lasting
Non-greasy
Lightweight
Value for money
Unisex
Dairy-free
Cons

Pro Tip
Follow up with Garnier Texturizing spray to achieve a long-lasting beach-wave effect in your hair.

Price at the time of publication: $5.49
The Wavytalk 3/10" Small Flat Iron makes it a breeze to style short hair and bangs. The pencil flat design makes it easy to reach the roots of the hair, and the 3D floating nano-titanium plates prevent snagging. The plates lock in moisture, minimize hair tugging, and create frizz-free hairstyles. The PTC heater ensures even and quick heat distribution, thus reducing thermal damage. This beginner-friendly straightening iron has temperature settings for different hair types and an anti-pinch design. The lightweight and sleek design enables it to style your tresses quickly and effectively.
Pros
Ergonomic design
Auto-shut off feature
Quick heating
Convenient safety lock
Even heat distribution
Cons
None
Price at the time of publication: $21.99
The privé Definition Cream is infused with potent ingredients like bamboo extract, baobab proteins, pea extract, and camellia extracts. These ingredients are rich in antioxidants that impart shine to your hair.
Baobab protein hydrates your hair and protects it from thermal damage, UV rays, and environmental aggressors. Bamboo extract helps strengthen the hair. The revitalizing oils help soothe and nourish your hair. This cream helps eliminate frizz, static flyaways, and makes your hair manageable. It sculpts and texturizes your hairstyle. This product is color-safe, cruelty-free, and does not contain gluten.
Pros
Cruelty-free
Eliminates frizz
Prevents static
Color-safe
Mild formula
Adds shine
Does not leave residue
Cons
Price at the time of publication: $22.0
The Pureology Mess It Up Texture Paste provides medium hold to your hair. It is infused with castor oil, shea butter, olive oil, and sunflower oil. Shea butter induces shine and hydrates the hair.
The Pureology Anti-Fade Complex protects and preserves your hair color. The lightweight formula protects your hair against heat damage and environmental aggressors. This hair cream adds shine, eliminates flyaways, and fights frizz. It is vegan, non-greasy, and sulfate-free. Apply pastes on dry hair. A dab will do. You can add more as needed.
Pros
Imparts shine
Pleasant smell
Non-greasy
Gentle formula
Sulfate-free
Vegan
Does not leave residue
Cons
Price at the time of publication: $29.0
The classic pixie hairdo can be quite a head-turner, but it requires maintenance with good products. If you don't want your hairstyle to fall flat or look dead, you must find the right products to keep that look going! Check out this buying guide we created to help you choose the best hair product for pixie cuts that will highlight your features.
Things To Consider While Choosing Hair Products For Pixie Cuts
It is essential to consider the products you'd need to style your pixie haircut. From creams to tools, there is a huge variety. For instance, a crafting cream is used before styling the hair. It protects the hair from excessive styling and heat. You'd need a crafting cream to create and hold the hairstyle.
On the other hand, you'd need a heat styling tool like a straightener on days you want to spruce up your hairdo. It can also come in handy while making the ends of your pixie cut sleek and sharp. While heat styling, it is essential to use a heat protectant to protect your hair and prevent it from moisture loss. Lastly, for a brush, opt for a round one to comb and untangle your hair. It promotes blood circulation, avoids hair breakage, and keeps the hair shiny and healthy.
For creams, gels, and other hair products, try to look for a lightweight formula that will not weigh down the hair. Pick non-greasy products that do not make the hair sticky. Natural and botanical extracts are safer and gentler on the scalp and hair.
Look for ingredients like baobab proteins, bamboo extract, camellia extract, and pea extract. These are enriched with antioxidants and add shine to your hair and features. They also protect the hair from the harsh environment. For example, bamboo imparts strength to the hair and offers UV protection, and natural oils like olive oil, shea butter, castor oil, and sunflower oil provide hydration to the hair and eliminate static, frizz, and flyaways.
Your hair products should be devoid of ingredients that may damage your hair and ultimately ruin the look of your hair. For example, avoid products with sulfates and parabens. If you can, find vegan products.
Pixie is a bold, chic, and classy hairstyle that enhances the best features of your face. To maintain this hair look, you need to use the best hair products for pixie cuts. This hairstyle requires the right products to maintain the style and texture of your hair. These hair products will amp up your hair game and maintain the look for longer. With a little patience, willingness, and the right products, you will surely achieve and maintain the hair of your dreams.
Why Trust StyleCraze?
The author, Shiboli Chakraborti, is a hair care enthusiast and has extensive hair care knowledge. She knows you need an arsenal of the best hair products to maintain healthy pixie-cut hair. The author has conducted thorough research and selected the best hair products for the benefit of her readers. You can maintain a vibrant, lively look of your pixie haircut with these products at all times.
Frequently Asked Questions
Is a pixie haircut good for thin hair?
Yes, a pixie haircut is good for thin, fine hair. They add a fuller look to your hair and offer the desired volume.
What is a layered pixie cut?
Both long and short layers are combined to create a layered pixie cut. Your hair often has shorter layers on the sides, making it look thicker and voluminous.
What is a classic pixie haircut?
A pixie cut is a short hairstyle where the top is longer, and the back and sides are shorter. On the front, it also features extremely short bangs.
Does a pixie cut make you look older?
No. If the haircut perfectly aligns with your face, it will not make you look older. They are great to wear at any age.
Is mousse good for pixie cuts?
Yes. Mousses are excellent to give your pixie cut a great definition and make it look sleek. They make your hair more manageable and impart a bouncy look.