13 Best Weleda Products Of 2022
These bestseller products from Weleda are a must-have for all skin care enthusiasts.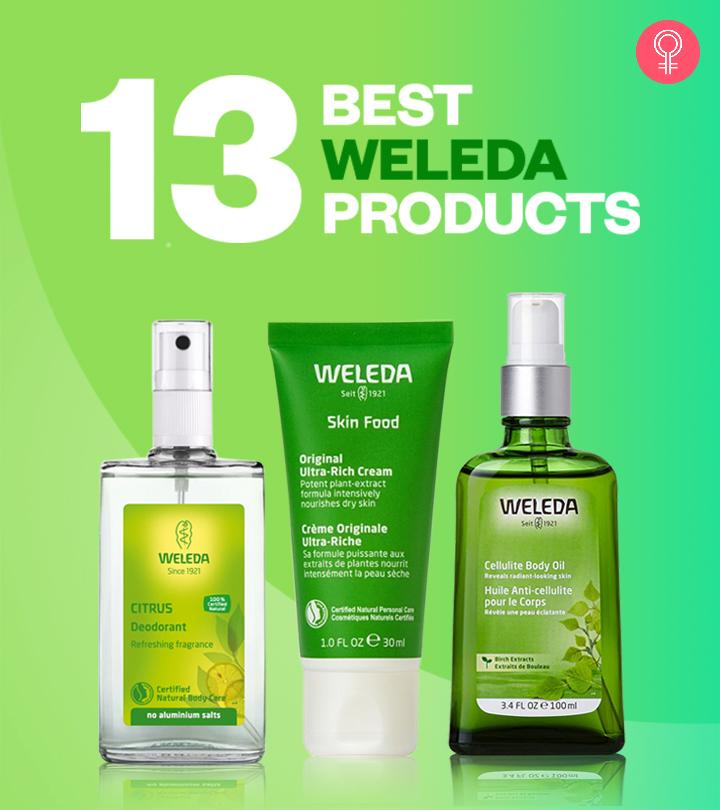 If you are looking for the best Weleda products, you have come to the right place. This holistic natural skin care brand formulates products using organic flower extracts and medicinal plants that are ethically sourced. Ingredients like fatty acids, peptides, essential oils, and minerals from plant sources nourish the deepest layer of the skin. Weleda products are free of parabens, phthalates, fragrances, and preservatives. This brand is also cruelty-free, sustainable, and environmentally friendly. All of Weleda's personal care products are certified natural by NATRUE.
Get your hands on at least one Weleda skin care product to know the difference. Here is a list of the best organic and natural Weleda products you can buy online. Take a look!
13 Best Weleda Products Available Right Now
Weleda Skin Food Original Ultra-Rich Body Cream is a great moisturizer for dry and rough skin. It softens and moisturizes the dry, flaky, and parched skin around the elbows and feet as it contains beeswax and natural oils. Its thick base is gentle and soothing on the skin. It is rich in extracts from fruits and flowers such as viola tricolor, calendula, and chamomile that have antioxidant and anti-inflammatory properties. This nutrient-rich body cream contains minerals, vitamins, fatty acids, and essential amino acids that nourish and revive the skin naturally. This product is free from synthetic compounds and toxic chemicals. Regular use of this ultra-rich cream makes your skin soft and supple. Watch the video to find out the benefits of the Weleda Skin Food Original Ultra-Rich Body Cream.
Pros
Provides intense hydration
Soothes dry and irritated skin
Suitable for dry and cracking skin
Prevents skin damage
Cons
Weleda Cellulite Body Oil helps in reducing the appearance of cellulite to make your skin look healthy and soft. This product contains hydrating and moisturizing oils from jojoba seed, wheatgerm, and apricot kernel. They provide intense nourishment to the skin, while plant extracts like rosemary, butcher's broom, and silver birch improve blood circulation. This helps in fighting cellulite and improving the texture of the skin. Click on the video to gain significant insights on the Weleda Cellulite Body Oil.
Pros
Improves skin texture
Promotes blood circulation
Moisturizes the skin
Soothes inflammation
Paraben-free
Phthalate-free
Cruelty-free
No artificial preservatives
Cons
This dermatologically tested deodorant from Weleda is skin-friendly as it is free of aluminum salts, artificial fragrances or preservatives, and synthetic colorants. It has a refreshing citrus scent that rejuvenates and energizes you. The essential oils in it mask unpleasant body odor without interfering with the body's natural detoxification process of sweating. This natural deodorant keeps you smelling fresh for 24 hours!
Pros
Long-lasting
Aluminum-free
Cruelty-free
Refreshing fragrance
Preservative-free
No mineral oil
Paraben-free
Phthalate-free
Cons
Not as effective as aluminum-based deodorants
Weleda Skin Food Body Butter has a luxurious whipped cream texture. It glides smoothly on the skin and leaves it moisturized without any oiliness. This body butter quenches extremely dry and parched skin instantly as it is rich in cocoa and shea butters. Glycerin and sunflower oils also provide the skin with nutrients and hydration. Thus, your skin feels velvety soft and pampered. It also contains rosemary, chamomile, and calendula extracts that soothe the skin. This body butter does not contain any harmful ingredients, making it safe for sensitive skin. If you are an absolute beginner, watch this video to get an overall idea about the Weleda Skin Food Body Butter.
Pros
Makes the skin silky smooth
Soothes the skin
Provides intense moisturization
No toxic chemicals
Rich texture
Non-greasy
Cons
Contains synthetic fragrance
Weleda Sensitive Care Facial Cream is formulated with sweet almond oil, plum seed oil, and beeswax. Sweet almond oil is rich in unsaturated fatty oils like linolenic acid that nourish the skin from within. Plum seed oil is also rich in unsaturated fatty oils and has a subtle aroma. It helps in rebuilding the skin's natural protective barrier. The beeswax base restores moisture balance in the skin and soothes dry, sensitive skin. This cream has a gentle formula, making it an ideal choice for babies or people with sensitive skin or skin conditions.
Pros
Suitable for sensitive skin
Has a soothing effect
Protects the skin's natural barrier
Moisturizes the skin
Cons
Weleda Citrus Hydrating Body Lotion is refreshing as it has a fresh lemony fragrance. It has a soothing and cooling effect on the skin as it contains aloe vera. This body lotion provides deep hydration and nourishment with sesame seed oil, olive oil, coconut oil, glycerin, and shea butter. It replenishes the skin's moisture, leaving it feeling soft and smooth. It gets absorbed quickly and makes your skin feel supple. It is free from synthetic preservatives, fragrances, colorants, and raw materials derived from mineral oils. This dermatologically tested and certified natural product is suitable for all skin types.
Pros
Regulates the skin's moisture balance
Gets absorbed quickly
Suitable for daily use
Dermatologically tested
Invigorates the skin
Provides intense moisturization
Cons
Weleda Rosemary Conditioning Hair Oil is a deep conditioning treatment. It contains rosemary which is known to promote hair growth and strengthen the hair. Burdock root extract increases the blood circulation in the scalp to make you feel relaxed and invigorated. This oil, when massaged gently on to the scalp, replenishes the lost nutrients, moisture, and shine in the hair. This oil can be applied to both wet and dry hair to make it more manageable. It can be left overnight for intense moisturization. It also reduces frizz and static in the hair. Regular treatment will help repair dry hair and minimize split ends. Watch the video to learn more about the Weleda Rosemary Conditioning Hair Oil.
Pros
Provides intense nourishment
Restores moisture
Treats split ends
Reduces frizz
Adds radiant shine
Relaxing effect
Cons
Weleda Sea Buckthorn Hydrating Hand Cream moisturizes dry, rough, and chapped skin to make it soft and smooth. This cream is rich in sesame oil which, along with sea buckthorn, repairs and regenerates skin cells. This cream also contains beeswax and tapioca starch that provides instant relief to dry skin. Grapefruit, sweet mandarin, and sandalwood extracts and essential oils lend it a fruity fragrance.
Pros
Rejuvenates the skin
Moisturizes the skin
Softens the skin
No mineral oil
Dermatologically tested
Gets absorbed easily
Suitable for rough, dry skin
Cons
Weleda Renewing Night Cream restores, repairs, and replenishes the skin's lost moisture and nutrients. It renews the skin cells to help reduce fine lines and wrinkles. It hydrates and nourishes your skin to make it soft and supple. Ingredients like beeswax, sweet almond oil, olive oil, and peach kernel oil are rich in unsaturated fatty acids that help in restoring the skin's protective barrier. Purple stonecrop moisturizes dry and rough skin, while horsetail extract has anti-aging, anti-inflammatory, antimicrobial, and antioxidant properties. Wild rose seed oil helps in skin cell regeneration and turnover, so it makes your skin heal quickly. The evening primrose and myrrh in this cream improve hydration and skin elasticity, reduces wrinkle and fine lines, soothe dry and irritated skin, regulate sebum production, and prevent breakouts. Regular use of this renewing night cream gives you soft, supple, and bouncy skin.
Pros
Long-lasting moisturization
Softens and smoothens the skin
Soothes inflamed skin
Reduces fine lines and wrinkles
Improves skin elasticity
Prevents breakouts
Dermatologically tested
Cons
Weleda Hydrating Night Cream has moisturizing ingredients such as sweet almond oil, shea butter, cocoa seed butter, glycerin, and hydrolyzed beeswax that nourish and nurture the skin. This intensely hydrating cream also contains extracts of iris root – which has antioxidant properties – and calendula that soothes the skin, delays the formation of wrinkles, and reduces scarring. The chamomile flower extract in this cream has potent anti-inflammatory and antioxidant properties that help in protecting, repairing, and regenerating skin cells. It can even help reduce blemishes and soothe skin irritation due to eczema, rosacea, and psoriasis. This night cream revitalizes and restores the moisture in the skin, leaving it soft, supple, and healthy.
Pros
Fragrance-free
Fades scars
Nourishes the skin
Reduces redness and irritation
Reduces fine lines and wrinkles
Protects and repairs the skin
Suitable for normal to dry skin
Cons
Weleda Skin Food For Dry And Rough Skin is a body lotion that hydrates, smoothens, and softens dry, dull, and rough skin. It has healing and soothing ingredients like pansy and calendula extracts that relieve the itching associated with dry, flaky, and irritated skin. Pansy has been historically used to treat skin conditions such as eczema. Calendula has anti-aging and soothing properties. It can help in fading scars and delaying the signs of aging. This body cream is free from synthetic preservatives, fragrances, colorants, and raw materials derived from mineral oil.
Pros
Gentle formula
Fights the signs of aging
Soothes inflamed skin
Provides intense hydration
Softens rough skin
Suitable for dry and rough skin
Cons
None
Weleda Skin Revitalizing Concentrate contains glycerin, aloe vera, witch hazel, olive oil, and evening primrose oil that nourish the skin by moisturizing it. This product also has unique ingredients like Inca peanut oil that helps heals dry, inflamed, and aging skin. It improves cell regeneration, elasticity, and metabolism. This oil gets absorbed quickly and softens calluses. Another interesting ingredient in this concentrate is mucilaginous marshmallow root extract which is an emollient. It also has soothing, anti-aging, antibacterial, and anti-inflammatory properties that help in reducing swelling, chafing, and redness. Pennywort and arginine improve the blood circulation of the skin. Arginine is also known to stimulate collagen production and repair skin cells. This revitalizing serum renews the skin to make it healthy, resilient, and radiant.
Pros
Regenerates skin cells
Ideal for mature skin
Improves blood circulation
Increases the skin's metabolism
Enhances skin elasticity
Smoothens calluses
Gets absorbed quickly
Soothes inflamed skin
Anti-aging formula
Moisturizes the skin
Suitable for dry and inflamed skin
Cons
Weleda Clarifying Gel Cleanser removes oil, dirt, and makeup to reveal glowing skin. The potent antioxidants in this face wash, like licorice root and willow bark extracts, reduce blemishes. This gives you a clearer and more even-toned complexion. This cleanser is so gentle that it does not disturb the natural protective barrier of the skin. Witch hazel has antiseptic, antimicrobial, and astringent properties that help in cleansing and toning the skin. This gel face wash is soothing and refreshing on the skin.
Pros
Deeply cleanses the skin
Evens out the skin tone
Gentle formula
Removes makeup
Brightens the skin
Suitable for oily and combination skin
Cruelty-free
Paraben-free
Cons
Why Trust StyleCraze?
Shiboli Chakraborti is a certified skin care coach who loves trying out products from different trusted skin care brands. Among the many skin care brands, Weleda is one of her favorites. She suggests using Weleda products because the formulations are ethically sourced, and effectively nourishes the skin. All the products that are mentioned in the list have been carefully reviewed and handpicked by her so that her readers can make the best pick.
Frequently Asked Questions
Do Weleda products clog pores?
Weleda products generally do not clog your pores. Some products may contain certain comedogenic ingredients. So, it depends on the product you choose.
Are Weleda products chemical-free?
Yes, Weleda products are free from toxic or harmful ingredients such as alcohol, parabens, phthalates, and preservatives.
Who is Weleda owned by?
Weleda is owned by the General Anthroposophical Society (AAG, Dornach, Switzerland) and the Arlesheim Clinic (KA, Arlesheim, Switzerland).
Is Weleda good for sensitive skin?
Yes, Weleda products are suitable for sensitive skin as they are free from preservatives and harmful irritants.
Why does Weleda use alcohol?
Alcohol is used as a preservative in certain products to stabilize the botanical extracts and tinctures and keep the products gluten-free.
Is Weleda Skin Food cruelty-free?
Yes, Weleda products are not tested on animals. Thus, they are cruelty-free.
Recommended Articles