13 Best Weleda Products Of 2023
These bestseller products from Weleda are a must-have for all skin care enthusiasts.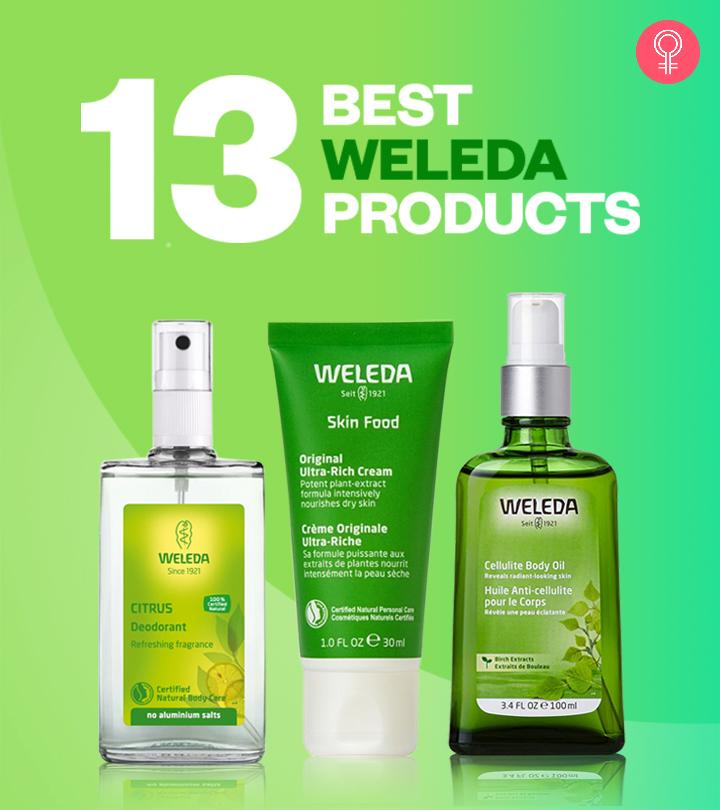 If you are looking for the best Weleda products, you have come to the right place. This holistic natural skin care brand formulates products using organic flower extracts and medicinal plants that are ethically sourced. Ingredients like fatty acids, peptides, essential oils, and minerals from plant sources nourish the deepest layer of the skin. Weleda products are free of parabens, phthalates, fragrances, and preservatives. This brand is also cruelty-free, sustainable, and environmentally friendly. All of Weleda's personal care products are certified natural by NATRUE.
Get your hands on at least one Weleda skin care product to know the difference. Here is a list of the best organic and natural Weleda products you can buy online. Take a look!
13 Best Weleda Products Available Right Now
Pros
Provides intense hydration
Soothes dry and irritated skin
Suitable for dry and cracking skin
Prevents skin damage
Cons
Price at the time of publication: $13.29
Pros
Improves skin texture
Promotes blood circulation
Moisturizes the skin
Soothes inflammation
Paraben-free
Phthalate-free
Cruelty-free
No artificial preservatives
Cons
Price at the time of publication: $21.48
Pros
Long-lasting
Aluminum-free
Cruelty-free
Refreshing fragrance
Preservative-free
No mineral oil
Paraben-free
Phthalate-free
Cons
Not as effective as aluminum-based deodorants
Price at the time of publication: $11.44
Pros
Makes the skin silky smooth
Soothes the skin
Provides intense moisturization
No toxic chemicals
Rich texture
Non-greasy
Cons
Contains synthetic fragrance
Price at the time of publication: $15.99
Pros
Suitable for sensitive skin
Has a soothing effect
Protects the skin's natural barrier
Moisturizes the skin
Cons
Price at the time of publication: $19.79
Pros
Regulates the skin's moisture balance
Gets absorbed quickly
Suitable for daily use
Dermatologically tested
Invigorates the skin
Provides intense moisturization
Cons
Price at the time of publication: $24.0
Pros
Provides intense nourishment
Restores moisture
Treats split ends
Reduces frizz
Adds radiant shine
Relaxing effect
Cons
Price at the time of publication: $25.73
Pros
Rejuvenates the skin
Moisturizes the skin
Softens the skin
No mineral oil
Dermatologically tested
Gets absorbed easily
Suitable for rough, dry skin
Cons
Price at the time of publication: $12.49
Pros
Long-lasting moisturization
Softens and smoothens the skin
Soothes inflamed skin
Reduces fine lines and wrinkles
Improves skin elasticity
Prevents breakouts
Dermatologically tested
Cons
Price at the time of publication: $21.37
Pros
Fragrance-free
Fades scars
Nourishes the skin
Reduces redness and irritation
Reduces fine lines and wrinkles
Protects and repairs the skin
Suitable for normal to dry skin
Cons
Price at the time of publication: $26.04
Pros
Gentle formula
Fights the signs of aging
Soothes inflamed skin
Provides intense hydration
Softens rough skin
Suitable for dry and rough skin
Cons
None
Price at the time of publication: $27.85
Weleda Skin Revitalizing Concentrate contains glycerin, aloe vera, witch hazel, olive oil, and evening primrose oil that nourish the skin by moisturizing it. This product also has unique ingredients like Inca peanut oil that helps heals dry, inflamed, and aging skin. It improves cell regeneration, elasticity, and metabolism. This oil gets absorbed quickly and softens calluses. Another interesting ingredient in this concentrate is mucilaginous marshmallow root extract which is an emollient. It also has soothing, anti-aging, antibacterial, and anti-inflammatory properties that help in reducing swelling, chafing, and redness. Pennywort and arginine improve the blood circulation of the skin. Arginine is also known to stimulate collagen production and repair skin cells. This revitalizing serum renews the skin to make it healthy, resilient, and radiant.
Pros
Regenerates skin cells
Ideal for mature skin
Improves blood circulation
Increases the skin's metabolism
Enhances skin elasticity
Smoothens calluses
Gets absorbed quickly
Soothes inflamed skin
Anti-aging formula
Moisturizes the skin
Suitable for dry and inflamed skin
Cons
Price at the time of publication: $46.42
Pros
Deeply cleanses the skin
Evens out the skin tone
Gentle formula
Removes makeup
Brightens the skin
Suitable for oily and combination skin
Cruelty-free
Paraben-free
Cons
Price at the time of publication: $19.99
Weleda is a highly trusted name in the world of cosmetic and beauty products. Here are some of the important things to consider before buying the best Weleda products that improve skin glow and hair health.
Things To Consider Before Buying Best Weleda Products
Concerns: Before choosing Weleda products, determine your individual skin care and hair care concerns. If you have dry and chapped skin, go for a hydrating body butter enriched with shea and cocoa butter. For sensitive skin, opt for a gentle facial cream formulated with sweet almond oil, beeswax, and plum seed oil. For calluses, go for a revitalizing concentrate rich in aloe vera, glycerin, witch hazel, evening primrose oil, and olive oil which absorbs quickly and softens calluses.
Longevity: Ensure that Weleda products leave a sustained effect once applied. They should deeply nourish the scalp or skin to give a deep moisturizing impact. They must improve blood circulation, reduce skin inflammation, and offer a relaxing feel. The best Weleda cosmetic products should be suitable for all skin types. They must not cause rashes, itching, or allergies, especially when applied to sensitive skin.
Chemical-free: Many cosmetic brands use artificial chemicals as preservatives in their products. These chemicals are harmful for your skin in the long run. Opt for Weleda skin and hair products that are chemicals free. They should not contain additives such as parabens, phthalates, silicones, sulfates, SLS, alcohol, and aluminum.
Dermatologically-tested: Go for those Weleda skin care and hair care products that are clinically certified. They must be suitable for all skin and hair types in terms of ingredients. These oils, lotions, creams, and shampoos should be gentle on the skin and must get absorbed quickly. They should not leave any unwanted residue or a greasy impact once washed away. Finally, choose products from this brand that shall ensure a youthful glow on your skin and improve your hair health.
Other Features: Ensure that your products have a mild and refreshing fragrance. They must be suitable for daily use, budget-friendly, and nourish your skin deeply. The hair products should add radiance and shine to the strands.
Why Trust StyleCraze?
Shiboli Chakraborti is a certified skin care coach who loves trying out products from different trusted skin care brands. Among the many skin care brands, Weleda is one of her favorites. She suggests using Weleda products because the formulations are ethically sourced, and effectively nourishes the skin. All the products that are mentioned in the list have been carefully reviewed and handpicked by her so that her readers can make the best pick.
Frequently Asked Questions
Do Weleda products clog pores?
Weleda products generally do not clog your pores. Some products may contain certain comedogenic ingredients. So, it depends on the product you choose.
Are Weleda products chemical-free?
Yes, Weleda products are free from toxic or harmful ingredients such as alcohol, parabens, phthalates, and preservatives.
Who is Weleda owned by?
Weleda is owned by the General Anthroposophical Society (AAG, Dornach, Switzerland) and the Arlesheim Clinic (KA, Arlesheim, Switzerland).
Is Weleda good for sensitive skin?
Yes, Weleda products are suitable for sensitive skin as they are free from preservatives and harmful irritants.
Why does Weleda use alcohol?
Alcohol is used as a preservative in certain products to stabilize the botanical extracts and tinctures and keep the products gluten-free.
Is Weleda Skin Food cruelty-free?
Yes, Weleda products are not tested on animals. Thus, they are cruelty-free.