14 Best Drugstore Exfoliators For Clean And Clear Skin
Rejuvenate and smoothen your skin this season to flaunt flawless looks.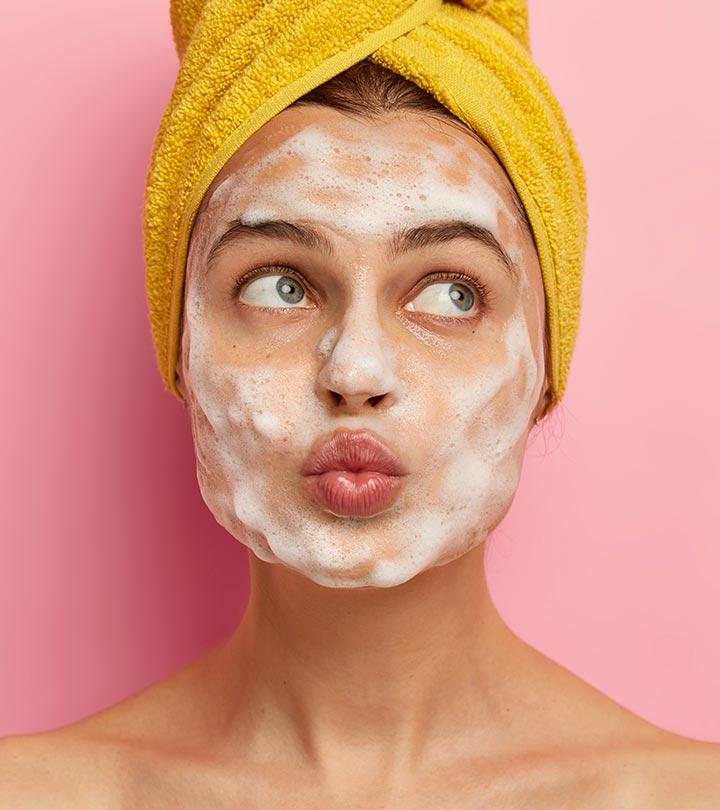 Exfoliation helps deal with dullness and dryness. Some of the best drugstore exfoliators can deliver impressive results, so you don't need to break the bank. As skin issues worsen due to pollution and lifestyle factors, you must take proactive measures to maintain healthy skin. Keeping your skin moisturized requires dead skin cell removal. This reduces dryness and flakiness. In addition, you can achieve a bright, bouncy finish with exfoliating since exfoliation encourages collagen and elastin production. They also delay the onset of wrinkles, fine lines, sagginess, and other signs of skin aging.
The two most popular methods of skin exfoliation are physical and chemical exfoliators. The former uses granular materials for the exfoliation method, whereas the latter relies on ingredients such as alpha hydroxy acid (AHA) and beta hydroxy acid (BHA) to do the job. Olunife Ofomata, licensed esthetician and makeup artist, says, "It is important to choose gentle physical exfoliators that do not have large or harsh granular materials in them in order to protect the skin from irritation, inflammation, and potential damage. Harsh granular materials, such as walnut shells or pumice, can be too abrasive on the skin, which can lead to micro-tears or fissures in the skin. This can increase inflammation and invite bacteria into the skin, leading to infection and other complications. Using gentler physical exfoliants that contain small beads or non-abrasive materials can help prevent these issues while still providing effective exfoliation of dead skin cells and cleansing the skin."
Your search ends here if you're trying to find a cost-effective way to combat dull skin and blocked pores. Find the right exfoliator for your skin type by browsing our list of the 14 best drugstore exfoliators, with a few backed by reviewer's experience. Keep scrolling!
14 Best Drugstore Exfoliator For Glowing Skin In 2023
Are you looking for a drugstore chemical exfoliant that is soft and gentle on your skin? This leave-on exfoliant from Paula's choice infused with salicylic acid and skin conditioners might be the right choice. This salicylic acid drugstore exfoliant efficiently diminishes enlarged pores, smooths skin texture, unclogs pores, and exfoliates dead skin cells for clear and radiant skin. The glycol in this formula holds and attracts moisture, while the green tree extracts reduce inflammation. The product is clinically-proven to be gentle and non-irritating on the skin. It contains no added chemicals to ensure that it is suitable for all skin types. However, it is advisable to conduct a test on a small area of your skin to determine the overall effectiveness as people's experience may differ. Here is the video of a detailed review of testing the Paula's Choice Skin Perfecting 2% BHA Liquid Exfoliant.
Pros
Oil-free
Alcohol-free
Paraben-free
Fragrance-free
Suitable for daily use
Works on all skin types
Cons
Some may find the texture of this product to be a bit watered-down.
Who wouldn't love to have a bright and smooth complexion? Check out the Positively Radiant Exfoliating Face Scrub by Aveeno, a dermatologist-recommended skin care brand, which dramatically reduces the appearance of pores and visibly brightens and treats uneven skin tone. The soy extract in this formula gently cleanses the skin and removes impurities. This drugstore physical scrub also contains jojoba oil and castor oil, which improve skin texture for skin that feels clean, soft, and healthy. Look at this video to learn more about the reviewer's experience of using Aveeno Positively Radiant Skin Brightening Daily Scrub.

Pros
Soap-free
Hypoallergenic
Non-comedogenic
Offers a brightening effect
Suitable for sensitive skin
Dermatologist-recommended
Cons
May not be suitable for dry skin
Have you heard of a skin detox with results-driven approach? If not, it is the process of removing impurities like dust, bacteria, excess oil, and grime from your skin. This oil-control product from Acure is the best drugstore exfoliating face scrub that detoxifies and softens your skin. Its gentle natural ingredients, walnut shell powder, aloe vera, and acai fruit will give you a refreshing effect after every use. The sea kelp, lemon peel, and French green clay exfoliates dead skin cells, draws out impurities, and purifies your skin, ensuring you are left with brighter, smoother skin. Watch this product testing video for an honest personal review of the Acure Brightening Facial Scrub for complete skin rejuvenation.
Pros
Vegan
Sulfate-free
Silicone-free
Paraben-free
Free of mineral oils
Suitable for all skin types
Cons
Some may find the scent unpleasant.
Sensitive skin can be a huge problem when it comes to trying out new products. But no, you don't have to feel left out anymore. This incredible product from Palmer is a heedfully made exfoliator for dry, sensitive skin. Infused with vitamin E, raw coconut oil, and chamomile extracts, this facial scrub naturally exfoliates the skin, attracts, and holds moisture while softening the skin. Free of harmful chemicals, the affordable exfoliator ensures skin is left feeling squeaky clean, without causing skin irritation or over-drying your skin. However, ensure using it after it is tested on a patch (small skin area) to steer clear of any future sensitivities.
Pros
Non-irritating
Dye-free
Gluten-free
Sulfate-free
Paraben-free
Phthalates-free
Super hydrating
Dermatologist-tested
Cons
Some may find that the product has a gritty texture that might cause micro-tears.
Too many cosmetic products damaging your skin? This skincare product from Clean & Clear is part of the good drugstore exfoliators in the market, which deeply cleanses and reduces the appearance of pores, removes oil and makeup, and cleanses skin for clear skin. This oil-free formula is enriched with glycerin and hydrates the skin to generate a tingly cooling effect on your skin, making it a must-have addition to your daily skin care routine.
Pros
Unclogs pores
Ideal for daily use
Pleasant fragrance
Gentle exfoliating beads
Suitable for all skin types
Cons
Here comes the ultimate cleansing charcoal scrub from M3 naturals. This natural drugstore exfoliator with dead sea salts, collagen, activated charcoal, kukui nut, and stem cells cleanses the clogged pores and boosts natural collagen production. This deep cleansing scrub is also infused with aloe extract, coconut oil, stearic acid, and spinach extracts to combat signs of skin aging and reduce skin imperfections like acne, blackheads, and stretch marks. Apply and gently rub in a circular motion to pore minimization to offer an even skin texture.
Pros
Cruelty-free
Anti-aging properties
Detoxifies skin
Suitable for all skin types
Improves skin health dramatically
Cons
This dermatologist-recommended exfoliator from Cetaphil is extra gentle on your skin, keeping the skin hydrated and moisturized. Ideal for daily exfoliation, it gently removes dead and dry skin cells and smooths skin texture for bright, clear skin This exfoliating facial cleanser and scrub is clinically-tested and proven to be non-irritating, hypoallergenic, and non-comedogenic. It contains citric acid, vitamin B5, and vitamin E to dissolve skin impurities and target dark spots, pigmentation, and uneven skin tone and texture. Within no time, it cleanses your skin without drying it. It is best recommended to check the product efficacy by conducting a test on a small skin area.
Pros
Hypoallergenic
Non comedogenic
Micro fines particles
Clinically-tested
Suitable for sensitive skin
Cons
Might have a strong fragrance
What can be more effective than a classic sugar scrub exfoliant? Loreal paris' smooth sugar clearing scrub is one of the best drugstore exfoliators you'll find. With cymbopogon schoenanthus, peppermint oil, and kiwi seed extracts this clearing scrub purifies and unclog pores gently. The combination of white, brown, and blonde sugars rich in minerals in this formula exfoliates skin efficiently.
Pros
Tightens pores
Rinses off easily
Offers visible results
Can be used for lips
Suitable for all skin types
Cons
Are you looking for a professional-grade drugstore scrub with proven efficacy for gentle exfoliation? The Body Shop's squeaky clean exfoliating face scrub infused with green tea extracts is specially made for acne-prone skin and is one of the best ones in the market. From the foothills of Mount Kenya, pure tea tree oil is extracted and added to this fine formula along with castor oil to give you smooth and glowing skin. The fair-traded ingredients in the formula battle acne and excess oil to ensure soft, clear, healthy skin.
Pros
Vegan
Gluten-free
Silicone-free
Paraben-free
Offers visible results
Aids in acne prevention
Suitable for oily skin
Cons
Contains synthetic fragrances and colors
Are you on the hunt for an exfoliator that not only exfoliates but also keeps your skin hydrated? Give this one by Bliss a shot for a good hydration boost! Formulated with glycerine, coconut extracts, lavender oil, and niacinamide, it rejuvenates your skin and seals in moisture to avoid dehydration. The non-abrasive agents such as pineapple and papaya enzymes prevent dead skin cells without causing any rashes or irritation. Considered one of the best professional-grade drugstore exfoliating face scrubs for dead skin removal, it is free of harsh chemicals.
Pros
SLS-free
Cruelty-free
Sulfate-free
Paraben-free
Suitable for all skin types
Cons
Might not yield immediate results
Do you have sensitive skin which is prone to rashes and allergies? Don't miss out on an effective and mild exfoliation by La Roche-Posay with proven efficacy against such skin issues! With its fine pumice particles, this scrubbing cleanser enriched with glycerine removes dirt, grime, impurities, and dead skin cells from your skin, delivering a neat and even skin tone. If you want to achieve purified, smooth, and healthy skin, this one's for you!
Pros
Mild formula
Paraben-free
Alcohol-free
Retains moisture
Ideal for all skin types
Dermatologist-recommended
Cons
Contains added fragrances
Pamper your skin with this 2-in-1 cleanser and scrub that offers multiple skin benefits! Powered with natural ingredients such as aloe vera, blueberry, pomegranate, chamomile, peppermint, and vitamin E, it effectively washes away dead skin cells, dirt, and oil. It also attracts and locks in moisture to your moisture-deprived skin, resulting in glowing skin. If this wasn't all, it also includes microdermabrasion crystals, which fights tough acne, blackheads, whiteheads, and breakouts.
Pros
Gentle formulation
Vegan
100% natural
Repairs skin
Ideal for daily use
Offers visible results
Gentle formulation
Suitable for all skin types
Cons
May contain an overpowering scent
Here is a good drugstore facial exfoliator by Touch that embraces all skin types! It is formulated with clinically-proven ingredients like glycerine, jojoba oil, chamomile extract, aloe extract, and green tea to keep your skin hydrated and healthy. This microdermabrasion scrub for dull skin contains micro-crystals that offer visible results to cleanse away the worn-out skin cells and deliver fresh, glowing, and younger-looking radiant skin. Besides, this product can treat acne, fine lines, dullness, and blemishes effectively, and reduce the appearance of wrinkles.
Pros
Cruelty-free
Alcohol-free
Exfoliates gently
Non-comedogenic
Dermatologically tested
Made with clinically-proven ingredients
Free of harmful chemicals
Cons
Some may find that the consistency of this product is slightly greasy.
Check out this nourishing and revitalizing sugar scrub which leaves your skin soft and clean! With candelilla wax, papaya, pineapple, grapefruit, the mild formula washes away dirt and impurities from your skin. The best part about this gentle exfoliating cleanser is that it delivers softness, radiance, and evenness to your skin. The lactic acid helps in correcting age spots, acne scars, and uneven skin tone while effectively clearing hyperpigmentation. However, make sure to patch-test this scrub before usage to avoid potential reactions.
Pros
Oil-free
Free of mineral oil
No harsh chemicals
Gentle on sensitive skin
Suitable for all skin types
Cons
The sugar might dissolve quickly.
*The prices provided in this article are based on the latest available information. However, they may vary due to changes in pricing by the seller and/or promotional offers.
Why Trust StyleCraze?
Kirtana Divakar, the author of this article, is a skin care enthusiast. She loves to explore various skin care products, and her extensive research helps her compile a list of products from which readers can easily choose. The best drugstore exfoliators are curated after thorough research and reading many online reviews. She says that exfoliation is a key step in a skin care routine, and one should invest in the best exfoliator to reap the benefits of a skin care regime.
Recommended Articles