The 12 Best Drawstring Gym Bags (With A Buying Guide) – 2023
Grab these lightweight backpacks and let fitness be a stylish and wonderful experience. When it comes to working out and challenging yourself, might as well do it in style by investing in accessories like the best drawstring gym bags— the latest craze in fitness town. These are more lightweight than your duffel bags and backpacks with enough storage space. You can draw out your essentials like a hoodie, water bottle, or towel with ease instead of fishing deep down. These 12 amazing drawstring gym bags, complete with a buying guide is your answer. Read on to know more.
12 Best Drawstring Gym Bags
Under Armour was founded in 1996 and was known to manufacture superior quality T-shirts that absorb perspiration to keep athletes cool during their performance. They have now come up with a cool drawstring backpack that accommodates all athletic gear.
The Under Armour Ozsee Sackpack is made with 100% polyester fabric that easily withstands wear and tear. This single rucksack has dimensions of 18″ x 14″ x 2″  with a volume of 900 cubic In./16 L. It is made with imported quality 100% polyester lining and durable nylon for rough use.
It has a strong drawstring closure and a 17" shoulder drop height for hassle-free carrying. It is wide enough to carry gym goods, water bottle, towel, electronic gadgets, etc. The sternum clip keeps the drawstring cords secure and in place. The polyester material is pretty easy to wash with soap. The bag is waterproof.
Pros
Enough space to carry stuff
Easy-cinch drawcord
Easy to wash
Waterproof
Lightweight
Premium quality polyester fabric
Available in different colorful options
100% polyester fabric and nylon
Cons
No color option for the straps.
The vinyl UA logo wears off easily.
Price at the time of publication: $14.99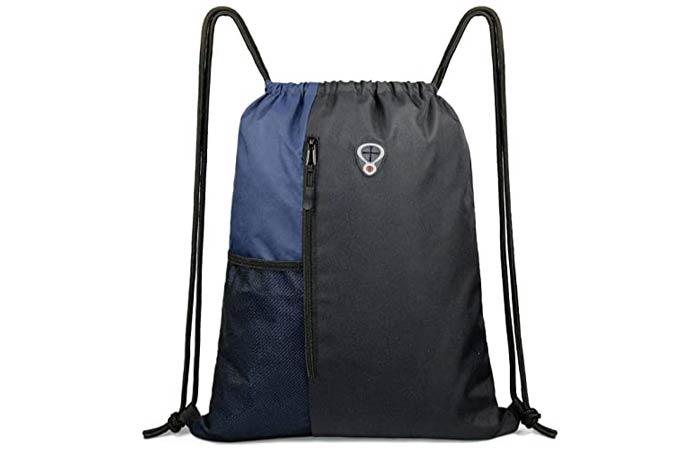 This drawstring gym bag with a large compartment measures 16″ x 20″. It is big enough to carry your gym clothes, gym shoes, swim gear, sport towel, a soccer ball, along with other daily supplies. It also is perfect for outdoor adventures, like camping, hiking, trailing, etc. It is also suitable for carrying necessities for yoga, dance, and travel.
It is made of high-density Oxford material. It has a wide cinch top with a front zipper pocket for carrying electronic gadgets. It also has a headphone hole that allows you to listen to music effortlessly. The side mesh pockets hold water bottles, umbrella, sippers, and sunscreen.
The inner zipper pocket is perfect enough to carry small, valuable items. The main compartment of the backpack measures 16 inches wide x 20 inches high. The front zipper pocket measures 10 inches wide x 20 inches high, and the inside zippered pocket measures 7 inches wide x 7 inches high.
The thick shoulder strap design of the gym bag allows it to sit on your shoulder without causing any burden. The sturdy and abrasion-resistant zipper is strong enough to last long. The BeeGreen gym bag is easy to wash with a detergent and takes only a few minutes to dry.
Pros
Durable
Multi-functional pockets
High-quality fabric withstands wear and tear
Abrasion-resistant zipper for long use
Lightweight
Comes with a headphone hole
Available in vibrant colors
Cons
Weak water pouch
Drawstring straps are available in one color only.
Price at the time of publication: $11.99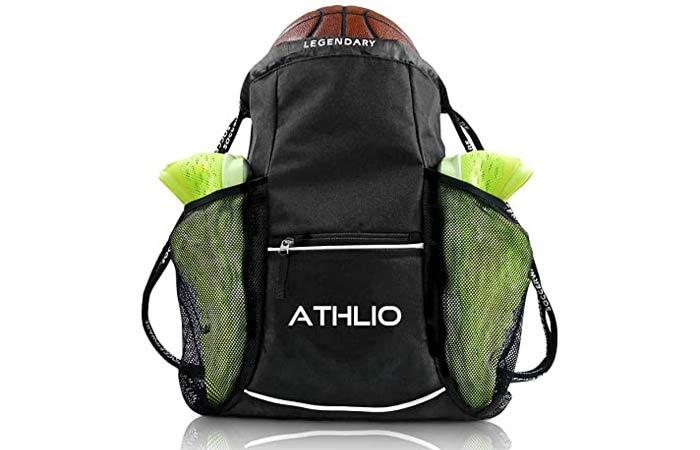 The Athlio Legendary Drawstring Gym Bag is made with waterproof dual sheath polyester material that is super durable. It also has a superior heat-stitched construction. This specific backpack design is perfect for carrying a protein bottle, shoes, towel, socks, shorts, shirts, sweaters, a water bottle, among other necessities.
The convenient lightweight bag measures 19 inches x 16 inches. It can carry any of the following – basketball, soccer ball, tennis racket, wrestling or boxing gloves, volleyball, yoga mat, etc. It has a maximum capacity of 12 ounces.
This special athletic gear backpack has multiple ventilated pockets to carry other small items. Each compartment keeps all your gym gear deodorized and bacteria-free. It has two pouches for shoes and water bottle, one pouch with external zipper pocket for valuables, one zipper side mesh pocket for snacks, earbuds, headphones, tape, charges, and socks. This polyester fabric bag with zipper pockets is pretty easy to access with the internal locking systems.
It is made of dual sheet PXD material that is waterproof. It also is fairly easy to machine wash and lasts longer even with rough use. The ultra-thick cotton-padded drawstring handle prevents the bag from slipping down your shoulders. The easy access cinch system and double laced drawstring design help in the easy distribution of weight.
Pros
Lightweight
Easy to carry with internal pockets
Side mesh pockets are durable and bacteria-resistant.
Comes with a lifetime warranty
Ultra-thick padded drawstring handles
Machine washable
Heat fused string handles
Durable zippered pockets
Available in different colors
Cons
Price at the time of publication: $26.5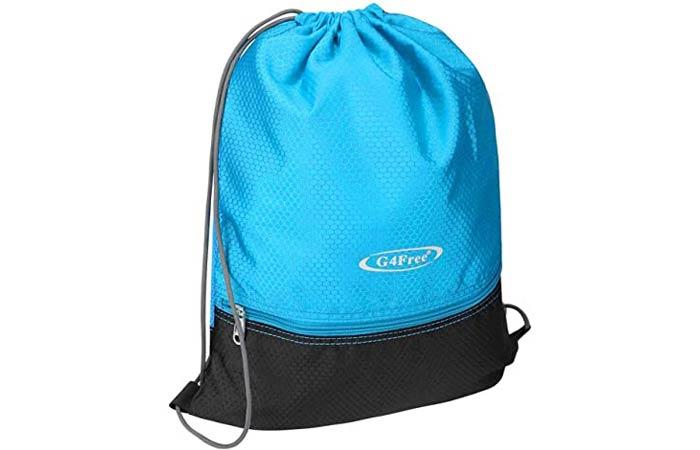 The G4Free Drawstring Gym Bag has a unisex, sporty design. It is the most common selection for gym or outdoor activities. This premium quality and durable cinch bag with a large compartment measures about 13.8 inches x 17.2 inches. It is large enough to carry a variety of items like clothing, shoes, swim gear, sports towel, protein shakes, and other daily supplies. This durable drawstring backpack is a perfect selection for gym, sports, swimming, yoga, dance, travel, carry-on luggage, camping, hiking, and so on.
This wide cinch bag contains other little pockets to carry smaller valuable items. Its pouches offer space for your phone, wallet, keys, etc. The most unique feature of this drawstring backpack bag is a wet inner pocket where you can put all the wet stuff, including the dirty clothes, swimming suit, wet towel, and your shoes.
The thick adjustable straps and the strong sternum clip on the ropes reduces shoulder burden and prevents the bag from slipping down your shoulders. The drawstring bag has durable yet soft nylon straps designed for great convenience. The waterproof bag is easy to wash. You can use a wet cloth to clean it and hang it for a quick dry (ensure you do not use any bleach and do not iron it). The back mesh fabric is ventilating, breathable, and offers a cooling effect to your back.
Pros
Made with durable nylon
Unisex design
Cinch bag with practical pockets
Special inner wet pockets
Breathable back mesh
Water-resistant
Easy to wash
Adjustable rope with drawstring cord closure
Premium quality shoulder string
100% money-back guarantee
Available in vibrant colors
Cons
The back mesh is not water repellent.
Price at the time of publication: $8.99
The Nike Brasilia Training Gymsack is crafted from durable, lightweight polyester, allowing it to withstand wear and tear. The bag's spacious top opening makes packing gym essentials a breeze. The bottom portion boasts rubberized material for extra strength and protection against scrapes and bumps. The classic Nike swoosh adds a touch of style to the simple design, while a small mesh opening ensures ventilation.
The bag is equipped with strong drawstrings, which double as shoulder straps for easy carrying. An internal divider separates gym gear from personal items, and a front zipper pouch provides additional storage. The bag is water-resistant, wipeable, and weighs only 5.8 ounces, yet can accommodate essentials like a towel, bottle, gloves, wallet, and keys.
Pros
Long-lasting
Easy to clean
Water-proof
External zip pouch
Lightweight
Perfect for gym or pool
Cons
The inner pocket may get damaged soon.
Price at the time of publication: $24.95
The Vooray Flex Cinch Gym Backpack is uniquely designed with tote handles and adjustable shoulder straps. These adjustable straps stretch from 15 inches to 35 inches. Moreover, the backpack comes with a front waterproof zipper pocket to store a phone and handy essentials and measures 17.5" x 12" X 7".
The chic bag comes with an interior water bottle sleeve that helps to store the bottle in an upright position. You can easily store a 24-ounce bottle in this space. Apart from the built-in bottle sleeve, the bag has an interior zip pocket that stores headsets, keys, and more that need extra protection.
This gym bag is made of polyester and nylon material and is available in different colors and patterns. This weather-resistant bag comes with a storage of 23 liters and is a unisex product. The lightweight backpack has enough space to even store your shoes conveniently.
Pros
Weather-resistant
Waterproof
Adjustable straps
Wide base
Spacious
Sturdy
Easy to clean
Cons
None
Price at the time of publication: $40
The Atripack Tactical Drawstring Backpack-Green is a versatile unisex product that measures 18.5″ x 12.9″ x 5.5". It is made of durable, water-resistant, high-density 900D Oxford material. The multipurpose backpack is designed with molle on the front for easy attachment of storage pouches, keys, carbines, sunglasses, and knives. The 2 thick adjustable straps on each side can bear weight and reduce shoulder burden. Additionally, it has 2 carry handles for wall or door hanging, or even hand-carrying.
This backpack features 2 front pockets for items like an iPad, towel, and other essentials, 2 side net pockets for water bottles, baseball bats, or umbrellas, and 1 inside zipper pocket for holding small valuables such as a sports watch, wallet, and cellphone for safekeeping. It is perfect for everyday use for activities like gym, yoga, sports, work, school, business travel, camping, hiking, walking, running, swimming, and outdoor activities, and for carrying sports gear like soccer, football, and volleyball.
Pros
Sturdy
Waterproof
Washable
Multi-purpose
Spacious
High-quality
Cons
The straps are not durable
Price at the time of publication: $21.99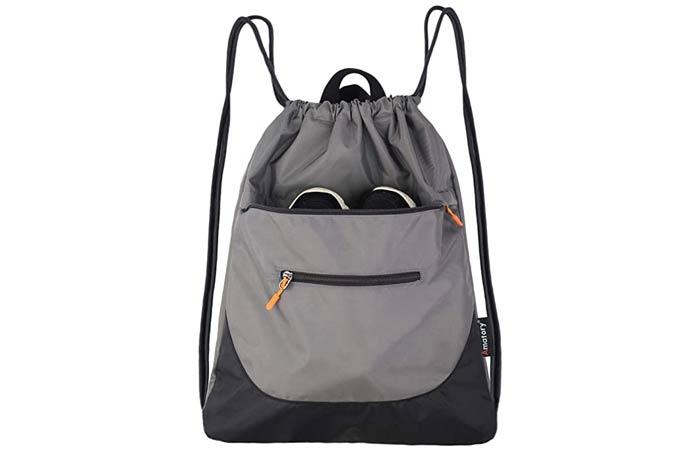 This drawstring gym bag can withstand over 20 kg (44 lbs) of weight. The 100% sturdy nylon bag with a strong drawstring closure is perfect for both men and women who want to carry their athletic gear. It can be a backpack for both indoor and outdoor activities. This bag is ideal for sports, gym, shopping, adventurous traveling, yoga, and swimming.
The front large space can accommodate a soccer ball, gym clothes, and gym towels. The small zippered exterior pocket can hold small items like your mobile, wallet, and keys. The larger exterior zippered compartment can hold a pair of shoes. The waterproof and wear and tear-resistant bag comes with a strong and rust-proof metal clip that holds the drawstring handles together.
The drawstring handles are long enough to adjust to your height. Simply changing the position of the knot can shorten the handle as per your convenience. Each drawstring handle is internally locked with three strong durable twisted ropes to withstand larger weights. The knots that are attached to it give it a stylish and urban look.
Pros
Adjustable drawstring closure
Can withstand 20 kg (44 lbs) of weight
Large space with many pockets
Premium quality sturdy nylon
30-day money-back guarantee
Available in 3 colors
Cons
The shoe pocket may not hold shoes of all sizes.
The straps don't always cinch properly.
Price at the time of publication: $18.98
The Wandf Drawstring Backpack measures 7.8 x 2.3 x 1.1 inches and is made of high-quality polyester fabric. It is wear-and-tear resistant and has a nylon lining. In addition, the bag comes with an internal mesh pocket with zip closure and a front-big pocket with zipper closure. Moreover, the main compartment allows you to carry shoes, clothing, towel, books, iPad, daily supplies, etc., comfortably in your bag.
This drawstring backpack comes in attractive prints and is available in more than 8 different prints. In addition, you can easily fold this drawstring backpack into itself for compact storage. The lightweight bag only weighs 143 gms. This unisex backpack is durable and comes with premium quality.
The drawstring backpack is ideal for yoga, shopping, hiking, camping, gym, and traveling. It comes with dual strings to prevent sliding off the shoulders and offer good support in carrying. Additionally, you can knot the strings to adjust to your height and carry it comfortably.
Pros
Foldable
Lightweight
Durable
Water-resistant
Versatile
Easy to clean
Cons
None

Price at the time of publication: $9.99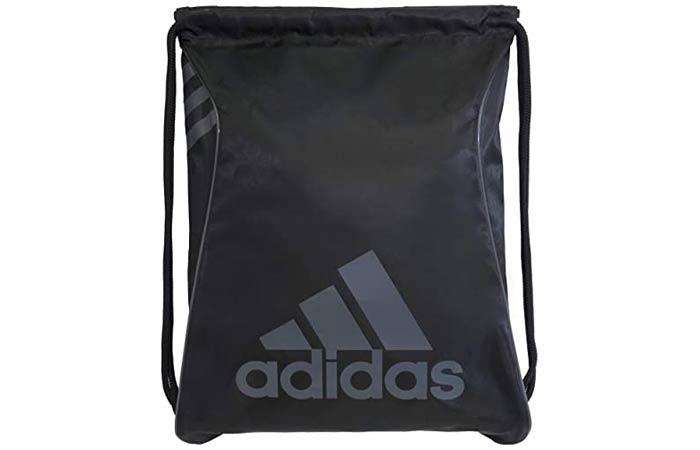 This drawstring sackpack/gym bag is made of 100% polyester fabric with a polyester lining. The bag measures 18 inches x 13.5 inches. It comes with a strong drawstring closure that adjusts and resizes the bag.
The adjustable drawstring handles provide a 10" shoulder drop that reduces shoulder burden and distributes the weight of the bag evenly. The bag has an easy cinch opening with durable cording straps. It is fairly easy to wash with water or a damp cloth. Ensure you do not use any bleach for cleaning.
Pros
Lightweight
Durable
Easy to carry
Durable polyester cording straps
Cost-effective
Cons
Available only in a single color.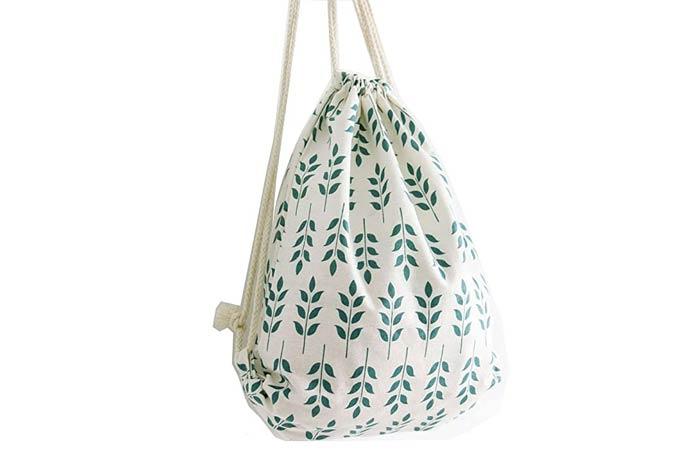 This canvas drawstring tote bag that measures 13 inches x 15 inches is a great choice for gym and other sport activities. It can easily accommodate spare clothes, small towel, water bottle, and other gym essentials. You can also take the bag for travel. It is an ideal storage space for accessories for camping, hiking, climbing, picnic, boating, sailing, swimming, traveling, and other outdoor activities.
Pros
Lightweight
Strong drawstring closure
Available in multiple designs and colors
Travel-friendly
Cons
Not durable
Not for heavy usage.
Price at the time of publication: $13.9
The Vorspack Drawstring Backpack is crafted with sturdy nylon fabric that makes it fashionable, lightweight, and durable. The backpack features one large main compartment with a drawstring closure, as well as one front pocket and one side pocket, both of which utilize durable SBS zippers. The bag's multi-purpose pockets are spacious enough for all your personal items, clothes, or gear for work, travel, the gym, or any outdoor activity. The front pocket is perfect for small books, phones, and personal toiletries, while the side pocket provides quick access to tickets, chargers, and more. The bag's adjustable wide shoulder straps alleviate stress and prevent slippage, and the waterproof and wear-proof polyester lining softens with each hand wash.
Pros
Waterproof
Spacious
High-quality
Lightweight
Varied color options
Sturdy
Cons
Price at the time of publication: $17.99
A drawstring gym bag is a convenient way to carry your gym supplies without any hassles. However, you need to keep certain factors in mind before you make a purchase.
Buying Guide For The Best Drawstring Gym Bags
Bag Size: The bag should not be too large to burden your neck and shoulders. Neither should it be too small that it does not serve the purpose. It must be ideally sized to meet your regular gym needs.
Drawstring Length: Most of the drawstrings have a standard length. But overall, the length of the drawstring must suit your height and offer comfort while you carry it.
Material: The drawstring gym bag must be made of a material that makes it durable and long-lasting. The most common material that is used is polyester. It is water-repellent and can protect athletic gear in wet conditions.
Use: Identify why you need a drawstring bag and pick the one that meets that requirement. Bags designed for only gym use could be different from those designed for travel and other outdoor purposes.
Drawstring Material: The drawstring material needs to be durable yet soft. It should be tough to take the load but also soft so that it does not burden your shoulders.
In the following section, we have discussed the advantages of drawstring gym bags. Check them out!
Advantages Of Using Drawstring Gym Bags
A lightweight storage space to carry around. You can fit in more items without having the feeling that you are carrying something heavy.
The multiple pockets allow for storing almost all your essentials. You can also store them in an organized fashion.
Handy and comfortable.
They are durable and last long, even with rough use.
Reliable and reusable investment for a quick travel.
Hannah Shine, certified personal trainer, Australian Fitness Academy, says "Personally, I love drawstring gym bags! They provide a convenient way to transport and organize equipment, with easy-to-open, and close drawstring designs that secure your content. They are also portable and durable, perfect for carrying around a variety of training accessories."
Why Trust StyleCraze?
Aditi Naskar, the author of this article, has a diploma in Health & Wellness. As a fitness enthusiast, she went ahead and researched to compile a list of the best drawstring backpacks for her readers, along with a buying guide. The products that have been listed down are lightweight and spacious. They can easily accomodate all of your gym essentials.
Frequently Asked Questions
Are drawstring bags in style?
Yes. Drawstring bags are regaining popularity in various designs, shapes, and sizes that are too good to give up.
What are drawstring backpacks called?
Drawstring bags or gym sacks are also referred to as cinch bags.
How do you wear a string backpack?
The drawstring bag is worn on your shoulders, with one string on each side.
What is a drawstring closure called?
A drawstring closure ends with a sheath known as an aglet.
How do you secure a drawstring backpack?
Pull out the nearly hidden string on each side of the bag opening. Stretch each loop you make until the bag fits. Now tie a knot at the bottom of each loop. Finally, insert the knotted loops into the bag.
Recommended Articles