The 12 Best Drawstring Gym Bags (With A Buying Guide)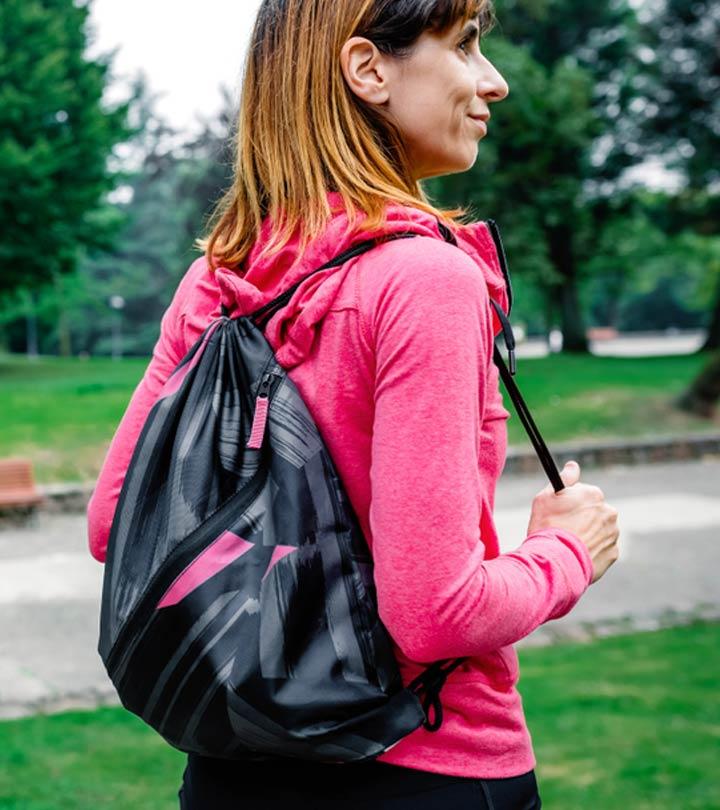 Drawstring gym bags are fast gaining popularity with sports enthusiasts. They are simple and made of quality material that gives them a premium build. They help accommodate your gym necessities, such as gym clothes, a bottle of water, footwear, etc.
A lightweight drawstring gym bag is easy to carry and offers maximum storage capacity. In this post, we have listed the 12 best drawstring gym bags available online. Pick one and enjoy a whole new workout experience!
12 Best Drawstring Gym Bags
Under Armour was founded in 1996 and was known to manufacture superior quality T-shirts that absorb perspiration to keep athletes cool during their performance. They have now come up with a cool drawstring backpack that accommodates all athletic gear.
The Under Armour Ozsee Sackpack is made with 100% polyester fabric that easily withstands wear and tear. This single rucksack has dimensions of 18″ x 14″ x 2″  with a volume of 900 cubic In./16 L. It is made with imported quality 100% polyester lining and durable nylon for rough use.
It has a strong drawstring closure and a 17" shoulder drop height for hassle-free carrying. It is wide enough to carry gym goods, water bottle, towel, electronic gadgets, etc. The sternum clip keeps the drawstring cords secure and in place. The polyester material is pretty easy to wash with soap. The bag is waterproof.
Pros
Enough space to carry stuff
Easy-cinch drawcord
Easy to wash
Waterproof
Lightweight
Premium quality polyester fabric
Available in different colors
100% polyester fabric and nylon
Cons
No color option for the straps.
The vinyl UA logo wears off easily.
This drawstring gym bag with large compartment measures 16″ x 20″. It is big enough to carry your gym clothes, gym shoes, swim gear, sport towel, a soccer ball, along with other daily supplies. It also is perfect for outdoor adventures, like camping, hiking, trailing, etc. It is also suitable for carrying necessities for yoga, dance, and travel.
It is made of high-density Oxford material. It has a wide cinch top with a front zipper pocket for carrying electronic gadgets. It also has a headphone hole that allows you to listen to music effortlessly. The side mesh pockets hold water bottles, umbrella, sippers, and sunscreen.
The inner zipper pocket is perfect enough to carry small, valuable items. The main compartment of the backpack measures 16 inches wide x 20 inches high. The front zipper pocket measures 10 inches wide x 20 inches high, and the inside zippered pocket measures 7 inches wide x 7 inches high.
The thick shoulder strap design of the gym bag allows it to sit on your shoulder without causing any burden. The sturdy and abrasion-resistant zipper is strong enough to last long. The BeeGreen gym bag is easy to wash with a detergent and takes only a few minutes to dry.
Pros
Durable
Multi-functional pockets
High-quality fabric withstands wear and tear
Abrasion-resistant zipper for long use
Lightweight
Comes with a headphone hole
Available in vibrant colors
Cons
Weak water pouch
Drawstring straps are available in one color only.
The Athlio Legendary Drawstring Gym Bag is made with waterproof dual sheath polyester material that is super durable. It also has a superior heat-stitched construction. This specific backpack design is perfect for carrying a protein bottle, shoes, towel, socks, shorts, shirts, sweaters, a water bottle, among other necessities.
The convenient lightweight bag measures 19 inches x 16 inches. It can carry any of the following – basketball, soccer ball, tennis racket, wrestling or boxing gloves, volleyball, yoga mat, etc. It has a maximum capacity of 12 ounces.
This special athletic gear backpack has multiple ventilated pockets to carry other small items. Each compartment keeps all your gym gear deodorized and bacteria-free. It has two pouches for shoes and water bottle, one pouch with external zipper pocket for valuables, one zipper side mesh pocket for snacks, earbuds, headphones, tape, charges, and socks. This polyester fabric bag with zipper pockets is pretty easy to access with the internal locking systems.
It is made of dual sheet PXD material that is waterproof. It also is fairly easy to machine wash and lasts longer even with rough use. The ultra-thick cotton-padded drawstring handle prevents the bag from slipping down your shoulders. The easy access cinch system and double laced drawstring design help in the easy distribution of weight.
Pros
Lightweight
Easy to carry with internal pockets
Side mesh pockets are durable and bacteria-resistant.
Comes with a lifetime warranty
Ultra-thick padded drawstring handles
Machine washable
Heat fused string handles
Durable zippered pockets
Available in different colors
Cons
The G4Free Drawstring Gym Bag has a unisex design. It is the most common selection for gym or outdoor activities. This premium quality and durable cinch bag with a large compartment measures about 13.8 inches x 17.2 inches. It is large enough to carry a variety of items like clothing, shoes, swim gear, sports towel, protein shakes, and other daily supplies. This durable drawstring backpack is a perfect selection for gym, sports, swimming, yoga, dance, travel, carry-on luggage, camping, hiking, and so on.
This wide cinch bag contains other little pockets to carry smaller valuable items. Its pouches offer space for your phone, wallet, keys, etc. The most unique feature of this drawstring backpack bag is a wet inner pocket where you can put all the wet stuff, including the dirty clothes, swimming suit, wet towel, and your shoes.
The thick adjustable straps and the strong sternum clip on the ropes reduces shoulder burden and prevents the bag from slipping down your shoulders. The drawstring bag has durable yet soft nylon straps designed for great convenience. The waterproof bag is easy to wash. You can use a wet cloth to clean it and hang it for a quick dry (ensure you do not use any bleach and do not iron it). The back mesh fabric is ventilating, breathable, and offers a cooling effect to your back.
Pros
Made with durable nylon
Unisex design
Cinch bag with practical pockets
Special inner wet pockets
Breathable back mesh
Water-resistant
Easy to wash
Adjustable rope with drawstring cord closure
Premium quality shoulder string
100% money-back guarantee
Available in vibrant colors
Cons
The back mesh is not water repellent.
The Vorspack Drawstring Gym Bag is suitable for gym, travel, and other adventurous activities. It is lightweight and measures 18 inches x 13.6 inches. It is a top-quality drawstring bag that can also be used for picnic or school. It can easily accommodate a picnic mat, foods, snacks and a beverage bottle, or even books or binders, pencil case, lunch box and umbrella.
It is a versatile backpack made of lightweight material that can also be used by mothers for carrying their toddlers. It canaccommodate diapers, changing pads, baby costumes, tissues, and a mother's wallet. This is a travel-friendly tote bag that also accommodates air ticket/train tickets, ID card, smartphone, power bank, and camera.
This durable drawstring gym bag is made with a high-quality 420D sturdy nylon that is water-repellent, wear-resistant, and scratch-proof. It has reasonable partitions, including one back hidden pocket for your smartphone, two wall mesh pockets (one for water bottle and the other for a protein shaker), and other pockets to store your power bank, makeup kit, keys, and other small items. The soft shoulder pads give you a comfortable experience and relieve shoulder pressure. The easy-to-adjust drawstring straps distribute weight equally and offer additional comfort.
Pros
Multiple storage spaces
Made with premium quality waterproof nylon
Water repellent surface
Soft shoulder pads
Double thick string
SBS zippered compartment
Strong stitching
Durable drawstring rope
Cons
Weak inner lining
The string is not long enough for men.
This is a high-quality double-layered waterproof drawstring gym bag with adjustable straps. It measures 17 inches X 15 inches X 6 inches and weighs 0.6 lbs. It is of an ideal size and helps carry a variety of items like clothing, sporting gear, daily supplies, etc.
The HITOP Drawstring Sports Gym Bag is made of sturdy nylon that comes with a convenient front zipper pouch and an inside pocket to store phone, wallet, and other small valuables. It has several convenient compressed small pockets, two outside for carrying water bottles and three inside for carrying power bank, charger, keys, etc.
The strong inner fabric makes it easy to carry for both indoor and outdoor activities, like swimming, walking, day trips, camping, sports, overnight stays, vacation, yoga, running, and shopping. The adjustable wide shoulder straps do not dig into the shoulders. The bag is made of waterproof material and can be worn even on moderately rainy days.
Pros
Waterproof fabric
Large space to carry all goods
Easy to wash
Wide adjustable straps
Stylish and durable
Unisex design
Lightweight
100% money-back guarantee
Available in two colors
Cons
The ButterFox Water Resistant Sports Drawstring Bag measures 17 inches x 13 inches x 2 inches. It comes with a large storage space for carrying clothing, a pair of shoes, towel, athletic gear, and other accessories. This large compartment bag is lightweight and has a strong waterproof nylon covering. The bag has a unisex design and is comfortable for both indoor and outdoor activities. It is also suitable for other multipurpose activities like swimming, gym, yoga, dance, sports, walking, cycling, shopping, etc.
Secured multiple pockets are specifically designed for carrying small valuable items. The double-zippered exterior pocket is suitable for keeping your gym shoes, whereas the mesh pocket with a Velcro closing is meant for carrying your ID proof and other small belongings. The side pocket with a zippered compartment can hold your mobile phone, iPad, wallet, among other items/electronic gadgets. The adjustable drawstring closure makes this bag easy to access.
Pros
Strong and durable
Easy to wash
Waterproof
Double nylon covering to withstand wear and tear
Multiple pockets for small items
Velcro enclosed front pocket for carrying snacks
30-day refund guarantee
Available in multiple colors
Cons
Fragile interior line
Not comfortable for kids.
This drawstring gym bag can withstand over 20 kg (44 lbs) of weight. The 100% sturdy nylon bag with a strong drawstring closure is perfect for both men and women who want to carry their athletic gear. It can be a backpack for both indoor and outdoor activities. This bag is ideal for sports, gym, shopping, adventurous traveling, yoga, and swimming.
The front large space can accommodate a soccer ball, gym clothes, and gym towels. The small zippered exterior pocket can hold small items like your mobile, wallet, and keys. The larger exterior zippered compartment can hold a pair of shoes. The waterproof and wear and tear-resistant bag comes with a strong and rust-proof metal clip that holds the drawstring handles together.
The drawstring handles are long enough to adjust to your height. Simply changing the position of the knot can shorten the handle as per your convenience. Each drawstring handle is internally locked with three strong durable twisted ropes to withstand larger weights. The knots that are attached to it give it a stylish look.
Pros
Adjustable drawstring closure
Can withstand 20 kg (44 lbs) of weight
Large space with many pockets
Premium quality sturdy nylon
30-day money-back guarantee
Available in 3 colors
Cons
The shoe pocket may not hold shoes of all sizes.
The straps don't always cinch properly.
This is a 3D print gym bag that is attractive enough to catch your attention. This environmental-friendly single pouch bag is made from nylon. It is especially designed for women or girls to carry their athletic gear while traveling. They may also use it to carry their makeup kits.
The lightweight bag is suitable for carrying light items like gym essentials, a small towel, a water bottle, or snacks. The waterproof nylon bag is easy to wash and dry.
Pros
Lightweight
Easy to wash
Eco-friendly printing (does not smell)
Available in attractive colors
Cons
Can carry only lighter items.
Too small
This drawstring sackpack/gym bag is made of 100% polyester fabric with a polyester lining. The bag measures 18 inches x 13.5 inches. It comes with a strong drawstring closure that adjusts and resizes the bag.
The adjustable drawstring handles provide a 10" shoulder drop that reduces shoulder burden and distributes the weight of the bag evenly. The bag has an easy cinch opening with durable cording straps. It is fairly easy to wash with water or a damp cloth. Ensure you do not use any bleach for cleaning.
Pros
Lightweight
Durable
Easy to carry
Durable polyester cording straps
Cost-effective
Cons
Available only in a single color.
This canvas drawstring tote bag that measures 13 inches x 15 inches is a great choice for gym and other sport activities. It can easily accommodate spare clothes, small towel, water bottle, and other gym essentials. You can also take the bag for travel. It is an ideal storage space for accessories for camping, hiking, climbing, picnic, boating, sailing, swimming, traveling, and other outdoor activities.
Pros
Lightweight
Strong drawstring closure
Available in multiple designs and colors
Cons
Not durable
Not for heavy usage.
This waterproof gym bag measures 17.5 inches х 14.5 inches. It weighs just 0.57 lbs. It is made of 210-denier nylon and is suitable for gyms, beaches, and other adventurous trips or sports.  This backpack is made of high-quality tear-free and waterproof fabric and has heavy-duty metal zippers. It is enhanced by bar-tacks at major stress points that provide long-lasting durability against daily activities. The drawstring gym bag is easily washable, recyclable, and durable.
This gym bag contains a large pocket along with five separate pockets for multiple purposes. It contains one inner wet pocket for carrying wet clothes, swimming costume, another internal pocket for carrying a mobile, spectacles, or a USB port, one front zipper pouch for smaller items, two side mesh pockets for water bottles, and one interior divider that helps you separate your athletic gear.
The drawstring handles of this bag are made with strong nylon material. The bag can withstand a weight of up to 20 kg (44 lbs). The sternum clip keeps the drawstring cords secure and in place. The bag has a unique foldable design. It can be transformed from a gym bag to a handbag in no time.
Pros
Waterproof nylon fabric
Unique, foldable design
Can withstand weight up to 20 kg (44 lbs)
Separate wet pocket
Available in 5 different colors
Cons
The adjustable straps may slide from shoulders.
A drawstring gym bag is a convenient way to carry your gym supplies without any hassles. However, you need to keep certain factors in mind before you make a purchase.
Buying Guide For The Best Drawstring Gym Bags
Bag Size: The bag should not be too large to burden your neck and shoulders. Neither should it be too small that it does not serve the purpose. It must be ideally sized to meet your regular gym needs.
Drawstring Length: Most of the drawstrings have a standard length. But overall, the length of the drawstring must suit your height and offer comfort while you carry it.
Material: The drawstring gym bag must be made of a material that makes it durable and long-lasting. The most common material that is used is polyester. It is water-repellent and can protect athletic gear in wet conditions.
Use: Identify why you need a drawstring bag and pick the one that meets that requirement. Bags designed for only gym use could be different from those designed for travel and other outdoor purposes.
Drawstring Material: The drawstring material needs to be durable yet soft. It should be tough to take the load but also soft so that it does not burden your shoulders.
In the following section, we have discussed the advantages of drawstring gym bags. Check them out!
Advantages Of Using Drawstring Gym Bags
A lightweight storage space to carry around. You can fit in more items without having the feeling that you are carrying something heavy.
The multiple pockets allow for storing almost all your essentials. You can also store them in an organized fashion.
Handy and comfortable.
They are durable and last long, even with rough use.
Reliable and reusable investment for a quick travel.
Conclusion
Gone are the days when you had to pack all your essentials in one bulky bag and struggle to carry it around. A drawstring gym bag helps you travel light, whether it is to your gym or for a short weekend trip. Choose a drawstring gym bag that suits your style the best from the above list and carry your items in a comfortable and organized way.
Recommended Articles
The following two tabs change content below.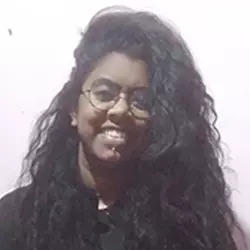 Aditi holds a postgraduate degree in English Literature from Presidency University, Kolkata, and a bachelor's degree in Education from the University of West Bengal. She has previously worked as a scriptwriter for an educational technology company and as an editor and proofreader for a digital marketing agency. She specializes in reviewing fitness products and equipment and aims to provide the readers with all the information required to make an informed decision. She is passionate about teaching and her other interests lie in parkour, short stories, journaling, and Indo-Pakistani sign language.