10 Best Drugstore Highlighters
Do you wonder how some women always look so put together? If their makeup is on point, it means they have nailed their highlighting game.
That's right, your overall makeup look is only as good as your highlighter palette. In today's world of eccentric makeup looks, the "no-makeup" makeup look still tops the charts and is the most sought-after. But does that mean you need to sell an arm or a leg trying to get hold of that perfect highlighter palette? NO! Here's proof. We have rounded up the best drugstore highlighters that work like magic. Check them out!
10 Best Drugstore Highlighters
10 Best Drugstore Highlighters
1. Revlon PhotoReady Insta Fix Highlighter Stick
Review
A highlighter needs to sculpt your face while highlighting your features – this one does just that for you. This is the perfect-sized stick for applying the highlighter right on your cheeks and slimmer zones like your nose, brow bones, and Cupid's bow.
Pros
Lightweight
Easy to apply
Slims down your face
Cons
Rating
4.9/5

2. Essence Pure Nude Highlighter
Review
If you are looking for subtle highlighting without being loud, Essence Pure Nude might be the highlighter for you. This one takes the cake for being the least expensive and highly effective. All you need is a little swipe of this sheer nourishing powder for that Insta-worthy glow.
Pros
Contains nourishing ingredients like jojoba and sunflower oils
Natural finish
Highly pigmented
Cons
Rating
4.9/5

3. Physicians Formula Powder Palette Mineral Glow
Review
This is a formula that not only delivers a radiant finish but also acts like a gentle conditioner that smooths out any blemishes. It illuminates and evenly tones your skin.
Pros
Gently conditions your face
Blurs out blemishes
Free of parabens and fragrance
Hypoallergenic
Non-comedogenic
Cons
Rating
4.8/5

4. Maybelline New York Master Strobing Liquid Illuminating Highlighter
Review
If you prefer highlighters that naturally elevate and highlight your face, this strobing liquid will do the job for you. Its pigmentation is perfect and will give you good coverage. It also goes well with moisturizers, leaving you with radiant skin.
Pros
Good coverage
Stays all day long
Natural highlighting effect
Cons
Rating
4.8/5
5. Maybelline Master Strobing Stick
Review
Looking to add dimension and subtle detailing to your face? The Maybelline Master Strobing Stick is perfect for everyday use. It gives you a gentle but luminous glow, making it great for that "no-makeup" makeup look. All you need is a few swipes and gently blending it away to get a radiant finish.
Pros
Creamy texture with microfine pearls
Gives the targeted skin a healthy boost
Well-balanced highlight effect
Cons
Can cause irritation to sensitive skin
Might cause breakouts
Rating
4.8/5

6. Wet 'N Wild MegaGlo Highlighting Palette
Review
The MegaGlo Highlighting Palette brings you everything the MegaGlo singles give out but with a more vibrant palette. It is infused with shimmery pearl-pigmented blocks that highlight your face and leave you with a glistening glow. You can apply it to your cheekbones, brow bones, and Cupid's bow to create a luminous look.
Pros
Leaves you looking bright and vibrant
Vegan
Cons
Rating
4.7/5

7. NYX Professional Makeup Born to Glow Liquid Illuminator
Review
Everyone's turning towards liquid illuminators for everyday use. For those who prefer a more mellow makeup look, this liquid highlighter gives a more natural glow. It enriches your face and gives you a sheer, healthy, goddess-like glow. You can use it all over your face and body.
Pros
Comes in four shades to match various skin tones
Blends easily
Very smooth on the skin
Cons
Rating
4.7/5

8. E.L.F Baked Highlighter In Moonlight Pearls
Review
This illuminating highlighter powder by E.L.F is finely milled and spreads well on your face, so there's no scope for chunks of glitter to cake up on your face. It is infused with nourishing ingredients that hydrate and fortify your skin without making it look patchy at the end of the day. You can use this highlighter as an eyeshadow as well.
Pros
Vegan
Infused with jojoba, sunflower, and vitamin E oils
Can be applied wet and dry
Cons
Does not give full coverage
Rating
4.6/5

9. Colourpop Super Shock Cheek Highlighter
Review
The Super Shock Highlighter from Colourpop is a long-wearing crème powder cheek formula. Its unique texture is both buildable and blendable, leaving your cheeks looking luscious and healthy. It is buttery soft and easy to work with.
Pros
Vegan
Great texture
Blends easily
Cons
Rating
4.6/5

10. Flower Beauty Glisten Up Highlighter Chubby
Review
Flower Beauty Glisten Up Highlighter Chubby is an illuminating highlighter that gives a sheer finish to your face while brightening it up. This jumbo crayon can be used to accentuate your cheekbones, brow bones, forehead, nose, and collarbone.
Pros
Creamy texture
Blends easily
Sheer, satin-like texture
Long-lasting
Cons
Has a subtle sparkle many may not prefer
Rating
4.6/5

The highlighting world seems to be getting innovative and changing by the minute. That makes it overwhelming to decide on one product. But remember this – you just need to understand your skin type, its undertone, your preferences, and your budget before buying a highlighter. Did we miss any drugstore highlighter that you love? Let us know by leaving a message in the comment section below.

The following two tabs change content below.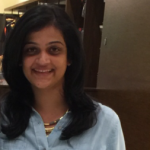 Latest posts by Pratima Ati (see all)