The 8 Best BECCA Highlighters Of 2021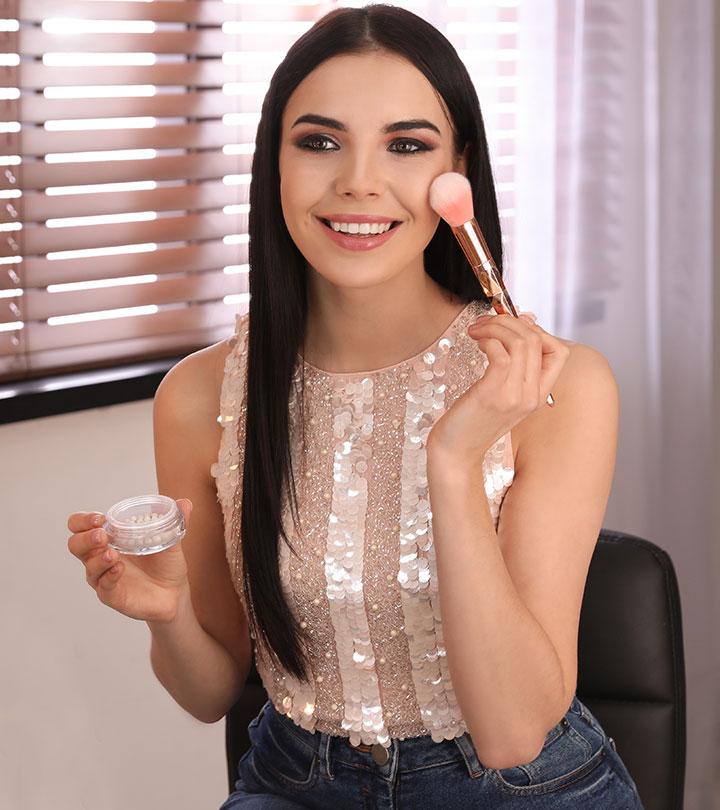 If we had to pick one makeup product that could elevate your dull-looking skin and impart natural radiance in an instant, it very well would be the makeup highlighter. Of course, mascaras and concealers do their job well to make you look more awake, but there is something about highlighters that can give your face a lit-from-within glow like no other. Aptly named, highlighters are used to highlight certain facial features where light would naturally hit, such as cheeks, forehead, nose, and eyelids. When used in the right amount in the right places, it attracts light, creating the illusion of brightened and well-rested skin.
When it comes to highlighters, there are so many different types available with new ones launching now and then. But there is one brand that stands out from the rest— BECCA Cosmetics. BECCA is famous for its array of highlighters that deliver a natural, luminous glow, and they have a shade for every skin tone. Without further ado, let's take a look at the 8 best BECCA highlighters that can amplify your skin's glow factor instantly.
Top 8 Best BECCA Highlighters Of 2021
Becca Shimmering Skin Perfector Liquid Highlighter is the perfect choice for you if you are looking for a dewy, natural-looking glow. Thanks to the super-fine, light-reflecting mica pearls, this liquid highlighter will lend you instant radiance while evening out skin tone. Compatible with both light and dark complexions, this soft, luminescent white formula can be used on its own for sheer dewy radiance or blended with your preferred moisturizer, foundation, or primer for an added glow. It is formulated with vitamins, antioxidants, and anti-inflammatory ingredients, which repairs skin cells, prevents free radical damage, and increases your skin's moisture-holding capacity.
Pros
Lends a healthy-looking glow
Contains SPF 20+
Blends easily
Increases collagen production
Suitable for all skin tones
Cons
May not be suitable for oily skin
Excellent for pale skin tones, this Shimmering Skin Perfector Pressed Highlighter in Moonstone delivers a pale, incandescent golden shine finish that is noticeable yet natural. Hailed as the #1 best-selling highlighter in the US, this pressed powder formula is a combination of ultra-fine multidimensional pearl pigments and liquid, which makes it ultra-buttery in texture. Rest assured, this creamy formula blends seamlessly and melts into the skin. When natural light falls on your face, the tiny mica minerals reflect light from every angle to give your skin a gorgeous luminosity. To add to that, this award-winning formula includes Nylon-12 that minimizes excess shine for a silky-smooth finish.
Pros
Evens complexion
Highly pigmented
Super-buttery texture
Buildable formula
Imparts youthful, natural look
Minimizes skin imperfections
Cons
Slightly expensive
Might be too golden and shimmery for some
A makeup aficionado will tell you that this 4-piece all-in-one product is all you need to enhance your complexion once you have applied the base. This palette includes a soft-focus highlighter (Glow Up), a satin matte bronzer (Koko Bronze), and 2 different shades of radiant blushes (Fierce and Fabulosity). This unique formula provides your skin a lit-from-within glow, thanks to the blend of light-reflecting pearl and light-diffusing pigments. All while the shades offer sheer coverage that is buildable and makes your skin appear incredibly smooth and flawless that it looks like it's professionally retouched.
Pros
Photo-filter finish
Buildable and blendable
Featherweight formula
All-in-one face palette
Compact and travel-friendly
Cons
May not have good staying power
A roll-on glow stick that delivers a sheer, dewy glow to the skin, this highlighting balm checks all the boxes. It is low on shimmer, comes in a universally flattering shade, and is incredibly easy to apply. All you have to do is swipe it straight from the stick on the areas you need a beautiful glow. This balmy formula is infused with BECCA's Glow Nectar Brightening Complex and skin-loving ingredients like ginger, melon blends, and cold-pressed avocado. All these ingredients work together to hydrate, nourish, and brighten your skin, while also improving your natural glow over time.
Pros
Dewy-looking skin
Low-shimmer formula
Has hydrating benefits
Lends a glass-like finish
Small and portable
Made without sulfates, parabens, phthalates, GMOs, and PEGs
Cons
Why settle for 1 highlighter shade when you can have 5? This Becca pressed highlighter features BECCA's 5 best-selling shades – Bronzed Amber, Opal, Moonstone, Topaz, and Rose Gold. This gradient mix of shades, when swirled together and applied, will warm and brighten your complexion. You could also use the shades or mix and match to create a customized glow. This ultra-creamy formula contains a unique blend of luminescent pearls, mineral pigments, and liquid hydrators that lend your skin a multi-dimensional shimmer finish that lasts long without caking or drying.
Pros
Versatile product
5 best-selling shades
Silky-smooth application
Blends seamlessly
Lends a high-impact glow
Enriched with ultrafine pearls
Cons
Some people may not like the super shimmery effect.
Want head-to-toe luminous skin that looks glamorous rather than tacky? BECCA Collector's Edition Glow Dust Highlighter is the one for you! This Becca shimmering powder highlighter comes in a beautiful Champagne Pop hue, a soft gold combined with a peachy-pink pearl, that works on every skin tone. Enriched with micro-fine, light-reflecting pearls, this velvety-soft formula creates an ultra-reflective liquid-like glow on your skin, be it your collarbones, eyelids, cheekbones, or shoulders. All while the transformative texture of this powder feels soft to touch and melts into the skin to deliver a glistening finish that looks amazing.
Pros
Multifaceted product
Lightweight
High-impact liquid-like glow
Super-soft texture
Suitable for all skin tones
Cons
Might be a little hard to blend
Give your skin some love and care with this Glow Body Stick highlighter, which is loaded with skin-nourishing ingredients like coconut oil, shea butter, and vitamin E. Meanwhile, this formula made with a unique combination of dry oils and Champagne Pop light-reflecting pearl pigments create a glistening and glowing effect that's out of this world. Ideal for face and body, this multifaceted highlighter goes on effortlessly over your skin and dries down to a smooth pearlescent finish, leaving behind a gorgeous, sun-drenched fragrance.
Pros
Face and body highlighter
Nourishes and conditions skin
Glides on effortlessly
Finely milled pearls
Universally-flattering shade
Cons
Might have a coconut scent that may be too strong for some
For an over-the-top ethereal glow, BECCA Light Chaser Highlighter is your go-to. This highlighter in rose hue with a hot pink shift adds a healthy dose of color and illuminates your skin. It has an ultra-creamy texture that glides on effortlessly for a smooth application without caking or settling into your fine lines. Along with lending a high-impact glow, this highlighter creates a kaleidoscopic effect, which means it can shift color when struck by light. This most popular becca highlighter solo creates a spectacular glow that leaves your face beaming bright or use it over your blush or eyeshadow to create a multi-tonal holographic effect.
Pros
Transformative highlighter powder
High-impact glow
Kaleidoscopic effect
Creamy texture
Applies seamlessly
Cons
Let us look at a few essential points that you need to consider while buying a BECCA highlighter.
How To Choose BECCA Highlighter Color
When choosing a becca face highlighter color, it's essential that you pick the right shade that complements your skin tone. Of course, the formulation and application technique is important, but a highlighter can ruin your entire makeup look if the color is not right. For instance, if a specific shade looks grey on your skin, it's not the right shade for you. So that's why we have put down a few highlighter shade recommendations for each skin tone. Although their Champagne Pop shade is suitable for all skin tones, it's good to have a few other shades handy.
Pale skin: If you have pale to light skin, you could opt for silver-toned, pearlescent, or champagne highlighter. Cool-toned shades look exceptionally well on the light complexion. Although you need to avoid shades that are too warm, soft tones with golden highlights look great. We absolutely love Prismatic Amethyst, Pearl, and Moonstone.
Medium skin: Since you have a warmer skin tone, you need to avoid anything that's too silvery as it may look ashy on your skin. Look for hues that have more warmth like warm pinks, peaches, champagne, or gold. For medium skin tones, we suggest shades like Rose Quartz or Opal.
Dark skin: For those with darker or deeper skin tones, warm tones like bronze, copper, and rich gold work wonders. These shades make your skin glow in a natural way and brighten your complexion. Hues like Bronzed Amber and Topaz complement your skin beautifully.
A highlighter is one of those makeup products that you can't leave your house without! A single swipe of a highlighter can help you achieve a lit-from-within glow – all you need to do is find the right shade based on your skin tone. Along with giving you radiant skin instantly, highlighters can also brighten the darker areas on your face and body. Besides, some BECCA highlights also have skincare benefits, meaning they can provide an instant boost of hydration when your skin needs it the most. So, have you taken a look at our list of the 8 best BECCA highlighters? Which of these made it to your makeup kit? Do let us know in the comments below.
Frequently Asked Questions
Can you tell us the difference between the 3 BECCA highlighters and the kind of finish you can get with each?
BECCA highlighters come in 3 different formulations – liquid, pressed powder, and poured crème.
Liquid highlighters are lightweight and have a creamy texture. They are sheer and give your skin a subtle glow, while also providing all-day moisture. They are suitable for dry, combination, or mature skin types. Liquid formulations can also be mixed with your favorite foundation for a luminous appearance.
The pressed powder has a creamy consistency. Unlike other powder highlighters that are layered with powders, pressed powder is made by combining the pigments with liquid to achieve a buttery texture. They lend a natural-looking high-shine finish and are best suited for oily, combination, and normal skin types.
The poured crème formula delivers a mattified shimmer and is great for dry, mature, and combination skin types since they offer a little hydration to the skin.
Is BECCA Champagne Pop good for pale skin?
Yes, Champagne Pop is good for every skin tone, including pale skin. This peachy-pink hue neutralizes the pink undertones in the skin to lend an even and radiant complexion.
What shade should your highlighter be?
When choosing a highlighter, pick a shade that's 2 shades lighter than your skin tone. This way, you will be able to achieve a natural-looking finish.
How do you use BECCA Shimmering Skin Perfector Pressed?
Step 1: Use a fluffy brush or angled highlighter, swirl it over the highlighter, and tap off the excess.
Step 2: Lightly glide the brush, starting from your cheek's high points and move up towards the temple and brow.
Step 3: Blend the brush on other facial features you want to highlight, such as the bridge of your nose, chin, and forehead.
Step 4: Repeat the steps until you have achieved the desired effect.
Recommended Articles