10 Best Pore Strips To Remove Blackheads – 2023's Top Picks
Add these effective products to your skincare regime and get rid of pesky dots from your face.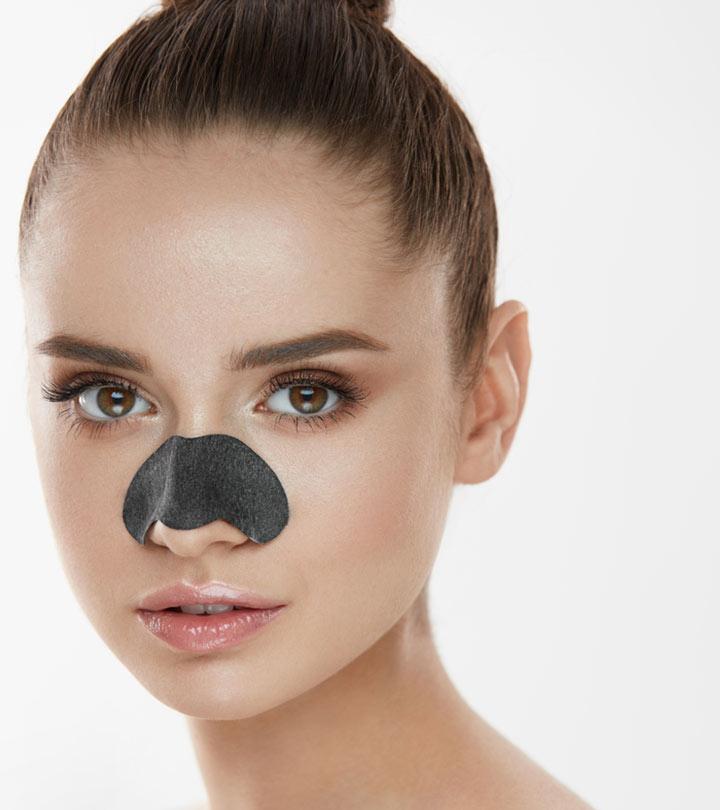 Blackheads (also known as open comedones) are a pain for one reason— if you squash them, you'll wake up the next day with an army on your hands! The conflict seemed to be never-ending. The best pore strips to remove blackheads, thankfully, can be a speedy solution to this issue.
Dr. Jennifer Haley, a dermatologist who is board-certified, states, "Remember that using a pore strip won't solve your blackhead problem. You'll remove blackheads for the time being, but they'll come back. It's better to start a skincare regime that stops them from happening in the first place. This should include using a gentle cleanser as part of your daily routine."
Pore strips aren't an effective long-term solution if you are dealing with blackheads frequently, but they can surely help you get rid of them quickly when you incorporate these strips into your facial care routine. We've compiled a list of the top 10 pore cleansing strips in the industry right now to help you determine which ones can give you value for your money. Take a look at them below.
The 10 Best Pore Strips for Removing Blackheads
These blackhead removal strips work like magnets and clear all the dirt and the top layer of dead skin cells clogging your pores in one go. The dermatologist-tested strips are developed with patented C-bond technology that helps them bind to impurities and deeply cleanse the area, so you can see visible results in just one use with these pore-cleansing strips.
Dr. Mariel Bird, FAAD and a Howland-based dermatologist, says, "When a pore becomes clogged with dead skin cells and oil, the contents get oxidized by the air and create a blackhead. When used properly, Bioré Deep Cleansing Pore Strips can clear clogged pores and make them appear smaller. Results are temporary, but they are safe to use weekly."
Key Ingredients: Polyquaternium-37 and Witch hazel extract
Pros
Dermatologically tested
Hypoallergenic
Oil-free
Vegan
Cruelty-free
Cons
None
Price at the time of publication: $9.87
The Neutrogena Blackhead Eliminating No Pull Cleansing Pore Strips have a unique strip-to-scrub formula. These no-pull painless strips gently exfoliate the face and remove excess oil, dirt, and blackheads without being harsh on your skin. The strip transforms into a gentle & exfoliating cleanser when it comes in contact with water. This dermatologist-recommended product is sensitive skin-friendly and is enriched with acne-fighting like salicylic acid to remove blackheads and unclog or clear pores, giving you clear and smooth skin after exfoliation.
Pros
Painless formula
2-in-1 benefit of nose strip and face scrub
Non-comedogenic
Dermatologically approved
Suitable for sensitive skin
Cons
None
Price at the time of publication: $10
Price at the time of publication: $14.99
These pore strips contain charcoal that removes deep-seated dirt, oil, and blackheads. These charcoal strips pull out dirt, help minimize the appearance of pores, and improve the skin's overall appearance. You can use these oil-free strips 2-4 times a week to get the best results. Dr. Marie Jhin, a California-based dermatologist, says, "I like this product because it is suitable for all skin types."
Key Ingredients: Charcoal
Pros
Oil-free
Cruelty-free
Nose-shaped cutout design
Easy-to-use
Cons
None
Price at the time of publication: $11.99
The Original Epielle Deep Cleansing Nose Strips are excellent to unclog dirt and grime from the pores within 10-15 minutes. These strips help remove blackheads and excess oil while tightening pores and helping you achieve a clear complexion and smooth skin texture. The pore tightening mask strips are 100% vegan as these do not contain any animal oil, and are cruelty-free. These are paraben-free and sulfate-free strips as well. They come in larger sizes to fit your nose easily and can be used as a part of skin detox. They come in a value pack of 14 counts.
Pros
Unclogs dirt
One-step blackhead treatment
Removes blackheads and excess oil
Vegan
Cruelty free
Paraben free
Fragrance-free
Visibly clear skin after a single use
Cons
None
Price at the time of publication: $7.5
The Holika Holika Pig Nose Clear Strong Black Head Spot Pore Strips are an easy and convenient solution to remove deeply embedded blackheads. These take less time compared to other strips to effectively remove excess sebum from narrow and curved areas of the face giving your face a flawless look. They can be used on the forehead, chin, cheeks, and nose and helps in blackhead prevention.
Pros
Easy and convenient use
Quick results
Strong blackhead removal effect
Removes sebum from narrow and curved areas
Cons
None
Price at the time of publication: $4.95
The Hero Cosmetics Mighty Patch Nose is a dermatologist-approved overnight pore removal nose strip. These clinically tested patches fight pimples, and remove blackheads and excess oils, to give you clearer-looking skin in 6 hours. The absorbent hydrocolloid gel-infused patches are super gentle and thin to give an effortless and clearly-visible experience. This gentle formula is allergy-tested, non-irritating, and recommended for all skin types. These come in a value pack of count 10.
Pros
100% pure medical grade hydrocolloid
Traps pore and pimple gunk
Peels off gently
Clears the skin
Absorbs excess oil
Flexes to fit nose contours
No irritation
No animal testing
Cons
Price at the time of publication: $17.99
Price at the time of publication: $15.98
The Shills Deep Cleansing Pore Strips are effective tools for pore purging and show instant visible results by drawing out all the impurities and revealing more youthful skin. It is a quick and easy solution to cleanse clogged pores and blackheads, helps in minimizing the look of pores, and eliminates the chances of acne and pimples. The pack includes 28 pore strips and works great on sensitive and oily skin.
Key Ingredients: Activated charcoal
Pros
Easy to use
Safe for sensitive skin
Cons
Price at the time of publication: $15.99
Say goodbye to stubborn blackheads with the Yes To Tomatoes Clear Skin pore strips. This 2-step nose kit includes a cleanser and a nose strip. The cleanser is infused with a balanced amount of tomato extract and salicylic acid to loosen the dirt in the skin pores. The single-use strip contains charcoal that efficiently extracts all the gunk and impurities to give you clear and smooth skin and is beneficial for T-zone care.
Key Ingredients: Tomato extracts, Charcoal, and Salicylic acid
Pros
Suitable for all skin types
Budget-friendly
Cons
None

Price at the time of publication: $4.59
The Sanfe Deep Purifying Nose Strips are 100% natural stick-on nose strips enriched with fuji green tea extract and witch hazel to remove blackheads and cleanse clogged pores. They are easy to use and their anti-blackhead formula can remove blackheads, dirt, and excess oil, to give you a clean and fresh feel without drying the skin. The strips do not hurt or leave any residue and are suitable for all skin types.
Pros
Non drying
Easy to remove
Suits all skin types
Prevents skin from drying out
Quick acting formula
Cons
None
Price at the time of publication: $35
Try the Pacifica Cosmic Vanish Pore Strips if you are looking for pore strips for your entire facial area. This oil-control product includes separate strips for your nose, chin, and forehead. The facial strips are enriched with tea tree oil, hemp seed oil, and witch hazel extract to control excess sebum, remove dirt from the pores, and prevent blackheads. If you have sensitive skin, do a patch test before using the product.
Key Ingredients: Tea tree oil, Hemp seed oil, and Witch hazel extract
Pros
Vegan
Cruelty-free
Phthalate-free
Paraben-free
Sulfate-free
Cons
None
Price at the time of publication: $6
All pore strips may appear similar and work in similar ways, but some may perform better than others. Choosing the best blackhead pore strips often boils down to certain factors discussed in the next section.
How To Choose Pore Strips To Remove Blackheads — Buying Guide
Go through the label and check the ingredients. Pick the product that contains acne-fighting ingredients like activated charcoal, salicylic acid, tea tree oil, witch hazel, and allantoin. These ingredients can extract all the gunk and impurities from your entire T-zone. You can also go through the reviews and experience of the reviewers of a particular product before purchasing it. If you have allergy-prone or sensitive skin, avoid buying pore strips that contain artificial fragrances and colorants.
Some products may come with 6-8 strips per pack, while others may contain 30-40 strips per pack. If you have acne-prone and oily skin and get blackheads frequently, you may want to go for the packs with more number of strips.
Pore strips can be used on the nose, forehead, and chin. Strips for each area are designed differently. Some brands may include a set for the entire face, while others may contain strips meant for a specific area. Choose a pack that suits your preferences.
In the next section, find out how to best use these strips to get optimal results.
How To Use Pore Strips To Remove Blackheads
Dr. Jennifer Haley says, "Always wash your face with your regular cleanser. This removes oil and dirt buildup on your skin."
Take some hot water in a bowl and steam your face for at least 10-20 minutes. The steam will help loosen up the dirt stuck in your pores.
Apply the pore strip on the wet skin and press it well.
Allow the pore strip to stay for 10-15 minutes.
Hold both sides of the strip and gently peel it off from top to bottom.
Once you are done, follow up with a toner and the rest of your skin care routine.
Esthetician Annētta McBain, says, "Blackhead strips can be an amazing addition to your skin care routine. Often, we don't have the proper regimen that extract the congested pores as they need to be. If that is the case for you, definitely try some of these blackhead strips to finally find relief."
Why Trust StyleCraze?
StyleCraze articles are backed by expert opinions and suggestions from certified professionals. The author, Oyendrila Kanjilal is a certified skin care coach and a big fan of pore strips. The list features some of her absolute favorites like the Bioré Nose+Face, Deep Cleansing Pore Strips and Look At Me Nose Pore Strips.
Frequently Asked Questions
Are pore strips safe?
Yes. Pore strips are unlikely to damage your skin. Ensure to follow the instructions and avoid overusing the strips. If you are still unsure, you can do a patch test and check the list of ingredients.
How do pore strips work?
Pore strips have an adhesive that sticks to wet skin. It takes 10-15 minutes to dry, and after that, you can pull the strip off. As you pull, the adhesive takes out all the dirt and grime from the pores.
Should you exfoliate before pore strips?
Yes, exfoliate before using a pore strip to prevent further clogging of pores.
Should I moisturize after pore strips?
Yes, moisturization is necessary after using pore strips to prevent dryness.
How often should I use pore strips?
Using a pore strip once or twice a week is recommended for the best results.
How do you close pores after pore strips?
Rub some ice cubes or wash with cold water to close the pores after using pore strips.
What happens if I apply pore strips to acne?
Pores trips can help remove dirt and blackheads but applying them to acne can cause inflammation and aggravate your skin condition.
Recommended Articles
15‌ ‌Best‌ ‌Products‌ ‌For‌ ‌Blackheads‌ ‌For‌ ‌Clear‌ ‌Skin!‌