13 Best Fishnet Tights For Women In 2023
Get party-ready this season with these stunning fishnets to match your amped-up moods.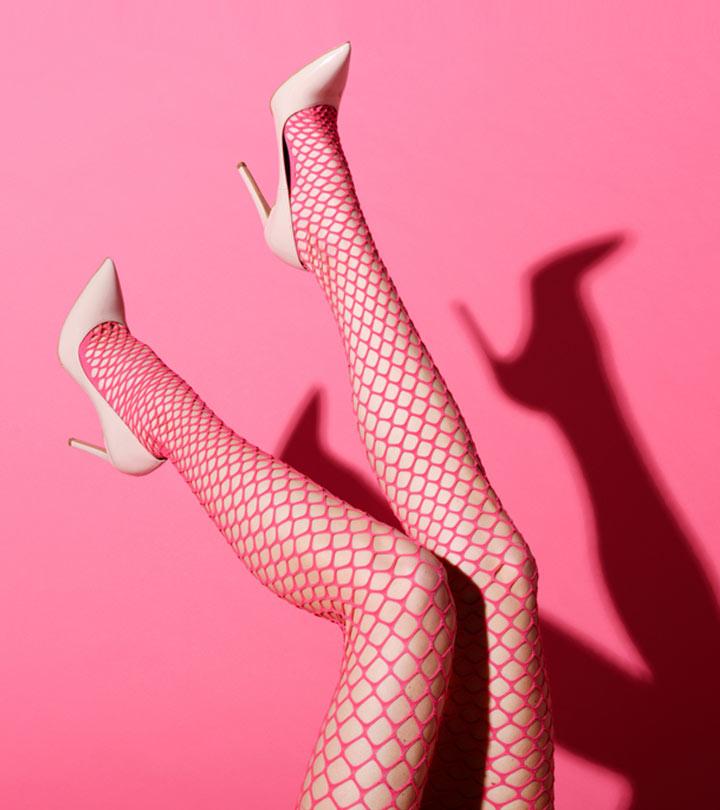 The Roaring Twenties have introduced us to the best fishnet tights. These evergreen fashion items are every woman's secret weapon to take their boring skirts and shorts a few notches high in the fashion game. Well, the modern world now offers a variety of fishnet tights that are made to fit perfectly with several outfits and varying moods. Of course, you still have the good old classics that are never going away! But from parties to bedrooms, you can style these new variants any way you want.
To help you pick from the many fishnet tights available on the market right now, we have listed here the 13 best available. These are guaranteed to add some extra oomph to your outfits. Go ahead and check them out below.
Look Drop Dead Gorgeous With These 13 Best Fishnet Tights
This high-waisted pair of fishnet tights from the luxury hosiery brand, Charmnight, is a lovely mix of elegance and flirty audaciousness! Designed to provide high elastic comfort, these black fishnet tights are made of a soft, breathable, and supremely elastic fabric that makes looking sexy oh-so-comfortable. These gorgeously stretchy tights are available in a one-size-fit that accommodates US 4-12 sizes, and they look fabulous layered under hot pants, skirts or even bathing suits to give your ensemble a roguish vibe. You have the option to purchase their set of 2 or 3 different patterned fishnets.
Pros
Super elastic and comfortable
Up to 3 different pattern options
Great price
Looks amazing under a bathing suit
Cons
The waistband isn't the most comfortable.
Price at the time of publication: $6.49
If you want your legs to appear gloriously lithe and streamlined, this set of 5 fishnet tights by akiido is a great candidate! Made with a highly elastic, ridiculously comfortable, and blissfully breathable fabric, these snazzy tights provide a snug fit that doesn't slip off with ease, so dancing, cosplaying, stage performances, and all other strenuous activities can be indulged in sans fear. The super stretchy yet form-fitting design provides a universal fit that can accommodate heights from 5'0 feet and upto 5 feet 10 inches as well as weights of 100 to 175 lbs comfortably. When you first put these beauties on, they may seem a tad too snug, but rest assured, after 1 to 2 minutes of strutting around, they sublimely stretch to a flattering and ultra cozy fit.
Pros
5 different alluring fishnet patterns
Have a comfortable high waist
Value-for-money
Stretchy enough for plus sizes too!
Cons
No reinforcement at the crotch area
Price at the time of publication: $10.98
Vero Monte provides an elegant and modern twist to the classic fishnet tights that has us absolutely obsessed. And talk about patterns galore! Each purchased set comes with 4 different sophisticated styles of fishnet tights, and they provide the option of a whopping 6 different sets of patterns. Their 'Diamond & Wave Patterns' set looks utterly scrumptious paired with ankle boots or worn under a pair of ratty, ripped jeans for some rebellious flair. Meanwhile, the 'Floral Knit Patterns' set is exquisite feminine elegance and looks stunning under dresses and pastel skirts. We love the 'Leopard & Skull Patterns' set for its adorable quirkiness and the 'Modern & Classic Combined' set for being a hipster's dream. The 'Spring Fashion' set is beloved for its voguish elevation of the original fishnet pattern, but if you're a classic fishnet connoisseur, the 'Vital Diamonds' set is for you!
Pros
4 pairs of unique and elegant styles
Super stretchy yet comfortably snug fit
Made with premium nylon (92%) and spandex (8%)
Thigh-high design that is very flattering
Cons
Only available in the color black
Price at the time of publication: $14.99
If seduction is on your mind, these lingerie-style fishnet tights from sofsy are the sure weapon of choice! Their 7cm thick luscious lace tops are wildly sensual and enforced with double straps of silicon to ensure they never sag and cramp your 'boudoir badass' vibes. Made with a deliciously comfortable blend of polyamide (88%) and spandex (12%), this Italian-made pair of durable matte tights is strong and gloriously sheer sexiness. The thigh hem is blissfully soft and non-irritating, and retains its snug elasticity and tension even after repeated wash. Available in tantalizing bold colors like Bordeaux (rich burgundy), Grey, Natural (creamy beige), White, Tan, Black, and a scandalously racy Red, this classic fishnet pattern is not for the faint of heart.
Pros
Available in 7 stunning shades
Lacy thigh hem for ultra sexiness
Can be worn with suspender belt or garter belt
Fits like a second skin
Cons
Not machine washable, hand wash only
Price at the time of publication: $29.99
Say hello to runway-worthy, lithe legs with these contemporary styled fishnet tights from Leg Avenue! Made with a premium grade of 100% spandex that is wonderfully stretchy, soft, breathable and shockingly durable, these seamless, sheer tights enhance your natural silhouette and shape your curves to provide a glamorous and flattering fit regardless of your body type. Available in an assortment of pop chic, electric shades ( Neon Pink, Purple and Red) and bold yet classic colors (Burgundy, White, Nude, and Black), this elegant fishnet pattern will leave you feeling catwalk-walk ready in minutes.
Pros
High waist design that flatters the figure
Available in 7 alluring colors
Reinforced fabric on toes to prevent tears
Offers comfy plus-sized tights as well!
Cons
Not machine washable; hand wash only
Price at the time of publication: $9.99
If you're a budding ballerina, allow us to introduce you to your new best friend! When it comes to professional dancing, Capezio is the creme de la creme; possessing a century's worth of experience in dressing Broadway stars and performance artists. And this pair of seamless fishnet tights from their ballet-wear line is also worthy of pros! Made with a lovely blend of nylon (80%) and spandex (20%), the fabric is designed to resist piling, wick moisture, and provide unparalleled comfort and performance. Reinforced with solid yet cozy foot pads that ensure your shoes remain secure in their place during intense dancing, the plush 1 inch-wide elastic waistband, meanwhile, has been dyed to the same shade as the gusset and keeps your fishnet tights from slipping or sagging. Available in 4 different neutral shades that complement most natural colorings (Caramel, Toffee, Suntan, and Black), these beauties come in sizes from small to 3XL.
Pros
Professional grade dance tights
Prevents slipping with supportive foot pad
No backseam to spoil aesthetics on stage
Available in natural, skin-flattering shades
Cons
Price at the time of publication: $30.08
We adore this classic style of fishnet tights from Ordenado for their slinky, snug softness. Wildly stretchy and resistant to tear, they were designed for the modern woman who appreciates an equal part of comfort for every spoonful of sexiness! Each purchase comes with 3 pairs of different fishnet styles: a large-sized diamond fishnet pattern to pair under ripped jeans or grunge rock crop tops, a medium-sized diamond fishnet pattern to layer under daisy dukes or mini dresses, and finally, a small-sized diamond fishnet pattern for a sophisticated elegance that could be worn in off-the-clock or at even office, depending on your level of naughtiness, of course.
Pros
Fully wraps the soles to prevent sliding
Best fishnet stockings for comfort
Highly elastic fabric made from premium cotton
Comes in 3 different versatile styles
High waist design for extra support
Cons
Only available in the color black
Price at the time of publication: $8.99
Ultra stretchy, supremely soft, and ridiculously sexy, these thigh-high fishnet stockings from Joyaria are a must-have! Made with a delicious blend of nylon (80%) and spandex (20%) that is elastic enough to flatteringly accommodate the most voluptuous of curves yet is breathable enough to ensure you remain comfortable all day (or night! We don't judge). Available in the 3 provocative shades any bonafide seductress will swear by (Black, Nude, and sizzling Red), these stockings have a matching lacy top hem to get the heartbeats racing.
Pros
Fabric is durable and resistant to tears
Retains its shape and doesn't sag after repeated washing
Can be worn with a garter belt, girdle or suspenders
Offers plus size options
Cons
Needs to be hand washed separated and drip dried
Price at the time of publication: $14.99
If you're a Halloween enthusiast (or quirky simply happens to be your middle name), you wouldn't want to miss this fabulous pair of high-waisted pantyhose fishnets with an overlay of edgy printed skulls! Made with a wonderful blend of nylon (90%) and spandex (10%) that is gloriously lightweight, seductively sheer, and ultra skin-friendly, this small-sized diamond pattern of fishnets make badass chic look shockingly comfortable. The plush, solid black waistband reaches high enough to snugly camouflage your muffin top and make crop tops an absolute mood, while the full sole coverage design secures your feet and prevents sliding regardless of footwear styles – from boots to heels to you're sorted!
Pros
Ideal for costume parties or a goth look
Very stretchy mesh design
Option of rhinestones for extra sparkle
Covers the soles and waist for support
Cons
Available in only one size
Price at the time of publication: $6.99
Flirty, feminine, and a whole lot of fun, these fishnet tights from Buitifo are perfect for a bold clubbing look or spicy date ensemble. It's made with a durable mix of chinlon (90%) and spandex (10%) that is super stretchy, breathable, and (most importantly) sublimely comfortable. Additionally, these medium-sized diamond patterned fishnet leggings can be worn under shorts and ripped trousers, or even alone over just a pair of black boyshort panties for extra naughtiness. The elastic high waistband gives snug comfort to your belly and shapes your abdomen, while ankle length design prevents unnecessary snagging in shoes. Available in US sizes XS to L, they accommodate heights of 5'0 to 5'10 and weights of up to 140lbs best.
Pros
Perfect for evening dates or nightwear
Very easy to get into and out of
Highly elastic and comfortable
Ankle length design offers versatility
Cons
Don't offer plus size options
Price at the time of publication: $12.98
If you're bored of mainstream black and are looking to experiment with color and texture, then prepare to be spoiled for choice with this line of ridiculously seductive fishnet tights from Mila Marutti. Available in alluringly bold shades like scandalous red and brilliant violet to set the hearts racing, they also offer statement-worthy pops of color with a candy-sweet light pink and a baby blue option. Their lovely collection of nude shades like beige, brown, grey, graphite, and white, meanwhile, offer a more understated sexiness for day escapades. Slimming, wildly flattering, and designed with a thigh-high lacy top that is lushly provocative, these are our favorite fishnet tights for when you need to feel like femme fatale!
Pros
Wide assortment of beautiful colors
Extremely soft and comfortable
Double silicon straps to prevent slippage or sagging
Made with premium quality fabrics
Cons
Have a back seam that might not be for everyone
Price at the time of publication: $19.95
Get ready to shine bright like a diamond with these snazzy rhinestone fishnet stockings from Lady Up! Each set of 2 stockings comes with one black and one white pair that is soft to touch, durable, and extremely comfortable to wear. Made with high-quality materials for extra stretchiness and resistance to snagging or pilling, these dazzling fishnet delights also possess a built-in garter belt for an extra dose of pure sultriness. The glittery sheen from the rhinestones adds lush volume to your silhouette giving you extra oomph and voluptuousness, while the suspender style of design flatters all body types. Available in US sizes 4 to 16.
Pros
High shine finish with rhinestone glitter
Comes in 2 beautiful, essential colors
In-built garter belt for extra sexiness
Extremely flattering yet comfortable
Cons
Not machine washable, hand wash only
Price at the time of publication: $16.99
It doesn't get any hotter than with this glittery, fishnet pantyhose from Amuhou! Each purchase comes with 3 enchantingly pretty designs of eyelet motifs, floral patterns, and rhinestone sequences that are guaranteed to kill your beau with just their devastating sexiness. It's made with a lovely blend of chinlon (95%) and spandex (5%) that is super stretchy and surprisingly comfortable to don. Available in a classically sheer black and accompanied by an in-built garter for extra support (and spiciness!), these glamorous stockings are perfect for boudoir fun or to make racier Halloween memories.
Pros
Perfect for cosplaying or as lingerie
Medium shine finish with rhinestone glitter
In-built sheer garter belt with a lovely design
3 unique and flattering patterns
Cons
Gems may come off with repeated wear
Price at the time of publication: $9.99
Feeling spoiled-for-choice with these overwhelming options and styles of fishnet stocking tights? Well, worry not! We've compiled a handy buying guide to sort you out on your quest to find the best fishnet tights that flatter you yet fulfill your needs. Read on below, soon-to-be siren!
A Femme Fatale's Buying Guide For The Best Fishnet Tight!
The path to fishnet fabulousness isn't always easy. After all, the market is saturated with too many different types of fabrics, patterns, styles and lengths to wrap one's mind around. So, if you're having trouble deciding how to go about purchasing high-quality fishnet tights, here are a few helpful tips from our fantastic fashion editors:
What To Consider Before Buying Fishnet Tights
If you want to invest in a pair of good quality fishnet tights that keep you in style for a good while, you'd want to consider the following factors before making a purchase:
1. Assess The Thickness
Unfortunately, thickness is a tragic compromise between sexiness and durability. The best fishnet leggings are those that are made of thicker fabric since they usually tend to last you longer and are more resistant to rips and tears. However, the thicker the material, the less sheer your fishnet tights look, which may equal a lot less of the boldness that fishnet tights are usually celebrated for. So, you must find that perfect sweet spot between sexy sheer and durable opacity for yourself. That being said, if you're insecure about certain imperfections or would like to achieve a slimmer silhouette, you may want to opt for more thickness.
2. Consider Your Color
While black is timeless and associated with the iconic fishnet style that was created in the 1920's, there's still a whole world of alluring colors to experiment and elevate your look with. If you're looking for sophisticated elegance during formal events like weddings or cocktail parties, you may want to opt for a nude tone pair of fishnet tights that complement your natural skin coloring. It's always smart to pick a pair that's just a shade darker than your own skin so that your fishnets don't disappear in your own skin. Meanwhile, if you want to spice up your wardrobe with a good pop of color, shades like burgundy, neon pink or green, and marine blue can all prove incredibly statement-worthy. Bonus? darker, bold colors help contour your legs and give the illusion of a slimmer silhouette!
3. To Print Or Not To Print?
Prints are a fun twist on the classic fishnet tights that help give your OOTD a whole new vibe. If it's a goth or grunge rock look you're aiming for, skull & bones prints can seal the deal. Floral prints or patterns of waves (especially black stripe tights), on the other hand, give a more youthful and pretty touch under monochrome pastel dresses and skirts. There's also the option of moles or animal prints like leopard spots or zebra stripes that can be worn under daisy dukes or boring black outfits for a feisty, fun vibe.
4. Flatter WIth The Correct Finish
Don't dismiss the finish for it could very well make or break your ensemble! While fishnet tights with a matte finish usually offer understated elegance and are perfect for formal to casual wear, they also help reduce volume and give the illusion of a more streamlined silhouette. A shinier finish with glitter or embedded diamonds and rhinestones, on the other hand, never fails to impress by adding a delicious drizzle of dazzle to your outfit for a more dramatic look; however, it also increases volume. So, if you're a skinnier gal who'd like to give the illusion of more voluptuous curves, stock up on the sparkle!
5. Dress For The Occasion
The right pair of fishnet tights can add a very Parian elegance to a formal dress, while the wrong pair may end up making you look trashy. Now, though 'trashy' isn't bad (a giant plus as a matter of fact, in the bedroom), it does have its own time and place. So, if it's a formal occasion you're headed to, opt for smaller-sized diamond patterned fishnet tights. As a thumb rule, remember: the larger the size of the diamond pattern, the more daring your look becomes. Additionally, if you're wearing open toed sandals, always select a pair of fishnet tights that fully covers your soles and gives a seamless finish.
Why Trust Stylecraze
Chaitra Krishnan, the author of this article, is a fashion aficionado. Her interest in the latest trends and styles motivates her to review them for her readers. Her opinion and recommendations are based on in-depth research and reviewing user feedback. The best fishnet tights mentioned here are comfortable to wear, stretchy, durable, resistant to tears, and stylish.
Frequently Asked Questions
Are fishnet tights comfortable?
Compared to traditional hosiery, fishnet tights tend to be a bit more coarse and may leave a fishnet patterned imprint on the skin of your legs if you've had them on for a while; however, they're not too uncomfortable all the same.
Where to buy fishnet stockings?
Our list of the 13 best fishnet tights provides links to the relevant product pages for your convenience. Please refer to the listing above!
How to wear fishnet tights?
Women's fishnet tights look best under shorts, skirts and dresses, but high-waisted fishnet leggings can also be layered under crop tops or worn under ripped, faded jeans for a more grunge style. In terms of heels, close-toed shoes are your best bet for they offer a more put together and refined look.
Can we wash fishnet tights?
While some fishnet tights do claim to be machine washable, most of them, however, usually happen to be very delicate and should thus always be washed separately by hand. Avoid washing in hot water or wringing the fabric as this may shrink or damage the material. Warm or cool water works best, and your fishnet tights should always be gently squeezed to remove excess water then hung out to dry.
What are fishnet tights?
Fishnet tights are a type of hosiery fashion staple that possess a diamond-shaped, open knit and is commonly worn to make a fashion statement.
Are tights one-size-fits-all or do they come in separate sizes?
According to height and weight, tights typically come in sizes small, medium, large, and extra large, or in sizes A through D.
Do fishnet tights keep you warm?
Yes, fishnet tights help you keep warm. The fishnet structure contains substantial blank spaces that hold insulating air for warmth in cool temperatures. They can give you enough warmth for autumn but are not meant for winter wear.
Recommended Articles: