9 Best Perfumes For Women That Remind You Of Chocolates
Enjoy the irresistible and pleasant smells of these various chocolate fragrances.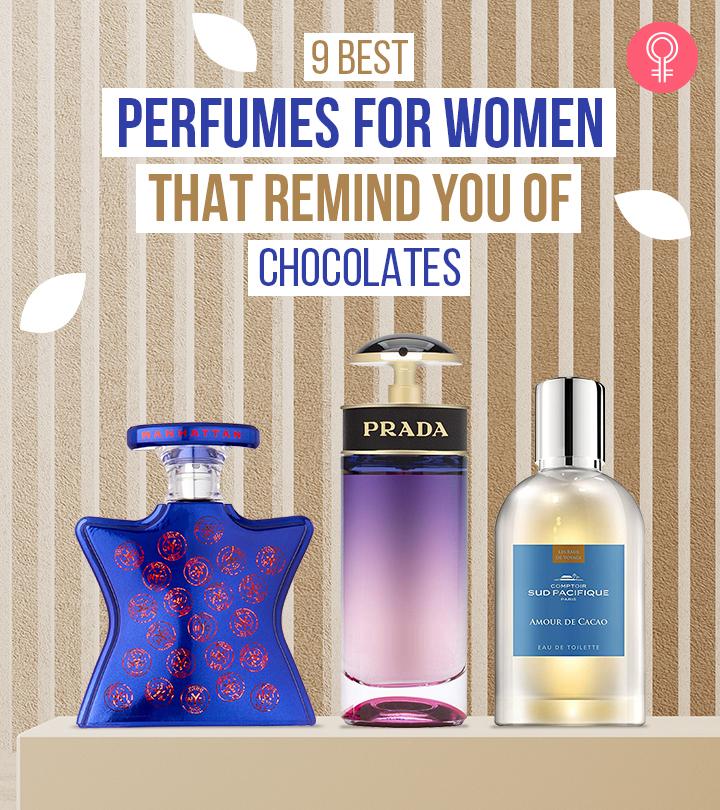 Looking for a perfume that will set you apart from the crowd and make you feel powerful? Choose the best chocolate perfume for that! The chocolate fragrance is extracted from raw cocoa beans and mixed with the right spicy or floral fragrances to add a range of depth and mystery to the perfume. Take a look at our list of the best chocolate perfumes you can add to your collection. Scroll down to check them out!
9 Best Smelling Chocolate Perfumes For Women
Montale Paris masters the art of blending Eastern ingredients with Western techniques. Chocolate Greedy comes with a warm amber vanilla fragrance. The luxurious blend of tropical ingredients like coffee, tonka bean, cacao, bitter orange, and dried fruits adds a smooth texture to this perfume. It comes in an aluminum bottle specially created to preserve and retain the sublime essence. Check the honest review of the Montale Paris Chocolate Greedy Eau De Parfum in this video.
Pros
Pleasant scent
Long-lasting fragrance
Travel-friendly packaging
Value for money
Cons
None
Sergio Nero Chocolate Parfum De Toilette has an exhilarating fragrance of chocolate mixed with a hint of warm spices. The scent is a blend of vanilla, chocolate, and musk notes that keeps you fresh throughout the day. Its top notes consist of freesia, bergamot, and citrus, while the middle notes are violet, caramel, and orange.
Pros
Sweet gourmet fragrance
Luxurious scent
Beautiful packaging
Suitable for all seasons
Cons
None
Prada Candy has a warm and spicy fragrance. The notes of orange essence, caramel, chocolate, vanilla, and white musk give this perfume a long-lasting lingering scent. The top notes of this fragrance consist of neroli, bitter orange, and iris, while the heart notes include tonka bean and vanilla. The addictive sweetness of the notes exudes fresh energy. This perfume leaves a lingering scent in the air, making it perfect for a special evening. Watch the honest review of the product before deciding on purchasing the Prada Candy Night Eau De Parfum Natural Spray.
Pros
Energetic scent
Long-lasting fragrance
Suitable for daily use
Cons
May feel overpowering for some
Comptoir Sud is a sophisticated perfume brand that crafts specially designed fragrances for women. Amour de Cacao beautifully captures the intense and deep essence of chocolate. The fragrance's top notes include orange zest, the heart notes consist of cocoa and star fruit, while the base note consists of vanilla essence. This perfume's intriguing scent is moderate and spicy – perfect for casual occasions. Check this video to learn about the merits of the Comptoir Sud Pacifique Paris Amour De Cacao Eau De Toilette.
Pros
Long-lasting fragrance
Suitable for formal wear
Elegant packaging
Cons
None
This chocolate perfume exudes a rich and warm chocolaty fragrance that is utterly delightful. This handmade mist gives the essence of Hershey's chocolate, reminding us of Christmas and happy childhood days. It adds some moisture to your skin when sprayed.
Pros
Adds moisture
Pleasant scent
Long-lasting
Phthalates-free
Paraben-free
Cons
The scent may seem too artificial for some
Choco Musk is an exotic Al-Rehab perfume with an irresistible scent. The perfume is a blend of milk chocolate, vanilla, white musk, cinnamon, rose, sandalwood, myrrh, and amber. The natural fragrance of this attar refreshes the mind and cools your senses. The choco fragrance is mild and can be used during the daytime.
Pros
Long-lasting fragrance
Pleasant scent
Suitable for all-day wear
Value for money
Cons
It may cause a slight burning sensation in sensitive skin
Manhattan from Bond No. 9 has a unique gourmand fragrance that redefines the perfume. The long-lasting notes of amber vanilla give this perfume a pleasant and comforting texture. The juicy plum, cinnamon, and nutmeg notes lend a spicy flavor to the fragrance. A hint of saffron, combined with the most precious cashmere wood, leaves you feeling fresh and rejuvenated. Check the video to understand why purchasing the Bond No. 9 New York Manhattan can be one of the best decisions ever.
Pros
Suitable for all skin types
Long-lasting fragrance
Pleasant scent
Attractive packaging
Cons
Masaki Matsushima's Chocolat Mat is a unique oriental perfume formulated with a perfect blend of sandalwood, coconut, chocolate, cacao, watermelon, and musk. The captivating fragrance has top notes of grapefruit, watermelon, and rose, while the heart notes consist of chocolate and cacao. The perfume has an amazing aroma, and it is perfect for casual wear.
Pros
Pleasant smell
Long-lasting fragrance
Fancy packaging
Suitable for all occasions
Cons
None
Demeter's Chocolate Chip Cookie perfume will remind you of fresh warm cookies. This fragrance's main accords are sweet and chocolaty, probably due to the mix of dark and white chocolate and vanilla notes. This cologne spray is designed especially for women. The small size of the bottle makes it easy to carry anywhere.
Pros
Pleasant scent
Long-lasting fragrance
Suitable for all occasions
Cons
The scent may be too strong
Why Trust StyleCraze?
We have curated this list of the best chocolate fragrances after conducting extensive research. Recently, people have taken their love for chocolate to a whole new level by wanting to smell like it. We spent many hours searching far and wide on the internet, researching and investigating numerous perfumes and their reviews to curate this list. We selected each of these products based on their ingredients and notes, along with bottle designs and packaging.
Recommended Articles