6 Best Spicy Perfumes That Smell Absolutely Intoxicating Ever thought of spices in perfume? Yeah, that's right. The most commonly used spices are cardamom, ginger, coriander, or juniper berries in the top notes and cinnamon, nutmeg, pepper, and cloves in the middle notes of the perfume. These notes create an alluring and intriguing fragrance that rejuvenates your senses.
If you are looking for a perfume that will make heads turn, look no further. Listed below are the 6 best spicy colognes that smell delicious and last long with decadent ingredients. Scroll down and check them out!
6 Best Spicy Perfumes You Should Try
Serene, sensual, and seductive are the three words that describe the Cher Eau de Couture for women. It blends glamour and simplicity to make you smell nice and feel confident. The iconic mix of top notes like bergamot, clove, spicy citrus, and neroli make the fragrance unique and mood-lifting.
The scent also contains rose and orange flowers as the heart notes, making it last longer and stay fresh. The base notes like sandalwood, vanilla orchid, and vetiver give you a touch of serene seduction. This spicy perfume has everything to make you feel like a lady with class, elegance, and confidence.
Add some spice to your life with the Playboy Eau De Toilette spray. The collection has a combination of three sexy and seductive fragrances. Play it Spicy makes you smell like the women of people's dreams and desire. The fragrance is oriental, floral, and hot. The rich fusion of ingredients in this perfume adds to your feminine grace.
The top notes consist of Bellini cocktail, pink berries, and pomegranate that add an irresistible fragrance to your skin. The middle notes include lily and passion flower to add vibrancy and charm to the scent, while sandalwood, vanilla, and amber as the base notes generate a true sense of playfulness. Put the perfume on and become the center of attraction in every room you walk in.
The Blackout Eau De Parfum was launched by the Derek Lam 10 Crosby design house in 2015 as a part of 10-piece perfume collection. This perfume fabricates a profoundly romantic mood with complex sweet floral notes of osmanthus and oriental accord of spicy tea. The combination awakens and reenergizes your senses with a great mix of passion and pleasure. It is inspired by the dark and beautiful scene of a downtown blackout on Crosby Street and comes in a vertically designed white cylindrical bottle with black glass. The irresistibly seductive scent is suitable for all seasons and occasions.
Launched in 2016 and inspired by an aromatic tree from French Guiana, Amazonia, The Body Shop Bowhanti Spicy Wood Eau De Parfum has a delicate yet lovely fragrance that sends you in a romantic trance. It has sweet undertones that create a spicy environment.
The perfume contains notes of white kahala flowers from Polynesia and ruby red orchids from the Swiss Alps. They are mixed to create a mysteriously seductive, spicy, and scintillating scent. The top notes include juniper berries, galbanum, and carrot seeds, giving a sense of freshness to the scent. Bark, cinnamon, incense, and patchouli are present in the middle notes and add a seductive touch.
Unleash the magic of nature with the Pinrose Secret Genius Eau de women's perfume. The top notes of this perfume include mandarin and bergamot that create a natural aroma. The middle notes consist of caramel, white chocolate, and jasmine that add a seductive touch. The bottom notes include sandalwood, Madagascar vanilla, and cedarwood to lighten up your mood. This perfume makes you feel young, desirable, and energetic. It is vegan and free of parabens and phthalates.
The L'Erbolario perfume for women has an alluring scent with fragrant notes of Provence rose, Peruvian pepper, and hollyhock to impart an appealing feminine elegance and grace. It has a properly monitored content of seven heavy metals to alleviate all chances of skin allergy. It is cruelty-free, environment-friendly, and loaded with high-quality organic ingredients. The scent is neat, pleasant, and light enough to lift your mood.
The perfect spicy perfume not only smells absolutely delicious but also stirs the senses. It adds suspense and sensuality to your personality and can be quite the head turner. So, pick any of the perfumes listed above and grab the limelight!
The following two tabs change content below.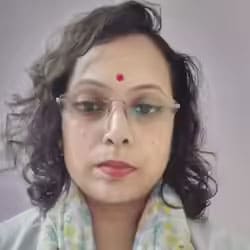 Baishali has a master's degree in English and is an associate editor. She specializes in makeup and fashion and reviews products that fall under these categories. Prior to this, she worked with a digital marketing company in Kolkata where she wrote stories on travel, beauty, and home décor. When she is not working, Baishali loves reading and having intense discussions over a cup of tea.