Best Rasasi Perfumes For Women – Our Top 10
Rasasi's intoxicating perfumes will make you smell luxurious and feel glamorous.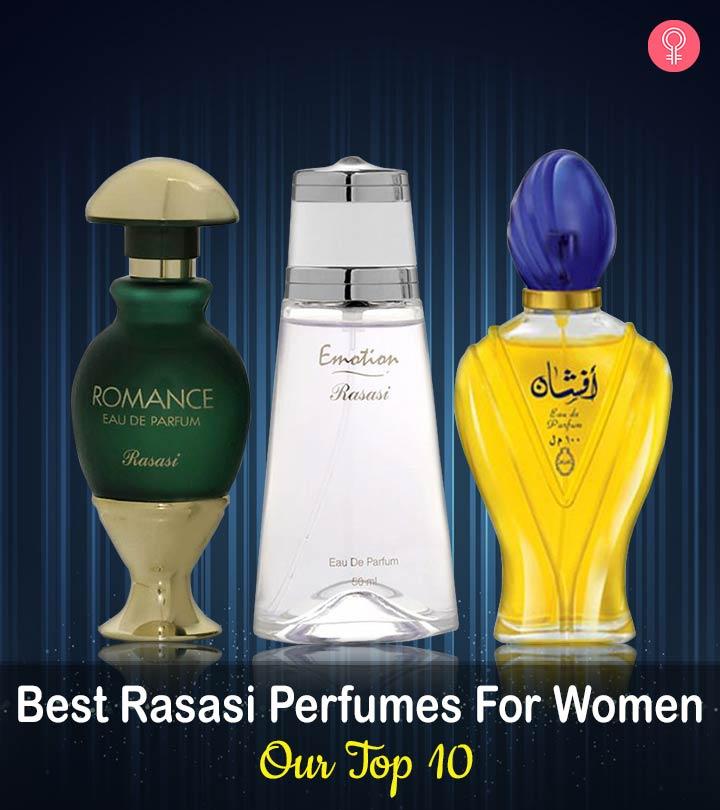 One of the leading companies in fragrances is Dubai's Rasasi Perfumes. Abdul Razzak Kalsekar is the founder of this family-owned business in 1979. This brand has increasingly grown in popularity, and it is known worldwide for its unmatched fragrance quality, elegance, and luxury. This brand offers western and oriental perfumes meant for men and women. Do you want to enjoy this luxury brand yourself? Keep reading to explore our top picks of the best Rasasi perfumes for women.
Top 10 Rasasi Perfumes For Women
Rasasi Blue Lady Eau De Parfum is a classical and cheerful perfume, ideal for ladies who enjoy life. Violet leaf, ylang-ylang, tuberose, and orange blossom make up the top notes of this fragrance. The heart notes are composed of peach, plum, narcissus, and jasmine. The accord ends with vetiver, sandalwood, amber, musk, and vanilla in the base notes. This creates a soft musky, powdery effect and a lasting woody note. Overall, the scent is a refreshing floral bouquet with citrus notes and fruity touches. The green note adds a unique diffusion to this blend.
Pros
Affordable
Refreshing scent
Non-irritating
Great packaging
Cons
Rasasi Romance Eau De Parfum envelopes your skin and your senses in luxuriant freshness. The sparkling fragrance is a floral woody musk. Hyacinth, ylang-ylang, raspberry, galbanum, peach, and apricot make up the top notes of this alluring fragrance. The heart notes that follow are a lush bouquet of roses and jasmine, giving the perfume its sensual and feminine appeal. The finale is made gorgeous with harmonious base notes of musk, amber, sandalwood, cedar, and powdery notes.
Pros
Premium-quality ingredients
Skin-friendly formula
Long-lasting
Decent sillage
Suitable for winter
Cons
None
Rasasi Arba Wardat Eau De Parfum is a feminine perfume that was launched in 2014. 'Arba Wardat' means 'four flowers' in Arabic, and the scent appropriately celebrates the adorable bloom of youth and passion. Bergamot in the top notes and rose and jasmine in the heart notes make this fragrance a floral bouquet of pure joy. The base notes feature sandalwood, musk, and amber, adding a hint of seduction to this alluring scent.
Pros
Long-lasting results
Suitable for daily use
Attractive packaging
Paraben-free
Phthalate-free
Cons
Rasasi Emotion Eau De Parfum is a celebration of tender feelings. The perfume is designed to arouse your inner playful femininity. It opens with a delightful sparkling accord that is created using citric top notes of mandarin, lemon, orange, and a unique hint of tamarind. The fruity-floral heart notes are highlighted with a tropical blend of kiwi, cassis, and pineapple with jasmine, water lily, and freesia. The base notes are rich and luscious with musk, amber, vanilla pod, white Texan cedarwood, and sandalwood. The overall effect is that of a delicate yet complex perfume that draws you in and keeps you hooked.
Pros
Premium-quality ingredients
Long-lasting results
Value for money
User-friendly packaging
Cons
None
Rasasi While in Love Forever Eau De Parfum is a beautiful floral green perfume for women. As the name suggests, the fragrance is an alluring ode to everlasting love. The top notes are a highlight of Bellflower, Sicilian lemon, and green apple. At the heart is a floral celebration of bamboo, jasmine, and white rose. The fragrance ends with warm and tempting base notes of amber, musk, and cedarwood. Use this perfume for that special occasion with your beloved, and watch the sparks fly!
Pros
Premium-quality ingredients
Hypoallergenic
Clean formula
Alcohol-free
Safe packaging
Cons
Rasasi Rumz Eau De Parfum is dedicated to the woman who is aware of and owns her individuality with aplomb. The leopard imprint on the bottle hints at the lethal charm of grace and style with an enigmatic edge. The fascinating fragrance opens with refreshing top notes of bergamot, cinnamon, and cardamom. The animalistic heart notes contain jasmine, heliotrope, Indian rose, and muguet. This romantic softness mellows down to the rich base notes of amber, praline, Indian Dhanal Oud, woody notes, and benzoin. The overall effect is that of a subtly dark and powerful fragrance.
Pros
Hypoallergenic
Long-lasting
Strong sillage
Value for money
Paraben-free
Phthalate-free
Suitable for casual wear
Cons
May create patches on clothes
Rasasi Afshan Eau de Parfum is an oriental fragrance. The luxury perfume offers a powerful aura of floral and spicy notes. An intense shade of fresh herbs defines the composition of this fragrance. Floral notes, green notes, and saffron make up the top notes. The heart notes are a pleasing blend of rose, ylang-ylang, and spicy notes. Cedar, musk, amber and woody notes make up the base of this bewitching scent. The perfume is dedicated to young wearers fascinated by the Orient and all its luxury.
Pros
Hypoallergenic
Clean ingredients
Travel-friendly bottle
Cruelty-free
Long-lasting
Cons
Rasasi Relation Eau de Parfum celebrates the harmony of the relationship between Yin and Yang. The two energies, together, create a perfect whole. Any imbalance in this relationship could lead to chaos in our daily lives – impacting the way we act and react. Yin and Yang together define and even out our attitudes and behaviors. Together, they are a unique force that is capable of creating life itself. This fragrance is an effort by Rasasi to cherish their remarkable chemistry.
Pros
Long-lasting
Pretty packaging
Suitable for daily wear
Travel-friendly design
Cons
None
Rasasi Hawas Eau De Parfum is a beguiling blend of heady florals, bright fruits, and sweet gourmand nuances. The sultry and vividly feminine floral woody fragrance is aimed at women who are seeking an edgy, yet chic fashion statement. The light-hearted top notes mingle tart and tangy-sweet tones of pink grapefruit and pomegranate with luscious red apple. The heart notes feature a deep iris accord with the exotic scent of jasmine sambac. The base notes of earthy sweet patchouli, praline, and vetiver lend a warm creamy finish to this haute couture perfume.
Pros
Premium-quality ingredients
Long-lasting
Travel-friendly packaging
Clean formula
Cons
Rasasi Junoon Leather Eau De Parfum is the third fragrance in a perfume trilogy inspired by the fascination with luxury and the finer things in life. The feminine yet powerful fragrance is an ideal celebration of the modern woman. It opens with refreshingly fruity top notes of saffron and citrus. The heart notes that follow lend a floral earthiness with muguet, cedarwood, rose, patchouli, and jasmine. There's musk, sandalwood, leather, oudh, tonka beans, tobacco, and amber in the base notes to add a dark depth to the sensual scent.
Pros
Long-lasting
Decent sillage
Clean ingredients
Paraben-free
Phthalate-free
Cons
Why Trust StyleCraze?
Sakshi Bahal is passionate about skin care and makeup and loves exploring and reviewing beauty products. She has thoroughly researched and checked thousands of reviews and feedback on the best Rasasi cologne to compile this list to help you pick the best ones for yourself. These luxurious perfumes are great for both men and women leaving you smelling heavenly all day.
Recommended Articles: